For an elegant dessert this holiday that takes less effort than a layer cake!
Try serving cranberry walnut apple strudel at your next gathering
With vanilla custard creme sauce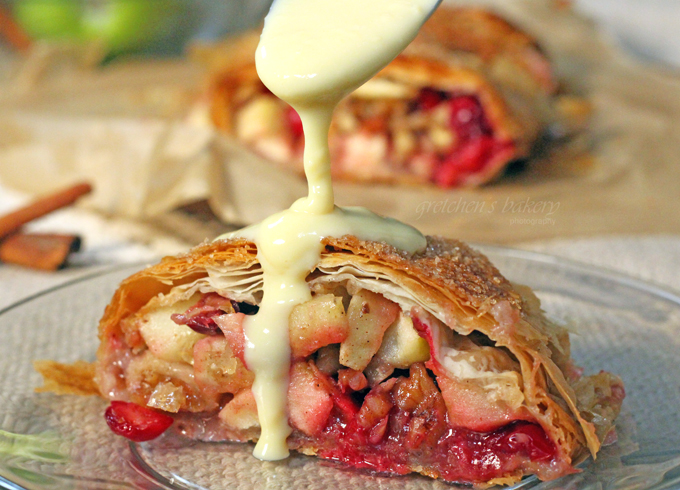 We are taking the easy route today so if you are here for an authentic strudel dough recipe
You will have to look elsewhere, strudel dough pulling is an art in itself!
But believe me this Phyllo dough substitution makes a perfect flaky buttery strudel! *not sponsored
You can change the apples for pears, add raisins instead of cranberries or leave out the nuts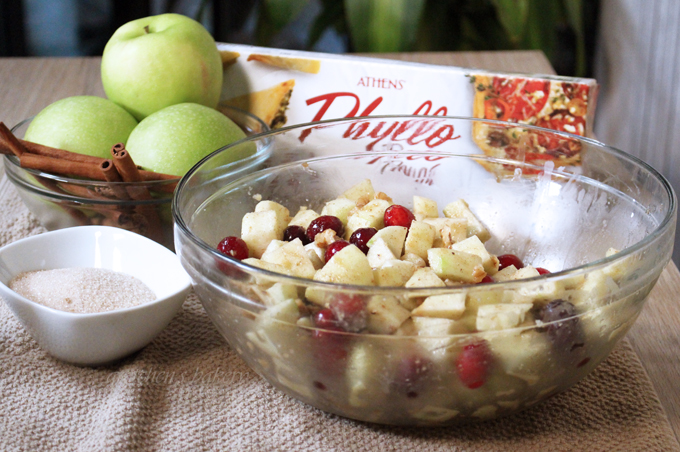 Adjust the sugar to your liking and you can create lots of different spinoff variations with this one easy method!
This recipe makes a large strudel to serve about 10-12 people
You will be quite happy with the leftovers though!
If there even are any!
Perfect crisp, flaky, buttery cranberry apple strudel
Both tart and sweet and just perfection with the custard sauce!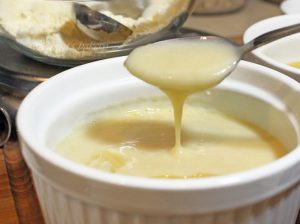 Notes for Success:
Be sure to let your Phyllo dough thaw overnight in the refrigerator before beginning to avoid cracking the dough as you unroll it
The sugar in the filling can be adjusted but I would not recommend to skimp too much on the sugar sprinkled between each layer of phyllo as you build
This sugar will help the overall crispiness of the strudel and give a nice caramel to the finished look of it too
I used granny smith apples and in the video I only used 4 tbs of sugar for the filling.
This was too tart for me, so I adjusted the recipe below with 8Tbs of sugar
Again, adjust to your own taste and if you are using sweeter apples you may want to lower that sugar amount
Strudel can be made a day ahead of time and baked just before serving.
Give yourself at least an hour for freshly baked though as it will need to cool slightly before cutting
Cream Anglaise is a classic accompaniment to apple strudel but vanilla ice cream is equally delicious!
I have a great new recipe for custard powder that is so simple to make
You can have instant vanilla sauce in minutes!
CLICK HERE FOR HOW TO MAKE VANILLA CUSTARD POWDER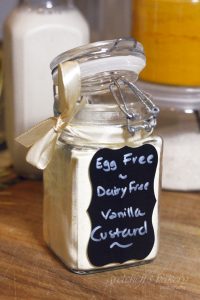 CLICK HERE FOR THE FULL YOUTUBE VIDEO TUTORIAL FOR HOW TO MAKE APPLE STRUDEL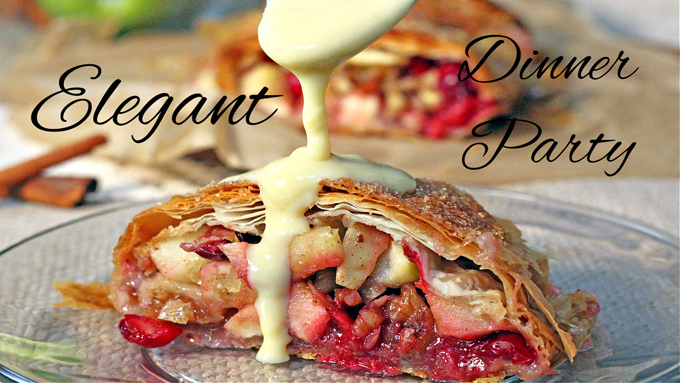 For more easy recipes click the links below
NO OVEN! Apple Breakfast Cake!
Cranberry Apple Strudel
Ingredients
½ Box Phyllo Pastry Dough 8oz - (1 roll from a 16oz box)
Apples 6 large (approximately 2lbs apples after peeling & coring)
Cranberries fresh or frozen ¾ cup
Walnuts lightly toasted, chopped ¾ cup
Lemon Juice ½ Tablespoon
Granulated or Light Brown Sugar ½ cup (100g)
Cornstarch 1½ Tablespoons (12g)
Ground Cinnamon ½ teaspoon
Ground Nutmeg ⅛ teaspoon
Ground Ginger ½ teaspoon
Vegan Butter 6 Tablespoons (85g)
Cinnamon Sugar for sprinkling approximately ¼-½ cup * as needed
1 recipe Custard Sauce *optional
Instructions
Thaw the phyllo dough overnight in the refrigerator
Melt the vegan butter and reserve
Peel * core the apples then small diced to approx ¼-½" pieces
In a large mixing bowl combine the apples, lemon juice, cornstarch and spices and toss well to coat everything
Add the walnuts & cranberries and toss again
On a large kitchen towel approximately 12" X 18" similar size of a half sheet pan, lay out 3 pieces of phyllo dough, brush with melted butter ~sparingly! then sprinkle with about 1 Tbs cinnamon sugar
Next layer with 4 pieces of phyllo dough and repeat the butter/sugar
I do 3 pieces of phyllo 1 way, then 4 pieces of phyllo the other way repeating each layers with vegan butter/sugar until all the dough is gone
**See video tutorial for the best visual of how to do this
Pile the apple mixture in the center of the dough forming a log then roll up the dough using the towel as help to roll, fold the sides of the dough into the center keeping a nice tight roll
Brush the top with remaining melted butter & a sprinkling of cinnamon sugar then bake in a preheated 375°F oven for 30minutes then turn the oven temperature down to 325°F and bake for another 15minutes
The pastry will be nice & golden brown and crispy
You may see some bubbling seep out at some areas on the side of the strudel and this is a good indicator that the strudel is done, be careful not to over bake or you will have apple sauce filling!
Cool on the pan out of the oven for at least 10minutes before serving or it will be too hot to cut *like I did on the video! LOL
While the strudel is baking you can prepare the*optional vanilla custard sauce as per the instructions on that page!
Serving the warm strudel with vanilla ice cream is another perfect & delicious option!
Notes
Cranberry Apple Strudel is best served just after baking, but can be stored for up to 4 days in the refrigerator after baking, simply rewarm in a hot oven- air fryer works best for fast hot heat to re-crisp the flaky pastry

You can leave the raw strudel in the refrigerator un-baked for up to 2 days and then bake just before you want to serve it.