Introducing the Aquafaba Meringue Life Hack!
In order to create a stable mousse that will hold up to slicing and not lose it's integrity before you even get to the event my first trick was to add agar to the reduced bean water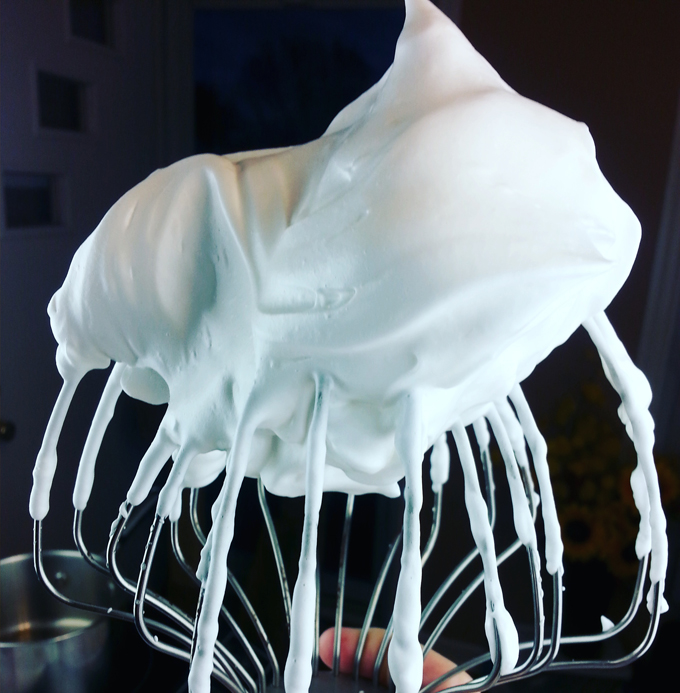 This trick will automatically stabilize and strengthen any meringue for whatever recipe you are making!
The new found stability of the meringue base really proved helpful in the final strength of the cake; but what I found was that to whip such a small amount of aquafaba (with or with out the agar) was always a bit tricky.
Especially for people using hand mixers, I've been told it was a bit of a problem.
So in addition to my secret stabilization weapon (agar) I developed what I am calling my Aquafaba Meringue Hack.
By whipping aquafaba in bulk you get a much stronger more stable meringue and then you will only use the amount of whipped that you need to fold into your recipe.
But what to do with all that leftover meringue you might ask?
Refrigerate it! It will deflate over time and go almost back to liquid, but by simply re-whipping it again later (3 and 4 times even!) it will whip back up to perfectly beautiful, stiff, glossy meringue just like it was the first time.
Below is a chart to help you figure out just how much whipped meringue you would use when the recipe calls for it in liquid form first.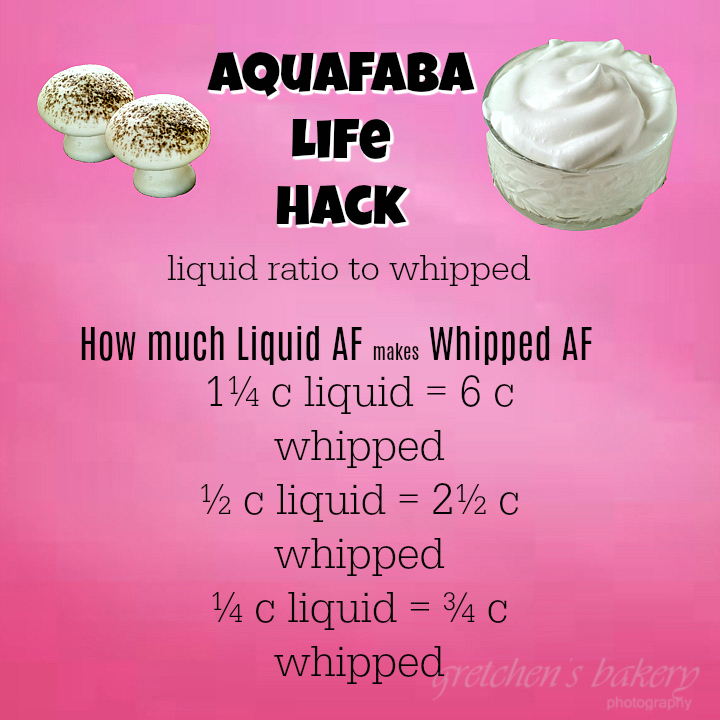 WATCH THE YOUTUBE VIDEO TUTORIAL WHERE I SHOW YOU FIRST HAND!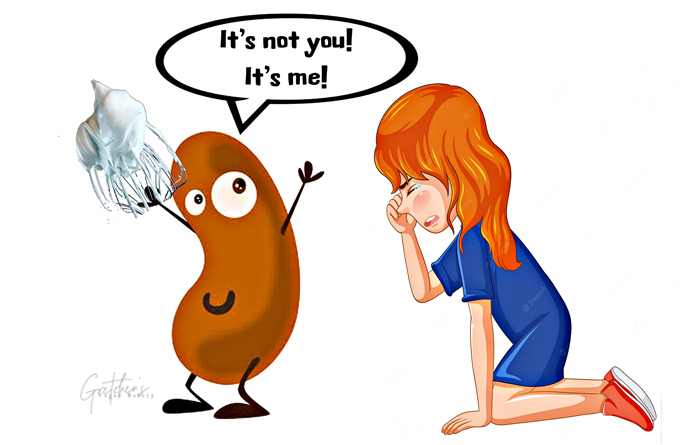 Notes for Success:
Cream of tartar is an acid that helps to strengthen the meringue, if you cannot get it simply wipe the bowl of your mixer with lemon juice or vinegar
I also mentioned that I have been doing this for my Swiss Aquafaba Meringue Buttercream for added stabilization to the recipe, again it works like a charm!

Aquafaba Meringue HacK
Ingredients
1 cup liquid aquafaba
1½ teaspoon powdered agar
Cream of Tartar ¼ teaspoon
Instructions
Prepare the stabilized aquafaba by heating it over low heat with the agar powder and bring it to a boil.
Cool to tepid (not cold or the agar will thicken the liquid before we can whip it)
Whip with a stand mixer with the balloon whip attachment to frothy and then add the cream of tartar.
Continue whipping to thick glossy peaks (total time should be about 10 minutes)
Use the whipped AF as needed in your recipes
Notes
Refrigerate any un used meringue in a clean airtight container for up to 6 days
**Additional Note:
As usual I have the BEST viewers and visitors here to my blog and I was waiting for someone to ask this question re: My Chart above for the conversion from liquid to whipped AF.
Here is what she wrote and my then response:
Hi, Gretchen. I'm trying to understand the ratio here and if I do the math, I come up with 1 1/4 cup(instead of 3/4 cup) if I start with 1/4 cup liquid. I'm I wrong ?
Hi Diane, yes I was waiting for someone to call me on that. This is a very loose math conversion. Since I started with 1¼ cups liquid and got a very estimated volume of 6 cups. (Since volume measure is never exact really anyway)
so the next breakdown would be Half of 1¼ liquid = ½ cup + 2 Tbs. But since there are rarely any recipes calling for ½ cup + 2Tbs – I rounded down to ½ cup liquid would probably whip up closer to 2 cups volume in meringue.
The next breakdown conversion would be ¼ c + 1 Tbs – again I rounded down to just a ¼ cup which when whipped would yield about 1 cup
I had been doing it that way in my recent Pumpkin Mousse & Raspberry Mousse cakes and those amounts whipped (from my first attempts at whipping the tiny ¼ cup liquid amounts) seems to yield very close amounts to those I listed on the chart.
Hope that makes sense? And i know… it's NOT EXACT which is strange for me and baking altogether, but it works!
*especially since what I noticed when I whipped just the 1/4 cup called for in the recipe, my volume whipping that small amount was actually slightly LESS (and less strong) than when I whipped in bulk, so I felt better about rounding DOWN since I didn't want the recipes to be getting MORE whipped AF than any original author would have intended.