A childhood favorite for me was definitely the Funny Bone.
I think it was made by Drakes Cakes.
And I'm not sure why I waited so long to make a vegan version!
But I'm actually going to do a spinoff version, not an exact replica because lately I'm having a love affair with cupcakes and brownies are coming in a close second
So today I decided to meld my two obsessions into one dessert.
Introducing my best vegan recipe for fudge brownie cupcakes stuffed with peanut butter cream and  fudge icing.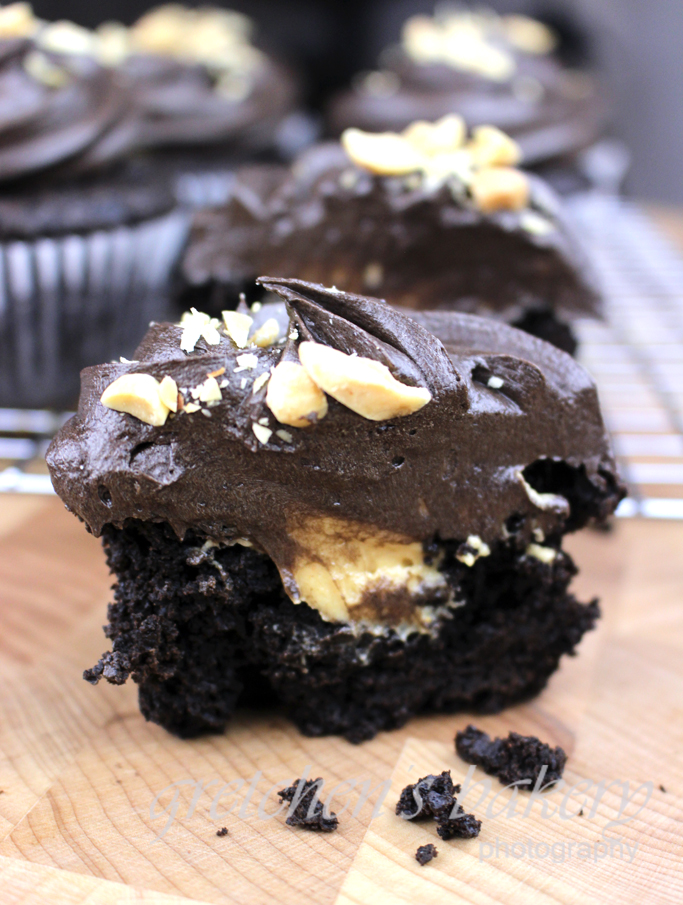 Yeah, I took the Funny Bone and made it all adult like.
You're welcome.
Your first bite will take you back to memory lane and have you back for seconds!
It's a bit of a building on recipe project since you will need a quick buttercream recipe.
And then my fudge icing recipe basically answers the question of life itself; so although you won't need the entire recipe for these cupcakes, I recommend to make the entire batch and keep it on hand for whenever the need for a quick cake pops up, or just a spoonful of fudge at midnight.
Peanut Butter Cheesecake Brownie Cupcakes
Ingredients
For the Brownie
All Purpose Flour 2 cup (250g)
Baking Powder1 teaspoon
Salt 1 teaspoon
Granulated Sugar 2 cup (400g)
Coconut Oil 4 Tablespoons
Brewed Coffee 1 cup (237ml)
Bittersweet or Semi Sweet Vegan Chocolate 3 ounces
Unsweetened Cocoa Powder ⅔ cup
Vanilla Extract 4 teaspoons (20ml)
1 cup Buttercream
1 cup Creamy Peanut Butter
Instructions
For the brownie chop the chocolate to fine pieces and combine with the cocoa powder in a medium bowl
Add the hot brewed coffee and whisk to melt
Add the melted coconut oil and the vanilla extract
Add the granulated sugar and whisk smooth
Sift the flour, baking powder and salt into the chocolate mixture and whisk smooth
Divide batter evenly into the greased and parchment lined molds and bake in a preheated 350°F oven for approximately 25 - 30 minutes or until a toothpick inserted comes out with moist crumbs
Cool while you prepare the other recipes as per the instructions on those posts
When you ice the cupcakes, hollow out the centers of the cupcakes and fill with peanut butter buttercream make sure to ice the tops of the cups with some PB-BC too, then ice over that with the fudge icing.
Top with crushed peanuts *optional
Notes
Cupcakes will stay fresh in an airtight container at room temperature for up to 4 days

Refrigerate for longer (up to 1 week) in an airtight container but bring to room temperature before serving for best taste