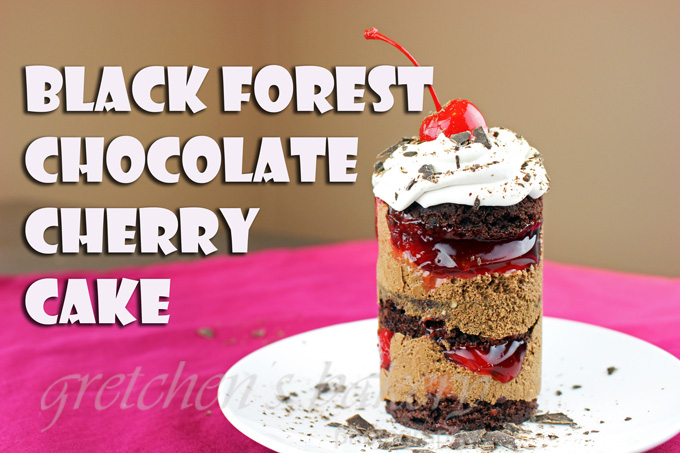 Chocolate and Cherry~ Quite possibly the best combination on earth.
For those who agree with me you are going to flip over my new rendition of the Black Forest Cake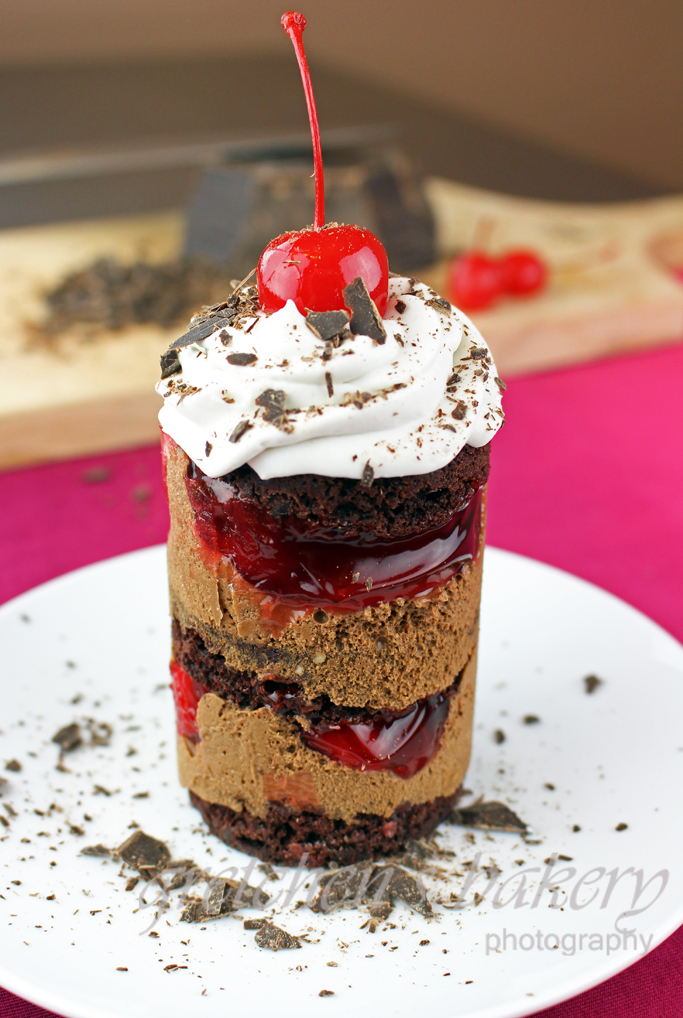 Actually a Vegan Chocolate Cherry Cake since I am not going super traditional here with the alcohol soaked cherries and Kirschwasser like you would find in a more classical style Black Forest cake.
As a matter of fact German law mandates that you cannot truly call this cake a Black Forest Cake if it does not include Kirshwasser in the recipe!
You can decide which way you want to go with this, but no matter what you are going to love this recipe!
I am not a huge fan of the alcohol soaked cherries and I know a lot of you guys will agree with me; but for those who love it~ by all means substitute the canned cherry pie filling that I am using here, for the Maraschino Cherries & Kirshwasser soaked cake layers.
Another option for the cherry filling is cherries in syrup rather than pastry filling; again it is really your option to use whatever you like the best for this cake.
Or make a homemade compote like I did for my Classic version of the Black Forest Cake here.
I'd like to add that some people may tell me that Chocolate Mousse is not a component of a true Black Forest Cake, but let me tell you it should be!
This combination of Chocolate cake, Chocolate Mousse, Cherries and Coconut Whipped Cream is going to convert you~ I promise!
I made individual desserts rather than a full cake this time, but if you want to make a family style cake for presentation, this recipe will also make 1 – 7″ cake.
I am using 2½" diameter PVC Pipe from Home Depot (found in the plumbing aisle) since they are way cheaper than the stainless steel cake rings, just be sure never to bake in PVC it is strictly for cold preparation desserts.
Fitted with food grade acetate strips this makes for a very simple and easy to handle individual dessert option.
Black Forest Cake Vegan Chocolate Cherry Cake
Serves:
5- Individual Desserts
Ingredients
For the Chocolate Cake
All Purpose Flour ¾ cup + 1½ Tablespoons (106g)
Granulated Sugar ⅓ cup (67g)
Salt ¼ teaspoon (1½ g)
Baking Powder ¾ teaspoon (2.5g)
Baking Soda ¾ teaspoons (2.5g)
Coconut Oil 3½ Tablespoons (48g)
Boiling Water ¾ cup (180ml)
Dutch Process or Natural Cocoa Powder ⅓ cup (35g)
Ground Flax Seeds 3 Tablespoons (24g)
Hot Water 4 Tablespoons (60ml)
Vanilla Extract 1 teaspoon (5ml)
For the Chocolate Mousse:
Semi Sweet Vegan Chocolate 4ounces (113g)
Hot Water or brewed coffee 2 Tablespoons (30ml)
Vanilla Extract 1 teaspoon (5ml)
Chickpea Water from Canned Chickpeas ¼ cup (60ml)
Granulated Sugar 2 Tablespoons (25g)
Cream Of Tartar ¼ teaspoon
Coconut Milk Full Fat 1 15ounce can (*refrigerated overnight)
Instructions
For the Cake:
Combine ground flax seed with the 4Tbs of hot water and whisk smooth
Let stand for at least 5 minutes to thicken to a paste
Combine the melted coconut oil, ¾ cup boiling water and cocoa powder together and whisk smooth
Add the flax meal and the vanilla extract, whisk smooth
Sift the flour, sugar, baking powder and baking soda with the salt into the chocolate mixture and whisk smooth
Pour batter into a greased and parchment lined ¼ sheet cake pan and bake immediately in a preheated 350°F oven for approximately 18 - 20 minutes or until it springy to the touch when you gently press the center
Cool cake in the pan for about 20 minutes while you prepare the chocolate mousse recipe
For the Chocolate Mousse
Reduce the aquafaba by bringing it to a boil in a small sauce pan, let it boil for 3 minutes. Cool completely in the refrigerator
Meanwhile open the can of coconut milk that has been refrigerated overnight and carefully scoop out the fat that is on topand place in a mixer with a whip attachment, use the coconut liquid for something else (like a smoothie or a recipe that calls for no fat coconut water)
Whip the coconut cream to stiff peaks and reserve in the refrigerator
Melt the chocolate in a large bowl over a double boiler or in a microwave safe bowl
Add the warm brewed coffee to the melted chocolate all at once while whisking vigorously to incorporate well.
Whip the cold aquafaba to stiff peaks while adding the sugar and cream of tartar
Take a small portion of the AF meringue and fold into the chocolate mixture to lighten.
Fold the whipped coconut cream into the mousse then refrigerate the entire mixture until it is firm or until needed.
Assemble the Black Forest Cakes as shown in the video and garnish with more whipped coconut cream **optional and shaved chocolate and marschino cherries
Notes
I like to keep these desserts in the freezer in their acetate sleeves until serving time.
They will keep frozen for up to 1 month

Thaw for about 1 hour before serving

You may also keep them in the refrigerator for up to 1 week in an airtight container or in the acetate sleeves (these are the best for keeping this dessert fresh and free from air)
CLICK HERE FOR VIDEO & RECIPE TUTORIAL FOR ONE BOWL BEST CHOCOLATE CAKE RECIPE
CLICK HERE FOR THE CLASSIC BLACK FOREST CAKE VIDEO TUTORIAL & RECIPE
CLICK HERE FOR ALL THE OPTIONS FOR VEGAN WHIPPED CREAM