I'm not going to lie, Vegan Black Forest Cake is quite the project but it is totally worth it
Chocolate Cake soaked with Cherries and Whipped Cream in every bite!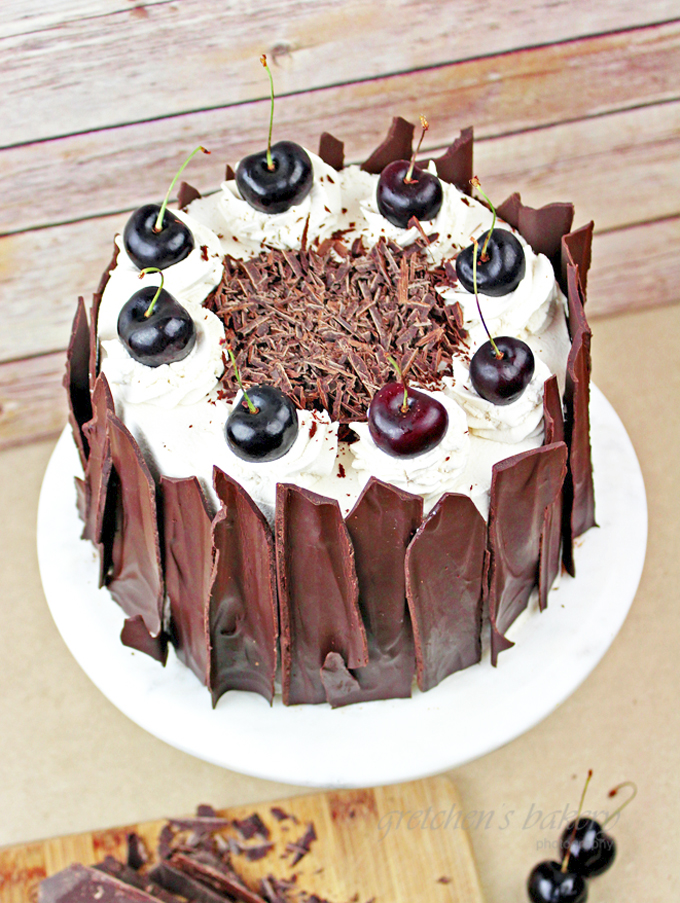 Advance prep will not only make your life easier, but for the cherries especially it gives the flavors time to meld.
In a traditional classic Black Forest Cake cherry brandy is a must!
Kirschwasser to be exact, but of course you can leave it out~ just don't try to call this an authentic Black Forest Cake!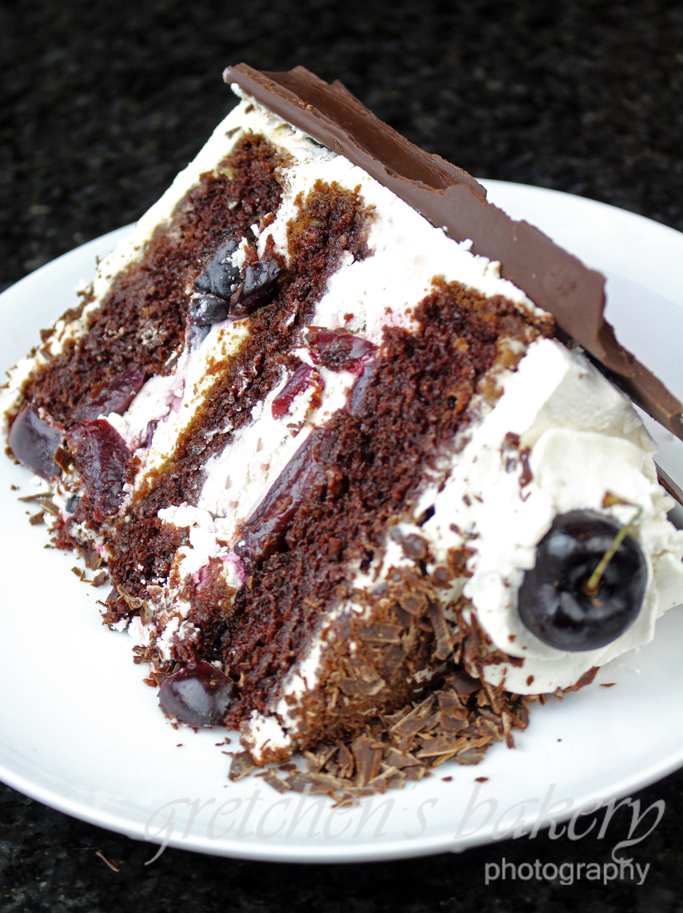 The chocolate bark is also something that can be done days in advance
But if you are not familiar with how to temper chocolate, you may want to do that ahead of time because it may take a couple tries to get it right!
CLICK HERE FOR HOW TO TEMPER CHOCOLATE STEP BY STEP
Otherwise just use King David Brand Non Tempering Chocolate for an easier time! *not sponsored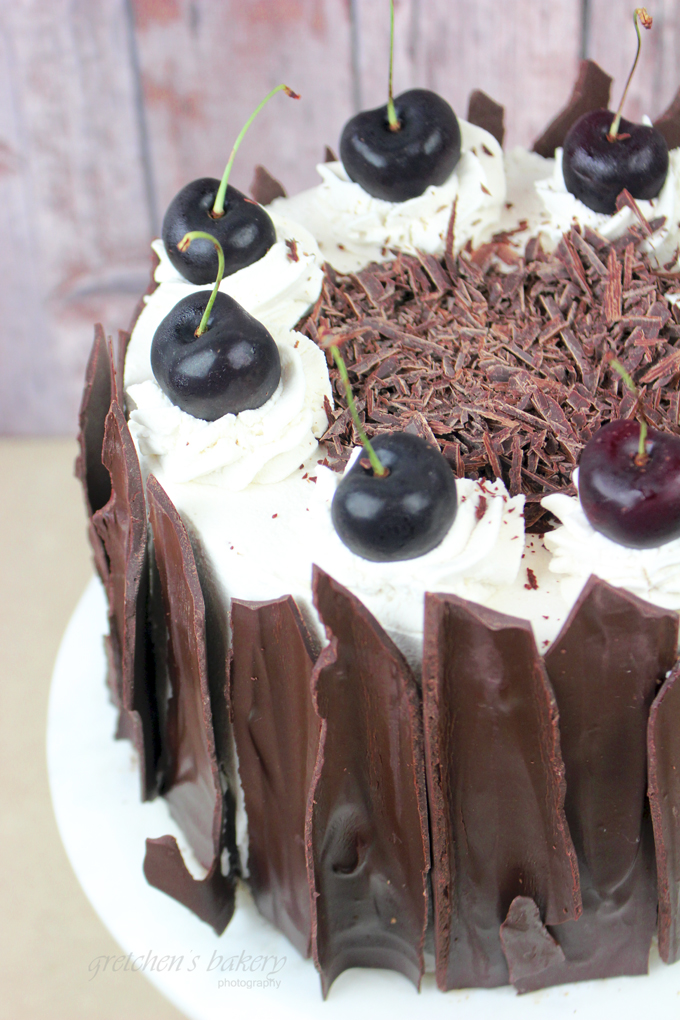 If you are making my recipe for whipped cream THIS MUST be done the night before because in order for it to whip up properly it has to be super cold
Be sure to read through the entire article/ blog post for the Vegan Whipping Cream Recipe if you are going to make that recipe
There are some important troubleshooting notes for the success of that recipe
One most asked question regarding the whipped cream recipe though, is "Can I skip the Xanthan?"
Yes, you can.
However since the creation of this recipe a few years ago I have found SILK Brand Vegan Heavy Whipping Cream *not sponsored
It is a dream come true in terms of saving time, so if you can get it~ definitely try it!
But otherwise I have a full comprehensive article and video comparing all the vegan whipped creams including a recipe for stabilizer!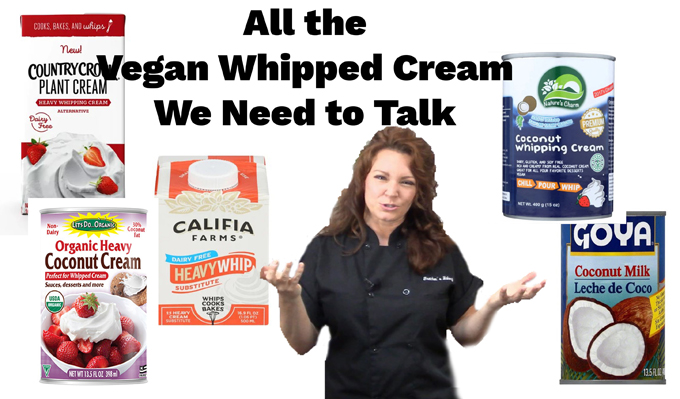 Notes for Success:
This is a building on recipes project so that means there are several recipes to prepare before we get to building the cake
If you give yourself a couple days to prep in advance the whole task will seem less intimidating!
Don't get me wrong, it can all be done in one day if you prefer.
The chocolate cake can be baked in advance and refrigerated or frozen until you are ready to build
Many people ask about replacing the coffee in the chocolate cake recipe because they do not like to use coffee.
Please understand that coffee brings out the best in chocolate recipes, just as salt plays a similar role in recipes by enhancing certain flavors, but if you absolutely must stay away from coffee just use water instead
CLICK HERE FOR THE FULL YOUTUBE VIDEO TUTORIAL FOR HOW TO MAKE THIS CAKE!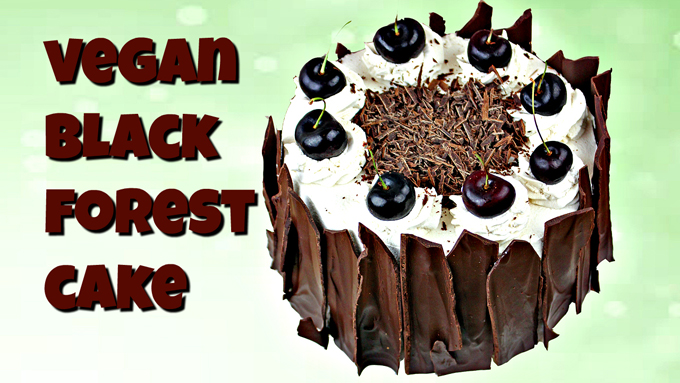 For more of my best layer cakes click the links below!
Bakery Recipe for Perfect Yellow Cake
Yield: serves 8-10
Vegan Black Forest Cake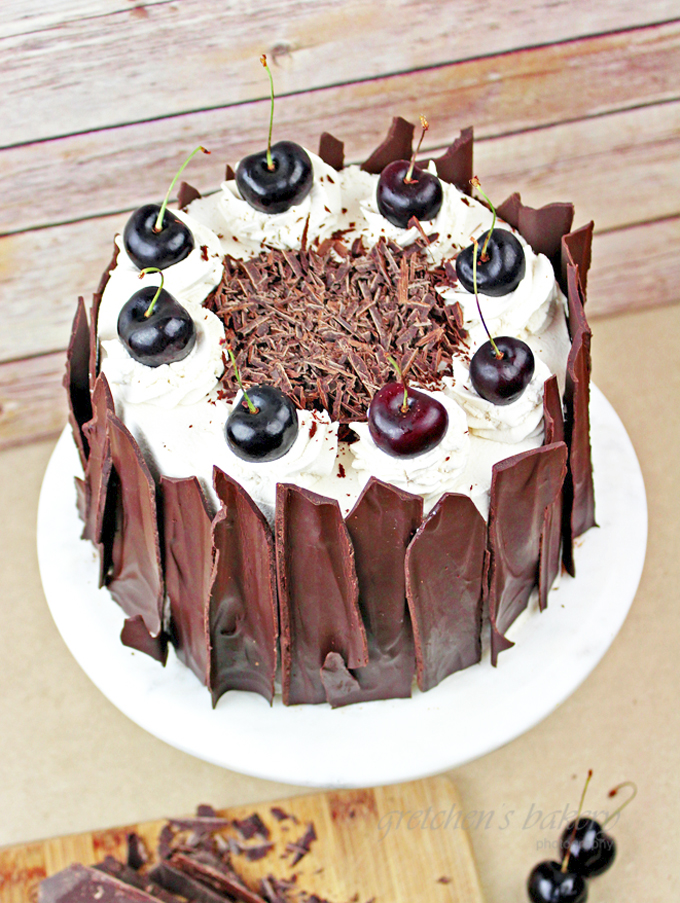 Total Time
3 hours
35 minutes
Ingredients
For the Chocolate Cake
All Purpose Flour 2 cups (250g)
Cake Flour 1 cup (120g) *or more all purpose flour
Natural Cocoa Powder 8 Tablespoons
Granulated Sugar 2 cups (400g)
Salt 1 teaspoon (6g)
Baking Soda 2 teaspoons
Apple Cider Vinegar 2 teaspoons (10ml)
Vanilla Extract 2 teaspoons (10ml)
Vegetable Oil ¾ cup (177ml)
Strong Brewed Coffee 2 cups (480ml) *see notes
For the Chocolate Bark
12oz - 1lb *Tempered Chocolate
For the Cherries
Fresh or Frozen Cherries 1Lb
Sugar ¼ cup
Kirschwasser Cherry Brandy 1 cup (240ml)
Instructions
For the Cake Sift both flours, baking soda, salt, and sugar together in a large mixing bowl.
Combine the natural cocoa powder with the hot coffee and then add the vinegar, oil and the vanilla extract.
Pour the wet ingredients into the sifted dry ingredients and whisk vigorously with a hand whisk until smooth (about 20 strokes)
Pour batter into 3 greased and parchment lined 7" x 2" cake pans
Bake immediately in a preheated 350°f oven for approximately 25-30 minutes or until a toothpick inserted into the center comes out with moist crumbs
Be sure to rad the whipped cream article before beginning this recipe:: For the Whipping Cream Combine everything in a high speed blender and blend for about 20 seconds
Pour into a clean container and refrigerate until cold preferably overnight (I sometimes speed the process and place in the freezer for about an hour but not so it is getting hard)
Whip with a balloon whip attachment for about 3 minutes until soft peaks form, be careful not to over whip or it will get really tight.
If you do over whip, you can add a little more soy milk and fold in by hand to loosen the cream
For the Chocolate Bark
Temper the chocolate and then spread it out onto a parchment lined sheet pan to about 11" X 6"
Let it almost set then roll up the paper on the short end and refrigerate until needed
For the Cherries
reserve 10 of the best cherries with their stems for the garnish on the final cake
Chop the rest of the fresh or frozen cherries into ¼'s and place in a bowl with the sugar
Add the Kirshwasser and let macerate in the refrigerator overnight OR if you are not working ahead, you can quickly simmer the entire mixture over a very low heat in a small sauce pot until the sugar dissolves
Assemble the cake as shown in the video
Notes
Black Forest Cake should be stored in the refrigerator at all times. It will stay fresh for up to 5 days


WHIPPED CREAM:: If you over whip the cream it will get grainy so be careful to just whip to soft peaks. I find that we are so used to whipping cow cream that we are looking for the same results, this is not the case here, you will get very soft peaks, and then it will thicken over time & in the refrigerator on the finished cakes or even as you are icing it, you will see it gets more stiff.

If you DO over whip though, you can add a tablespoon or two of soy milk and gently fold it in to loosen

**For the stubborn occasion where it just will not whip, I have put the entire container back into the freezer and froze solid. Thawed in the refrigerator and then re-whipped with good results. This of course is not convenient when you need it NOW! So I am now in the habit of preparing the cream 1 day ahead, freezing sold and then thawing to whip just to play it safe