I fell in love with the look of the dehydrated Dragon Fruit slices and set out on a recipe development project to make a Dragon Fruit Layer Cake
Little did I know I was going for a wild ride into Dragon Fruit Cake land!
PS- there's no such thing as a dragon fruit layer cake….until now
Stay with me, there's some science going on here!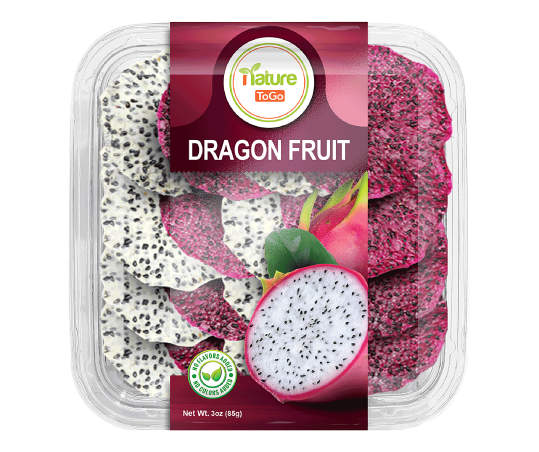 Now before we get to it, let's talk for a minute about dragon fruit, also known as Pitaya
To me these most beautiful exotic fruits are the most underwhelming fruits I've ever tasted!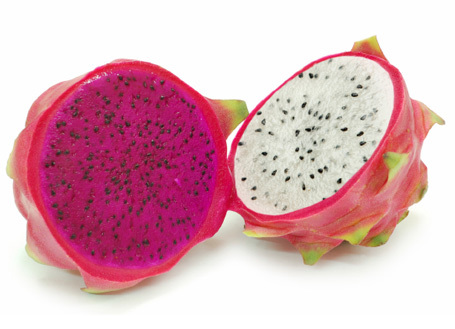 How can such a beautiful, stunning, mesmerizing fruit be so drab when you taste it?
Sorry Dragon Fruit lovers! Don't let my description of the fresh fruit itself deter you from making this Dragon Fruit Cake!
Since once it all transforms into a cake, it is much better (in my opinion) than the fresh fruit itself
But quickly I realized why there are no recipes for Dragon Fruit Cake
other than cheesecakes, mousses and otherwise cold preparation recipes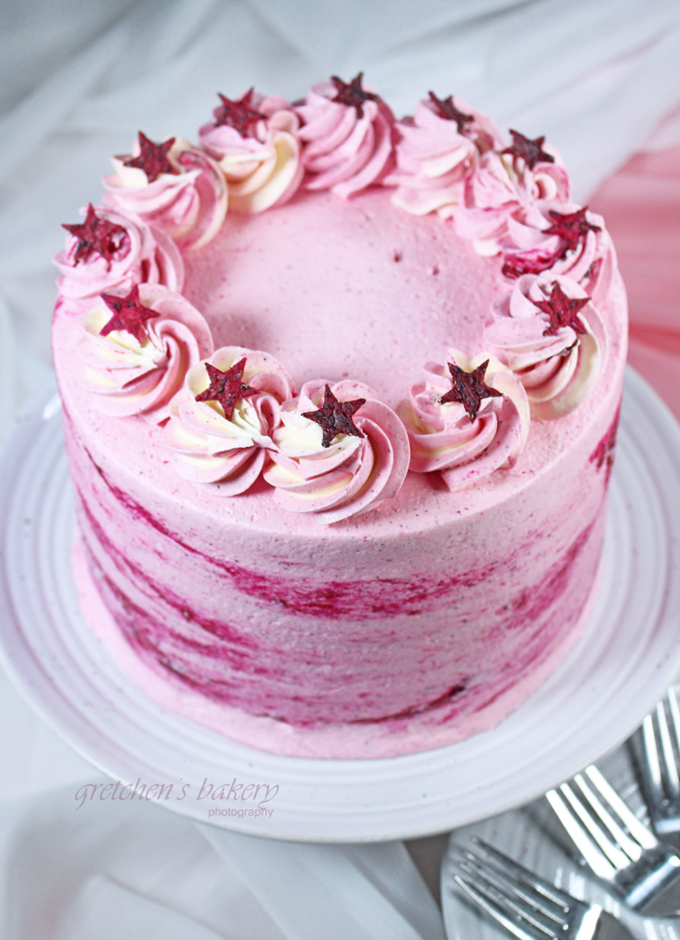 Since I am using Dragon Fruit Powder aka Pink Pitaya*not sponsored
There is some science that needs to be known before baking with these delicate fruit powders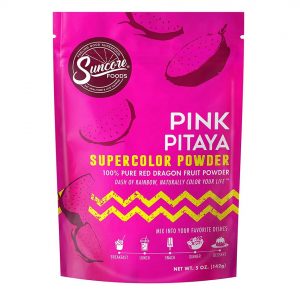 Dreams of vibrant purple sponge cake were soon to be shattered
Factors like pH level, solubility, oxygen, and most importantly baking temperature can all affect and minimize the vividness of the color of fruit powders to the point of complete deterioration. 
Which is exactly what happened to me on my first try
My beautiful purple cake batter turned an ugly shade of gray after baking!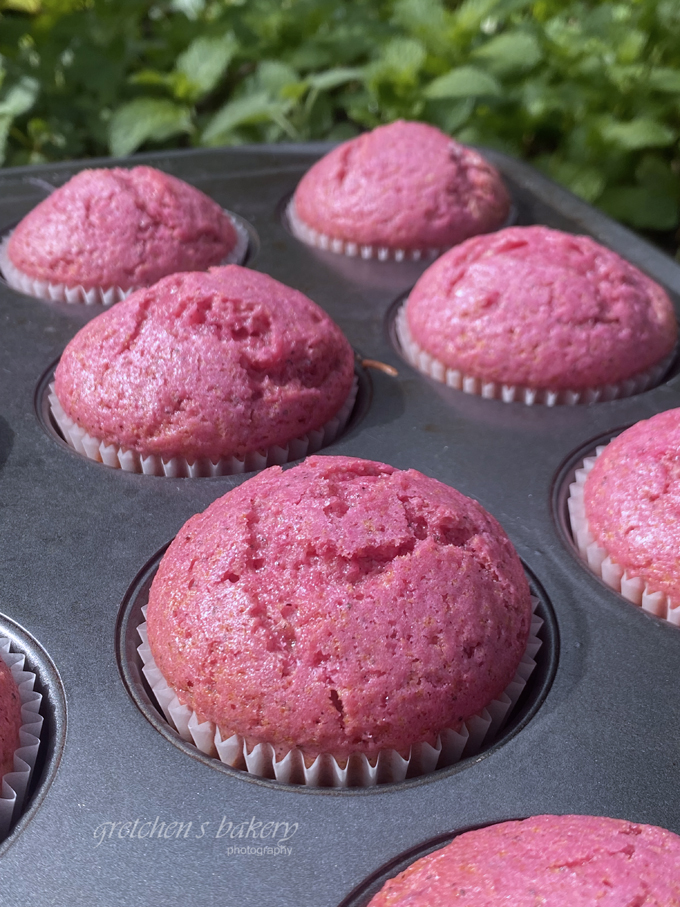 With some tweaking of the original cake recipe that called for baking soda, I instead used baking powder
This helped the PH levels get back to where they should be, but the baking temperatures now caused a different chemical reaction!
Ombre effect was not something I was trying to achieve!
If you love the Ombre Effect I suppose it's Serendipity; but I still wanted vibrant purple cake!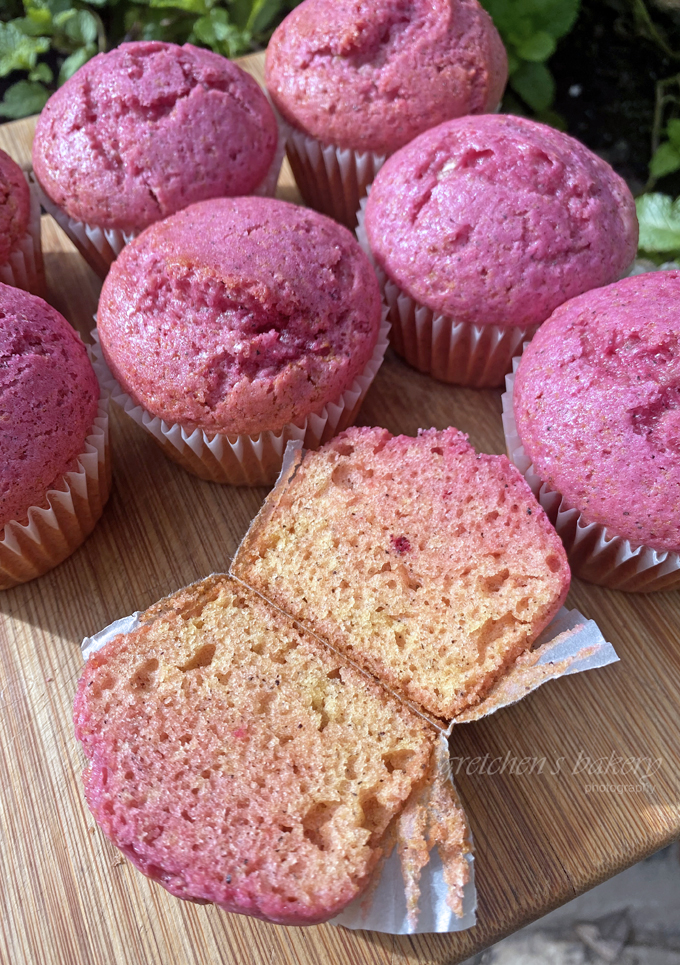 Finally by using strawberry fruit powder in combination with the Pitaya Powder
I was able to achieve that purple batter I was going for!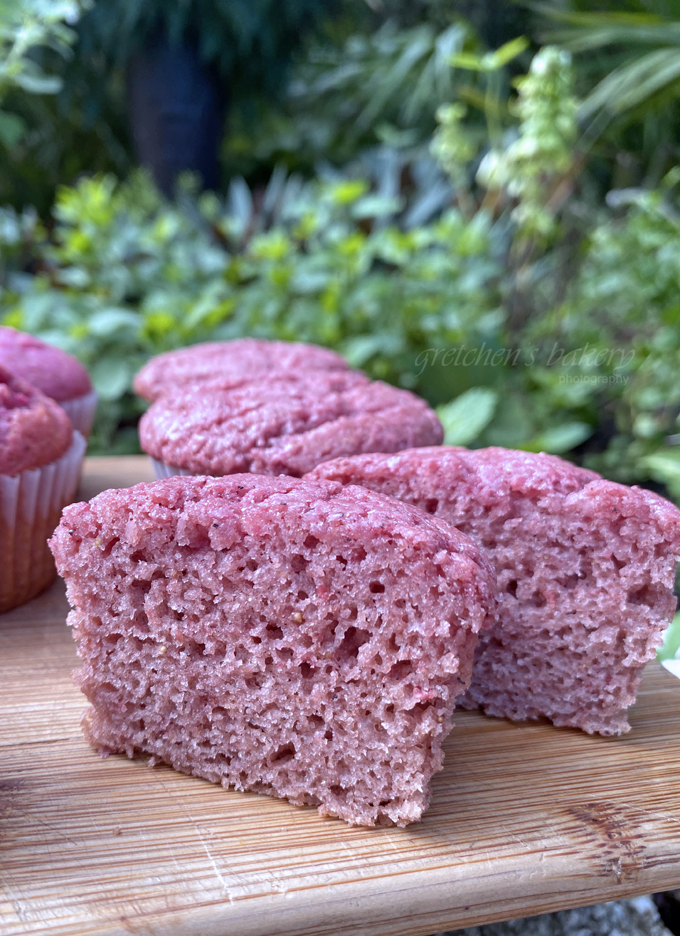 But now the cake tastes more like strawberry so you may as well just make a strawberry cake since the minuscule amount of pitaya powder that I used in the batter to make it that vibrant color lends nothing to the flavor of the cake in the end!
Suncore Supercolor Fruit Powders are not cheap, so to me it just doesn't make too much sense to use it
Seems like Dragon Fruit Cheesecake or Dragon Fruit Mousse Cake is the way to go after all!
On the contrary, as you can see here in my Dragon Fruit Buttercream they do make the most beautiful natural food colors!
With a flowery fruity taste I really love it in the icing!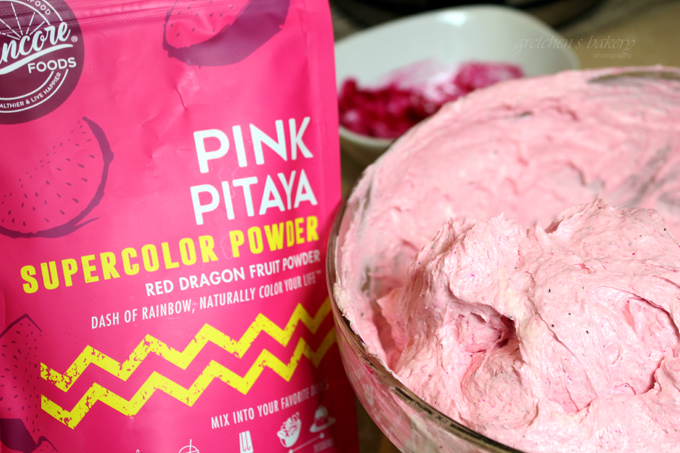 Smudges of pink pitaya super fruit powder paste for a buttercream watercolor effect
And I finally~really loved the way this cake turned out!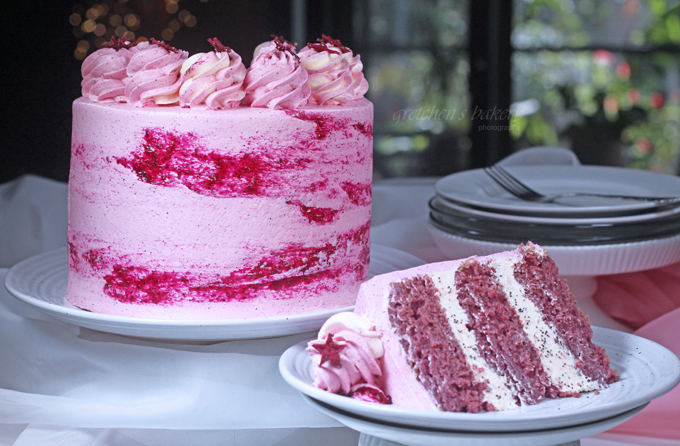 Whichever way you decide to go with this recipe it is indeed a beautiful cake to look at and a delicious refreshing twist on strawberry cake!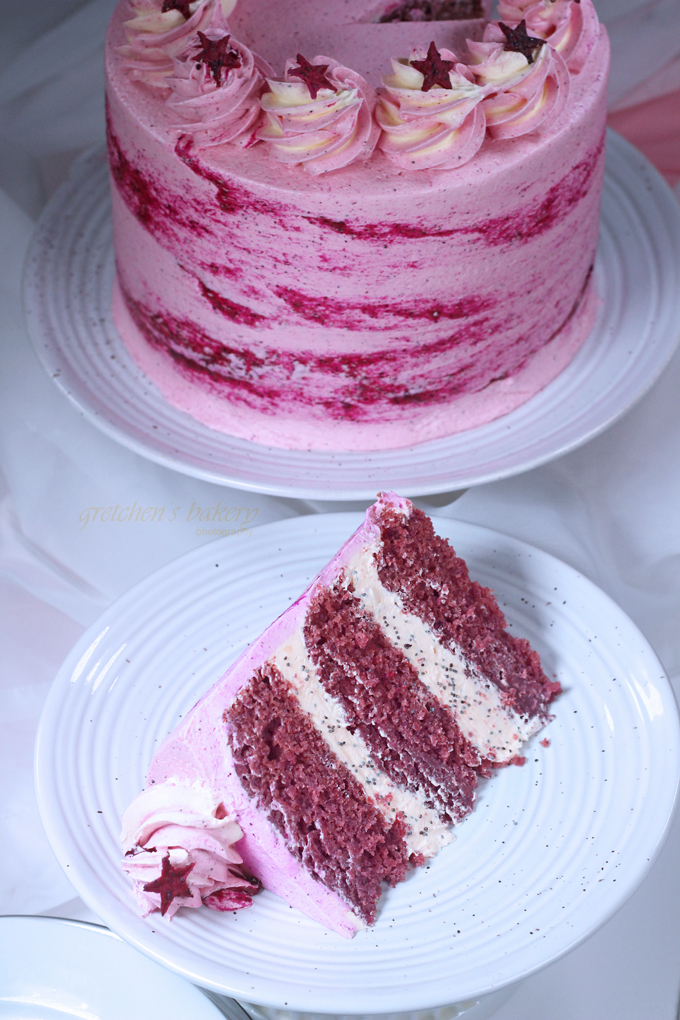 Poppy seeds added to the buttercream filling mimics the tiny black seeds that are characteristic of the dragon fruit pulp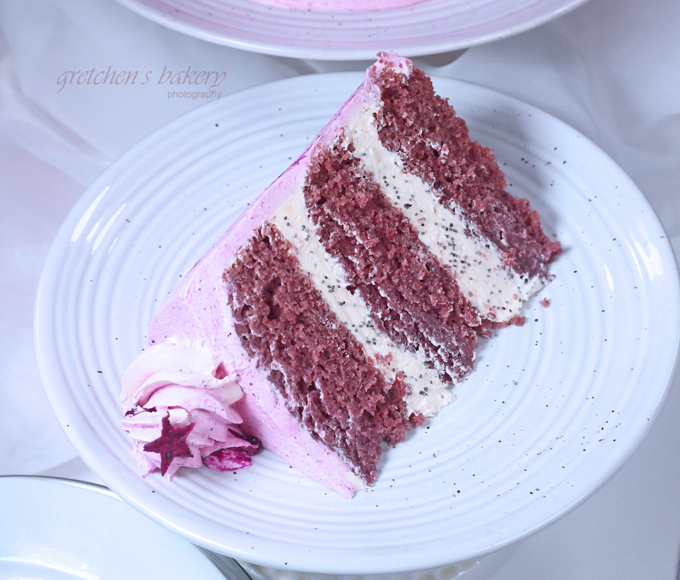 While dehydrated dragon fruit slices were indeed the reason for this cake in the first place~  if you can't find them, don't worry!
I ended up not even using them except for a tiny star cut out on each rosette!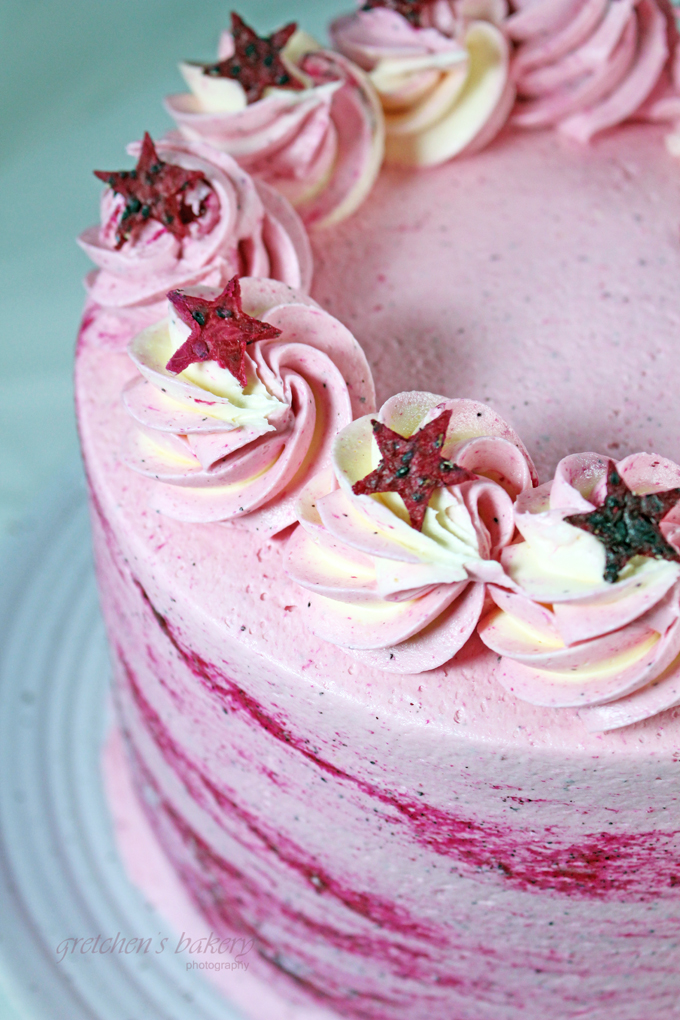 In closing:
The moral of my story is that Dragon Fruit is way better turned into a cake rather than eaten as a fresh raw fruit!
Unless you really love the ombre effect, save your money and just make a strawberry cake and save the pink pitaya Dragon Fruit powder for something else!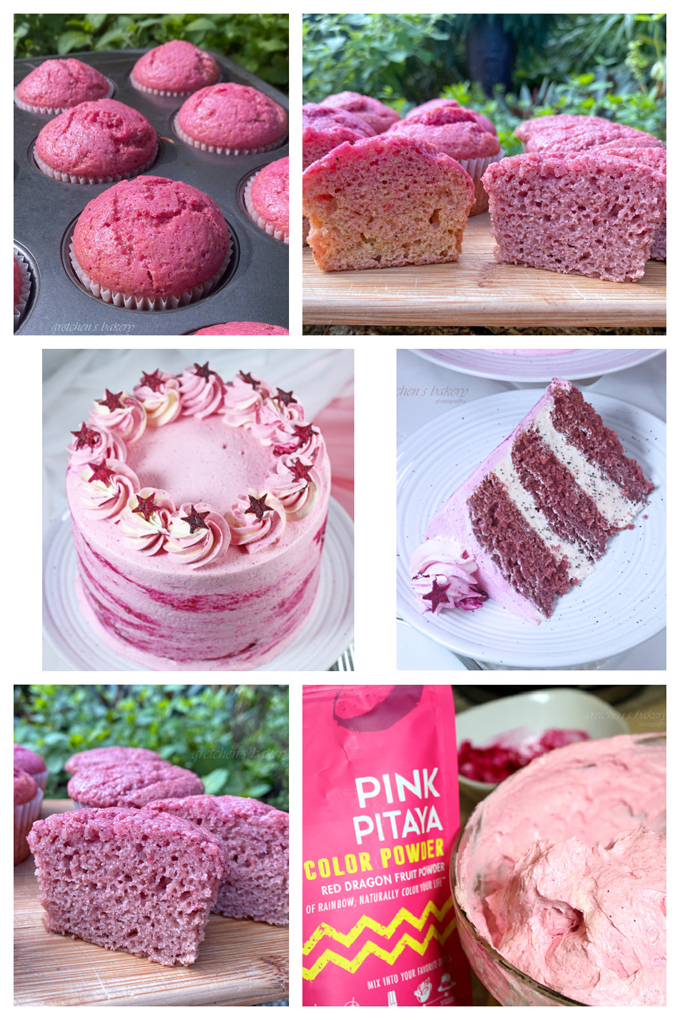 Notes for Success:
There are two recipes listed out below
One for those who like the Ombre Effect with a cake texture more like a genoise sponge cake using the dragon fruit powder
And another with the strawberry fruit powder for true purple batter and for those who want a super moist cake that tastes more like strawberry!
The recipe for the Ombre effect was achieved without using strawberry fruit powder, so there is no error in the recipe ingredients
Additionally I used applesauce in place of some of the oil in that recipe
If you do not like to use applesauce you can use more oil
I did not use applesauce in the straight strawberry powder recipe since there is natural pectin in strawberry fruit powder
Too much moisture by adding applesauce to this formula will make this version of the cake gummy
Here are the freeze dried fruits that I use, then I grind them to a powder in a spice grinder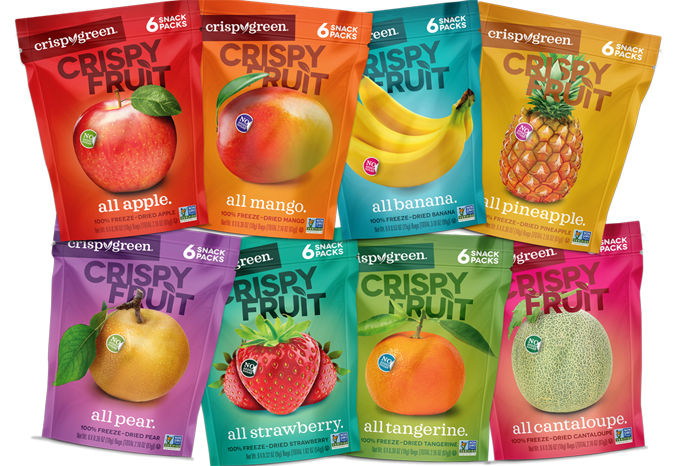 For more summer fruity layer cake recipes click the links below
Dragon Fruit Cake~ Ombre Effect
You will be wise to use deeper pans for the Ombre effect such as a Bundt Pan, Cupcakes or divide the batter between 2- 7" Pans
Ingredients
For the Cake:
All Purpose Flour 2 cup (250g)
Cake Flour 1 cup (120g) *see notes above
Pink Pitaya Powder 4 Tablespoons
Baking Powder 4 teaspoons
Salt 1 teaspoon
Granulated Sugar 1¾ cup (350g)
Vegetable Oil ⅔ cup (160ml)
Apple Sauce 4 Tablespoons (56g) *or more oil if you are not using applesauce
Plant Milk *I use soy milk 2 cups (480ml)
Vanilla Extract 2 teaspoons (10ml)
1 Recipe Your Favorite Buttercream * I am using ABC
Pink Pitaya Powder 4 teaspoons + 4 teaspoons hot water
Instructions
Preheat the oven to 350°F
Grease and parchment paper your cake pan(s)
In a large mixing bowl combine the oil, vanilla, plant milk and applesauce together in a large mixing bowl and whisk smooth
Sift together the flours, sugar, pink pitaya powder, salt & baking powder and then add to the liquids in the bowl.
Whisk vigorously until smooth, about 40 strokes
Pour into the prepared pans and bake for 25-30 minutes for the 7" layers (longer for Bundt cakes and shorter for cupcakes) or until a toothpick inserted in the center comes out clean.
Cool in the cake pans, then flip onto a cooling rack to cool to cold
Prepare your favorite buttercream recipe and then separate it in half.
Half will be white for the filling
Adding poppy seeds to represent the seeds of a dragon fruit is completely optional
The other half of the buttercream for the icing will get the pink pitaya powder paste ~ simply reconstituted pitaya powder with the hot water, add to the buttercream when completely cold
**Save out a couple tablespoons of the pitaya paste for the watercolor effect decoration
Notes
Dragon fruit cream cake can be kept at room temperature for up to 3 days

For longer storage keep refrigerated for up to 1 week.
STRAWBERRY PITAYA CAKE RECIPE
Strawberry Dragon Fruit Cake~ purple batter
Makes 10 cupcakes or 3-7" layers
Ingredients
For the Cake:
All Purpose Flour 2 cup (250g)
Cake Flour 1 cup (120g) *see notes above
Strawberry Fruit Powder 4 Tablespoons
Pink Pitaya Powder 2 Tablespoons
Baking Powder 4 teaspoons
Salt 1 teaspoon
Granulated Sugar 1½ cup (300g)
Vegetable Oil ⅔ cup (160ml)
Plant Milk *I use soy milk 2 cups (480ml)
Vanilla Extract 2 teaspoons (10ml)
1 Recipe Your Favorite Buttercream * I am using ABC
Pink Pitaya Powder 4 teaspoons + 4 teaspoons hot water
Instructions
Preheat the oven to 350°F
Grease and parchment paper your cake pan(s)
In a large mixing bowl combine the oil, vanilla & plant milk together in a large mixing bowl and whisk smooth
Sift together the flours, sugar, strawberry fruit powder, pink pitaya powder, salt & baking powder and then add to the liquids in the bowl.
Whisk vigorously until smooth, about 40 strokes
Pour into the prepared pans and bake for 25-30 minutes for the 7" layers (shorter for cupcakes~ check at 18minutes) or until a toothpick inserted in the center comes out clean.
Cool in the cake pans, then flip onto a cooling rack to cool to cold
Prepare your favorite buttercream recipe and then separate it in half.
Half will be white for the filling
Adding poppy seeds to represent the seeds of a dragon fruit is completely optional
The other half of the buttercream for the icing will get the pink pitaya powder paste ~ simply reconstituted pitaya powder with the hot water, add to the buttercream when completely cold
**Save out a couple tablespoons of the pitaya paste for the watercolor effect decoration