Italian Rum Cake~ Italian Cannoli Cake ~ Cassata Cake~
Whatever you want to call it
I am simply over the moon with this new Ricotta Cake recipe
Turning it into a Cannoli Cake was a no-brainer!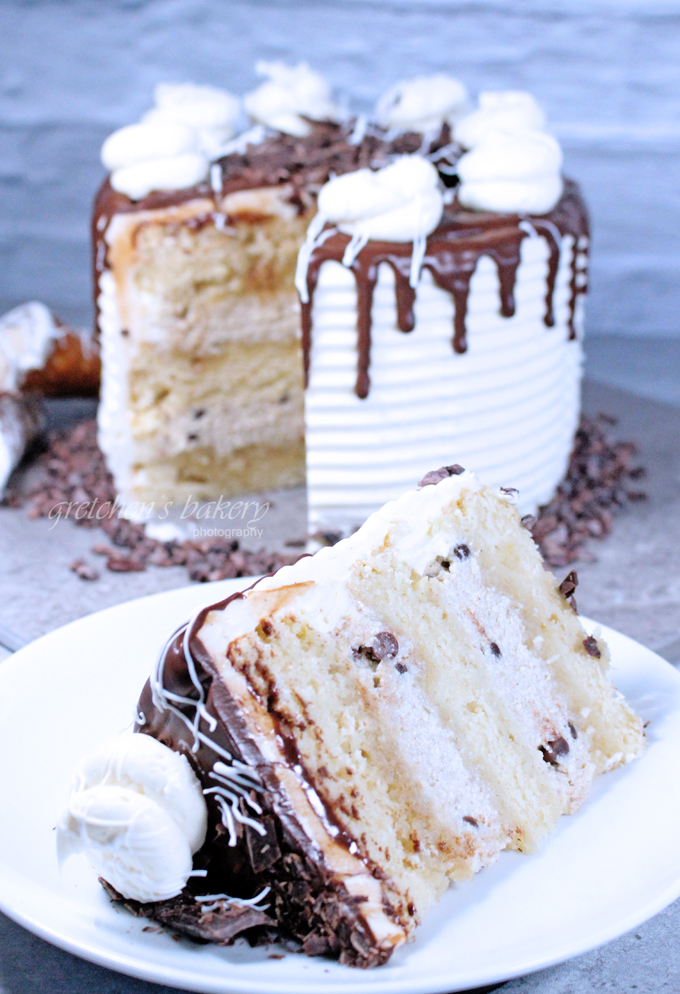 The addition of Tofu Ricotta to this cake recipe has taken the words "moist cake" to new levels
Soaked with vanilla bean rum syrup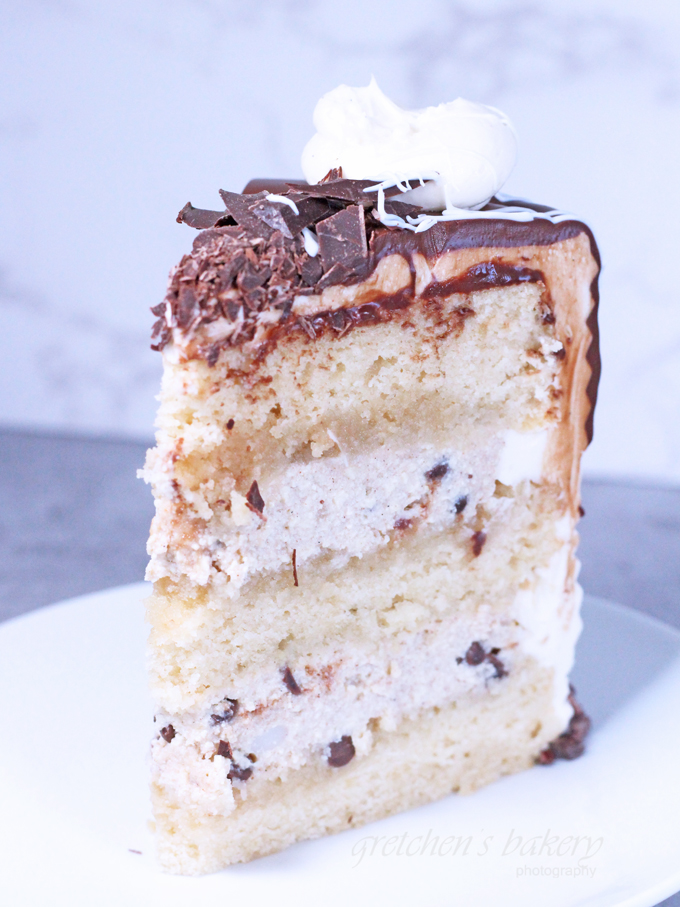 This Cannoli Cake is going to change your life!
Look if cauliflower can be pizza, then tofu can basically be everything else!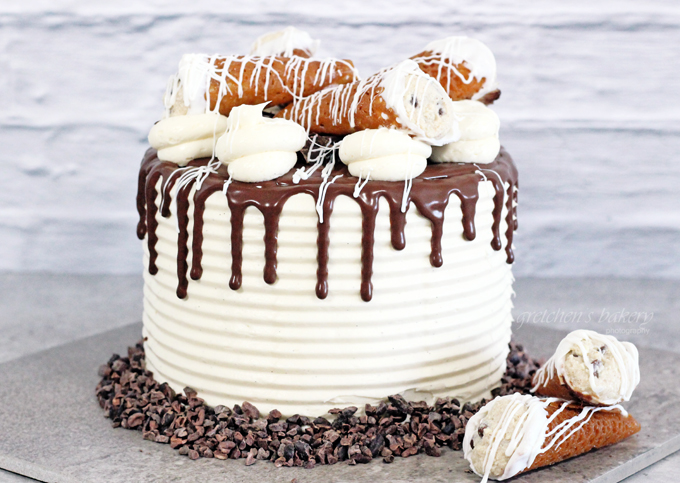 I have proven it right here with this Cannoli Cake!
Of course tofu has to be transformed to be palatable
Since the reason tofu gets such a bad wrap is because well let's be honest it's pretty gross all by itself!
If you have never tried tofu ricotta you are definitely missing out on magic!
But for desserts~ tofu is equally amazing!
Simply processing a block of tofu to the consistency of ricotta cheese
Add in the cinnamon, sugar and the chocolate chips are optional
Fold in the vegan whipped cream and you have instant cannoli!
Well maybe not instant since you do have to make the shell that carries that luscious cannoli filling into your face hole!
Traditional cannoli are made with a fried dough for a crispy shell, 
However I like to make a brandy snap lace cookie shell instead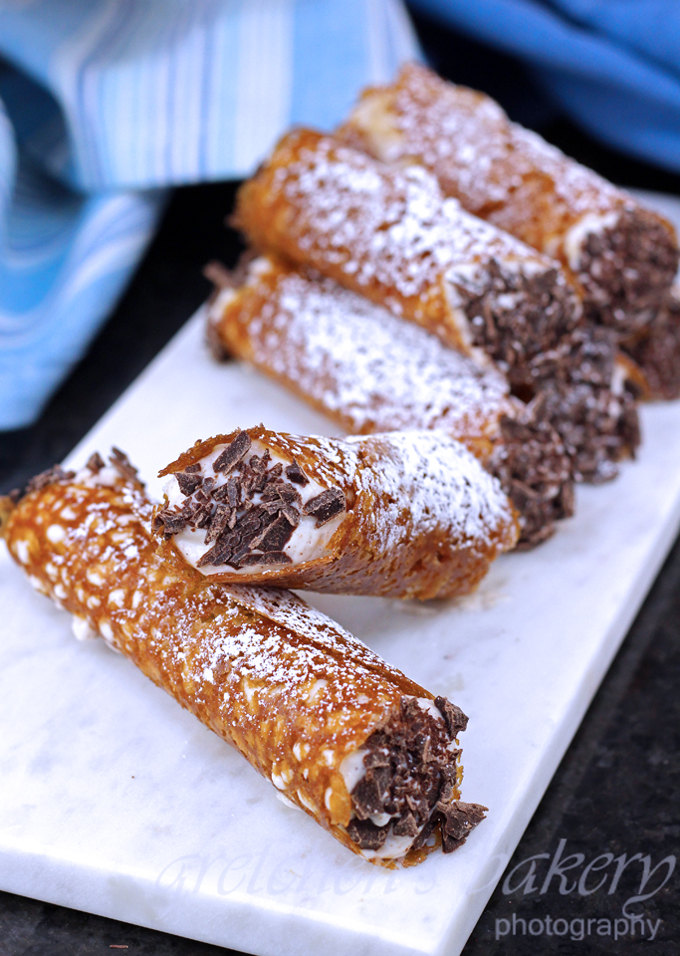 If you have not yet tried this version, you are in for a treat!
But wait!
I am getting all caught up on the cannoli which is an merely optional garnish for this cake!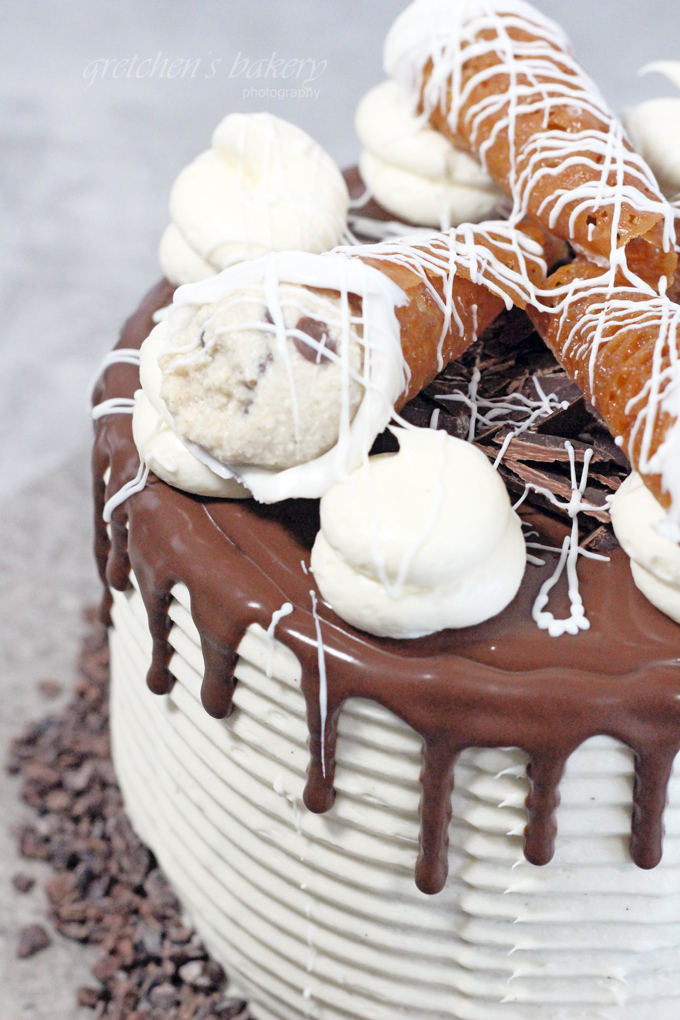 The most important part is that you try the new ricotta cake recipe and the cannoli filling!
The recipe below makes 3-7″ cake layers or you can divide the batter between 2-8″ pans instead
The cannoli filling recipe is enough to fill the cake and then you will have more for filling the cannoli which will become the garnish
*optional of course
I am using these mini chocolate chips from Olive Nation today and they are so good!
*sponsored product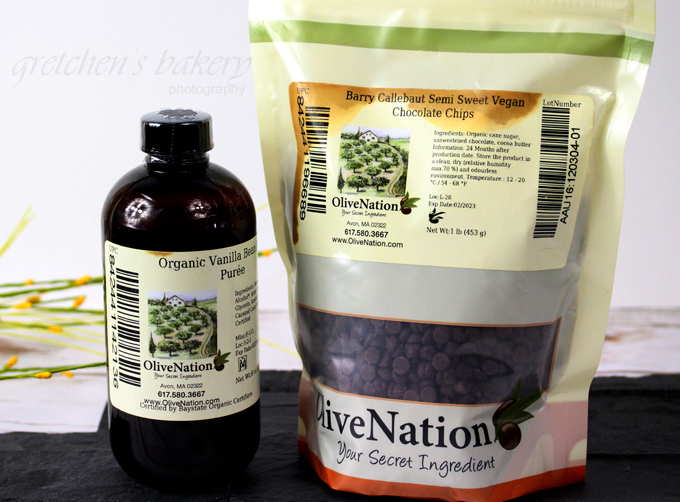 Accept this coupon code for 20% off your order just for hanging out with me here!
GBV20
Once again it is a building on recipes project so there are a few recipes you will have to make first before getting to the final
But as with all building on recipes projects it is so worth the effort!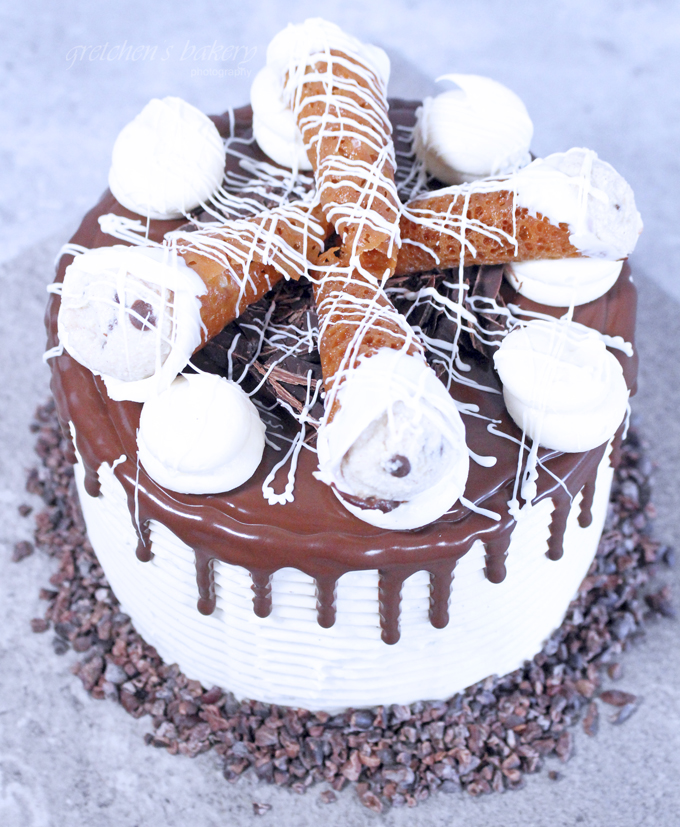 Just follow along with the step-by-step video tutorial and also the written recipe below walks you through it with ease!
CLICK HERE FOR THE FULL YOUTUBE VIDEO TUTORIAL FOR HOW TO MAKE THIS CAKE!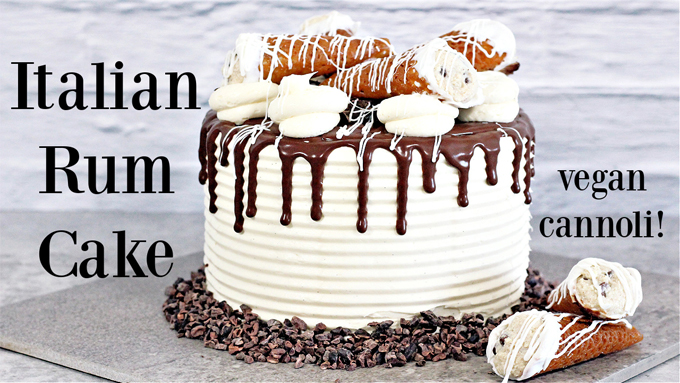 Notes for Success:
I use extra firm tofu for my ricotta and I do not bother to press it, just drain it and squeeze out any excess water before processing
I like the addition of orange zest for everything cannoli, but this is optional can can be left out
As well as the rum in the soaking syrup too
The vegan whipped cream to fold into the cannoli filling can be achieved so many different ways and I have several options for you here for Vegan Whipped Cream Recipes
I am using a can of coconut milk that has been refrigerated overnight for this particular recipe today
And I find that A Taste of Thai is the most consistent and has the most fat per can compared to any other I have tried.
*not sponsored
Whatever way you decide to go for the vegan whipping cream you will need about 1 cup of whipped cream to fold into the cannoli cream base as listed below
The recipe for the cake is using aquafaba for the egg replacer with an additional powdered egg replacer and I am using Bob's Red Mill for that
This recipe would do well with just about any egg replacer though.
CLICK HERE FOR MORE INFORMATION ABOUT EGG REPLACERS IN VEGAN BAKING
You will notice that I am using a combination of All Purpose Flour and Cake Flour and many of you have a hard time getting cake flour
In which case use all ~ All Purpose Flour in the total weight amount of 270g
CLICK HERE FOR MORE INFORMATION ABOUT CAKE FLOUR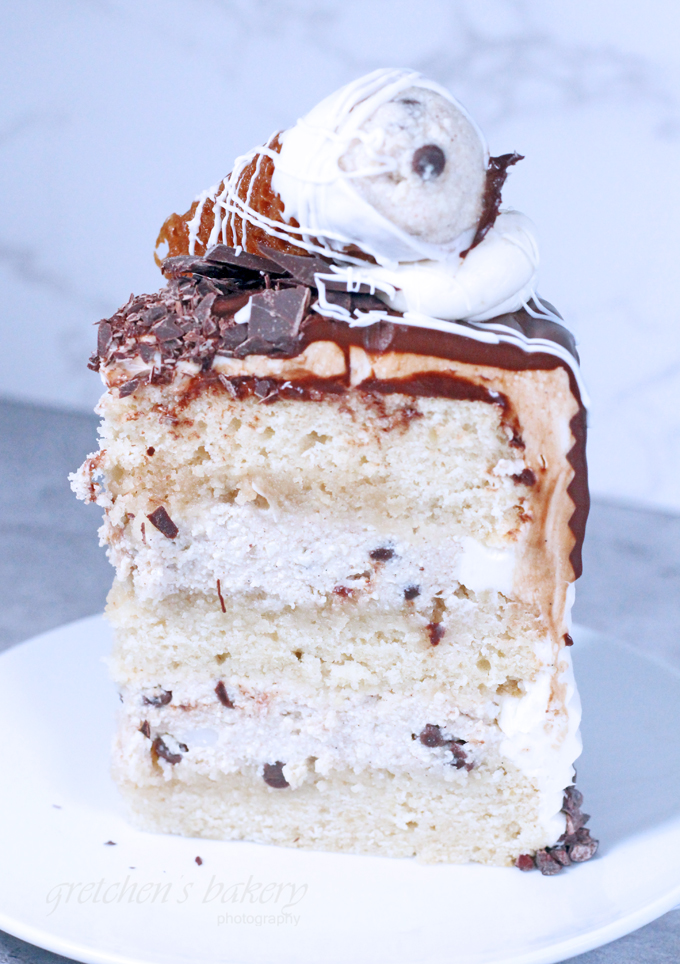 For more awesome recipes like this one click the links below!
Italian Ricotta Cheesecake ~ Vegan
Cannoli Cake
You will need 1½ packages (21oz) of tofu for the total recipes below - that would be 3 cups total tofu ricotta after processing smooth
I am baking the cake batter in 3-7" cake pans, but you can also use 2-8" cake pans instead for a 2 layer cake
Depending on your choice of vegan whipped cream for this recipe you must think ahead ~ for coconut milk cans be sure to refrigerate them overnight~ for my homemade whipped cream recipe be sure to read the entire blog post ahead of time & it is best to prepare that recipe a day before as well.
As with all building on recipes projects you must prepare all the separate recipes and then put them all together for the final cake, so be sure to prepare your recipes in advance
Ingredients
For the Cake Batter:
Vegan Butter 8Tablespoons (113g)
Granulated Sugar 1 cup +2 Tbs (228g)
Salt 1 teaspoon
Aquafaba ¼ cup (56ml)
Soy Milk ½ cup (118ml)
Vanilla Extract 2 teaspoons (10ml)
All Purpose Flour 1¾ cup (218g)
Cake Flour ½ cup (60g)
Baking Powder 2 teaspoon
Egg Replacer *I am using Bob's Red Mill 1 Tablespoon
Tofu Ricotta 1 cup (230g)
For the Cannoli Filling:
Tofu Firm pressed lightly to release any excess water 1 package 14oz (392g)
Confectioners Sugar sifted 1 cup (120g)
Vanilla Bean Paste 2 teaspoons (10ml)
Orange Zest from 1 large orange *optional approx 1 Tbs
Cinnamon 1 teaspoon
Mini Vegan Chocolate Chips 1 cup (150g)
Vegan Whipped Cream of your choice 1 cup whipped volume
1 Recipe Buttercream of your choice * I am using Vanilla Bean Paste infused Italian Meringue Buttercream
Vanilla Bean Paste 1 Tablespoon (15ml)
For the Rum Simple Syrup:
Water ½ cup (118ml)
Granulated Sugar ½ cup (100g)
Rum **optional 2 Tablespoons (30ml)
Vanilla Bean Paste 2 teaspoons (10ml)
Instructions
Grease & parchment line your cake pans & then Preheat the oven to 350°F
Prepare the tofu ricotta by placing all of the tofu for both recipes (the cake & the cannoli filling) drained and lightly squeezed of excess water tofu in the food processor
Process smooth to resemble ricotta cheese, divide into the measurements listed for the cake and then for the cannoli filling
Next cream the vegan butter with the sugar and salt on medium -high speed for about 7 minutes, scraping the bowl from time to time to ensure an even mix.
Combine the aquafaba with the soy milk and the vanilla extract
Sift the flours together with the baking powder and egg replacer
Once the vegan butter/sugar is light and fluffy start adding in the aquafaba/milk mixture a portion at a time and whipping in between additions.
I do this in 3 additions and scrape the bowl well after each addition.
Add the sifted dry ingredients all at once and mix well but do not over mix.
Add the tofu ricotta all at once and blend well
Divide the batter between your prepared pans and bake in the preheated oven for approximately 28-32 minutes or when a toothpick inserted into the center comes out clean
Cool the cakes in the pan until you can touch them then flip them out onto a cooling rack to cool the rest of the way.
For the cannoli filling:
In a large mixing bowl combine the tofu ricotta, cinnamon, confectioners sugar, orange zest if using and mix evenly
In a separate bowl whip the fat from the coconut milk cans to medium firm peaks *or prepare another vegan whipped cream recipe of your choice
Add the whipped cream to the ricotta mixture and fold in gently
Refrigerate until needed.
Prepare the Buttercream recipe as per the instructions on that blog post/recipe be sure to add the vanilla bean paste at the last stage of mixing
For the Rum Simple Syrup:
Combine the sugar and water in a small heavy bottom sauce pot and bring to a boil.
Let boil rapidly for 1 minute and then turn off the heat, allow to cool then add the optional rum and vanilla bean paste set aside
Once the cake is completely cooled and cold, start to build the cake as shown in the video
Simple syrup on each layer and some of the cannoli filling will go to fill the optional cannoli for garnish
I am using the vanilla bean buttercream for a dam on each layer to hold in the soft cannoli filling as well as for the icing and rosettes for the top of the finished cake.
I used ganache for the drip and for the top icing as well.
-6 Cannoli to garnish the cake and more to serve on the side
I used cacao nibs for the bottom rim of the cake
Notes
Cannoli cake must be kept refrigerated, but can stay at room temperature for up to 4 hours.

Store cake for up to 1 week in the refrigerator loosely covered to prevent drying.

Cake can be frozen for up to 1 month
3.5.3251