I've never had to wait so long to make a cake!
But this Chocolate Covered Cherry Cake is definitely worth the wait!
Blame it on the Chocolate Covered Cherries!
Since it takes at least four weeks for the centers to turn to liquid!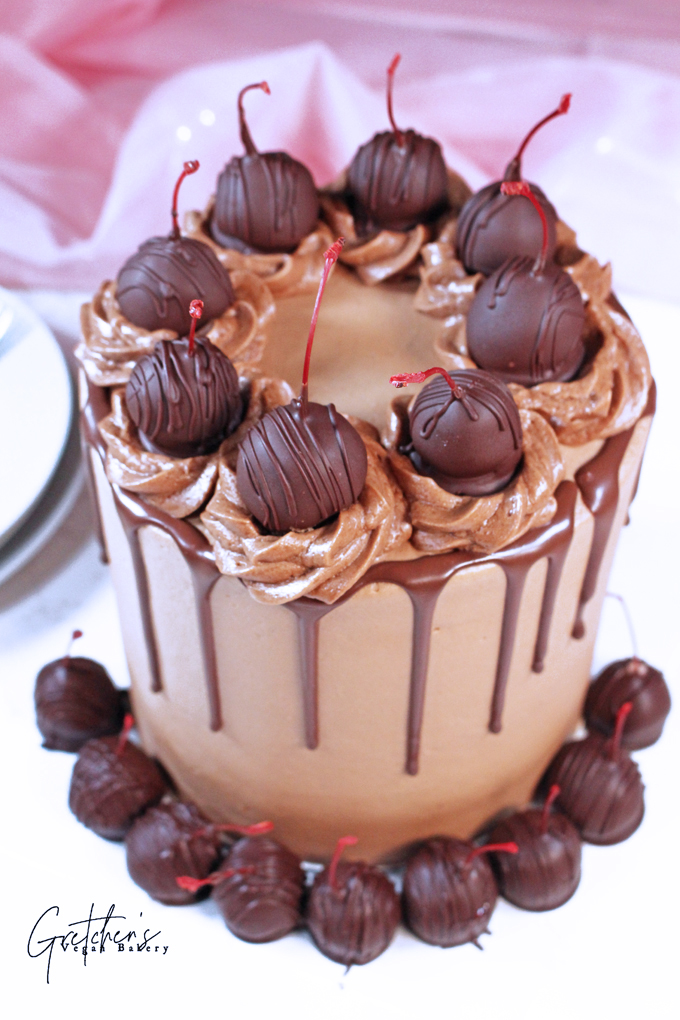 Some planning ahead was in order so I started this project the first week of January!
But once my chocolate covered cherries transformed into the liquid cherry cordials they were meant to be, this cake came together like a breeze!
Click here for the chocolate covered cherries recipe!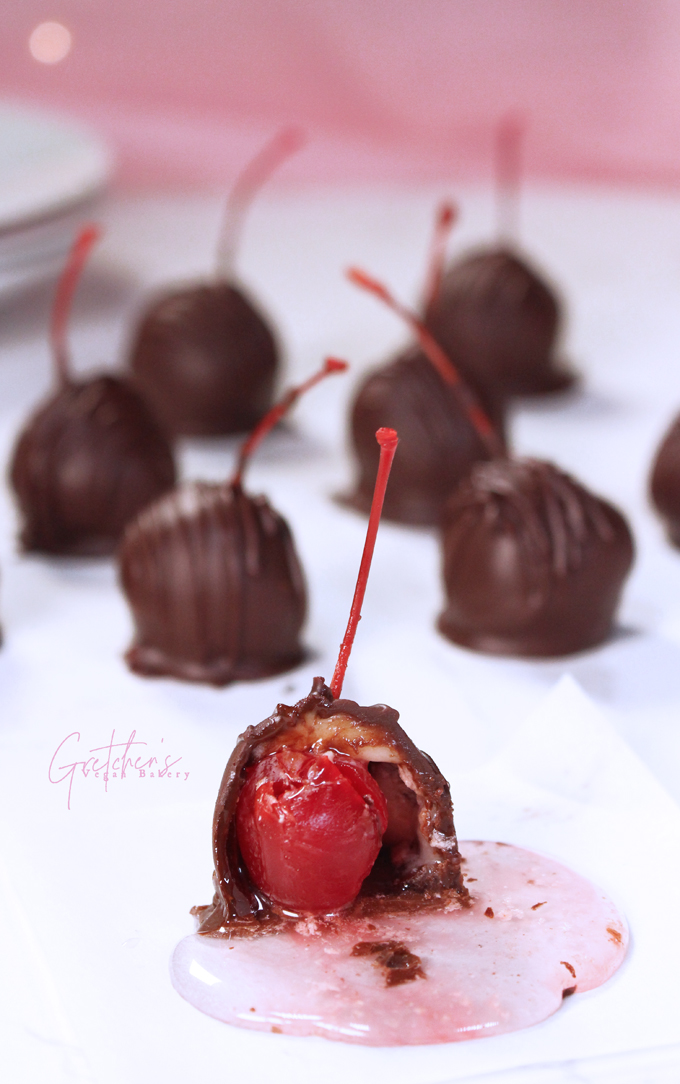 Layers of chocolate cake and cherry cake layers with ganache and cherry buttercream filling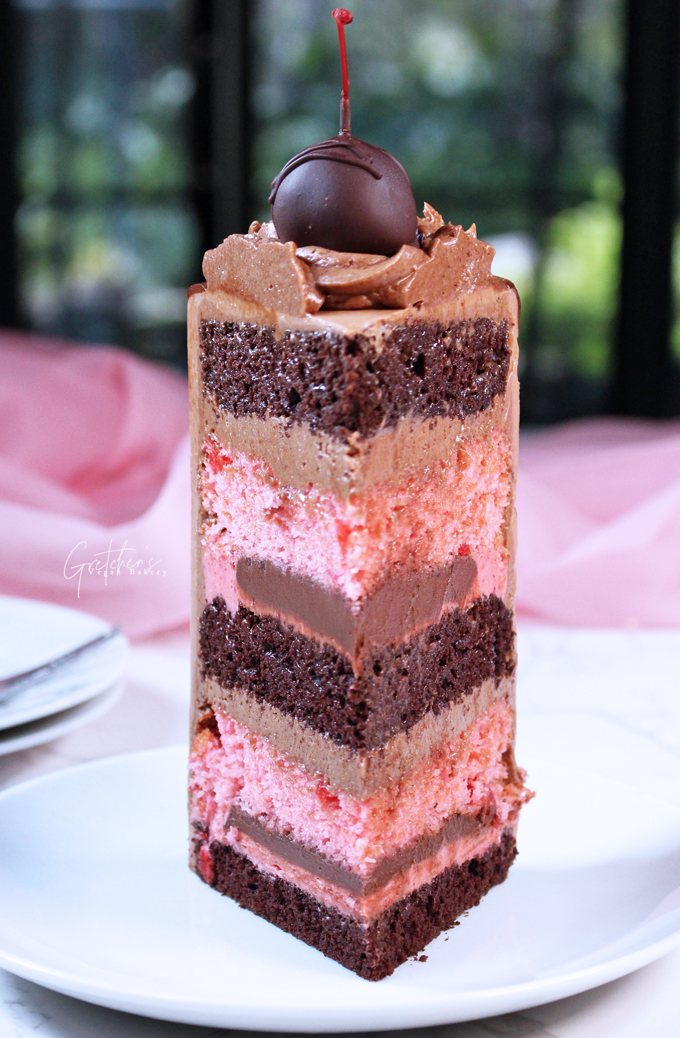 Cake Pan Sizes:
Lately I have been in the habit of making 6 inch cake layers rather than the 7″ cakes you normally see me make.
For those with only 8″ cake pans you will simply divide the batter between 2 pans and have a 4 layer cake and not a 5 layer cake like I have here.
Whatever size pans you have simply fill the batter half full for perfect layers and no need to adjust bake temperature, although baking time may be less since the batter could be thinner in larger diameter pans
Notes:
Since Maraschino Cherries are a blaspheme to nature and would not be considered vegan due to the ingredients list
I love to use a more natural processed maraschino cherry from Chukar Cherries *not sponsored
Don't forget, if you are making the homemade cherry cordials~ get your 20% off discount for the chocolate couverture at OliveNation!
Use GVB20 in the coupon section at check for 20% off your entire order with OliveNation!

CLICK HERE FOR THE YOUTUBE VIDEO TUTORIAL FOR HOW TO MAKE THIS CAKE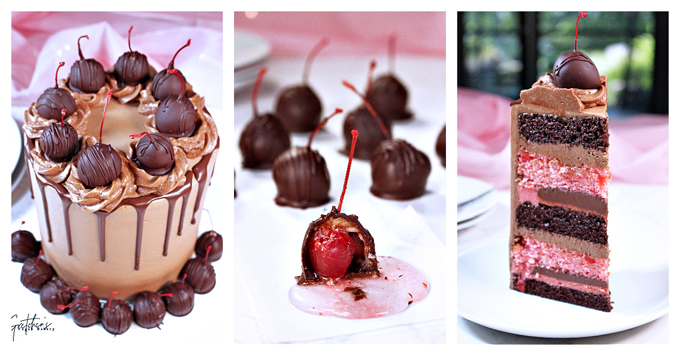 For more awesome Valentine's Day recipes click the links below
Assorted Box of Chocolates ~ Mini Cupcakes
Yield: serves 10ppl
Chocolate Covered Cherry Cake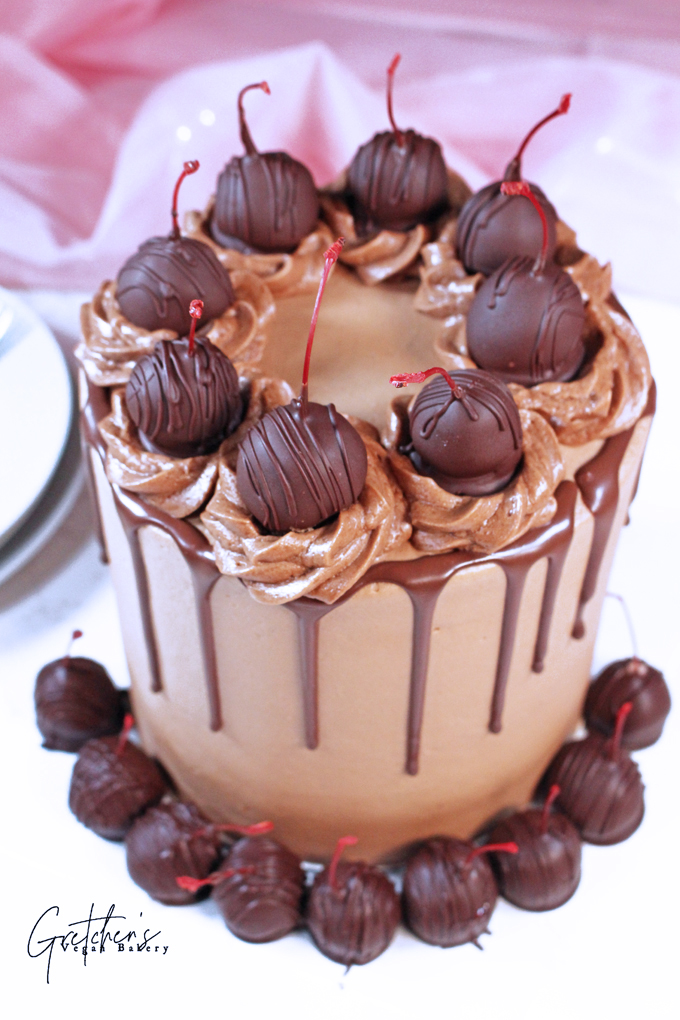 Total Time
3 hours
30 minutes
Ingredients
For the Cherry Cake:
Plant Milk ¾ cup (188ml) * I use soy milk
Vegetable Oil 9 Tablespoons (135ml)
Maraschino Cherry Juice 1/3 cup (80ml)
Maraschino Cherries ¼ cup (50g)
Vanilla Extract 1 teaspoon (5ml)
All Purpose Flour 1 ¾ cup (218g)
Egg Replacer 1½ teaspoons * I am using Bob's Red Mil
Granulated Sugar ¾ cups (150g)
Baking Powder 3 teaspoons
Salt ½ teaspoon
Pink color *optional
Instructions
Preheat the oven to 350°F
Grease & parchment line your 2- 6" cake pans *or any size pan you prefer see notes above
First prepare the cherry cake layers by combining all of the ingredients listed into a food processor and process to a smooth batter
Divide the batter evenly between your 2- 6" pans and bake in the preheated oven for approximately 30 minutes, or when they are springy to the touch when you gently press the centers
Cool the cakes in the pans until you can safely touch them, then flip the cake layers onto a cooling rack to cool the rest of the way
Wash & re-grease & parchment line the cake pans (now you will need 3) and prepare the chocolate cake as per the instructions on that recipe post. *Be careful of your math & measuring since you only need HALF RECIPE
While the cakes are baking/cooling prepare the buttercream recipe as per the instructions on that recipe post & then divide it into 2 bowls,
In one bowl you will only need about 1¾ cups and the rest of the buttercream will get some of the ganache to make it chocolate buttercream
In the smaller portion you will add 2 teaspoons of cherry extract and some food color to make it pink.
Next prepare the ganache recipe according to the instructions on that page and once it is completely cool, but not set to firm, add about ½ cup into the reserved buttercream to make it chocolate.
Once all of your recipes are prepared you can build the cake as shown in the video
Notes
Chocolate covered cherry cake can stay at room temperature since nothing is perishable, however a cake of this stature would do better refrigerated since if it gets too warm it will droop especially after slicing, it may fall over.