There are some things you just simply must have on Valentine's Day.
Chocolate Covered Strawberries and Chocolate Mousse
Intrroducing Chocolate Covered Strawberry Mousse Cake!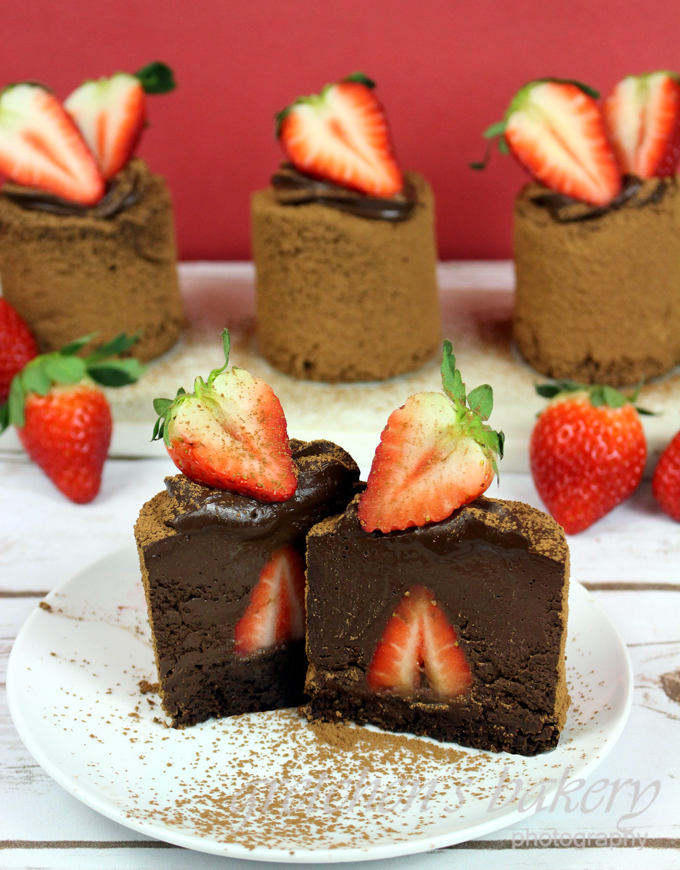 I know at first glance this may seem like a daunting project.
But believe me, it is really simple!
No special equipment or molds required for these little individual cakes!
My recipe for vegan chocolate mousse is so easy to make with just 5 ingredients and it sets in minutes!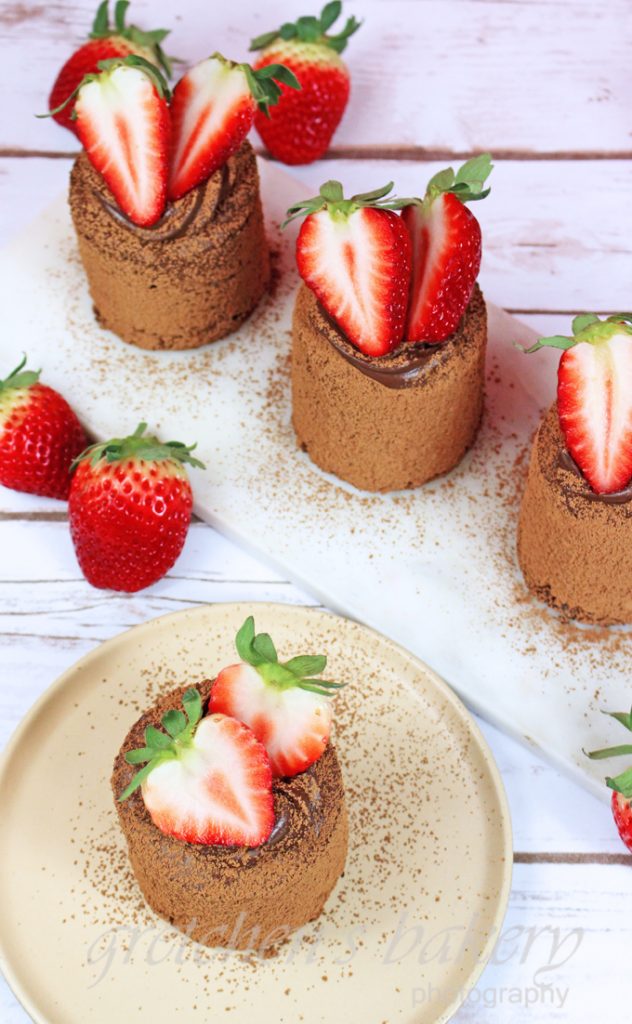 No spending days in the kitchen for this one since all you need is a sheet of chocolate cake that you can bake ahead of time!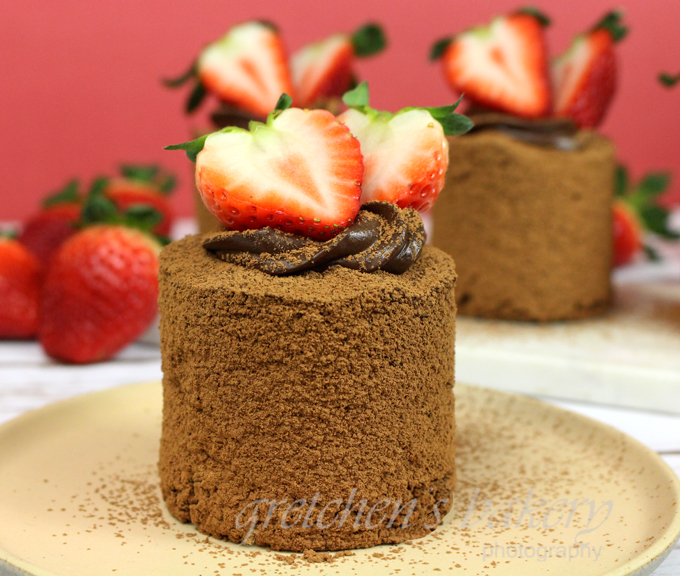 I've used jumbo muffin tins for the molds rather than spend tons of money on expensive metal cake rings.
You will need some acetate cake strips though for ease of removal and for that smooth clean look, it's quite imperative.
Check out the full version video on YouTube for the step by step on how to pull this all together.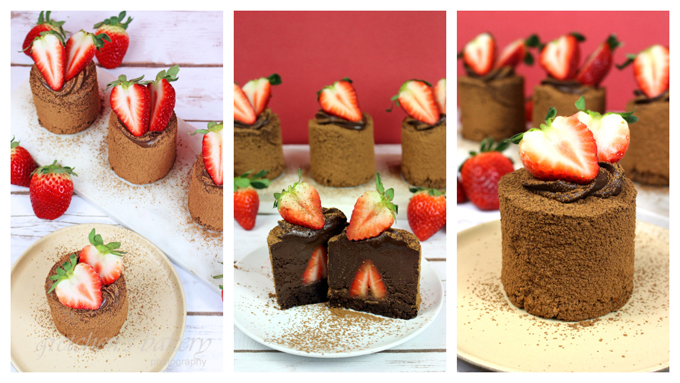 For some added tip to success for this recipe CLICK HERE FOR THE AQUAFABA LIFE HACK!
For more easy chocolate mousse recipes click the links below
Vegan Peanut Butter Mousse Cake
Chocolate Mousse Cake ~ Almond Sponge Cake

Yield: 8 Individual or 1-8" cake
Chocolate Covered Strawberry Mousse Cake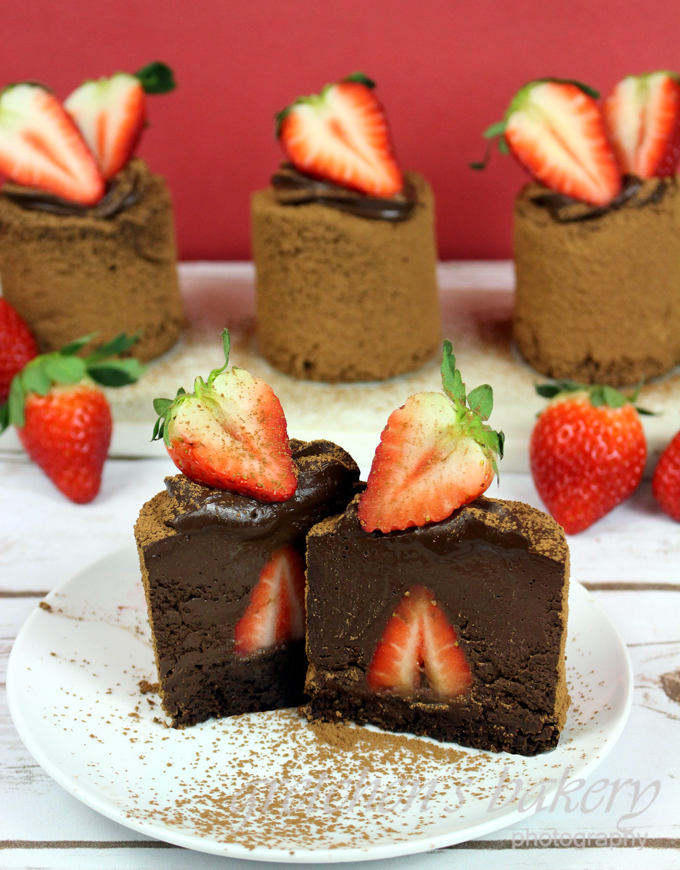 I've used a half time recipemy Best Chocolate Cake baked into a Quarter Sheet Pan and then cut out the discs to fit my molds. I thought it would be a nice idea totry a Brownie next time!
Also if you do not want to make the individuals you can make this entire recipe in an 8" ring mold (or a springform pan with no bottom!)
Total Time
1 hour
10 minutes
Ingredients
Chocolate Mousse:
Semi Sweet Vegan Chocolate 8ounces
Strong Brewed Coffee 3 Tablespoons
Agar Powder ½ teaspoon
Coconut Milk 2 - 15 ounce cans refrigerated overnight
Aquafaba ½ cup
Optional garnishes:
Cocoa powder for dusting approx ¼ -½ cup
Fresh Strawberries 8-10
Instructions
Remember to refrigerate your coconut milk overnight before beginning.
First grease & parchment line your quarter sheet pan and get the oven preheated to 350°F
Prepare the chocolate cake recipe and then bake for approximately 25-30 minutes or when a toothpick inserted into the center comes out clean.
While the cake is baking prepare the ganache recipe as shown on that article recipe post.
Clean and trim your strawberries and get them ready for dipping, make sure they are dry before you do dip them
Next prepare your molds with the acetate cake strips as shown in the video tutorial on Youtube
Cut the cooled cake discs with a cookie cutter that is the exact same size as the molds,
Insert the cake discs into the bottom and then dip your strawberries into the ganache, covering almost all the way to the tips (it just helps in the handling of them to not dip them all the way, but of course you could!)
Next prepare the chocolate mousse by melting the vegan semi sweet *or bittersweet if you prefer! chocolate over a double boiler or in the microwave.
Sprinkle the agar powder over the hot coffee and br8ing it to a boil, then keep it warm in a pan of hot water to prevent it from setting.
Whip the coconut fat from the tops of the cans of coconut milk *reserve the water for these recipes using coconut water!!
Reserve the soft whipped coconut cream and then prepare the aquafaba by whipping the bean liquid in a high speed balloon whip stand mixer until thick & glossy CLICK HERE FOR MORE INFO ABOUT AQUAFABA! It's a game changer!!
Whip the warm agar/coffee into the chocolate & whisk smooth, then fold (whisk) in the coconut cream, then fold in the whipped aqaufaba.
Immediately portion into your prepared molds and then refrigerate to set.
Unmold by rolling of the acetate strip carefully then sprinkle with cocoa powder, decorate with the reserved ganache and a sliced strawberry for garnish!
Notes
Mousse cakes must be kept refrigerated at all times.

They will stay fresh for up to 1 week in an airtight container in the refrigerator **fresh strawberry garnish will wilt after 1-2 days

Because of the fresh strawberry inside, I do not freeze these cakes, the strawberry will be mushy & soggy on the thaw. If you LEAVE OUT the strawberry inside and just make mousse cakes, you can freeze these for up to 1 month