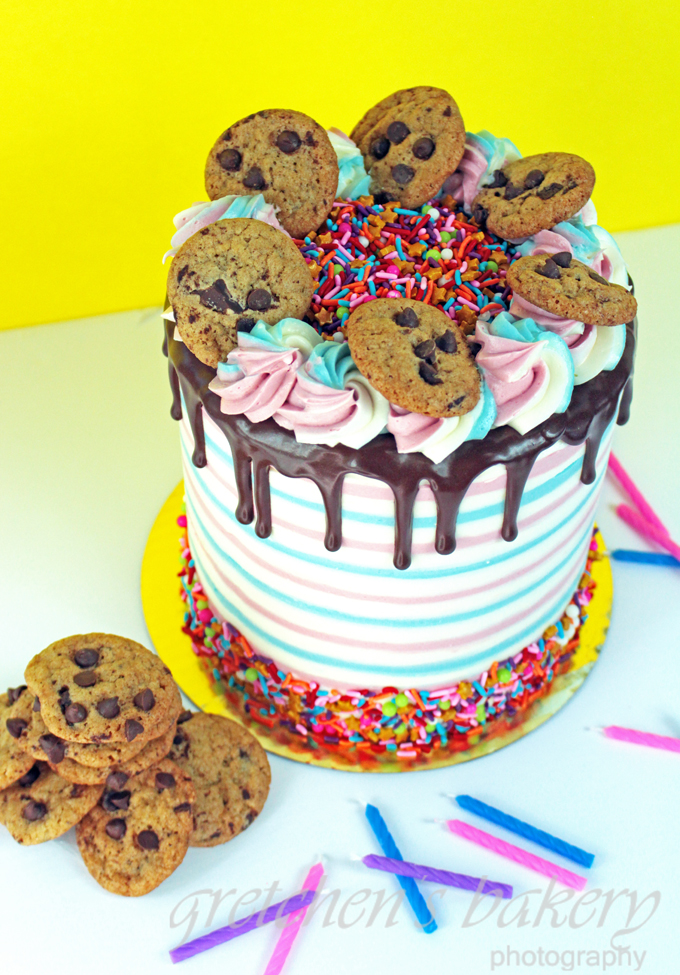 The best part about being a baker on your birthday is that you get exactly the cake you want for your birthday!
The only catch is that you have to make it yourself!
I bet not too many of us would be upset by that though, since after all~ the best cakes are made by us!
Am I right!?
Even though it's not my birthday until May, I decided to do a little test run with a new design and some edible cookie dough filling.
Well a couple hours later and that little birthday cake test run turned into a gigantic 7 Layer Cookie Dough Filled Chocolate and Vanilla layered buttercream cake!
Complete with candles and all!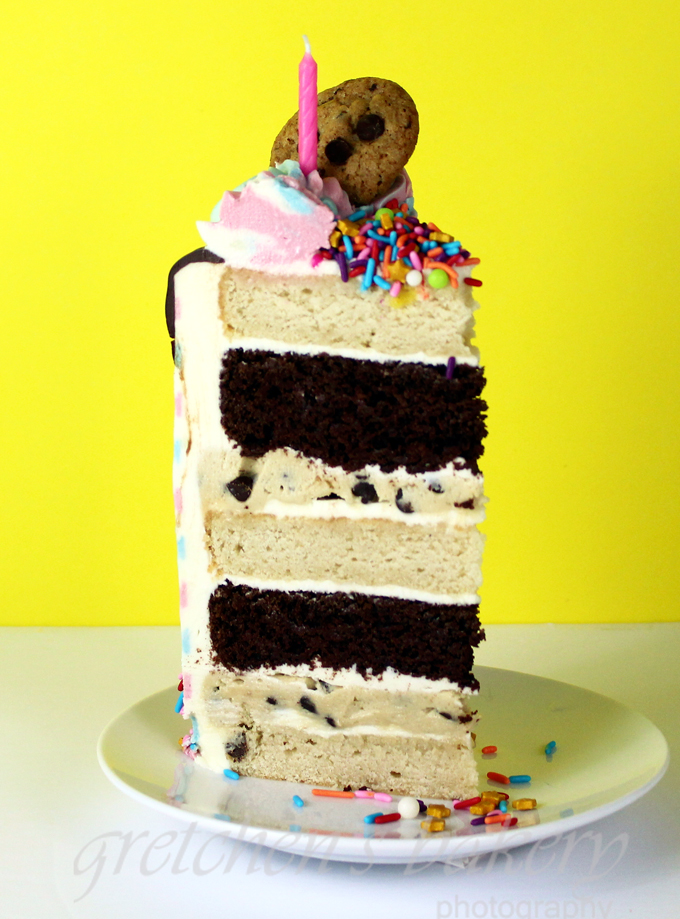 Now I've never been one to rush my birthday so to have a little preview in January (5 months before my actual date) seemed a better way to go!
In the recipe below I will list for you all the recipes you will need to pull off a cake of this stature.
Keep in mind I have a habit of making my cakes as 7″ cakes.
Maybe that's residual from my Bakery Days, but I just think the 7″ cake is such a perfect size.
It serves about 8 people when it is standard three layers, but when you get into an almost 9″ tall cake like this one, well let's just say I could barely finish the whole slice myself.
I said barely…. you better believe I finished it!
This cake is a perfect combination of vanilla cake layers and chocolate.
Edible cookie dough buttercream filling and of course no cake is ever complete without BUTTERCREAM!!
Now if you only have 8″ pans I wouldn't expect you to go out and specifically buy 7″ pans, so you can easily make all the recipes I have listed below with 8″ pans.
You will only need two pans, but keep in mind by doing it this way you will have a shorter cake with less layers.
But for those who would like to make this came exactly as I show you in the video tutorial, you will need:
* I am an Amazon Affiliate so please be aware that if you buy directly from the Amazon links below I get a few pennies that I can put towards my next video/recipe 🙂
So thank you in advance!
Specialty Cake Decorating Combs
Ok so this is a building on recipes project which basically means you will get all your recipes prepared in advance and then you can get to the fun part!
Building this cake!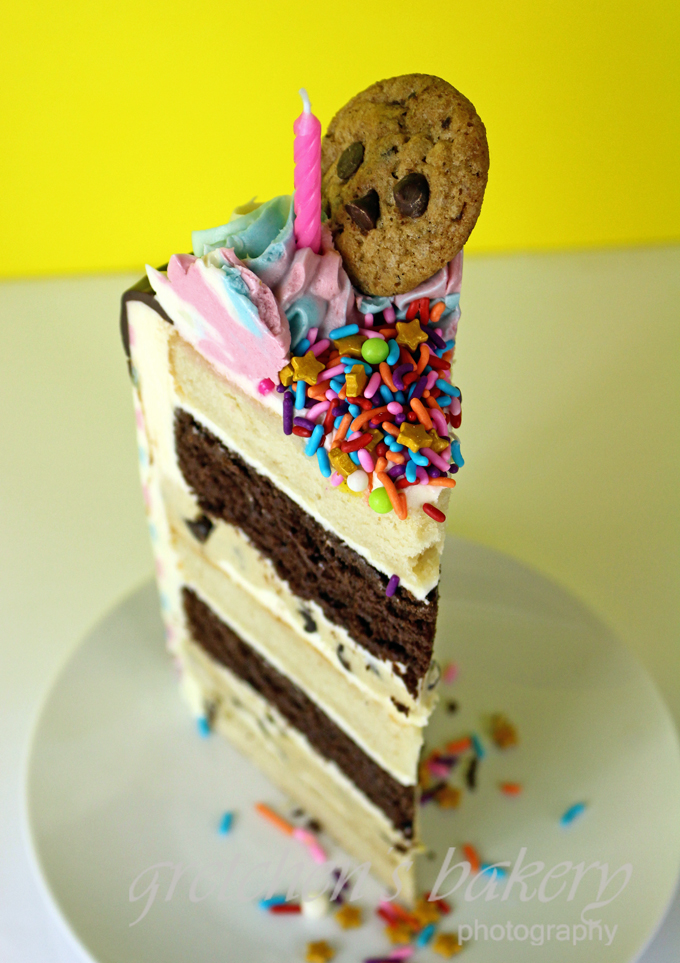 Of course if there is something about my combination here that you don't prefer, you can change any and all of it to suit you better!
Here is a list of all my icings & fillings to choose from
As well as all my different cake recipes too!
But for those who want to make this exact cake!
Let's go!
How to Make a Vegan Birthday Cake
This is a Building On Recipes Project so be sure to get all your recipes prepared in advance (up to a week for all the recipes!!) so the day you are to build this cake it only takes minutes! Ok, maybe an hour? LOL
Ingredients
1 Recipe Chocolate Cake baked into 3- 7" cake pans *you will have 1 extra layer if you are using 7" pans, but divide the batter equally in half if you are using 8" pans
1 Recipe Vanilla Cakebaked into 3- 7" cake pans *or divide the batter equally between 2-8" pans
1 Recipe Chocolate Chip Cookies for garnish *optional* I used a #100 Scoop to make the small size, then baked the rest of the dough into large cookies for my family! 🙂
For the Edible Cookie Dough Filling::
Vegan Butter room temperature 7 Tablespoons
Granulated Sugar ½ cup
Light Brown Sugar 7 Tablespoons
Salt ½ teaspoon
Vanilla Extract 1 teaspoons
Room temperature Soy Milk 10 Tablespoons
All Purpose Flour 1½ + 2Tablespoons
Vegan Mini Chocolate Chips or Chunks 1¼ cup
Instructions
Prepare your cake pans with professional pan grease & parchment paper liners.
Preheat your oven to 350°F
Prepare your cake layers by following the recipes & instructions on those pages.
Prepare the buttercream as far in advance as 1 week and then color 1 cup of it blue and 1 cup of it pink.
Prepare the edible cookie dough filling, by first toasting the flour on a sheet pan in a preheated 350°F oven for approximately 5 minutes.
Cool completely while creaming together both sugars with the vegan butter until light & fluffy.
Add the plant milk and be sure to scrape the bottom & sides of the bowl to mix well.
the mixture may look curdled from the heavier amount of plant milk I am using to get the consistency of this dough to a creamy fluffy filling, not a herd stiff dough. *You can adjust this to your liking, more or less.
Add the cooled flour with a pinch of salt *optional and mix well
Add the miniature chocolate chips and mix well.
Divide the dough between 2 cakes pans (*the same size you used for your cake layers!) that have been lined with plastic wrap for easy removal.
Refrigerate the dough until firm & set.
Assemble the cake as shown in the video tutorial.
Notes
This cake can stay at room temperature for as long as it stays below 72°F otherwise the buttercream can get too warm and will start to droop, especially because this is a very tall cake!

For longer & possible safer! storage, keep refrigerated in an airtight container for up to 1 week