Gretchen's Bakery old Skool is in da house!
I am revisiting my cake decorating days with a Simple Grinch Cake for Christmas, you only need two recipes and no special tools.
I promise with this technique even the most non artistic of you can pull this off!
Before there was such a thing called Edible Sugar Printers for cake photos, and even before most people even knew what fondant was (yes that's how old I am) there were buttercream hand drawings.
No airbrushing, no fondant appliques and certainly no edible images!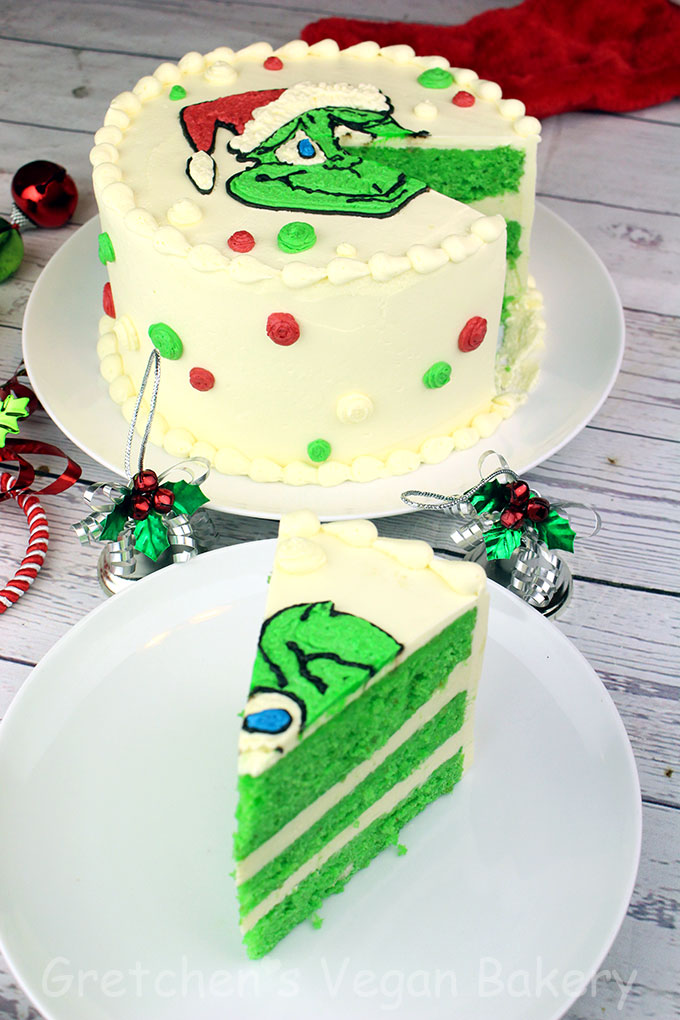 I am going to show you how to recreate this simple and fun design for Christmas this year! (And by the way you can use this technique with any picture you like for any occasion!)
The Grinch is hands down, my all time favorite Christmas character.
But as you notice the picture I chose of him for my cake is not a mean Grinchy picture, but rather when he realized that "Maybe Christmas, he thought, doesn't come from a store. Maybe Christmas, perhaps, means a little bit more." and the Grinch's small heart grew 3 sizes that day.
Just writing that line gave me chills! Call me a softy but I sure do love the story of the Grinch.
It is timeless and definitely heartwarming and we can all use a little bit of that, am I right?
So go ahead and give it a go, try your hand at this simple Christmas Grinch Cake, I promise you won't need anything but the following 2 recipes and some parchment paper cones to decorate the whole thing (Oh yeah and some food coloring, but that's it!)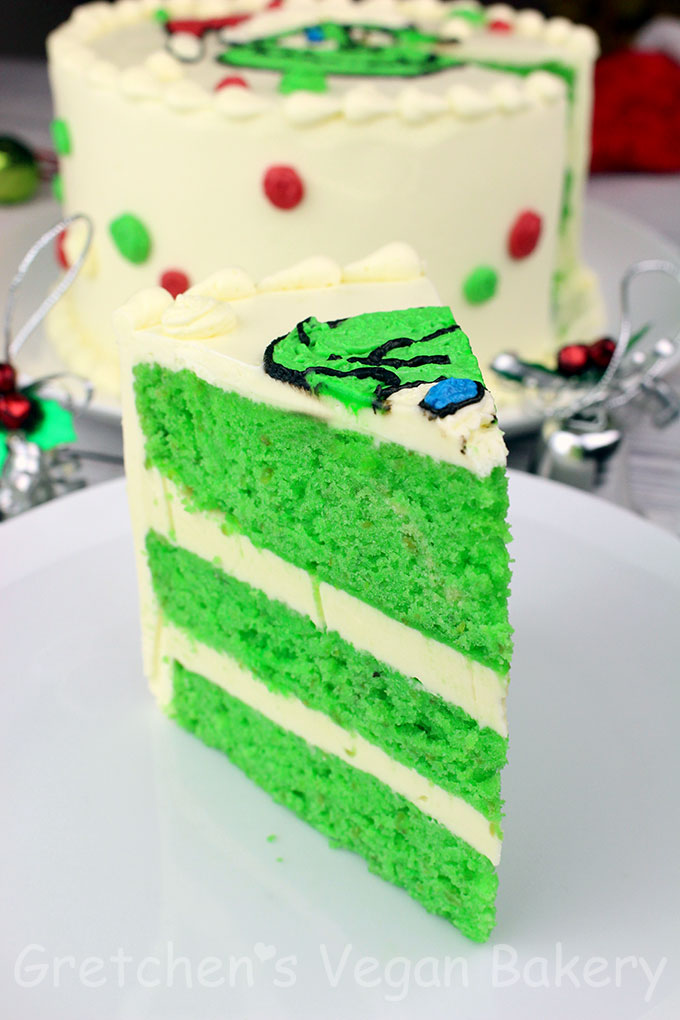 How to Make a Grinch Cake Simple Two Recipe Cake
I am using 3- 7" cake pans for this recipe but you can use 2-8" pans instead
Serves:
1-7" cake serves 10
Ingredients
Ground Flax Seeds 2 tablespoons (16g)
Hot Water 5 tablespoons (75ml)
White Vinegar 1 Tablespoon (15ml)
For the cake:
Soy Milk 1 cup (237ml)
Vanilla Extract 2 teaspoon (10ml)
Cake Flour 2½cup (300g)
Granulated Sugar 1½ cup (300g)
Baking Powder 3 teaspoons (15g)
Salt ½ teaspoon (3g)
Vegan Butter 12 Tablespoons (175g)
green & Yellow food color as needed
For the Buttercream:
Canned Chick Peas* 2- 15ounce cans for 1¾ cups bean water
Granulated Sugar 1 cup
Vanilla Extract 2 teaspoons
Confectioners Sugar 1 cup
Cream of Tartar ½ tsp
Vegan Butter 3 sticks (1½ cups) (339g)
Hi Ratio Solid Vegetable shortening 1 cup (226g)
Food color as needed to decorate
Instructions
For the cake:
Grease and parchment line the cake pans and preheat the oven to 350°F
Combine the flax meal with the hot water and let stand for about 5 minutes to thicken
Add the vinegar to the soy milk to sour
Sift the flour with the baking powder and salt
Cream the vegan butter with the sugar until light and fluffy and this may take about 3-5 minutes on medium to high speed
Add the thickened flax paste while mixing on medium speed, scrape the bottom and sides of the bowl to incorporate evenly, add the vanilla extract
Add about ⅓ of the flour to the creamed mixture then add half of the soured milk
Add another ⅓ of the flour and then the remaining sour milk
Add the last amount of flour and mix just to combine evenly.
Divide the batter evenly into the 3 greased and parchment lined cake pans and bake in a preheated oven for 25-30 minutes or until springy to the touch when you gently press the centers
For the buttercream
Combine the sugar with the chickpea water in a saucepot and bring to a full boil.
Boil for 5 minutes then transfer to a mixer bowl to cool completely
With the whip attachment of the kitchen aid (a hand beater will work but it will take a very long time) whip the aquafaba on high speed until it is thick and glossy and has firm peaks
Combine the cream of tartar with 2 Tbs of confectioners sugar and then add that to the whipped, firm peaked meringue, continue whipping and add the remaining confectioners sugar
Add the shortening and softened vegan butte and continue whipping on high speed to a smooth emulsion
Add vanilla last, then divide the buttercream into 4 small bowls for the color decor