This is the Vegan Vanilla Cake Recipe that is getting shared by everyone!
Join the party and have a go at the lightest and fluffiest vegan vanilla cake you will ever try!
Perfect to pair up with just about any filling and icing you love the most!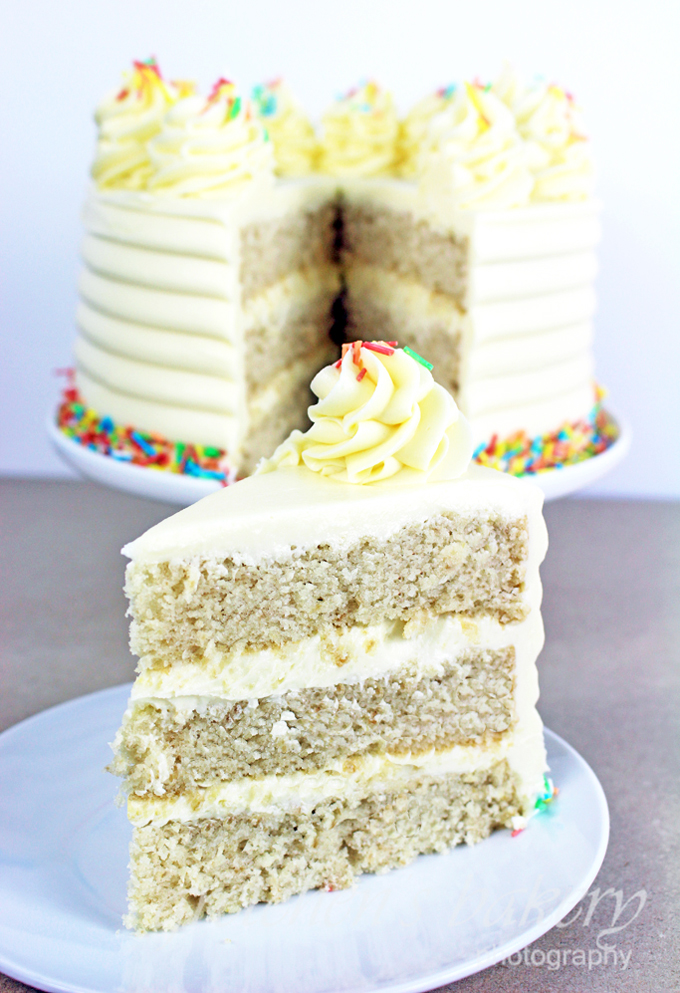 Using golden flax meal for the egg replacer instead of brown flax meal you won't even see the flecks!
But if you do not like using flax meal, you can of course use your favorite egg replacer here too!
Paired with my vanilla buttercream and homemade vegan sprinkles you really have it all right here in one place!
And for those who are already asking, yes you can add the homemade vegan sprinkles to this cake batter for a Funfetti Cake batter!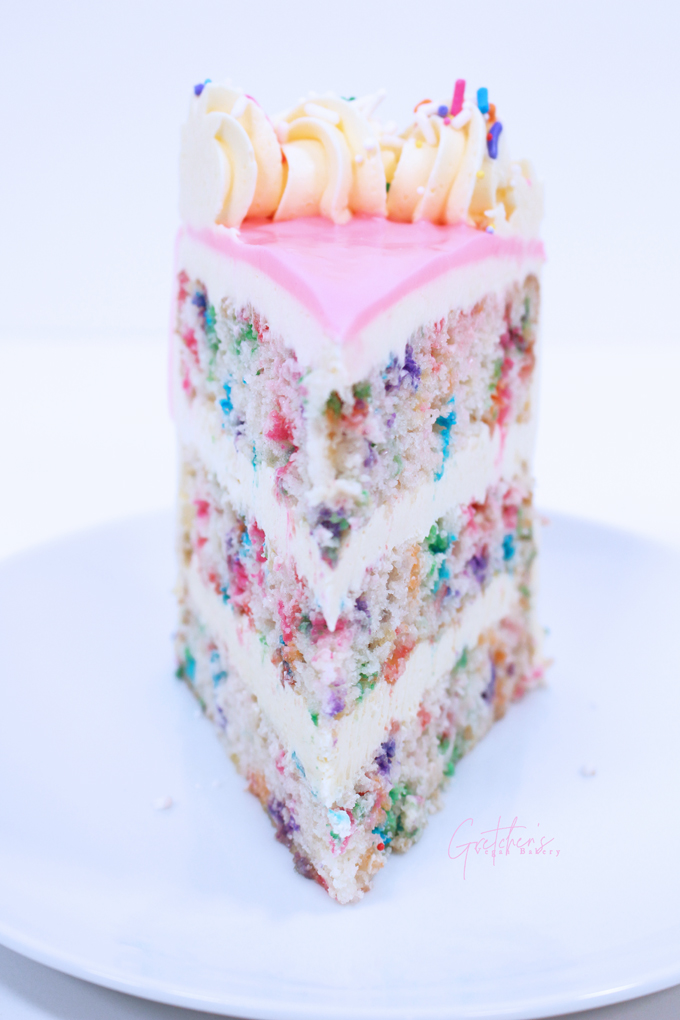 This website may contain links as part of the Amazon Affiliate program, which means when you click a link and make a purchase through my website I may earn a small commission at no additional cost to you
Notes for Success:
Most often I bake my cakes into 3-7″ cake pans but this recipe will also accommodate 2-8″ layers or 1- 9″ x 13″ cake layer
By using Vanilla Plant Milk in this recipe instead of plain you will intensify this vanilla batter and that is what sets this recipe apart from any other!
Flax meal can be replaced with 2 teaspoons of another dry blend egg replacer of your choice; reconstitute as the directions will advise
Several buttercream recipes are here for you to choose from and any one would be great on this cake!
CLICK HERE FOR ALL THE BUTTERCREAM RECIPES ON ONE PAGE
CLICK HERE FOR THE FULL YOUTUBE VIDEO TUTORIAL FOR HOW TO MAKE THIS RECIPE STEP BY STEP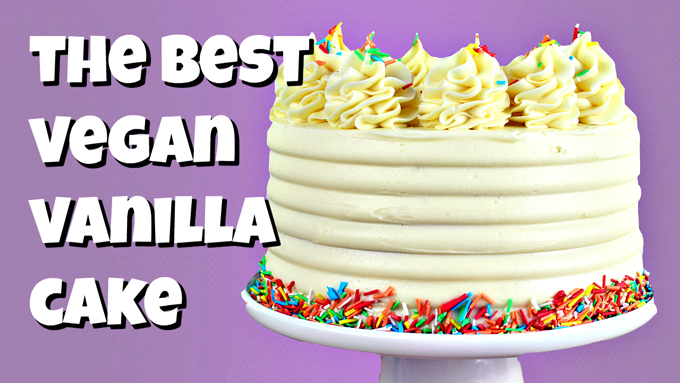 Yield: serves 10ppl
The Best Vegan Vanilla Cake Recipe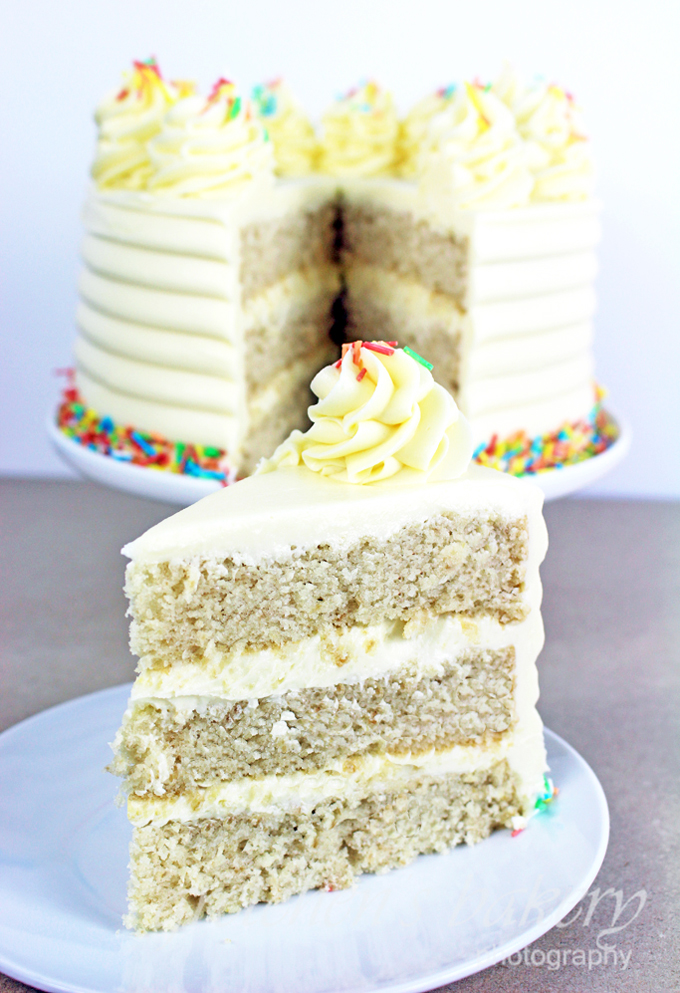 Total Time
2 hours
30 minutes
Ingredients
For the Vanilla Cake
White Vinegar 1 Tablespoon (15ml)
Vanilla Soy Milk 1 cup (237ml) *or any milk alternative of your choice
Vanilla Extract 2 teaspoons (10ml)
All Purpose Flour 2 cups (250g)
Golden Flax meal 2 Tablespoons (16g)
Or 2 teaspoons egg replacer of your choice see notes above
Hot Water 4 Tablespoons (60ml)
Granulated Sugar 1¼ cup (250g)
Baking Powder 4 teaspoons (16g)
Vegan Butter 12 Tablespoons (170g)
Salt ½ teaspoon
Instructions
I have a habit of baking my cakes into 3-7" cake pans but this recipe will also accommodate 2-8" layers or 1- 9" x 13" cake layer

Preheat the oven to 350°F
Grease your cake pans and line them with parchment paper
First prepare the cake batter
Combine the flax meal with the hot water and let stand to thicken
Add the vinegar to the soy milk to sour then add the vanilla extract
Sift the flour with the baking powder and salt if you are using it
Cream the slightly softened vegan butter with the sugar until light and fluffy and this may take about 3-5 minutes on medium to high speed, scrape the bottom & sides of the bowl to ensure an even mix
Add the flax paste to the creaming mixture while mixing on medium speed, scrape the bottom and sides of the bowl to incorporate evenly, whip on high for 30 seconds to emulsify
Add about 1/3 of the flour to the creamed mixture while mixing on low speed just until combined, then add half of the remaining soured milk
Add another 1/3 of the flour and then the remaining sour milk
Add the last amount of flour and mix just to combine evenly.
Portion the batter between your greased and parchment lined cake pans and bake immediately in a preheated 350°F oven for approximately 25-30 minutes or until they are springy to the touch when you gently press the centers.
Meanwhile prepare the buttercream recipe of your choice by following the recipe on that blog post
Build and ice the cake as you desire or as shown in the video and then decorate with my recipe for homemade vegan sprinkles!
Notes
Cake will stay fresh at room temperature for a day, but I like to store in the refrigerator for a longer shelf life- up to 1 week.