Marble cake with shag buttercream decor makes this Calico Marble Cake a fun party on the outside
With moist swirls of pumpkin, vanilla and chocolate cake on the inside!
This triple marble cake recipe is so easy you won't believe it!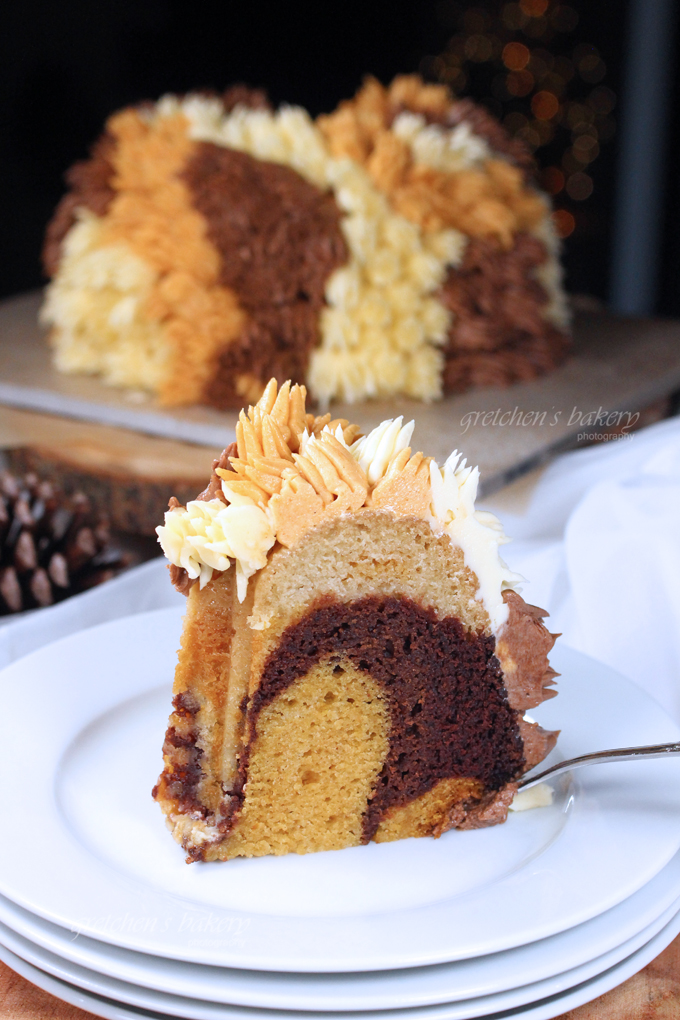 It's just one easy recipe for my vanilla cake that transforms into pumpkin batter and chocolate batter in an instant!
Simply by dividing the batter into three bowls to make the marble cake batter
Add cocoa powder to one bowl and pumpkin spice to the other!
Instant Marble Cake with just one recipe!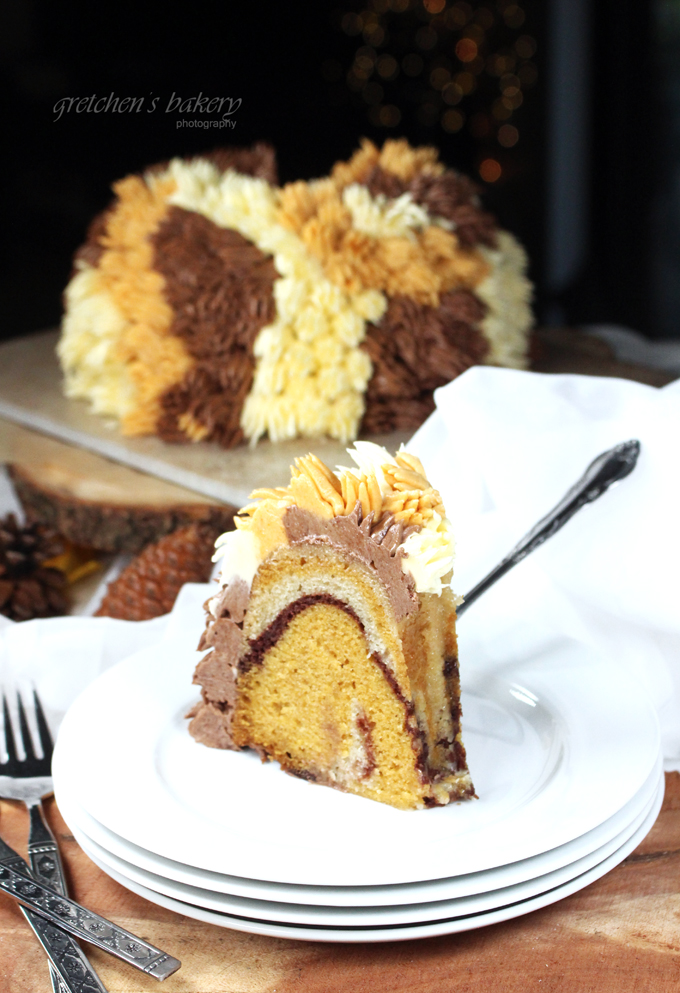 Bundt cakes take the longest to bake since they are so deep
But this gives you time to whip up your favorite buttercream recipe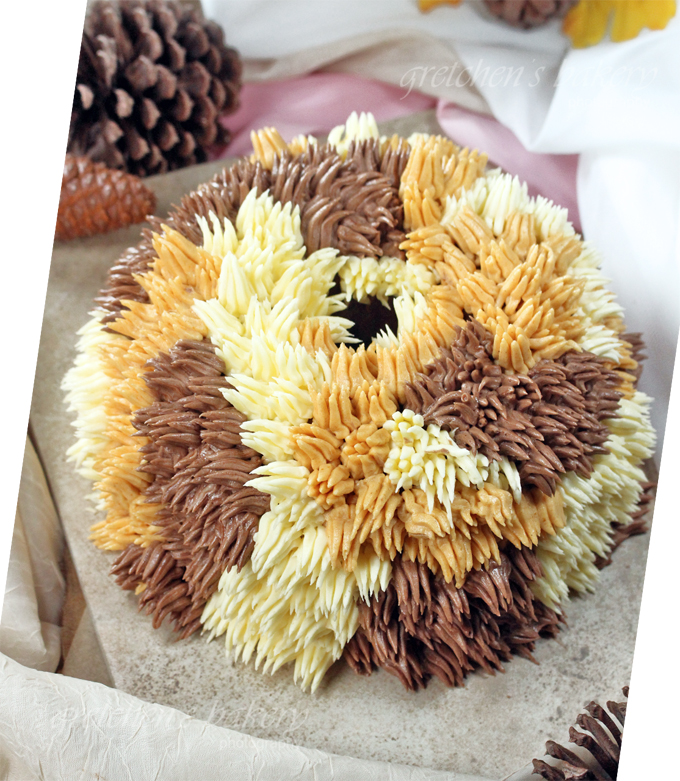 I have five or six recipes for you to choose from here on my website
But I usually keep it simple with my favorite American Style recipe
Once again dividing the buttercream recipe into three so you can make the calico shag decor!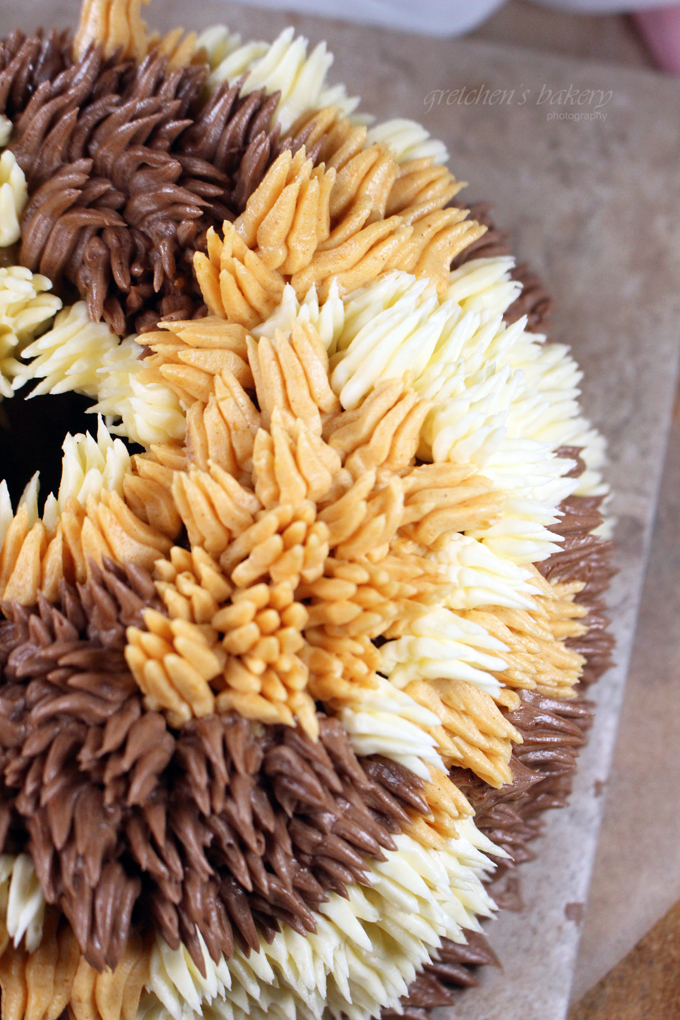 Of course this buttercream shag decor is optional
I am using Ateco tip #234 for this design
You could keep it really simple and just serve this Calico Marble Cake all by itself!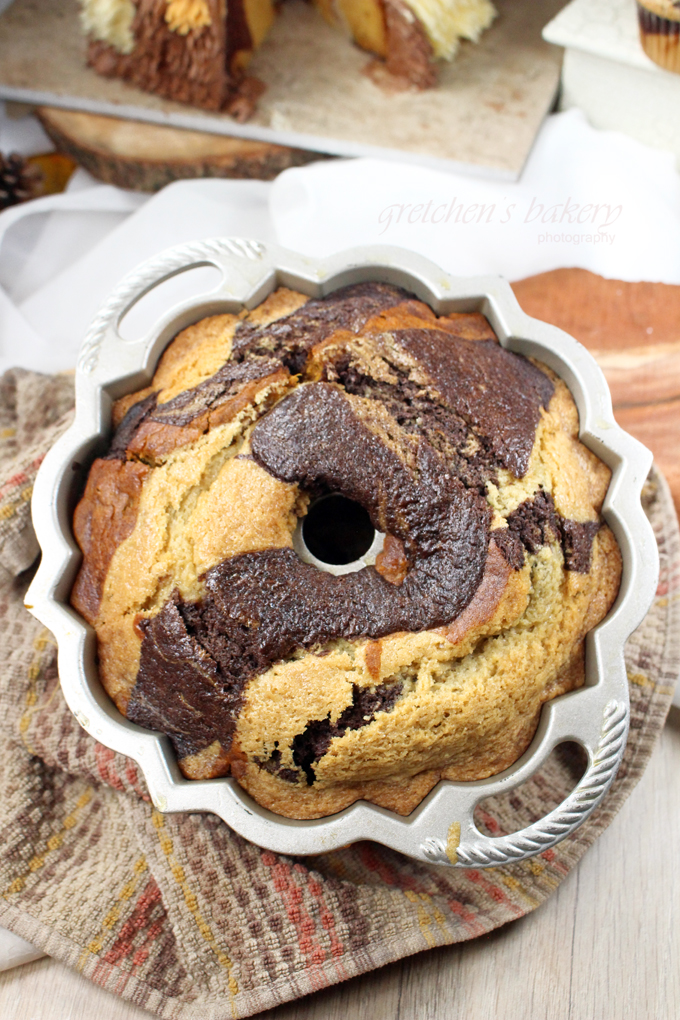 A light sprinkle of powdered sugar or even a thin drizzle of ganache would be perfect!
But quite honestly I loved eating this cake with no icing at all!
My bakery style yellow cake recipe proves over and again that it is the most perfect, versatile and user friendly recipe there is!
This recipe bakes into fantastic high domed cupcakes and beautiful cake layers and even loaves!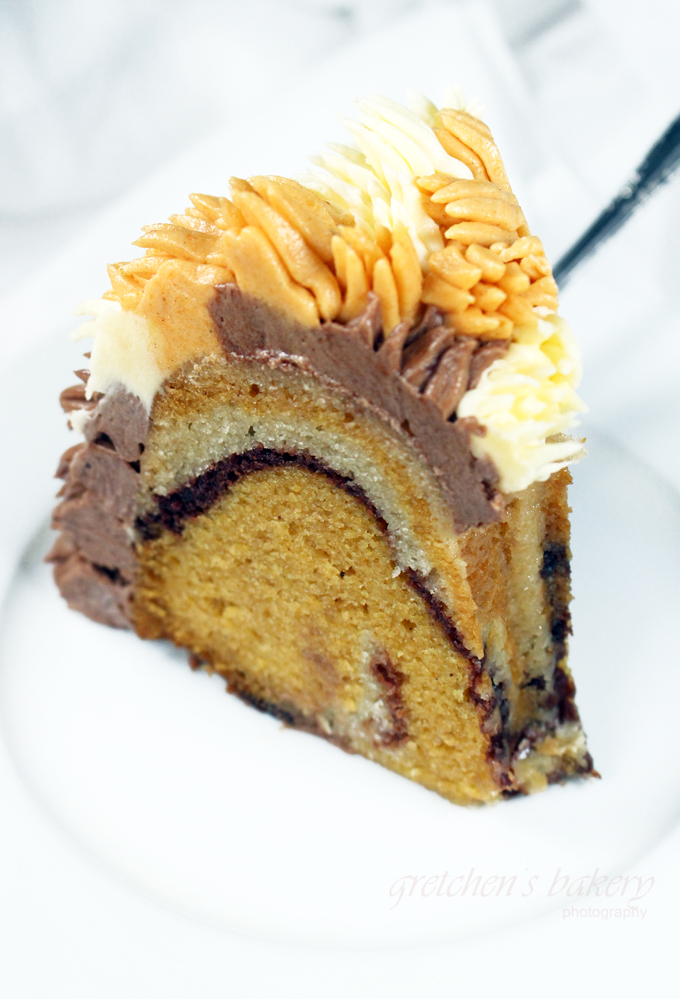 Click the links below to see just how many spin off recipes I've used it for!
Bakery Recipe for Perfect Yellow Cake
Vegan Pineapple Upside Down Cake
Notes for Success:
I am using a 6 cup capacity bundt pan for this recipe for about 8-10 servings
For a larger 12 cup capacity bundt cake cake simply double the recipe below to serve 12-14 people
The recipe as listed below will make 3- 7″ cake layers or 2-8″ layers
2 Standard Loaf Pans or 24 cupcakes
Whichever sized pan you choose just divide the batter so each pan is half full of batter for the best results
I use store bought canned pumpkin for my cake recipes but have made homemade pumpkin puree many times
Homemade pumpkin puree is going to be much thinner consistency (almost liquid) compared to the solid packed pumpkin in a can
Be sure to read the notes I have included in the article for How to Make Your Own Pumpkin Puree before using it in recipes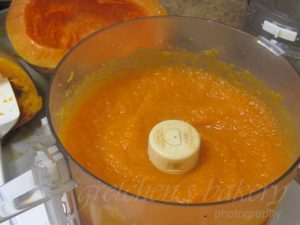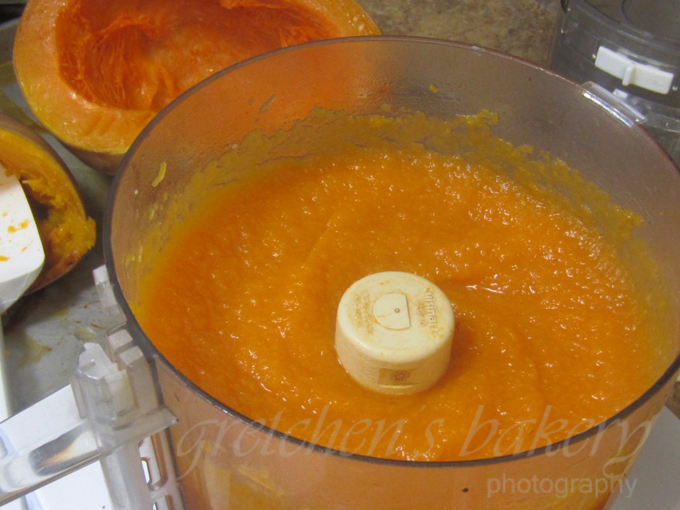 For my chocolate batter, I am using Natural Cocoa powder
Since I am using baking soda in the main recipe be sure you are not using Dutch Process Cocoa
CLICK HERE FOR MORE INFORMATION ABOUT NATURAL VS DUTCH COCOA POWDER
I use Ateco piping tips and they have a different numbering system than Wilton tips.
Any grass tip will do, but the one I am using specifically is Ateco #234
One last note about the ingredients listed below, I use a combination of cake flour and all purpose flour for this recipe
Many cannot get CAKE FLOUR so all purpose flour will be fine here, just take out ¼ cup from the total amount listed below
CLICK HERE FOR THE YOUTUBE VIDEO TUTORIAL FOR HOW TO MAKE THIS CAKE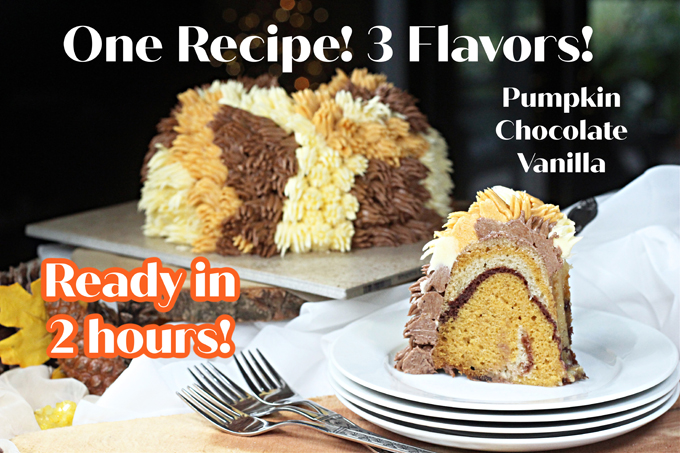 For more pumpkin cake recipes click the links below!
Pumpkin Velvet Cake with Pumpkin Spice Buttercream

Calico Marble Cake
Ingredients
For the Cake Batter:
Soy Milk 1½ cups (355ml) *soy milk is the only plant milk that will thicken like buttermilk, but you can use whatever plant milk you prefer
White Vinegar 1½ Tablespoons
Vegan Butter ½ cup (113g)
Vegetable oil of your choice ½ cup (117ml)
Granulated Sugar 1¾ cup (350g)
Salt ½ teaspoon
Vanilla Extract 3 teaspoons (15ml)
All Purpose Flour 2 cups (250g)
Cake Flour 1 cups (120g) *see notes in body of the text article for more info on cake flour
Baking Soda 2 teaspoons
For the Chocolate Marble:
Natural cocoa powder 4 Tablespoons (20g)
Vegetable Oil 4 Tablespoons (56g)
For the Pumpkin Batter:
Solid Pumpkin Puree ½ cup (125g)
Pumpkin Pie Spices 1¼ teaspoons
For the Chocolate Buttercream:
Cocoa Powder 2 Tablespoons (10g)
Hot Water 1½ Tablespoons (22g)
For the Pumpkin Buttercream:
Solid Pumpkin Puree ¼ cup (63g)
Pumpkin Pie Spice ½ - 1 teaspoons *adjust to your taste
Instructions
Preheat the oven to 375°F
Grease your bundt pan (or pan(s) of choice)
First prepare the yellow cake batter recipe by combining both flours, sugar, baking soda and salt together in a large mixing bowl. Whisk or sift to combine evenly
Add the vinegar to the plant milk and let it stand to thicken *soy milk is the only milk that will thicken like buttermilk
Melt the vegan butter and then add the oil and vanilla extract
Add all the liquids to the dry ingredients in the mixing bowl and whisk to a smooth batter *about 50 strokes
Next divide the batter into 3 equal parts, using a scale is best to get the exact amount evenly, but you can simple "eye it"
Since I am adding chocolate marble to one bowl & pumpkin to another I left the vanilla batter slightly more
The total weight of the batter is 1260g, so the bowl that gets the chocolate marble should be 400g, the pumpkin marble will be 400g and the vanilla batter should be around 460g
Next combine the cocoa powder with the oil and whisk smooth, then add that to the one bowl for the chocolate batter, whisk smooth
Now add the pumpkin and spice to the other bowl and whisk smooth
Layer the 3 different batters into the greased bundt pan **if you are using a 6 cup capacity bundt pan you will not use all the batter! It will be too much & overflow in the oven! Leave out enough batter to make 4 cupcakes!
Bake in the preheated 375°F oven but immediately turn the temperature down to 350°F after loading
Bake for 40 minutes then turn the oven temperature down to 300°F for another 20 minutes or when a toothpick inserted into the center comes out with moist crumbs, not raw batter.
While the cake is baking prepare the buttercream recipe of your choice
You will then divide the buttercream into 3 bowls to make 1 chocolate & 1 pumpkin and the rest will be vanilla.
You only need about 1½ cups of each flavor to ice the cake
Combine the cocoa powder & hot water and whisk smooth but only add it to the portion of buttercream when it is COLD! Whisk smooth
Add the pumpkin & spice to the other 1½ cups of buttercream and whisk smooth
Once the cake is finished baking, cool it in the pan until you can touch it without burning your fingers and turn it out onto a cooling rack to cool to COLD
Decorate with the Calico Shag Decor as shown in the video tutorial
Notes
Marble Bundt Cake will stay fresh at room temperature for up to 3 days loosely wrapped

For longer storage keep refrigerated for up to 1 week

Freeze cake for up to 2 months wrapped well