This recipe was adapted from my famous Vanilla Cake Recipe.
I named it Orange Poppy Seed Lazy Loaf because in this version, all of the ingredients go into the food processor and you are finished!
I am so done with washing tons of dishes and lengthy mix methods lately that I thought to try this way and see how it came out!
Well let me tell you it is superb!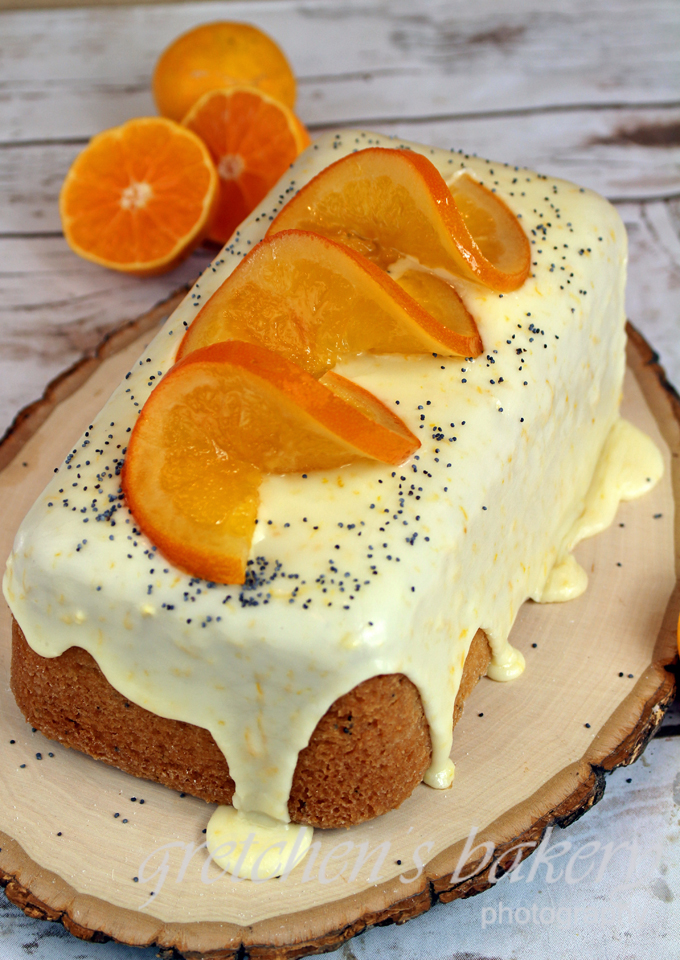 It literally took 5 minutes to measure out and whiz up all the ingredients and then the bake time was around 40 minutes.
This cake is seriously light, fluffy and loaded up with orange!
The whole orange goes right into the processor with the other ingredients; and the result is tiny chunks of orange throughout this moist finely textured pound cake batter.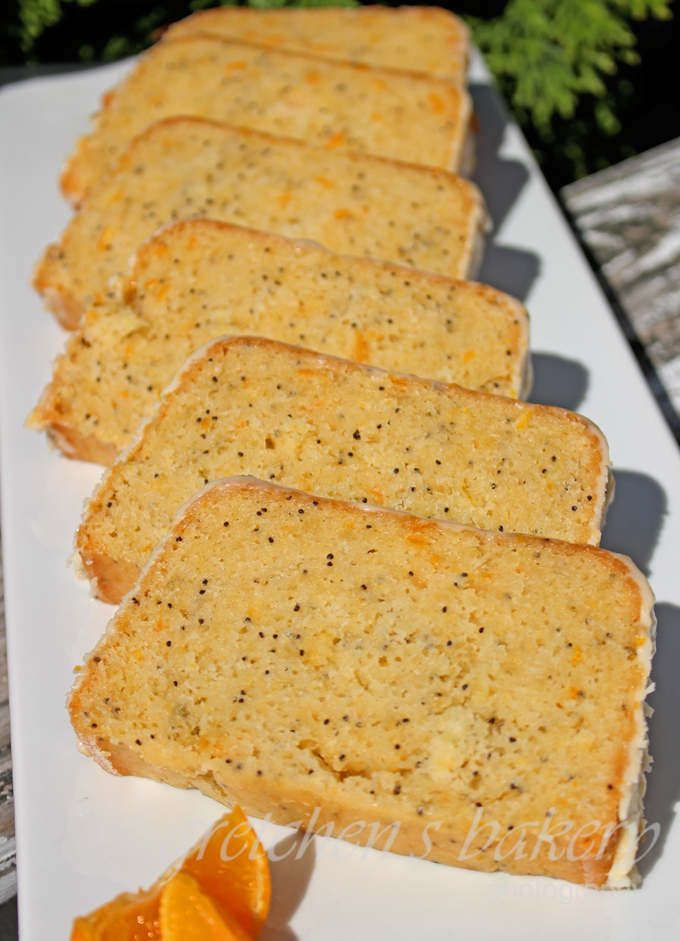 Drizzle with fresh orange glaze and have yourself the easiest, tastiest cake ever!
**By the way these make excellent muffins if you prefer! Just fill the liners slightly more than half full and bake until a toothpick inserted into the center comes out clean.
Approximately 20-25 minutes
Some of you may know that for the last 3 years I have been working on developing a vegan egg replacement that my friend Deborah pioneered.
I am thrilled to announce it has finally gine to market and Amazon has it for sale!
Amazon has placed a minimum 3 bag for shipping though, so if that is too much for you, we can ship one bag instead,  direct from Freely Vegan.Com
If you or anyone you know is into Vegan Baking, (but even more than that- VEGAN + GLUTEN FREE baking), THIS is a MUST have product!
Deborah has done amazing things with gluten free/vegan baking and I helped to develop this product to work in vegan baking with wheat!
This is by far my favorite egg replacement to use (of course I am a bit biased LOL)
Spread the word please and consider purchasing to help a small business venture!! THANKS!

Orange Poppy Lazy Loaf
If you do not have a food processor, a blender will work fine
You may see that I am using
The Plant Based Egg by Freely Vegan
as the egg replacer in almost all of my desserts now. If you do not want to buy it or cannot get it, you can sub in another proprietary blend egg replacer of your choice results may vary. I have tested this recipe with the plant based egg and love the results! But you can sub in another proprietary blend egg replacer of your choice (equal to 1 egg) if you cannot get the Plant Based Egg, however results may vary since not all egg replacers are created equally!.
Ingredients
Plant Milk ¾ cup (177ml)
1 Small Navel Orange or 2 small clementines= total weight of orange with skin on is 5oz (that's approximately 2 small clementines or 1 small navel) total volume measure of pureed orange(s) with the skin on is a scant ½ cup
Vanilla Extract 2 teaspoons
Cake Flour 1¾ cup + 2 Tablespoons (225g)
Egg Replacer * I am using The Plant Based Egg 1½ teaspoons *see note above
Granulated Sugar 14 Tablespoons (195g)
Baking Powder 3 teaspoons
Salt ¾ teaspoon
Vegan Butter or Vegetable Oil 9 Tablespoons (126g)
Poppy Seeds 2 teaspoons *optional
For the Sugar Glaze:
Confectioner's Sugar 1 cup
Fresh Squeezed Orange Juice 1 Tablespoon
Zest of 1 orange
Poppy Seeds for garnish optional
Instructions
First pull of the hard stem of the orange is there are any and check the oranges for seeds by slicing them in half and remove seeds if there are any. The skins stay on the orange, so leave that intact.
Place all of the ingredients except for the poppy seeds into a food processor and processor until smooth batter (about 1 minute)
The orange goes in whole, skin and all! The skin is where the oil essence is and that gives the cake a beautiful orange flavor and fragrance unmatched by just the juice or any extract. Just be sure to cut them open first to see if there are any seeds, in which case remove the seeds first.
Fold in poppy seeds and pour batter into a greased loaf pan
Bake in a preheated oven at 350°F for approximately 40 minutes or until a toothpick inserted into the center comes out clean.
Cool in the pan until you are able to touch it with your hands without burning them, then flip the loaf out onto a cooling rack to cool the rest of the way.
Combine the confectioners sugar with the orange juice and zest and whisk smooth, pour over the loaf cake.
Notes
Cale loaf will stay fresh in an airtight container at room temperature for up to 2 days.

Refrigerate wrapped well for up to 1 week
And just when you thought I was done with my candied oranges from last season they make another fabulous appearance!
I did it just for garnish so of course they are not a necessary addition to this recipe but if you wanted to make them CLICK HERE