The best pumpkin cake recipe just won't stop!
I have been making dozens of spin off recipes with this one simple recipe
You are not going to believe just how easy it is to make this Pumpkin Turtle Cake!
With just three easy recipes and no mixers required!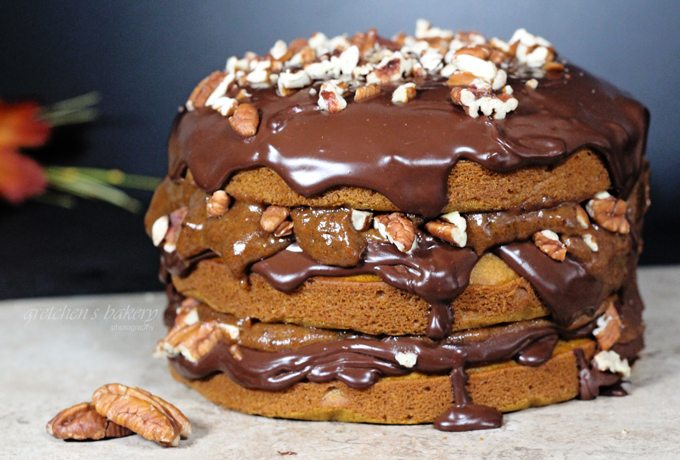 This cake is going to have you as obsessed as I am!
I'm not going to lie, the pumpkin cake recipe is probably the best thing you are going to taste all year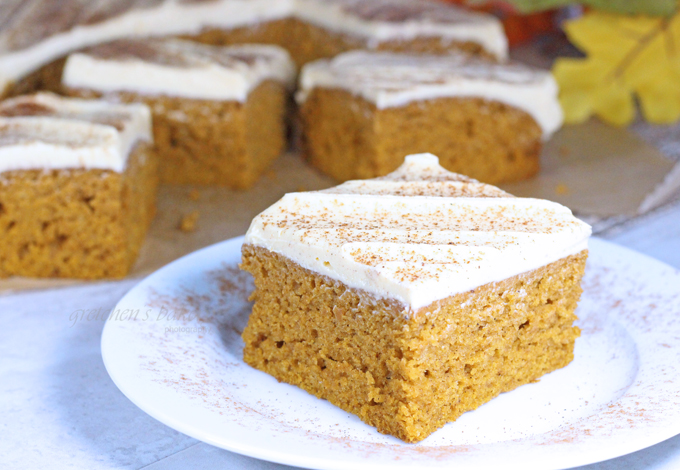 This time it's getting baked into 3- 6″ cake layers with gobs of date caramel in between
Dripping with chocolate ganache and toasted pecans!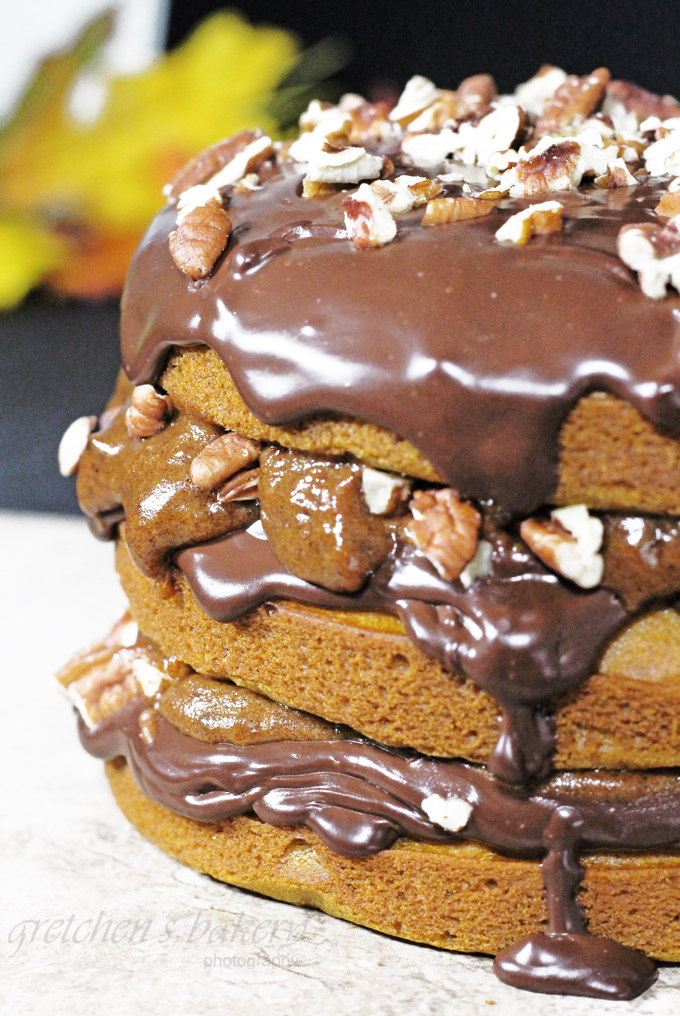 It's the easiest cake to build and even easier to eat!
I opted for Date Caramel this time because I just didn't want refined sugar overload with a traditional caramel recipe
So while this is still perfectly sweet and caramel-y as can be
It is natural date sugar instead!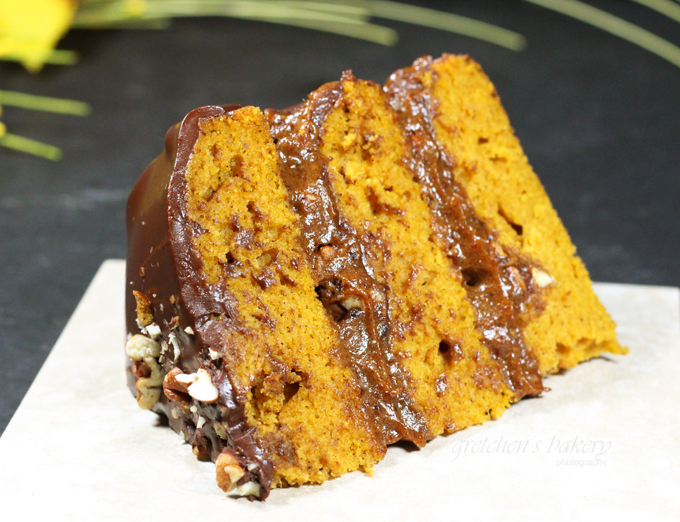 All of the recipes are easy hand mixes, so no electric mixers required today!
Notes For Success:
I tested this recipe 3 separate times with three different pumpkins
1)Libby *not sponsored 
2) No Name Brand
3) Homemade Pumpkin Puree *link with the recipe below
The homemade puree will always be a thinner consistency compared to canned pumpkin so my resulting batter was lighter in color and thin like a pancake batter.
See the notes in the recipe section below for those using homemade puree
I like my pumpkin things to be really spiced up with all the fall spices.
You can adjust the spices listed in the recipe below to your liking if you think I am using too much, but I think it is perfect.
In looking at other peoples pumpkin recipes, I find that some people use only cinnamon and others barely put any spice at all!
Again this is an area where you can adjust to your liking.
Additionally you can use 1½ teaspoons of pumpkin pie spice instead
CLICK HERE FOR MY PUMPKIN PIE SPICE RECIPE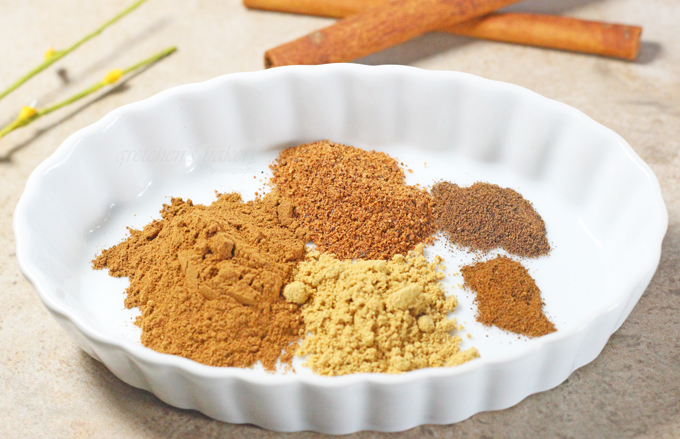 If you have trouble finding canned pumpkin to make this or other recipes
I have a homemade pumpkin puree recipe and video tutorial for you!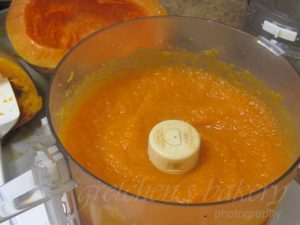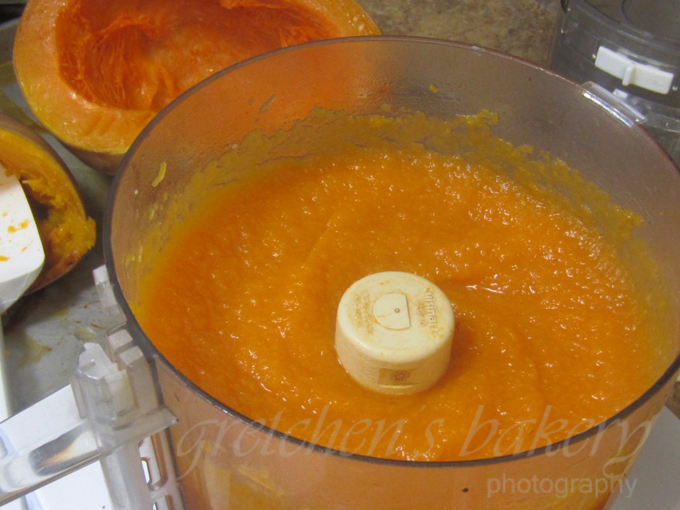 For those having trouble finding cake flour CLICK HERE TO FIND OUT MORE!
However you can simply use All Purpose or Plain Flour in place of the total measure of flour in the recipe listed below
CLICK HERE FOR THE FULL YOUTUBE VIDEO TUTORIAL FOR HOW TO MAKE THIS CAKE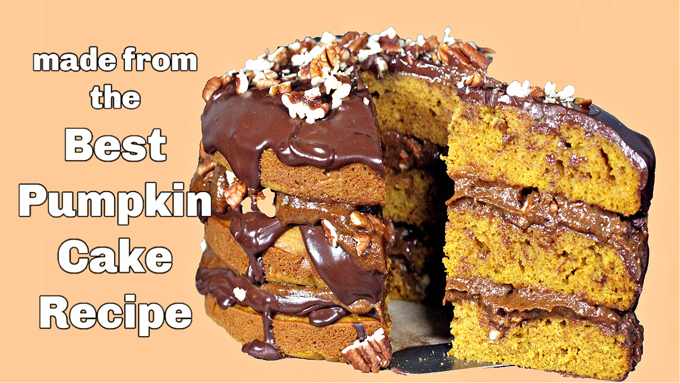 Pumpkin Turtle Cake
I am baking the layers in 3-6" cake pans HOMEMADE PUMPKIN PUREE: For those using their own homemade pumpkin puree, reverse the flours listed below: Instead of 1 cup cake flour & ½ cup all purpose flour/ switch it to 1 cup all purpose flour & ½ cup cake flour
Ingredients
Vegetable Oil 6 Tablespoons (90ml)
Light Brown Sugar ½ cup (105g)
Plant Milk *I use soy ¾ cup (177ml)
Vinegar 1 teaspoons (5ml)
Vanilla Extract 1 teaspoon (5ml)
Canned Pumpkin ½ cup (125g) *see notes for homemade puree in the article above the recipe
Salt ½ teaspoon
All Purpose Flour ½ cup (65g)
Cake Flour 1 cup (120g) *see notes in text above the recipe box
Baking Soda 1 teaspoon
Ground Cinnamon ½ teaspoon
Ground Ginger ½ teaspoon
Ground Cardamom ¼ teaspoon
Ground Cloves pinch
Ground Nutmeg ⅛ teaspoon
OR 1½ teaspoons Pumpkin Pie Spice
For the Date Caramel:
Pitted Dates 2 cup (approximately 12-20 large dates)
Nut Butter- I used tahini 6 Tablespoons
Vanilla Extract 2 teaspoons (10ml)
Soy Milk 1 cup (237ml) *any plant milk is fine
salt 1 teaspoon
2 cups roasted chopped pecans
Instructions
Preheat your oven to 350°F
Grease your cake pans with professional bakery pan grease then line with parchment paper liner
Combine the vinegar with the soy milk & the vanilla extract (soy milk is the only milk that will thicken with vinegar)
In a larger mixing bowl combine the oil, brown sugar, salt, pumpkin, and then the thickened vinegar/plant milk and whisk to combine well
Sift the flour with all the spices and the baking soda and add it all at once to the wet mixture in the bowl
Whisk smooth
Bake immediately in the preheated 350°F oven for 10 minutes
Then turn the oven temperature down to 300°F and bake for another 12-15 minutes or when a toothpick inserted into the center comes out clean
Cool the pumpkin cakes in the pans until you can touch it without burning your fingers, then turn it out onto a cooling rack to cool all the way
Meanwhile prepare the date caramel by combining all of the ingredients for that recipe together in a food processor and process smooth
Prepare the chocolate ganache
Once everything is prepared and the cakes are cooled to cold you can build your cake as shown in the video or however you prefer!
Notes
Pumpkin Turtle Cake can be kept at room temperature for up to 3 days.

For longer storage keep refrigerated for up to 1 week