It's that time of year again!
Summer is here and everyone is lining up for S'mores everything!
Behold the S'mores fudge brownie bars!
Here's a loaded up brownie recipe that includes a layer of thick chewy graham crackers as the base with loads of vegan marshmallows followed by a slathering of chocolate ganache!
With just three quick and easy recipes and about an hour and a half you are on your way!
All you need to buy are the Dandies Marshmallows *not sponsored
And you probably already have everything else in your pantry!
The fudge brownie recipe I am using is by far my favorite, because there are no weird egg replacers needed and the result is the most rich and decadent fudge brownie you will ever try!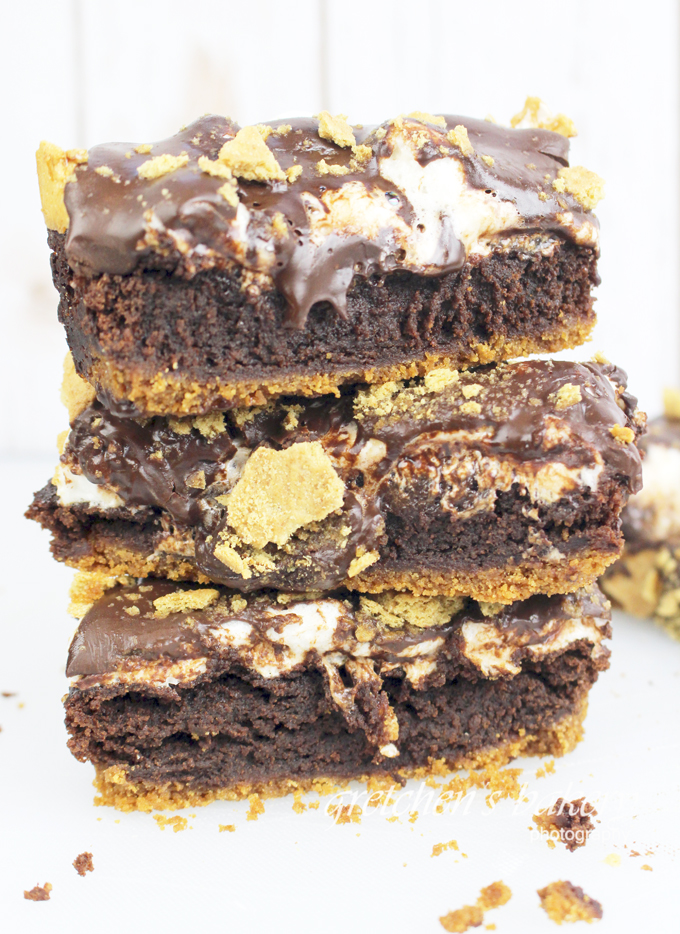 I use a combination of cocoa powder and semi sweet chocolate with brewed coffee to bring out the best in the chocoalte
However I understand that some people are opposed to using coffee in their recipes
I'm not sure why, but I think folks may think that it will make everything taste like coffee.
This is simply not true!
Coffee and chocolate are literal soulmates and believe me, you will not taste a lick of coffee!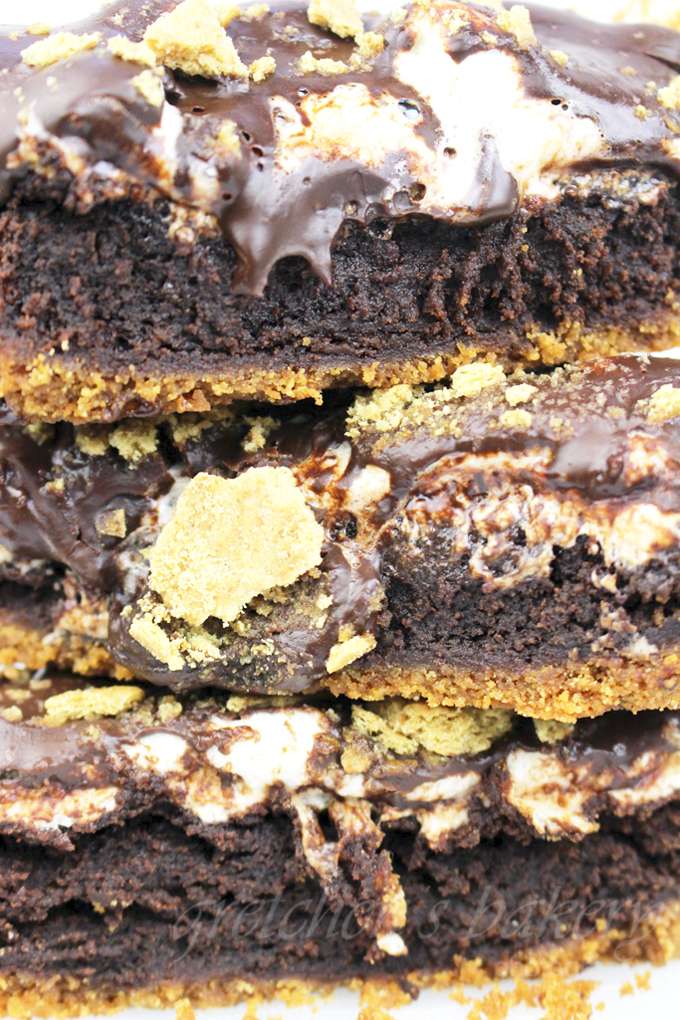 But for those who are really against using it, you can sadly replace the coffee portion with water
In the video and in the recipe listed below you will notice I have worked out this recipe to fit in a standard loaf pan
I would recommend making a double batch to fit in an 8″ x 8″ pan
Just be careful on your measurements and math!
The biggest reason for recipes failure is poor measuring and incorrect math!
One last thing that is worth noting for those already thinking it:
Whenever I use store bought Graham Crackers in my recipes, I always get someone telling me "those are not vegan!"
Nabisco Graham Crackers are vegan since they do not have honey in the recipe.
*not sponsored
CLICK HERE FOR THE FULL YOUTUBE VIDEO TUTORIAL FOR HOW TO MAKE THESE BARS!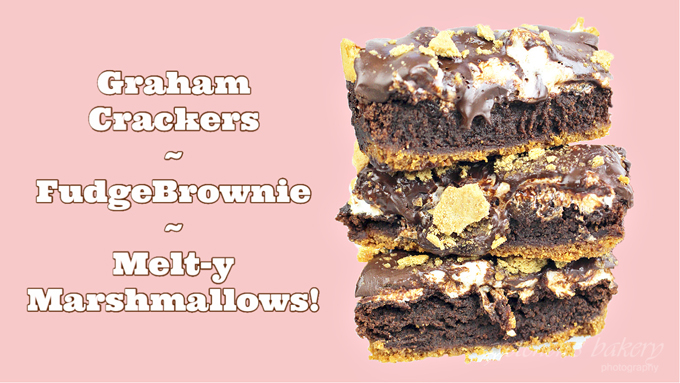 For more great Brownie Recipes click the links below!
1 Hour Brownies ~ Vegan ~ Fudgy
S'mores Fudge Brownie Bars
I am making this recipe in
a standard loaf pan
but you can double all the ingredients for an 8"X8" pan instead. The bake time may be just a few minutes longer, just bake until a toothpick comes out with most crumbs
Preheat oven to 350°F
Ingredients
For the Graham Cracker Base Layer:
Nabisco Graham Crackers 5 crackers (there are 9 in 1 sleeve) (70g)
Vegan Butter 4 Tablespoons (54g)
Granulated Sugar 2 Tablespoon (28g) *OPTIONAL
For the Brownie Batter:
All Purpose Flour 1 cups (125g)
Baking Powder ¼ teaspoon
Salt ¼ teaspoon
Granulated Sugar 5.5oz (155g) *this is approx ¾ cups
Vegan Butter 6 Tablespoons (86g)
Molasses 2 teaspoons
Strong Brewed Coffee 3 fluid ounces (85ml)
Semi Sweet Chocolate chunks1½ ounces (42g)
Natural Unsweetened Cocoa Powder ½ cup + 1 Tablespoon (42g)
Vanilla Extract 1 teaspoons (5ml)
Chocolate Chips ½ cup (optional)
For the Ganache:
Semi Sweet Vegan Chocolate 4 ounces (113g)
Plant Milk 4 fluid ounces (1/2 cup)
Additional Graham Crackers for the topping 2- sheets
Instructions
First prepare the graham cracker base layer by crushing the graham crackers in a food processor add the sugar and the melted vegan butter and process to the consistency of wet sand
Press this tightly into the bottom of the greased and parchment lined standard loaf pan, freeze while you prepare the brownie layer
Bring the vegan butter & molasses to a boil
Add the cocoa powder & first semi sweet chocolate and whisk to melt smooth
Add the hot coffee and then transfer to a large mixing bowl, add the vanilla extract & the sugar
Whisk smooth
Sift the flour, baking powder & salt into the batter and stir just to combine, do not over mix
Add the optional chocolate chips to the batter
Pour the brownie batter over the graham cracker crust
Bake in a preheated 350°F oven for 25 minutes or until a toothpick inserted comes out with moist crumbs
As soon as the brownie comes out of the oven, turn the oven off & sprinkle the marshmallows over top and place back in the oven for about 5 minutes to melt the marshmalllows
Cool completely then prepare the ganache by combining the chopped chocolate and milk in a small sauce pot over low heat stirring constantly until it is melted and smooth
Cool slightly then pour over the marshmallows in the pan.
Add crushed graham crackers to the top
You can serve this directly out of the pan, or refrigerate it for about 1 hour so it all sets and you can then unmold it, slice and serve.
Notes
S'mores fudge brownie bars can be kept at room temperature for up to 4 days in an airtight container, in the refrigerator for up to 10 days or freeze wrapped well for up to 2 months

Bring to room temperature before serving.
3.5.3251