It's that time of year again!
Summer is coming to a close and everyone is getting in their last licks of S'mores everything!
It's perfect timing for me too because I have been making vanilla and fruity recipes for the last month and it's high time for a chocolate fix!
So today I have a twist on a brownie recipe that includes a layer of graham crackers for a thick chewy base with fudge brownie and loads of vegan marshmallows followed by a thick slathering of chocolate ganache!
Behold the S'mores fudge brownie bars!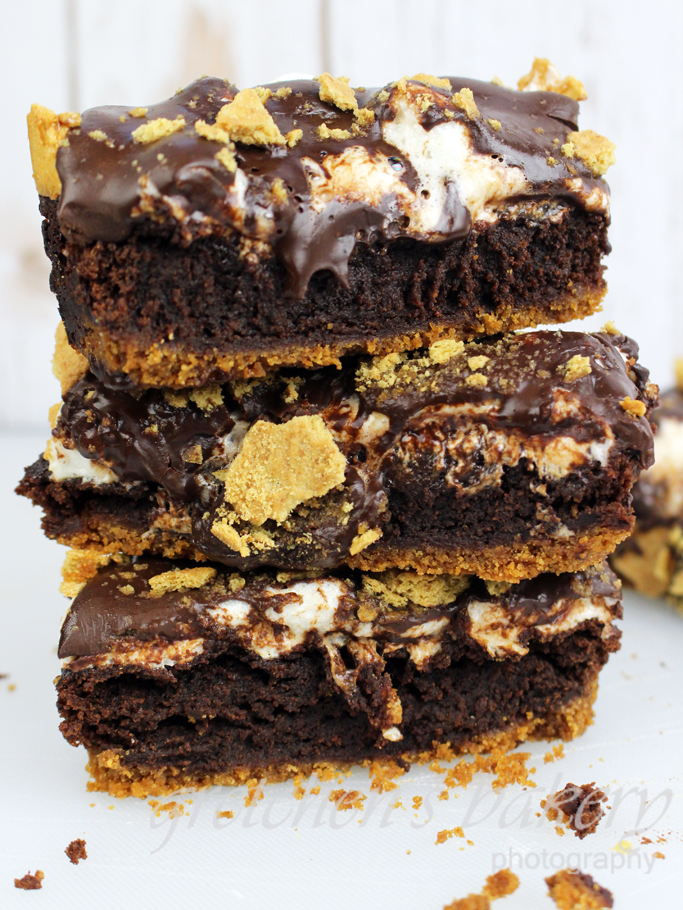 You will notice I am using the Vegan Egg by Follow Your Heart and you may wonder why and than ask me what you can use instead.
While I do have another brownie recipe that uses a different egg replacer, I will urge you to give this Vegan Egg a try.
I am using it in several recipes coming up (Like eclairs and authentic pastry cream!) so don't worry about not being able to use it up if you decide to buy it!
The number question I get over and again when I use certain egg replacers in my recipes, is "what can I use instead?"
Well, that is not a one sized fits all answer which is what prompted me to create my online course in Vegan Baking Mastery focused all around Egg Replacers!
I break down over 8 different egg replacers and show you hands on experiments of each; while teaching you how you can answer your own question of "what can I use instead?"
As I researched and developed and created the course videos and tutorials it opened up a whole world of possibility just simply through understanding all these different egg replacers we have to work with in our new vegan baking journey and how each one is different in our recipes!
So with all that being said I hope you will first of all want to learn more and check out my online course!
But secondly you will then understand why I chose the Vegan Egg by Follow Your Heart for this particular recipe. (*I am not being sponsored)
This recipe has been formulated specifically to work perfectly with it; but I understand if some of you cannot get it you can of course use another brownie recipe for the base here.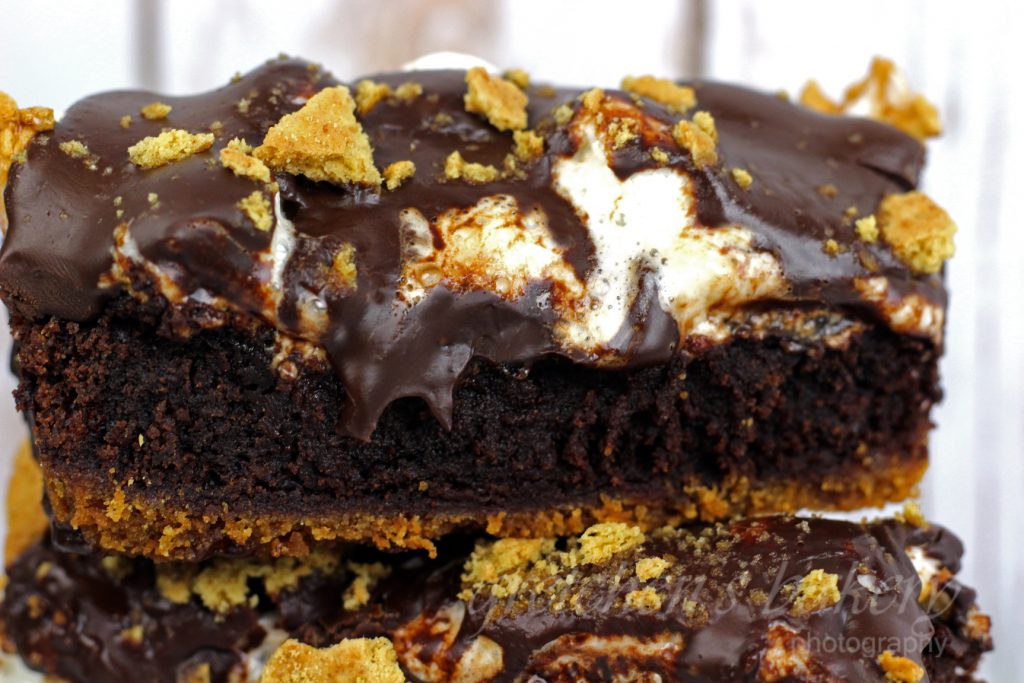 S'mores Fudge Brownie Bars
I am making this recipe in
a standard loaf pan
but you can double all the ingredients for an 8"X8" pan instead. The bake time may be just a few minutes longer, just bake until a toothpick comes out with most crumbs
Preheat oven to 350°F
Ingredients
For the Graham Cracker Base Layer:
Nabisco Graham Crackers 5 crackers (there are 9 in 1 sleeve) (70g)
Vegan Butter 4 Tablespoons (54g)
Granulated Sugar 2 Tablespoon (28g)
For the Brownie Batter:
All Purpose Flour 5½ Tbs (45g)
Baking Powder ¼ teaspoon
Salt small pinch
Vegan Butter 6 Tablespoons (85g)
Granulated Sugar ¾ cup (150g)
Cocoa Powder Natural or Dutched Process your option 10 Tablespoons (40g)
Espresso Granules 1 teaspoon
Vanilla Extract 1 teaspoon (5ml)
Vegan Egg by Follow Your Heart 2 Tablespoons (12g)
Cold Water 5 Tablespoons (75ml)
For the Ganache:
Semi Sweet Vegan Chocolate 4 ounces (113g)
Soy Milk or any milk alternative of your choice 3 fluid ounces (6 Tablespoons)
Instructions
First prepare the graham cracker base layer by crushing the graham crackers in a food processor add the sugar and the melted vegan butter and process to the consistency of wt sand
Press this tightly into the bottom of the greased and parchment lined standard loaf pan
Sift the flour, baking powder & salt together
In a medium sauce pot combine the vegan butter & sugar together and melt it while stirring constantly, it will look glossy and shiny, do not boil.
Remove from heat as soon as the butter is melted and stir in the cocoa powder, vanilla extract and espresso powder, whisk smooth.
Whip the vegan egg and the cold water to thick and fluffy
Add it to the butter/cocoa mixture and whisk smooth
Add the sifted dry ingredients and stir just until it is all combined, do not over mix.
Pour the brownie batter over the graham cracker crust
Bake in a preheated 350°F oven for 25 minutes or until a toothpick inserted comes out with moist crumbs
As soon as the brownie comes out of the oven sprinkle the marshmallows over top so they melt into the brownie slightly.
Cool completely then prepare the ganache by combining the chopped chocolate and milk in a small sauce pot over low heat stirring constantly until it is melted and smooth
Cool slightly for about 10 minutes then pour over the marshmallows in the pan.
You can serve this directly out of the pan, or refrigerate it for about 1 hour so it all sets and you can then unmold it in once piece onto a parchment paper, flip it back over, slice and serve.
Notes
S'mores fudge brownie bars can be kept at room temperature for up to 4 days in an airtight container, in the refrigerator for up to 10 days or freeze wrapped well for up to 2 months

Bring to room temperature before serving.