I set out to make Vegan Strawberry Cheesecake Cookies several years ago to no avail.
I just couldn't get the right consistency I was looking for so I ditched the project
Until now.
Well you know what they say "timing is everything"
Thanks to Olive Nation for sponsoring this recipe because without them these cookies would still not be happening!
But happening they certainly are!
Use COUPON CODE GVB20 for 20% off your order at Olive Nation .com!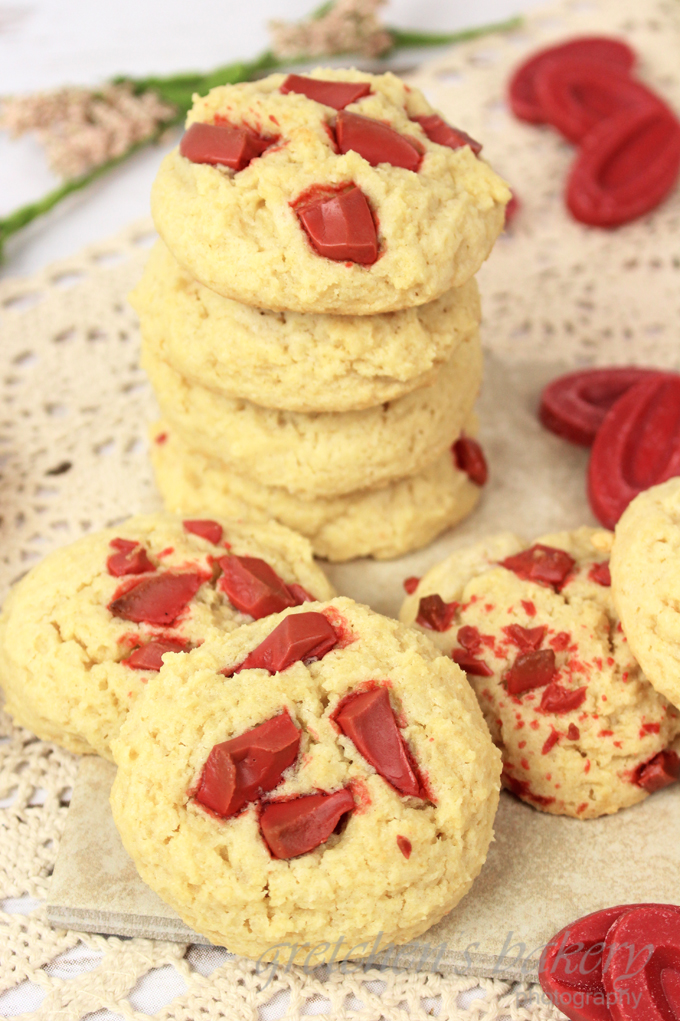 With cheesecake super flavor that actually makes your recipes taste like cheesecake!
Not that weird cream cheese flavoring some of us have had the unfortunate experience with already
And Valrhona Inspiration Strawberry Fruit Couverture that taste more like strawberries than real strawberries!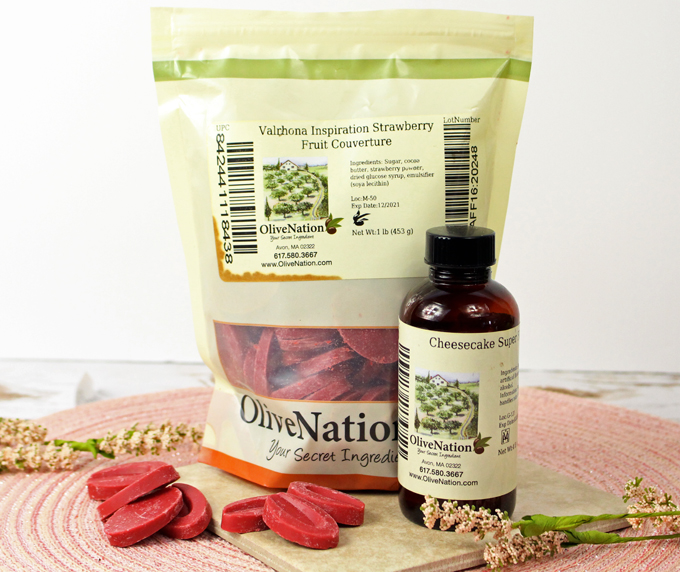 Once I got my hands on these incredible products the creative flood gates opened and the strawberry cheesecake cookie was born!
Behold the moist and tender crumb cookie that is so delicate and takes on the cheesecake flavor so perfectly!
A small addition of vegan cream cheese to this recipe
And the reduced amount of butter really makes way for these flavors to pop and take center stage!
I tried these cookies two ways:
First by just sprinkling the strawberry chocolate on top of the scooped balls of dough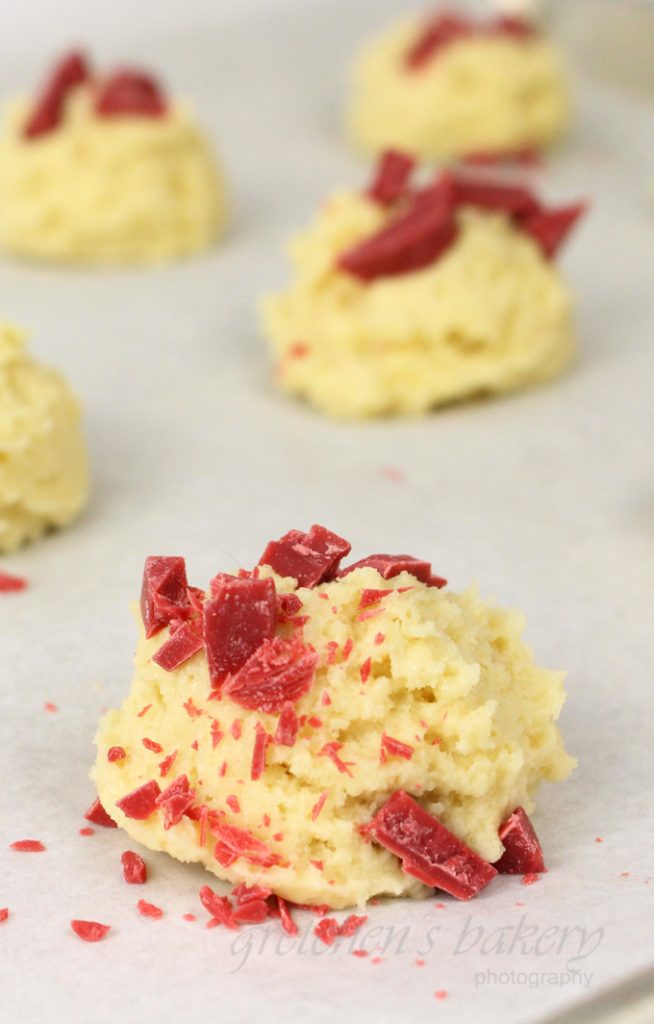 Then on my second try I mixed the chopped strawberry chocolate into the dough and added a sprinkling of powdered sugar to them after baking.
I honestly can't decide which way I liked them best!
The powdered sugar ones reminded me a little bit too much of Christmas Cookies though!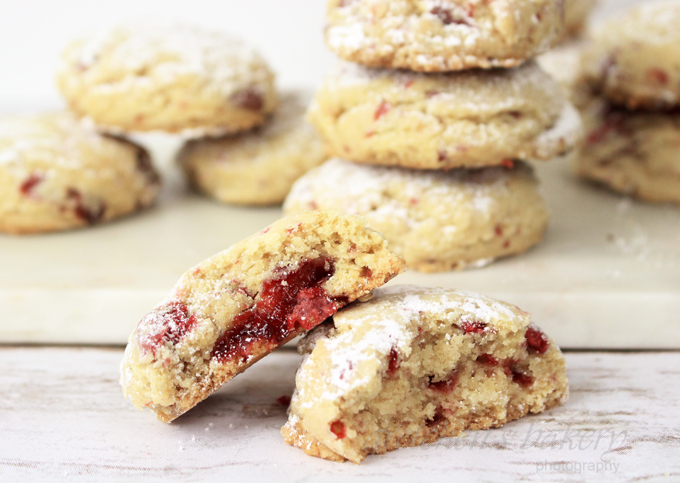 So I think I'll decide to go for the best of both worlds and add the strawberry chocolate into the dough and a sprinkling on top!
But leave off the powdered sugar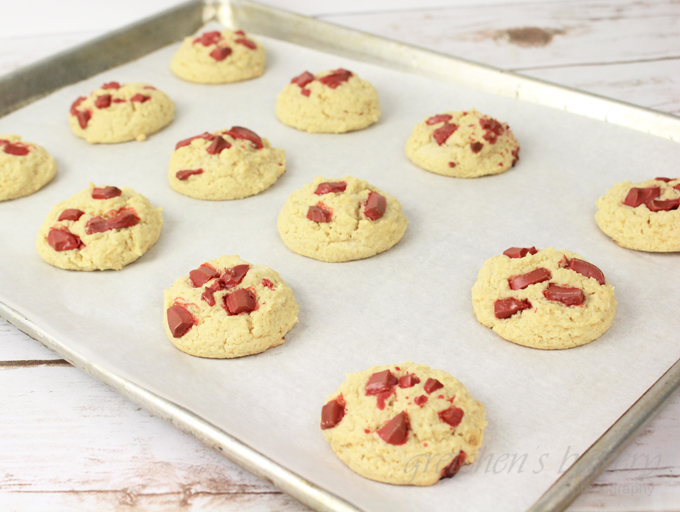 These cookies bake in less than 10 minutes
Well at least that's how long they took in my oven at 350°F
As you can see they are barely turning golden.
I pulled them out just before they started to brown
I cannot stress enough that these are very delicate cookies and just a minute too much in the oven will dry them out!
It's better to err on the side of under baked with this recipe and maybe sacrifice one by pulling it out
And checking inside to make sure it's soft and fluffy not raw and doughy!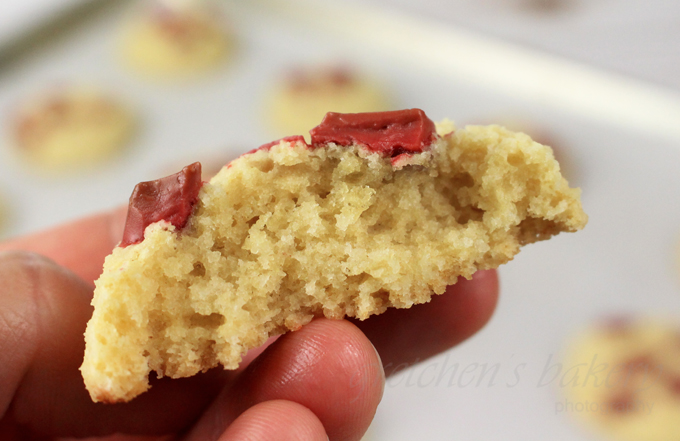 I am using vegan cream cheese in this recipe because
Well, they are Strawberry Cheesecake Cookies!
But if you have a hard time finding vegan cream cheese I have used Vegan Sour Cream interchangeably!
I do only bake with Tofutti Brand non dairy products
*not sponsored
As I have had terrible results with the other brands
For the folks who cannot get either of those
Click here for the Original Recipe Black & White Cookies without the "cheesecake" part.
CLICK HERE FOR THE FULL YOUTUBE VIDEO TUTORIAL FOR HOW TO MAKE THESE COOKIES!
Strawberry Cheesecake Cookies ~ Vegan
Preheat oven to 350°F
Be sure your ingredients are at room temperature before mixing
NOTE: I only use Tofutti Brand Cream Cheese & Sour Cream for baking, I have not had any luck with other brands
Serves:
18 1 ounce cookies
Ingredients
Vegan Butter 6 Tablespoons (85g)
Granulated Sugar ½ cup (100g)
Vegan Cream Cheese *or sour cream * see note above 6 Tablespoons (95g)
Cheesecake Super Flavor 2 teaspoons (10ml)
Cornstarch 1 Tablespoon (8g)
All Purpose Flour 1¼ cup (157g)
Baking Powder 1 teaspoon
Baking Soda ¼ teaspoon
Egg Replacer *any dry blend will be fine, I used Bob's Red Mill this time 1 Tablespoon
Salt ½ teaspoon
Strawberry Couverture 1 cup chopped fine
Instructions
Cream the vegan butter with the sugar until light and fluffy approx 3 minutes
Sift together the flour, cornstarch, baking powder and baking soda, salt and egg replacer
Add the vegan cream cheese and the Cheesecake Super Flavor, mix well to combine
Add the sifted dry ingredients all at once and mix on low speed jut until combined.
Add the chopped strawberry chocolate and mix to combine
Scoop the dough with a 1 ounce scooper or drop by heaping tablespoons onto a parchment lined sheet pan spaced 2" apart.
Add more chopped chocolate on top of each dough ball *if desired
Bake in a preheated 350°F oven for 10 minutes, not quite starting to get golden browned.
Even a minute too long can turn these cookies from light, soft & delicate to dry biscuits!
Notes
Strawberry Cheesecake Cookies can be stored at room temperature for up to 1 week in an airtight container

Freeze unbaked dough for up to 2 months wrapped well to avoid freezer burn and condensation
Don't forget to check out Olive Nation for the best quality baking ingredients!
Use COUPON CODE GVB20 for 20% off your order!
For more recipes using awesome Olive Nation baking ingredients check out: