One of the most popular cakes I made back in my bakery days was the Chocolate Mint Cake.
I am more than thrilled about this vegan version because mint and chocolate is another one of my favorite combinations and now it is better than ever!
With my best chocolate cake recipe and favorite buttercream that's really all you need!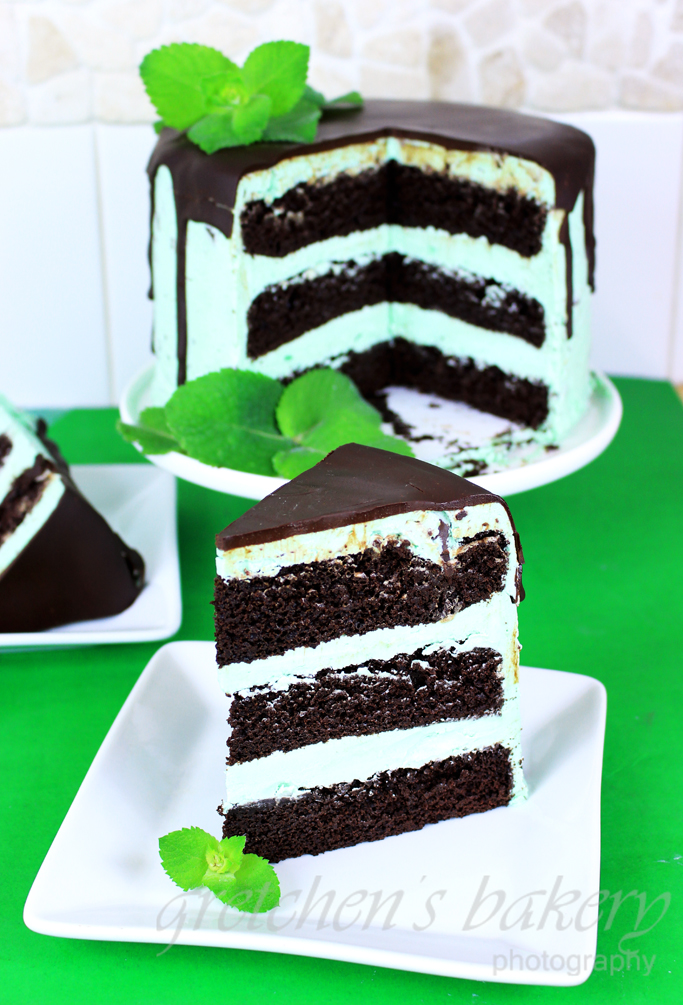 But before we get started I want to talk for a minute about mint extract.
There are so many different options for buying mint extracts and they range by brands and also by prices.
I can get a small bottle for about $1 in my local Shop Rite
However I find that it will give my cakes and pastries more of a toothpaste taste than anything else, so I try to stay away from that low grade stuff whenever possible.
There is one more thing to consider and perhaps you just haven't noticed
But there is Mint Extract and then there is Peppermint Extract and there are differences between the two
Mint Extract is most often a combination of Spearmint and Peppermint together.
Whereas Peppermint Extract is just that~ Peppermint.
The best way to describe the difference between the two is that Spearmint is the taste you get when you have a stick of Spearmint Gum; whereas Peppermint has a high level of menthol.
That menthol is going to give you a cool mouthfeel and will seem like it is stronger mint flavor because of that.
I find that using straight up peppermint extract in my recipes (especially those that have chocolate in them) give it a much better flavor than one of those "mint" extracts that have levels of spearmint which I am just not sure how to measure.
And nine times out of ten (OK 100% of the time) I am pairing mint with chocolate anyway, so the real deal Peppermint Extract is the winner in my book.
Also I am going to share a quick way to make your own mint extract with the abundance of mint that is growing in your yard!
So let's first get to the making of the New Improved Vegan-ized Version of the Chocolate Mint Cake and then be sure to go all the way through to the end of this post for the homemade Mint Extract recipe!
CLICK HERE FOR THE FULL YOUTUBE VIDEO TUTORIAL FOR HOW TO MAKE THIS CAKE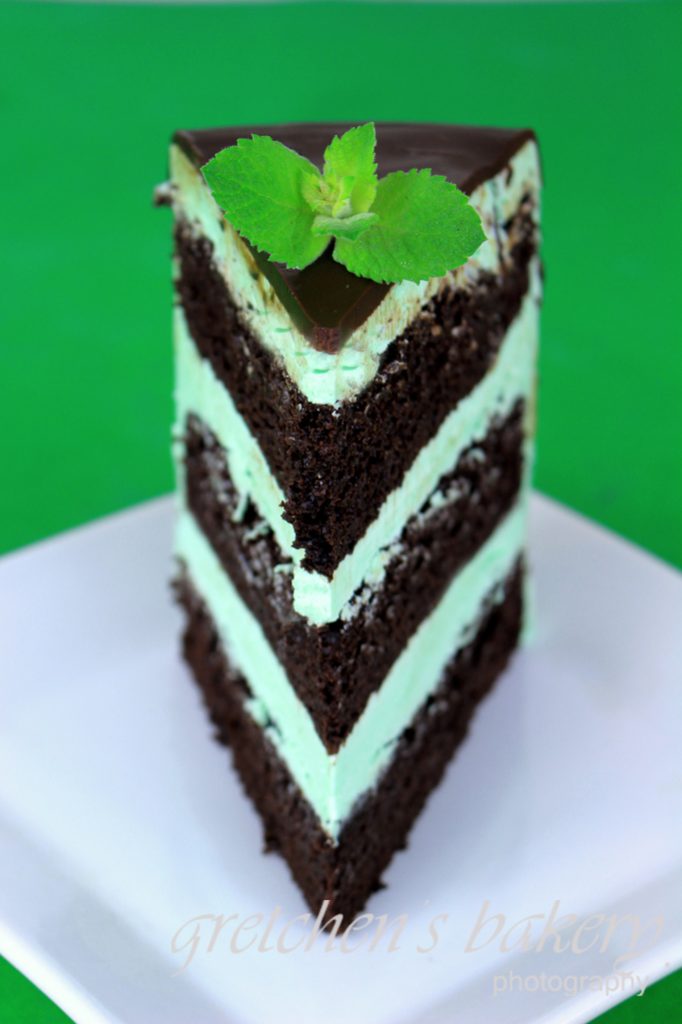 Tips for success:
You will notice in the pictures of this cake, the ganache is cracking.
I have since altered my ganache recipe to include coconut oil which will add some much needed fat and prevent cracking.
I make note of it in the recipe below, but if you click on the actual recipe for it here, it will not be included in the original video tutorial.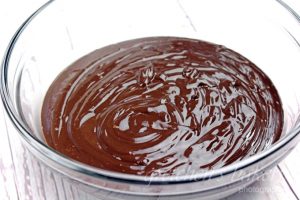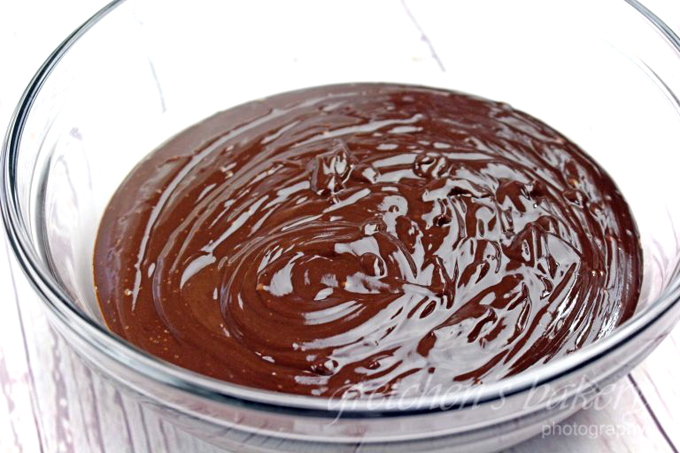 For more mint recipes click the links below!
Vegan Thin Mint Girl Scout Cookies- Copy Cat Recipe

Mint Chocolate Chip Cake
Ingredients
For the Cake:
All Purpose Flour 1½ cups + 3 Tablespoons (212g)
Granulated Sugar ¾ cup (150g)
Salt ½ teaspoon (3g)
Baking Powder 1½ teaspoon (6g)
Baking Soda 1½ teaspoons (6g)
Coconut Oil 7 Tablespoons (98g)
Boiling Water 1½ cup (360ml)
Dutch Process or Natural Cocoa Powder ¾ cup (70g)
Ground Flax Seeds 6 Tablespoons (48g)
Hot Water 9 Tablespoons (135ml)
Vanilla Extract 2 teaspoons (10ml)
For the Buttercream:
Vegan Butter 1½ Cups (3 sticks) (336g)
Hi Ratio Solid Vegetable Shortening 1½ Cups (336g)
Vegan Confectioners Sugar 6 cups (720g)
Almond Milk or any milk alternative of your choice 3 Tablespoons (45ml)
Vanilla Extract 1 teaspoon1
Peppermint Extract 3-4 teaspoons
Salt ¼ teaspoon *I find Earth Balance Butter to be salty so I leave it out- it is your option
For the Ganache:
Vegan Chocolate 4 ounces (113g)
Milk Alternative *I like soy or oat milk here 3 fl oz (6 Tablespoons)
Coconut oil 2 teaspoons *I add this to make sure the finished drip doesn't crack, as vegan ganache tends to do that CLICK HERE FOR MORE
Instructions
Grease & parchment line 3-7" cake pans and preheat the oven to 350°F
For the Cake:
Combine ground flax seed with the 9Tbs of hot water and whisk smooth
Let stand for at least 5 minutes or up to 30 minutes to thicken to a paste
Combine the flour, sugar, salt, baking powder & soda together in a large mixing bowl
Combine the coconut oil, 1½ cup boiling water and cocoa powder together and whisk smooth
Add the cocoa mixture and the flax eggs mixture along with the vanilla extract to the flour mixture and whisk smooth
Pour batter into 3 greased and parchment lined 7" cake pans and bake immediately in a preheated 350°F oven for approximately 25-30 minutes or until the layers are springy to the touch when you gently press the centers
Cool cakes in the pan then flip them out onto a cooling rack to cool completely while you prepare the buttercream recipe of your choice
For the Buttercream:
Combine the vegan butter and shortening in the Kitchen Aid (or stand mixer) bowl with the paddle attachment
Whip on medium to high speed for about 3 minutes.
Scrape the sides and bottom of the bowl to make sure it is evenly mixed and add the salt and flavors. .
Stop mixer and add the sifted confectioners sugar all at once.
Mix on low speed until incorporated , scrape the bottom and sides of the bowl and then mix on high speed for 3 minutes.
Scrape the bowl again and then while mixing on low speed slowly drizzle in the almond milk
Increase speed to high and whip for another 2 minutes
Add the mint extract and the green food color (*if using) adjust the extract to your taste, so start with just 2 teaspoons and add each one as needed
For the Ganache:
Bring the milk to a boil and pour over the chopped chocolate, whisk smooth.
Cool for at least an hour before pouring over cake
Notes
Chocolate mint cake can be left at room temperature for up to 3 days in a cool environment, if it is too warm the cake may droop, but iot won't go bad.

For longer storage keep refrigerated wrapped to prevent drying for up to 1 week.
Homemade Mint Extract Recipe
Homemade Mint Extract
There really is no "recipe" you are basically just putting as much as you have into a jar that will hold it, add vodka or for the non alcoholic version,
vegetable glycerin
to cover the leaves and that is that.
So you can make as much or as little as you like depending on how much mint you have on hand.
The extract have to nature for at least 2 months though for best flavor so be sure to plan ahead!
Instructions
Remove the stems from the mint and discard.
Rough chop the leaves, or crush them to release the oils
Add to the jar and cover with vodka or vegetable glycerin
Store in a cool, dark place for at least 2 months and up to 1 year