Spoiler alert! It's not flax!
The most asked question I get, and that I see on all the groups I belong to in social media is: "Help! What egg replacer should I use!"
The most common answer I see in response to that question is "use flax meal!"
Or Worse yet~ "Use a BANANA!" (or applesauce!!)
Nooooooo! I cringe when i see that because that is not the one size fits all answer!
But I get it.
The "what egg replacer do I use" question was the same question I also had when I first transitioned to vegan baking.
And of course my first experience with egg replacers as I tested my recipes to make them vegan was indeed FLAX!
Perhaps why my initial experiences with vegan baking was so horrific!
I'll say it again, there is not a one sized fits all answer when it comes to egg replacers!
But knowing what I know now about egg replacers from flax, chia, proprietary blends like EnerG Egg Replacer and Bob's Red Mill I have a much better understanding of how each one is different from the next and why there is not just one straight up simple answer for all recipes when it comes to replacing eggs.
After all, eggs are the most important part of baking successful recipes since they lend so much to the recipe itself.
In order to determine how to replace such a key ingredient, we need to first look at what that ingredient is doing in the recipe in the first place.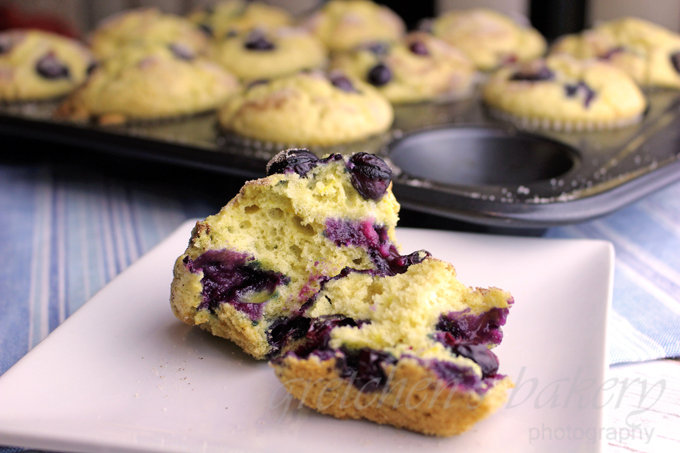 The Almighty Egg- What makes the egg so important in baking?
In baking we are familiar with the whole egg, the white and then the yolk.
Each part of the egg lends different properties and when applied in different ways (ie: mix methods and heat) they aid differently in the final result of the baked product.
Whether it is binding the recipe, leavening it, lightening it, adding fat (flavor) and body; all of these properties are typical of the chicken egg.
So in order to mimic those same qualities in a vegan recipe, it is there that we must start when deciding which egg replacer is best for that specific recipe.
Binding: The first thing most think about when asked what the egg is really doing in the recipe is binding.  Meaning it is the "glue" that holds all the ingredients together. Through mixing and heating, eggs will coagulate and bind ingredients together while also adding flavor, body and leavening action.
Leavening: Because eggs are made up of proteins that when agitated create a strong matrix that trap air which turns to steam in the oven, recipes made with eggs not only bind but they also aid in rising the baked good.
Flavor/Fat & Body: Eggs have a high amount of fat in them per each whole egg. As we know fat = flavor and why cakes and pastries are not listed on the diet menu! So in order to recreate the properties of the egg in our recipes we also have to consider the fat and moisture contents we are going to be missing by taking them out of the equation.
With those three main topics in our focus we can now start to understand what the egg was doing in our recipe in the first place.
So when you set out to replace the eggs in your recipe you must first ask yourself "How is the egg working in my original recipe and which (of my new plant based options) is best suited to replace it?"
In my course at Vegan Baking Mastery  my focus is all around egg replacers.
I took eight of the most popular natural (flax, chia and aquafaba) as well as some proprietary blends on the market (including some homemade options for those who cannot get those commercial blends).
I dissect each egg replacer to it's specific ingredients and show you visually how each one works in a controlled recipe experiment.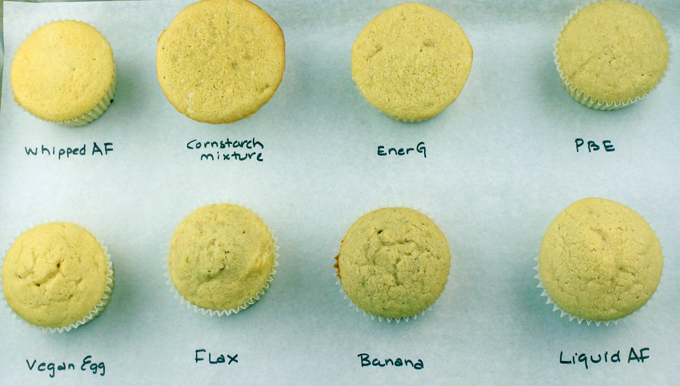 You will quickly see that not all egg replacers are created equally and not all recipes will call for the same egg replacer every time.
Now back to the cringeworthy responses I see when folks ask 'What egg replacer can I use in my cake recipe!?"
Flax is a high fat replacement that does a good job of binding, however it can produce a heavy  outcome since it is added fat and lots of moisture.
Applesauce & Banana I typically DO NOT use as egg replacements, but rather as a partial oil substitute in recipes. I find that in certain recipes (those with an already high moisture content) these "substitutes" produce a heavy, gummy final result when used as an egg replacement without adjusting the fat content to compensate. Not to mention the banana will indeed make your recipe taste like banana!
Proprietary Blends (for me) are my go-to for most CAKE recipes, with the Plant Based Egg by Freely Vegan my #1 choice. The different blends (like Bob's Red Mill, Orgran and Neat Egg for example) are also not created equally, and why I like the PBE the best. It gives me the most consistent results in 90% of my recipes and you do not have to reconstitute it before adding it to your recipe.  My cakes come out light and fluffy, not heavy & gummy and my cookies are perfectly binded.
EnerG egg replacer is the oldest replacement on the market and is mainly starch and leavener, so keep that in mind when substituting with it. It has a tendency to raise your baked goods more than you may want, if you do not adjust the other ingredients in your recipe. It can also dry them slightly (which may be a good thing since sometimes vegan cakes especially have a tendency to be on the extreme side of moist, bordering on gummy.)
Aquafaba I stay away from in cakes, since for me I find it to produce a gummier texture, I prefer AF for cold preparation mousses and such. Whipped AF is very touchy in cakes since it is so heat sensitive, it tricks you into thinking it is rising beautifully in the oven only to sink to a heavy mess after cooling. Not to mention it is straight liquid which for a recipe that is already heavy in liquid ingredients, can produce a heavy, gummy texture.
Again all recipes are not created equally, so the egg replacer for your specific recipe takes some thought.
I cannot stress enough that there is not a one sized fits all answer when it comes to replacing the eggs in cake recipes especially!
Use the guide I outlined above to ask yourself some questions, and determine which egg replacer is best for your particular recipe and think it out before deciding.
Do you need mainly binding? In which case AF, Flax, Chia or any of the store bought blends would probably work great.
Do you need added leavener? EnerG or my homemade cornstarch blend (recipe below) is a good way to go.
Take a look at the ingredients in the proprietary blends and ask yourself how they will play into your recipe.
Many of them are starches, pectins and flax/chia blends. It is worth trying them to see which you like best for most of your recipes.
I have used pretty much every blend on the market before deciding that The Plant Based Egg is by far my favorite, but I do use some of the others from time to time, for example Vegan Egg by Follow Your Heart was GREAT in my Opera cake recipe or any recipe where I specifically have to replace JUST egg YOLKS.
So before you listen to everyone in a Facebook Group saying "Just use applesauce!!" Please dig a little deeper at WHY & HOW you are replacing the eggs in your recipe.

Homemade Cornstarch Egg Replacer
The recipe below will not only bind and leaven your recipe but it also gives it a finer texture due to the cornstarch, HOWEVER keep in mind baking powder contains sodium bicarbonate (aka baking soda), which is technically sodium in terms of taste, adding 488mg of sodium per teaspoon! By using sodium free baking powder you can diminish this salty effect in your recipes
Ingredients
Cornstarch 2 Tbs + 4 tsp oil + 1 tsp baking powder + 2 Tbs water
Instructions
Mix all ingredients together and add to the recipe in place of 2 eggs
Homemade EnerG Egg Replacer
Adapted from http://wholenewmom.com/recipes/energ-egg-substitute-egg-replacer-without-eggs/
Ingredients
2½ cups potato starch
½ cup arrowroot starch
1 cup tapioca starch
⅔ cup corn-free baking powder
⅓ cup baking soda
Instructions
Mix everything together well, then re-whisk before each use
To substitute for 1 egg, use ½ Tbs egg replacer powder and 3 Tbs warm water
**Note:  Some of you may know that for the last 3 years I have been working on developing the plant Based Egg, a vegan egg replacement that my friend Deborah at VeganKitchenMagick.com pioneered.
I am thrilled to announce it has finally gone to market and Amazon has it for sale NOW! as well as on the website at Freely Vegan.com
If you or anyone you know is into Vegan Baking, (but even more than that- VEGAN + GLUTEN FREE baking), THIS is a MUST have product!
Deborah has done amazing things with gluten free/vegan baking and I helped to develop this product to work in vegan baking with wheat!
This is by far my favorite egg replacement to use (of course I am a bit biased LOL)
Spread the word please and consider purchasing to help a small business venture!! THANKS!