Mini bite sized vegan apple cheesecake!
Perfect little bites of vegan vanilla cheesecake topped with cinnamon apples!
For those who want more than a bite (ME) I will advise to DOUBLE the recipe below and make a larger 8″ cake version
This is a nut free cheesecake, since most of the vegan cheesecakes I have seen are a no bake variety with cashew cream for the base.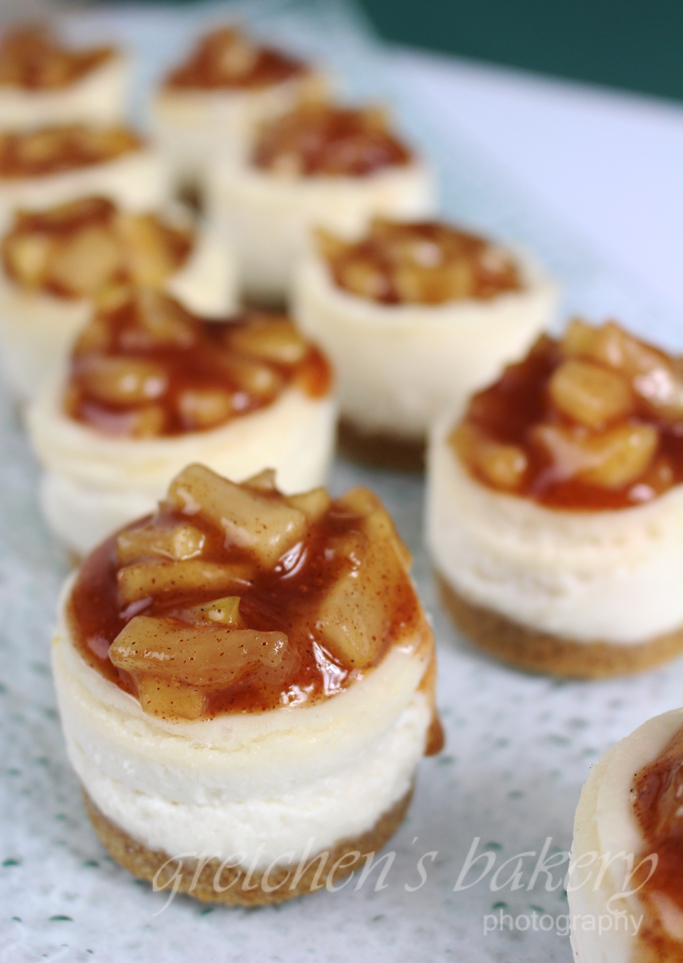 Well this is a real deal cream cheese version (vegan of course) that is so close to the real thing you are going to flip!
Creamy texture, perfect graham cracker crust and cinnamon sweet apples all over the tops!
I use Tofutti brand cream cheese and sour cream here, but you can use whatever brand you prefer.
This was one of my first vegan cheesecake recipes I tested when I first converted my blog and Youtube channel to vegan.
If you are familiar with my newer cheesecakes I've been sharing here, you will see that this one is considerably different.
It does use the EnerG Egg Replacer which I do not love, whereas my other cheesecakes are using tofu, cornstarch and flour as the thickener.
Check them all out, and see which way you love best!
I will note that I brought this Vegan Apple Cheesecake to a party and where not a soul was vegan.
Let me tell you everyone flipped at how creamy and delicious these little gems were and they honestly could not believe they were vegan!
Vegan Apple Cheesecake
Ingredients
Crushed Graham Cracker (do not use the honey variety) ¾ cup
Granulated Sugar 1 Tablespoon (14g)
Ground Cinnamon 1 teaspoon (5g)
Coconut Oil or Vegan Butter 4 Tablespoons
Vegan Cream Cheese 12 ounces (336g)
Vegan Sour Cream ¼ cup (56g)
Vegan Granulated Sugar ½ cup (100g)
EnerG Egg Replacer 4½ teaspoons (18g)
Warm Water 6 Tablespoons (90ml)
Vanilla Extract 2 teaspoons (10ml)
Instructions
Melt the coconut oil and combine with the graham cracker crumbs, cinnamon and the sugar
Press 1 tablespoon into each cavity of the mini cheesecake pan
Whisk the egg replacer with the warm water
Cream the vegan cream cheese smooth with the granulated sugar
Add the vanilla extract and the egg replacer mixture mix smooth
Add the vegan sour cream and mix smooth
Pour into the prepared cheesecake pans and bake in a preheated 335°F oven for approx 18-22minutes
They will be puffed up and this is normal
Remove from oven to cool completely and then cool to cold in the refrigerator.
Meanwhile prepare the apple filling as per the instructions on that blog post CLICK HERE
Cool apple filling to cold; then top the cheesecakes with 1Tablespoon of filling. (The recipe for apple filling makes more than you will need, but you can freeze the excess or serve an additional tablespoon with each serving)