As a vegan there is nothing better than hearing people exclaim "There is No Way this is vegan!"
All the non vegans in my life have been astonished by my cheesecake recipes, especially this apple crumb cheesecake!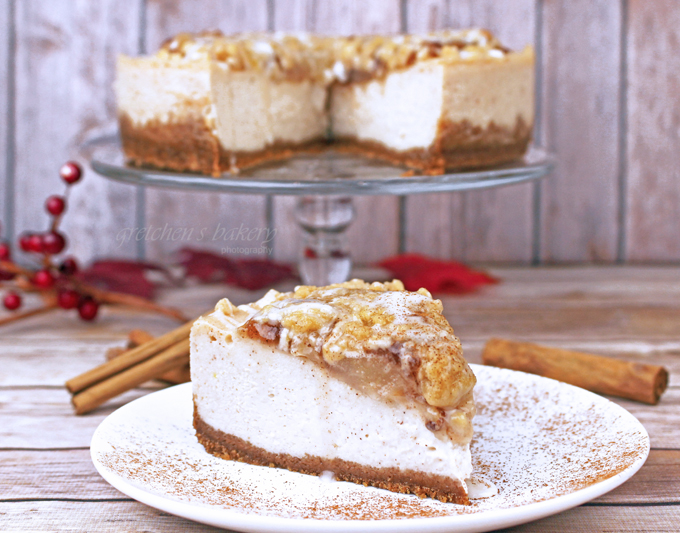 With just two simple recipes you can make this amazing cheesecake that will have everyone in disbelief that it is indeed vegan
This vegan apple cheesecake is going to change how you feel about vegan desserts!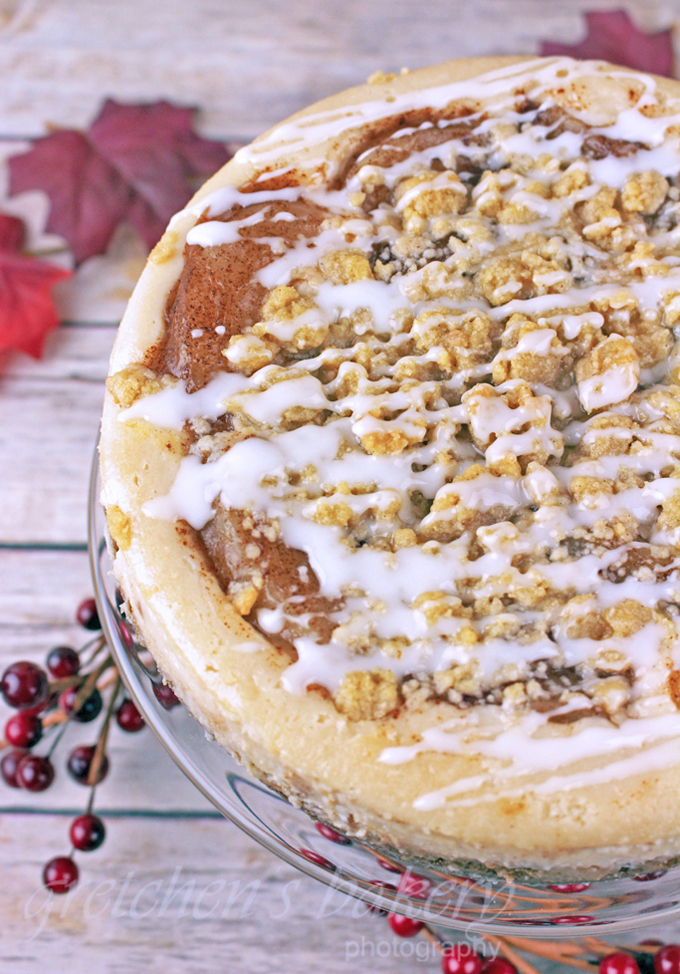 I have also made this recipe into individual miniature cheesecakes with great success!
So if you have that special individual cheesecake pan or even a cupcake pan will work too!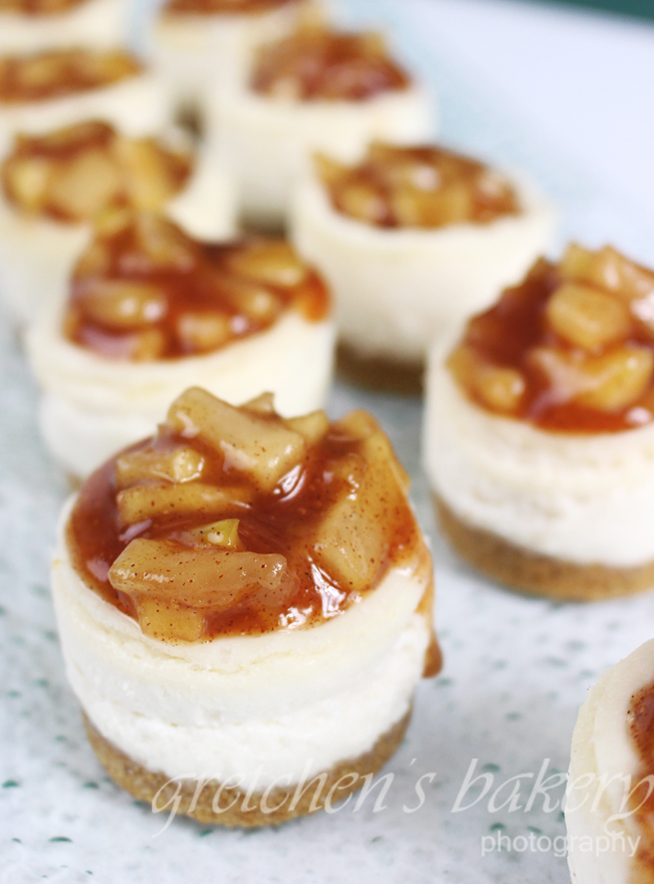 Notes for Success:
At times I add an addition of firm tofu in place of some of the cream cheese for a lightened up version and to cut some of the fat calories.
I do not find an extremely noticeable difference in the outcome of straight vegan cream cheese versus the tofu addition.
So for me I like the tofu version but if you prefer you can replace the tofu with more vegan cream cheese.
Additionally I only use Tofutti Cream Cheese for my BAKED recipes.
*Not sponsored
I have not had success with any other brand in BAKED recipes.
For some reason the other more expensive brands I've tried have broken down into an oily mess when baked.
Cornstarch is a very difficult ingredient to measure consistently with a volume spoons measure
So while I list both measures below I cannot stress enough how the grams measure with a scale is going to give you the best results.
Many times people have complained that their cheesecake is like rubber and they don't know why!
This is from a heavy measure of cornstarch when using volume measuring spoon vs the 100% accurate scale measure in grams.
I'm using a blend of gingersnap cookies & graham crackers for the crust, but you can use all of one or the other as you prefer.
I also bake my cheesecakes in a 7″ cake pan but you can use an 8″ pan if that's all you have, your cheesecake will be slightly thinner and will bake for approximately 10 minutes less
NOTE ABOUT THE STREUSEL! You will have more than you need with the recipe listed below, but it will store great in the freezer in a bag for up to 3 months to use for another project!
CLICK HERE FOR THE FULL YOUTUBE VIDEO TUTORIAL FOR HOW TO MAKE THIS CHEESECAKE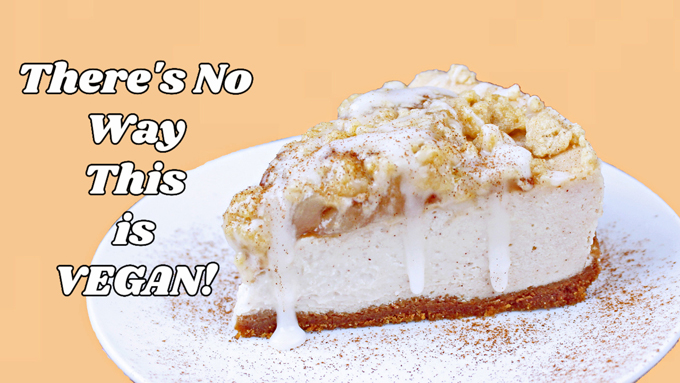 Yield: serves 10
Apple Crumb Cheesecake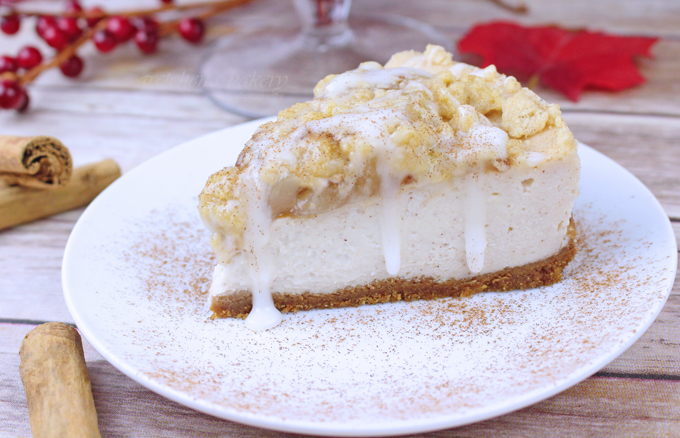 Cook Time
1 hour
15 minutes
Total Time
3 hours
15 minutes
Ingredients
For the Crust
Graham Crackers 6 sheets (approx 1 cup of crumbs)
Light Brown Sugar 2 tablespoons *optional
Vegan Butter Melted 4 Tablespoons (56g)
Ground Cinnamon ¼ teaspoon
Ground Ginger ¼ teaspoon
For the Cheesecake
Vegan Cream Cheese 12oz (170g) * see ntoes
Firm Tofu 4 ounces (112g)
Melted Vegan Butter 2 tablespoons (28g)
Sugar ¾ cup (150g)
Cornstarch 4 Tbs (32g)
All Purpose Flour 3 Tablespoons (24g)
Ground Cinnamon ½ teaspoon *I forgot to mention this ingredient in the video
Plant Milk scant cup - 7 fluid ounces (207ml)
Vegan Lactic Acid 1½ teaspoons (or 1½ teaspoons apple cider vinegar)
Salt ¼ teaspoon
Vanilla Extract 2 teaspoons
½ Can Apple Pie Filling
For the Streusel Topping *See notes
Vegan Light Brown Sugar Packed 2½ Tablespoons (35g)
Vegan Granulated Sugar 4 tablespoons (50g)
Salt ¼ teaspoon
Ground Cinnamon ¼ teaspoon
Vegan Butter 5 Tablespoons (70g)
Cake Flour ¾ cup + 1 Tablespoon (98g)
Instructions
First prepare the streusel topping by combing brown sugar, granulated sugar and vegan butter and get it creaming on medium high speed.
Add the cinnamon and salt and then the flour and mix until it comes together and it will look like a soft cookie dough
Sprinkle it out onto a parchment lined sheet pan and freeze while you prepare the cheesecake.
If you are making your own apple pie filling, prepare the recipe according to the instructions on that blog post. then reserve.
Next make the crust combine the melted vegan butter with the graham crumbs and ginger cookies, the spices and the sugar into a food processor and process to the consistency of wet sand.
Press it into the bottom of a greased and parchment lined 7" cake pan and then freeze while you prepare the cheesecake batter
For the cheesecake combine all the ingredients together in a food processor or blender and process smooth
Pour the cheesecake batter into the prepared crust and bake in a water bath in a preheated 350°F oven for 45 minutes then carefully remove the cheesecake, it will not be fully baked, top with the apple pie filling and then the frozen streusel crumbs ~ just about ¾ of a cup total *see notes above
Return cheesecake carefully to the oven for another 30 minutes to bake the rest of the way
After the total 75 minutes of bake time, turn the oven off but leave the cheesecake inside to cool for another 40 minutes, then refrigerate for at least 5 hours or overnight before un molding.
Drizzle with optional sugar glaze which is just a mixture of confectioners sugar and plant milk~ I usually do 1 cup : 1 tbs adjust to your desired consistency
Notes
Cheesecake must be stored in the refrigerator and will stay fresh for up to 10 days wrapped well.


I do not like the way vegan cheesecake freezes, the texture changes and gets grainy