The Mirror Glaze Recipe that has taken the world by storm has just hit Gretchen's Vegan Bakery!
I just had to get on board with this one, since well….look at that beautiful shine!
Olga Noskova's viral Instagram pictures of her fabulous mirror cakes have created such a buzz about this not so new technique.
Mirror glazing has been around for decades (yep, I learned this way back when I was a youngin at the good ol' Culinary Institute of America!)
However this is a slightly different recipe that has been trending and I have to say~ I LOVE IT!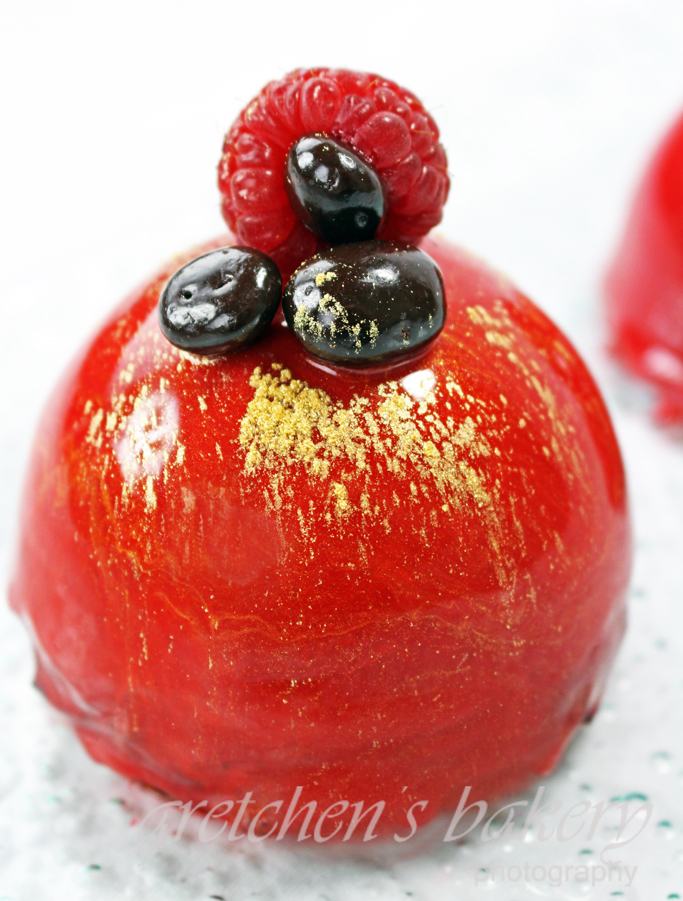 So thanks to whoever shared this recipe (since Olga is keeping her exact recipe under tight lock and key) it is pretty much the same recipe I have seen being passed around the "net" which includes sweetened condensed milk and gelatin.
Now for the best news of all! I HAVE A VEGAN VERSION FOR YOU!!
Yes that's right~ Agar to the rescue.
Mirror glaze for everyone!! Wooohooo!
Ok, so in addition to the mirror glaze recipe I have also created a new mousse dessert, the Chocolate Coffee Raspberry Mousse Bombe.
I originally created that recipe BEFORE I transitioned to full vegan, so the video below is showing both vegan & non vegan recipes.
But don't be confused ~ if you are here simply for the Mirror Glaze recipe, just grab it below and you can skip forward to 7:42 minutes for the Agar version.

The mousse shown in that video was NOT VEGAN! But I do have a VEGAN MOUSSE RECIPE HERE! (and video and recipe below as well)
Sorry to make you go back and forward, but this video from 2 years ago is really a good tutorial and I haven't had a chance to make a new one!
But I know, I know.. I really should! (and I will!)
Just scroll down to the second recipe for the vegan mousse and in that video I am using a vegan mirror glaze as well, but with dark chocolate (which can easily be subbed in for vegan white chocolate and then colored)
It's a bit of a project, but with some organization I will have you making these professional style Mousse Bombes in no time!
Vegan Mirror Glaze Recipe
Ingredients
Vegan White Chocolate 8 ounces (220g)
Vegan Coconut Sweetened Condensed Milk ½ cup (140g)
Granulated Sugar 1 cup (200g)
Corn Syrup ¾ cup (245g)
Cold Water 7 tablespoons (100ml)
HOT Water ½ cup (120ml)
Powdered Agar 4 teaspoons (16g)
Instructions
Bloom agar in the HOT water (120ml), let stand 5 minutes
Combine the corn syrup, the other measure of COLD water (100ml) and the sugar in a heavy bottom sauce pot and get it warmed to at least 150°F add the bloomed agar and bring to a boil.
Allow it to boil rapidly for 1 minute, then remove from the heat and add the condensed milk and whisk smooth
Pour the entire hot mixture over the chocolate and whisk smooth
Pour through a strainer into a clean container and color as you like.
Pour over cakes & pastries once it has cooled to 80 or 90°F
Vegan Mousse Recipe for Entremets
For those wanting to omit the hazelnut you can use more vegan milk chocolate in place
Serves:
9 individual or 1- 8" cake
Ingredients
For the Hazelnut Mousse
½ cup Hazelnut Butter (recipe follows) or store bought
Vegan Milk Chocolate 5 ounces (140g)
Vegan Semi Sweet Chocolate 4 ounces (113g)
Almond Milk ½ cup (120ml)
2 Tablespoons Cocoa Powder (24g)
2 cans full fat coconut milk refrigerated overnight
Instructions
Prepare the mousse by melting both chocolates together over a double boiler or in the microwave.
Add the cocoa powder and the almond milk and whisk smooth
Add the hazelnut butter to the chocolate mixture then whisk smooth
Open the cold cans of coconut milk and skim the fat from the tops (discard the coconut water that remains or reserve it for another recipe)
Whip the coconut fat to stiff peaks then fold it into the chocolate mixture
Portion the mousse into the silicone molds or a cake ring lined with acetate cake strips for easy removal.
Refrigerate or freeze the mousse until you prepare the mirror glaze recipe then glaze as shown in the video
Notes
Mousse desserts should be kept refrigerated but will stay at room temperature with no problems for up to 4 hours