These new Almond Crisp Cookies are my attempt to copy cat the Pepperidge Farms Geneva Cookies.
Nailed it!
I always walk the cookie aisle when I'm shopping and I want to buy everything!
But how can I buy cookies when I am a pastry chef?
It just wouldn't be right!
So of course I went right home and veganized one of my all time favorites.
This knock off of the Geneva is a crispy, buttery cookie that has been modified from my original Bakery Spritz Cookie Recipe.
Only his time I have piped the dough into little boat shapes and then painted the baked, cooled cookies with chocolate and a sprinkling of toasted crushed almonds!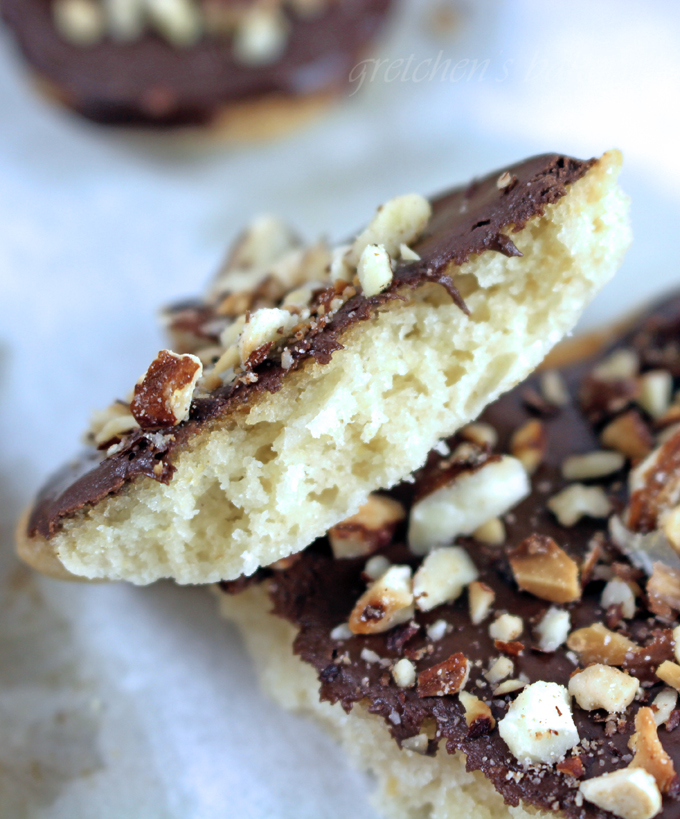 I know the original Geneva has pecans but I was feeling a bit almond-y tonight!
Of course you can leave off the nuts completely if you don't like them or have an allergy.
Some sprinkles would be great or simply sandwich two cookies together with just the chocolate for a nut-free crispy cookie treat!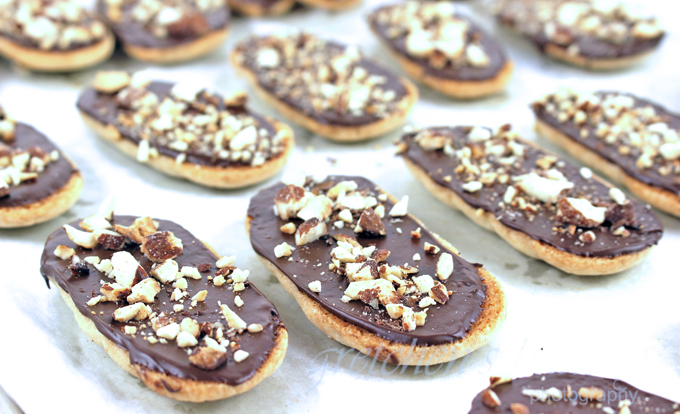 Get creative with this easy to make cookie that I know you will love!
CLICK HERE TO WATCH THE FULL YOUTUBE VIDEO TUTORIAL FOR HOW I MADE THESE COOKIES!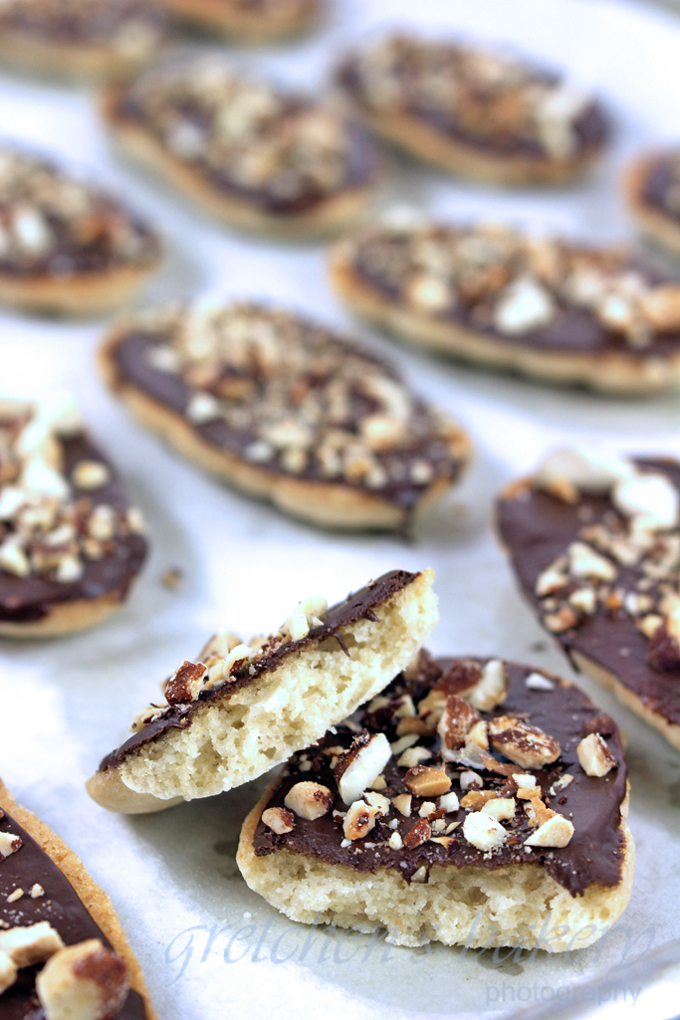 For more of the best Copy Cat vegan cookie recipes check out the links below!
Vegan Thin Mint Girl Scout Cookies- Copy Cat Recipe
Vegan Samoas Recipe Copy Cat Girl Scout Cookie
Copy Cat Tagalong Cookie Recipe

Almond Crisp Cookies
Ingredients
Vegan Butter, Margarine or Shortening 1 cup (226g)
Vegan Granulated Sugar 1 cup (200g)
Ground Flax 1 Tablespoon (8g)
Hot Water 3 Tablespoons (45ml)
Almond Milk 2 Tablespoons (30ml)
Vanilla Extract 1 teaspoon (5ml)
Almond Extract 1 teaspoon (5ml)
All Purpose Flour 2½ cups (312g)
Baking Powder ½ teaspoon
Salt ¼ teaspoon (2g)
Instructions
Combine the flax with the hot water and let stand for 5 minutes to thicken
Cream the vegan butter or shortening and sugar on high speed until light and fluffy about 3 minutes.
Add the salt
Add the flax egg to the creamed mixture and be sure to stop and scrape the bottom and sides of the bowl for an even mix.
Add the sifted flour with the baking powder all at once and mix on low speed just until combined.
Slowly drizzle in the almond milk with the vanilla extract & almond extract and mix until combined, scrape the sides again.
With a pastry bag and just the coupler inserted (no tip) pipe the dough onto a parchment lined sheet pan spaced about 1 inch apart as shown in the video
Bake in a preheated 350°F oven for about 20-22 minutes or until the cookies are lightly browned. I find it is important to bake these cookies until they are golden to give them the crispness that is appealing here
Cool completely and paint with chocolate and sprinkle with toasted nuts
Notes
Cookies can be stored at room temperature in an airtight container for up to 2 weeks