All of my vegan mousse recipes are based off of the traditional non-vegan method for making mousse
Incorporating aquafaba instead of the egg white meringue
With agar as the stabilizer you are back in business making concoctions that you probably thought were gone forever!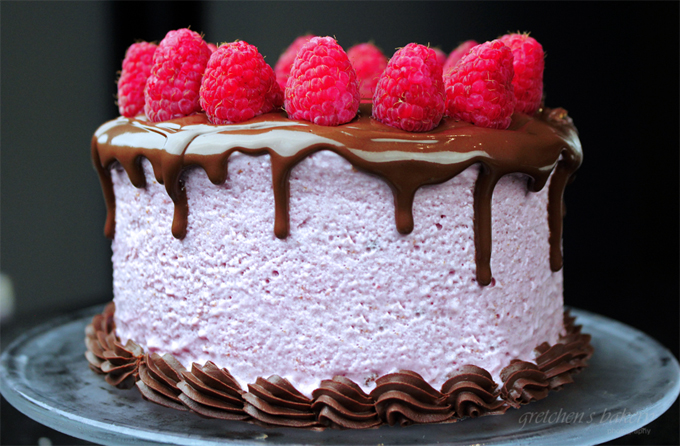 Someone asked if the raspberry puree could be substituted with another fruit puree.
The answer to that was yes!
I also used whole raw raspberries rather than cooking them down to a puree.
But frozen berries will also work fine
Adding vegan white chocolate as a binder helps it all set up for slicing.
The cashews are the base and totally necessary to aid in the setting of the whole cake.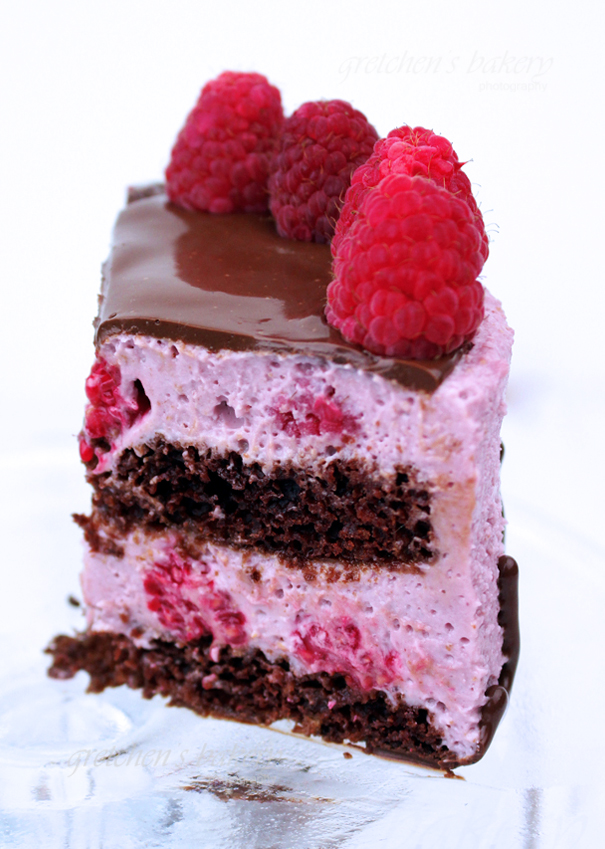 I know I will get some questions right away if you can swap out those nuts for something else.
And yes you can make a mousse without them but not this recipe.
That would require an entirely different recipe formulation.
The same goes for pretty much every ingredient here, this recipe has been formulated to work out perfectly.
So I wouldn't recommend trying to substitute out anything here.
The upside down chocolate ganache drip is the trick of all tricks!
So be sure to watch the video even if you don't plan to make this cake!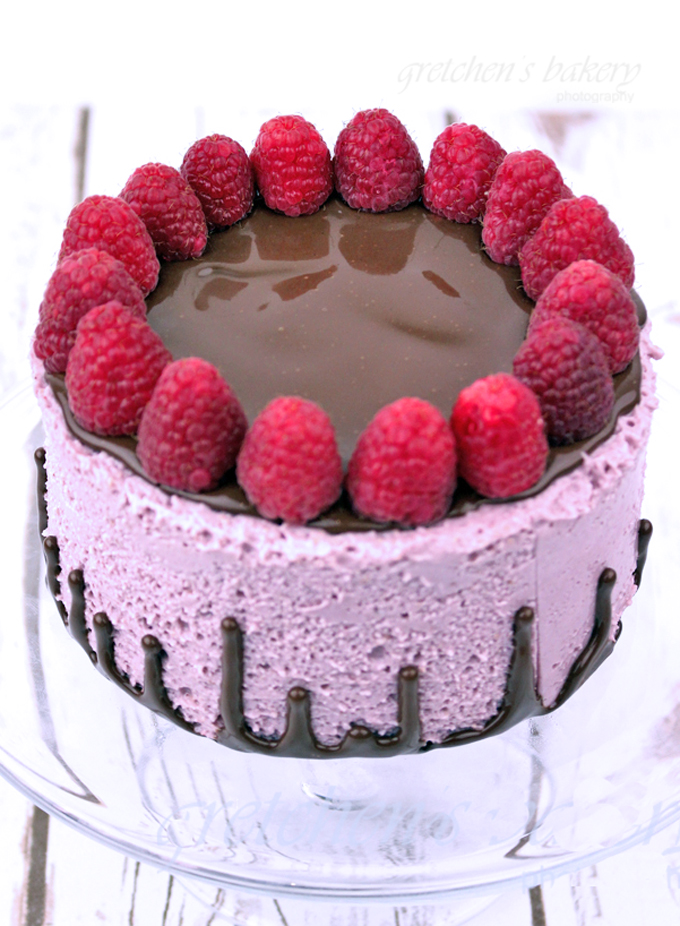 CLICK HERE FOR THE FULL YOUTUBE STEP BY STEP VIDEO TUTORIAL FOR HOW TO MAKE THIS CAKE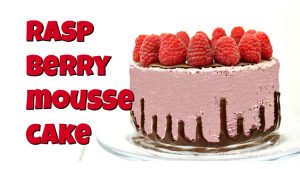 Notes for Success:
Agar can be a tricky ingredient to work with
A heavy hand ~ even a pinch too much~ can be the difference between creamy delicious and rubbery inedible!
Pay attention to the strength of agar you are using in comparison to the one that author of the recipe is using
I use 900 Strength agar in my recipes
CLICK HERE FOR THE EXACT BRAND *not sponsored
Aquafaba can be equally tricky especially in small quantities as required in this recipe
CLICK HERE FOR AN AQUAFABA TRICK THAT WILL MAKE YOUR LIFE EASIER!
For more mousse recipes click the links below!
Two Ingredient Chocolate Mousse

Raspberry Mousse Cake
In the video I am making a 5" cake, but the recipe here is listed out to make an 8" cake
Click here for my amazon store
to find all the tools and pans I am using in this video
Ingredients
For the Mousse:
Raw Cashews Soaked 2 cup (300g)
Fresh or frozen Raspberries 2 cup (454g)
Cocoa Butter or Coconut Oil ½ cup (113g)
Coconut Milk ½ cup (120ml)
Vegan White Chocolate 6 ounces
Confectioner's Sugar 1½ cup (180g)
Raspberry Jam *optional 1 Tablespoon (15ml)
Aquafaba liquid from a can of chick peas ½ cup (120ml)
Agar ¾ teaspoon
You will also need:
¼ Recipe Vegan Ganache
Instructions
Preheat the oven to 350°F
Grease & parchment line your cake pan
Soak the cashews over night in a bowl of water or for fast soak bring them to a fast boil and let sit in the hot water for 30 minutes.
Prepare the cake recipe as per the recipe instructions on that blog post (bake into 1-8" cake pan)
Next prepare the raspberry mousse by heating the aquafaba in a small saucepan over low heat with the ½ teaspoon of the agar powder and bring it to a boil.
Cool to tepid (not cold or the agar will thicken the liquid before we can whip it) then you can prepare the rest of the recipe
Heat the coconut milk with the other ¼ teaspoon of agar and bring it to a boil (be sure to keep this warm or the agar will set the milk- if that happens though, just rewarm it to dissolve again)
Combine the soaked & drained cashews, raspberries, jam, confectioner's sugar the warm agar-coconut milk, melted cocoa butter or coconut oil and melted white chocolate in a high speed blender of food processor and blend smooth on high for about 45 seconds to 1 minute or until there are not traces of cashews in the mixture
Transfer to a large mixing bowl
Whip the cooled (or room temperature) agar-aquafaba with a balloon whip attachment to stiff glossy peaks and then fold into the raspberry mixture
Pour half of the mousse into the prepared mold, then slice your cake layer into 2 layers and trim it slightly smaller in diameter than the actual ring mold (this is so the cake will not show through the sides after unmolding) *see video demo
One layer goes into the center and then the rest of the mousse on top.
*Optional to add more fresh raspberries to each layer as I did in the video
The other cake layer goes on top, press down firmly so the mousse will come up around the sides (as shown in the video) and refrigerate until set at least 5 hours or overnight.
Prepare the ganache recipe according to the instructions on that post/recipe and then unmold the cake and ice with cooled but still pour-able ganache as shown in the video
Notes
Raspberry mousse cake must be kept refrigerated at all times, and will stay fresh in the refrigerator for up to 1 week.


You can also freeze the entire cake for longer storage up to 1 month