This is truly the best pumpkin cake you will ever try
An easy one bowl mix and you are on your way to fluffy, moist pumpkin spice loaded goodness!
Not only is this recipe the perfect base canvas for every filling and icing you can think of, but it also bakes perfectly into every cake pan shape and size you have!
Sheet cakes, cupcakes, bundt cakes, layer cakes ~ like you name it this cake had got you covered!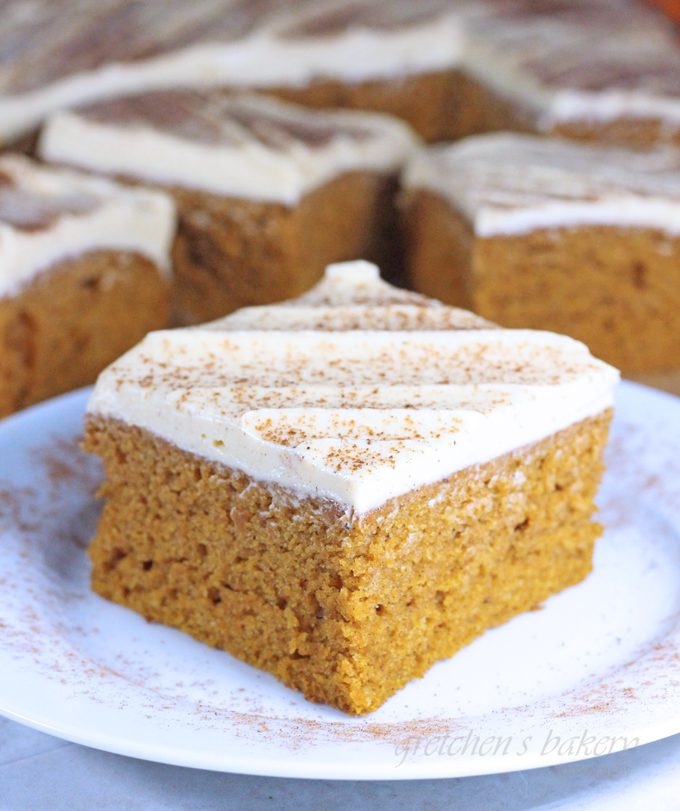 This cake really doesn't need much adornment because it's just so perfect on it's own
But adding fillings like date caramel and chocolate ganache transforms this already awesome cake recipe into something stupendous!
Caramel Pumpkin Turtle Cake anyone?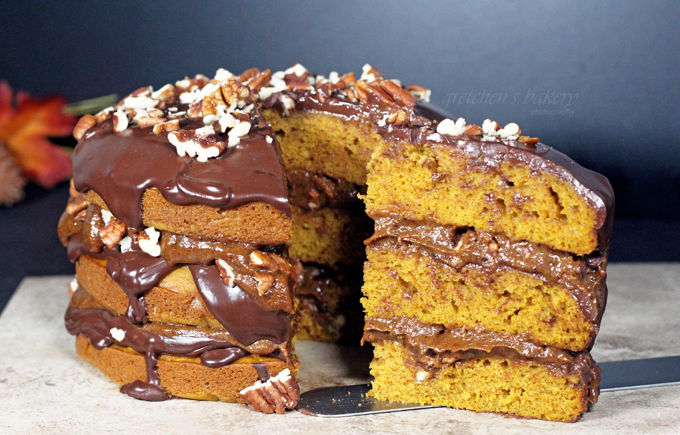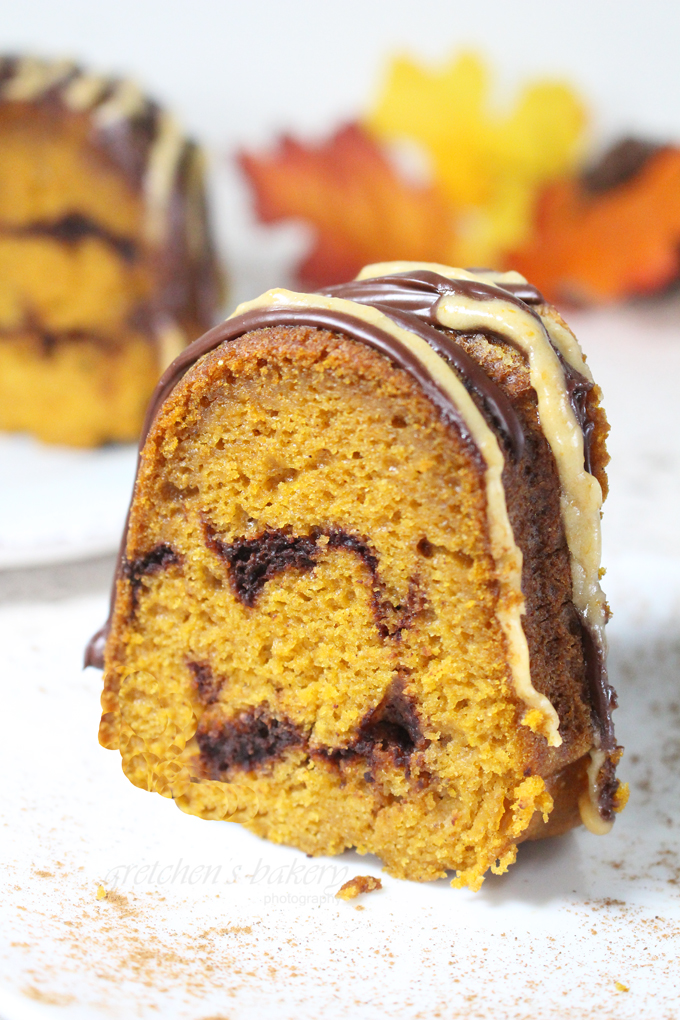 I even got super creative with this one and plunged a mini Snickerdoodle Apple Pie into the batter before baking
For these amazing Apple Pie Stuffed Pumpkin Cupcakes!
CLICK HERE FOR THE FULL YOUTUBE VIDEO TUTORIAL FOR HOW TO MIX THE CAKE BATTER!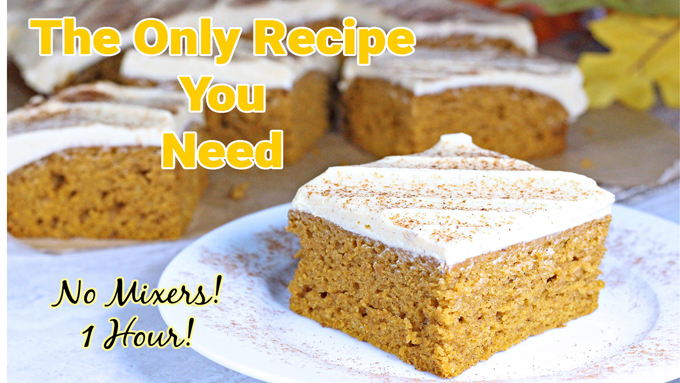 Notes for Success:
The recipe listed below makes 1-9″ X 13″ sheet cake
Halve the recipe for the 6 cup capacity bundt pan or 18 cupcakes or 2- 8″ layers instead
Just be careful on the math with your conversions when doubling or halving all the ingredients
Oven temperature will stay the same no matter what you are baking and I like to start it off at 350°F for the initial 15 minutes of baking
Then turn the oven temperature down to 300°F to bake the rest of the way
This sheet cake 9″ x 13″ pan only took a total of 30 minutes to bake!
Many people like to know exact baking times for everything but I don't like to stick to exacts there|
All ovens and pan materials are different so no matter what you are baking just check in around the 18 minute mark to see where you are and how much time to add until done
I do the toothpick test to check for moist crumbs not raw batter.
There is no egg replacer here in this recipe and I am using a neutral vegetable oil for lightest cake result
The cake flour addition could be an issue for some people as I have gotten comments that the resulting cake tasted raw and gummy
I am not sure why this is happening to some people since I have not had that experience.
CLICK HERE FOR MORE INFORMATION ON CAKE FLOUR
For those who cannot get canned pumpkin you can make your own pumpkin puree just be wary that homemade version are always going to be super liquid compared to the tinned varieties
Compensate for that extra moisture by straining the homemade puree as much as possible.
Another helpful trick when using homemade puree is to switch the flours listed below in the recipe.
Meaning instead of 1 cup AP & 2 cups Cake Flour, you will use 1 cup cake flour & 2 cups AP
One last thing, I list all the spices in this Pumpkin Cake recipe individually but if you want to make your life easier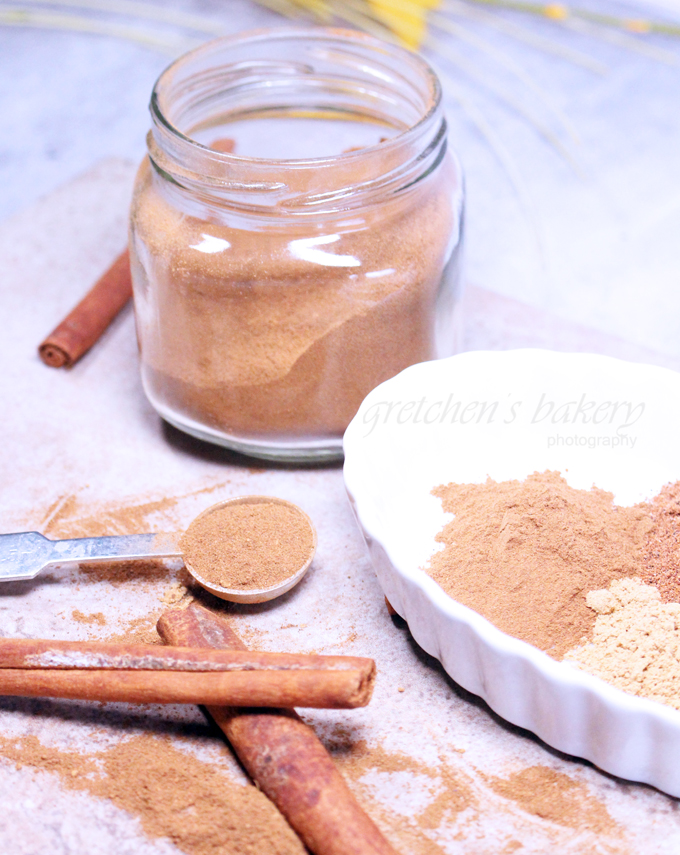 For more pumpkin recipes click the links below!
Yield: serves 12-15ppl
The Best Pumpkin Cake Recipe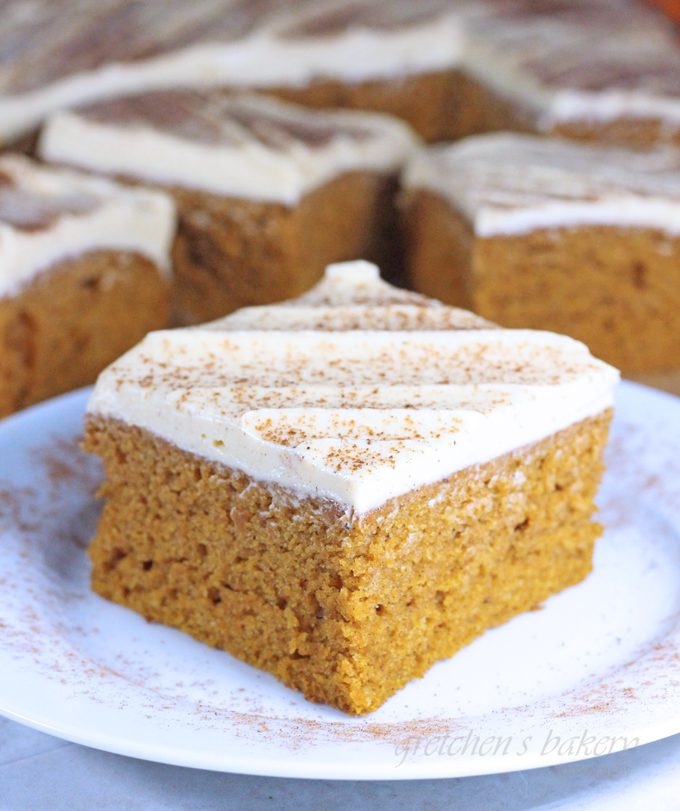 Ingredients
For the Cake Batter
Vegetable Oil 12 Tablespoons (180ml)
Light Brown Sugar 1 cup (205g)
Plant Milk *I use soy 1½ cup (354ml)
Vinegar 2 teaspoons (10ml)
Vanilla Extract 1 teaspoon (5ml)
Canned Pumpkin 1 cup (250g) *see notes
Salt 1 teaspoon
All Purpose Flour 1 cup (125g)
Cake Flour 2 cup (240g) *see notes
Baking Soda 2 teaspoons
Ground Cinnamon 1 teaspoon
Ground Ginger 1 teaspoon
Ground Cardamom ½ teaspoon
Ground Cloves pinch
Ground Nutmeg ¼ teaspoon
*If you are adding icing you will make 1 Recipe Buttercream of your choice & add 3 teaspoons Pumpkin Pie Spice
Instructions
Preheat your oven to 350°F
Grease your cake pan(s) with professional bakery pan grease The recipe listed below will make 1- 9" X 13" pan
Combine the vinegar with the soy milk (soy milk is the only milk that will thicken with vinegar, but you can use another plant milk of your choice)
In a large mixing bowl combine the oil, brown sugar, salt, pumpkin, and then the thickened vinegar/plant milk and with the vanilla & whisk to combine well
Sift the flour with all the spices and the baking soda and add it all at once to the wet mixture in the bowl
Whisk smooth
Pour into your greased and parchment lined cake pans (or bundt pan greased very well!)
Bake immediately in the preheated 350°F oven for 15 minutes
Then turn the oven temperature down to 300°F and bake for the remaining time *see notes above for exact baking times or when a toothpick inserted into the center comes out clean
Cool the pumpkin cake in the pan(s) until you can touch it without burning your fingers, then turn out onto a cooling rack to cool all the way
Ice & fill the cake with whatever icing you like the best
Notes
It depends on what filling & icing you are using to determine how to store your finished pumpkin cake.

But just the cake itself can be stored at room temperature wrapped to prevent drying for up to 4 days, for longer storage keep refrigerated for up to 1 week

Freeze wrapped well for up to 2 months