Gingerbread fantasia is a multi layered dessert masterpiece
I had a hard time naming this cake because there are no words to describe the absolute wonder of this holiday cake!
Thinly baked gingerbread molasses cake layers, cream cheese icing, cranberry and apple filling and ganache too!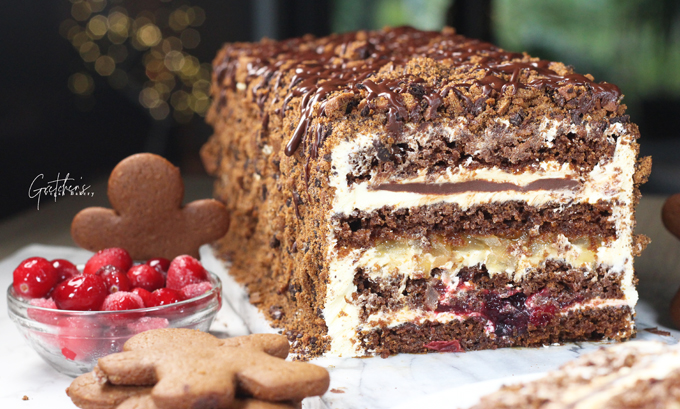 I know it sounds like so much going in inside this cake
But believe me it is perfectly balanced!
My only regret is being so conservative on the chocolate layer! I would definitely double it up next time!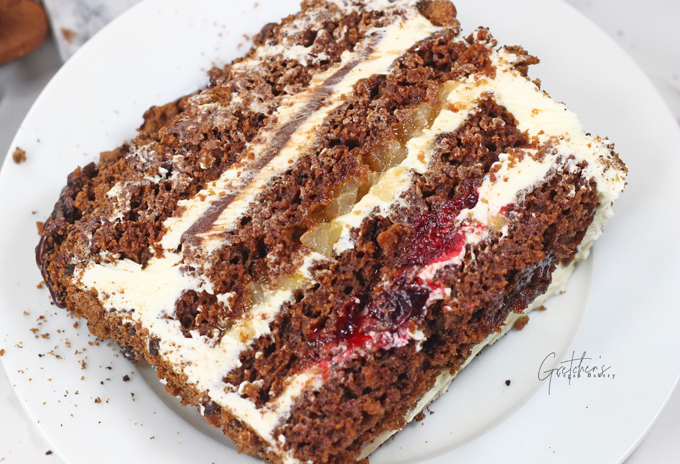 Each separate recipe can be made several days in advance so the day of your cake build it is a breeze!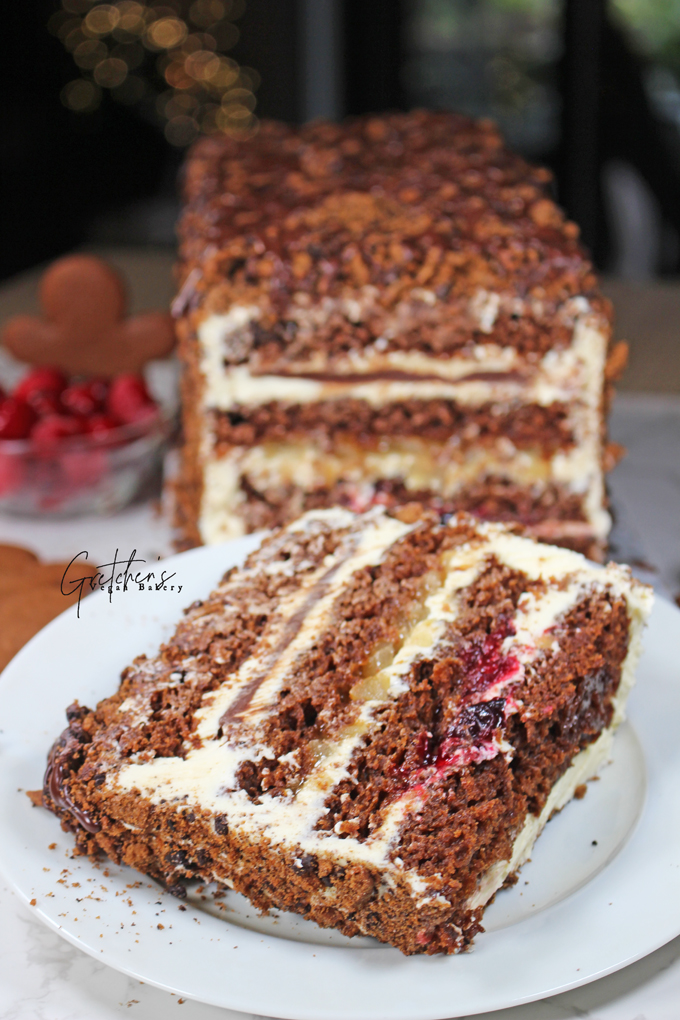 The gingerbread cookie decor is completely optional
However I've crushed up about half the recipe to use as the crunchy garnish to coat the sides and top of the cake!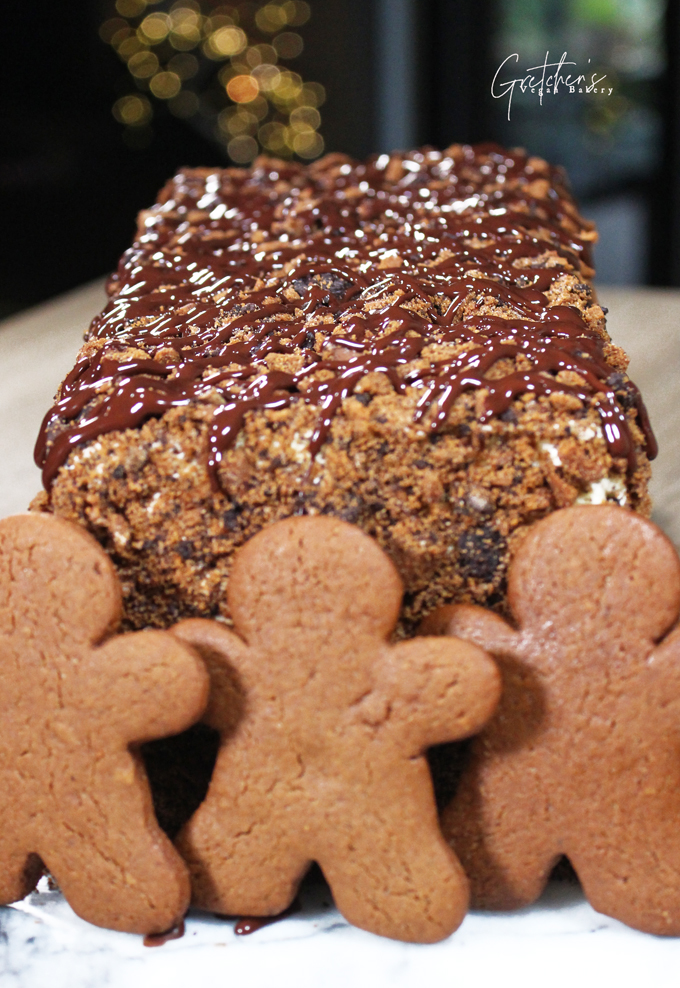 Notes for Success:
Apple filling and cranberry compote can be made a week in advance stored in the refrigerator
Alternatively you can buy a canned pastry filling for the apple, but I would highly recommend making my recipe for the cranberry compote
It's super easy and nothing in the store compares to this flavor!
Gingerbread cake layer is baked in a half sheet pan then cut into 4 equal rectangles for the layers
I made the cake a week in advance and kept it in the freezer until the day of the build
No refrigerator/No Cream Cheese~ Cream Cheese icing is a great recipe that plays so well with these flavors!
Gingerbread dough can be made weeks in advance and the cutouts stored in the freezer
The gingerbread cake is a wacky cake recipe that is mixed up in one bowl and then all the batter is baked into a 12″ x18″ half sheet pan that is then cut into 4 equal strips for the layers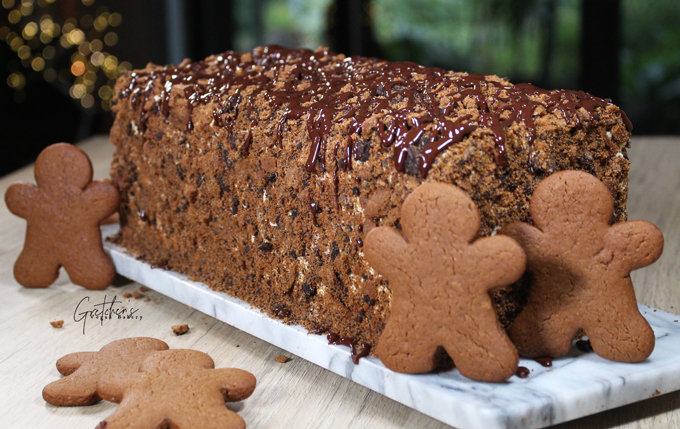 CLICK HERE TO WATCH THE FULL YOUTUBE VIDEO TUTORIAL FOR HOW TO MAKE THIS CAKE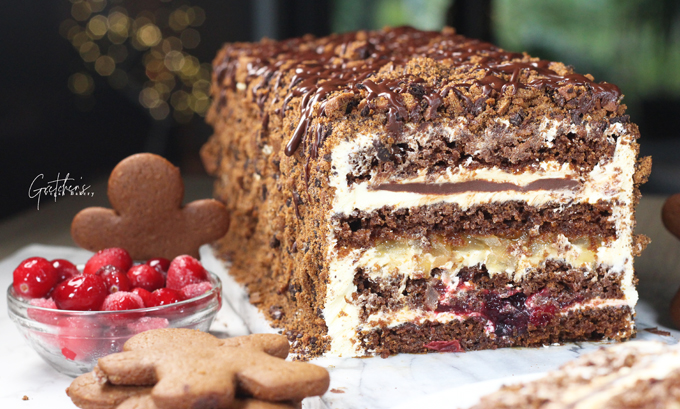 For more awesome gingerbread recipes click the links below!
Winter Wonderland Gingerbread Cake
Firm &Chewy Gingerbread Cookies ~Best Cut Out Recipe
Yield: serves 18ppl
Gingerbread Fantasia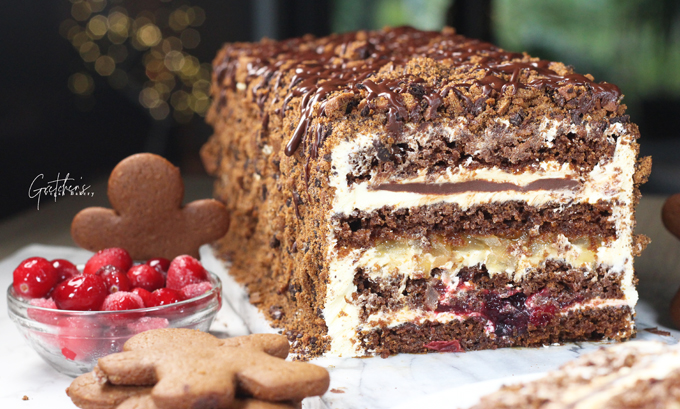 If you prefer to make a round cake simply bake the cake layers into 4- 7" round cake pans instead all the other ingredients & recipe quantities stay the same
Total Time
2 hours
20 minutes
Ingredients
For the Cranberry Compote:
Cranberries fresh or frozen 1- 12 ounce bag (336g)
Granulated Sugar 1 cup (200g)
Cranberry Juice, white wine or water 1 cup (237ml)
Vanilla Extract 2 teaspoons
Star Anise Pods 4
Cinnamon Sticks 2
Instructions
Preheat the oven to 350°F
First prepare the gingerbread cake recipe 2X ~ be careful on the measurements~ bake in a greased & parchment lined 12" x 18" sheet pan for approximately 25 -30 minutes or when a toothpick inserted into the center is moist crumb not raw batter
While the cake is baking prepare the cream cheese icing recipe from that same recipe post and reserve for later
Prepare the apple filling recipe but chop the apples into smaller pieces than shown in the video tutorial, almost minced
Prepare the ganache recipe and reserve for later
For the Cranberry Compote:
In a heavy bottom sauce pot, combine the cranberries with the liquid of your choice along with the sugar and spices and bring to a boil over high heat.
Lower the temperature to a simmer for 15 -20 minutes, the sauce will begin to thicken and the berries will begin to pop.
Discard the anise pods and cinnamon sticks and then add the vanilla
Using a stick blend or a food processor puree the compote slightly leaving it chunky
Cool in refrigerator while you prepare the buttercream recipe as per the instructions on that recipe post
Roll out your gingerbread dough *if you are making this component of the recipe~ cut out and bake some gingerbread men for decor and the rest will get chopped up in the food processor for the garnish for the entire cake
Once the cake is baked and fully cooled assemble the cake as shown in the video tutorial
**I would have doubled the ganache layer and not added the double buttercream layer
Notes
Gingerbread Fantasia cake can be stored at room temperature for 1 day

For longer storage keep refrigerated for up to 10 days wrapped loosely to prevent drying