If you have not yet tried adding fruit powders to your cake mixes
What are you waiting for?
You can start today with this Mango Cake!
I love the look of this cake so much I didn't want to cut it!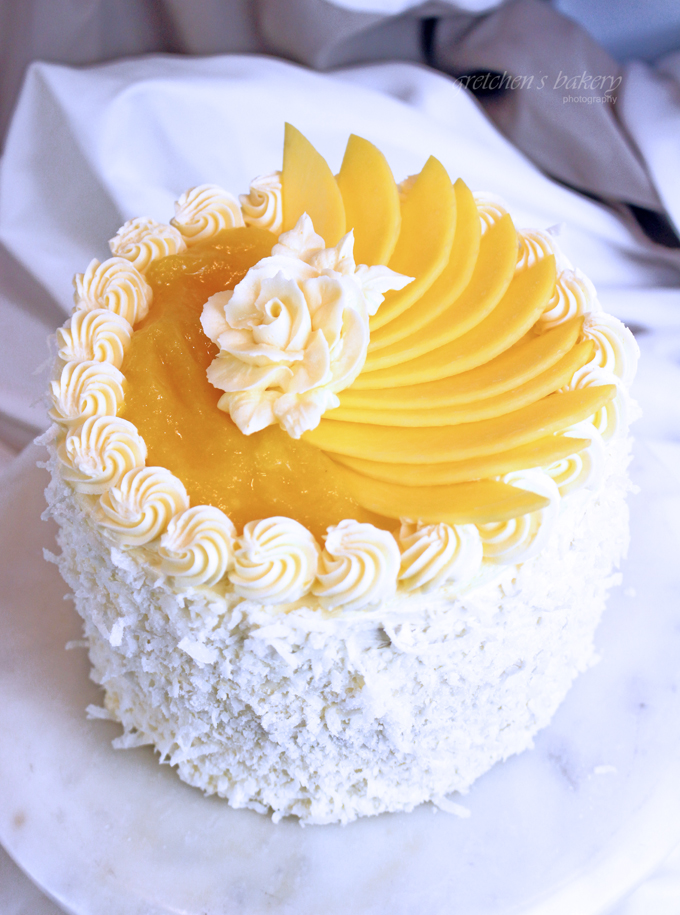 But you will be glad when you do because inside you will find these luscious layers of
Mango cake and a quick fresh mango compote too!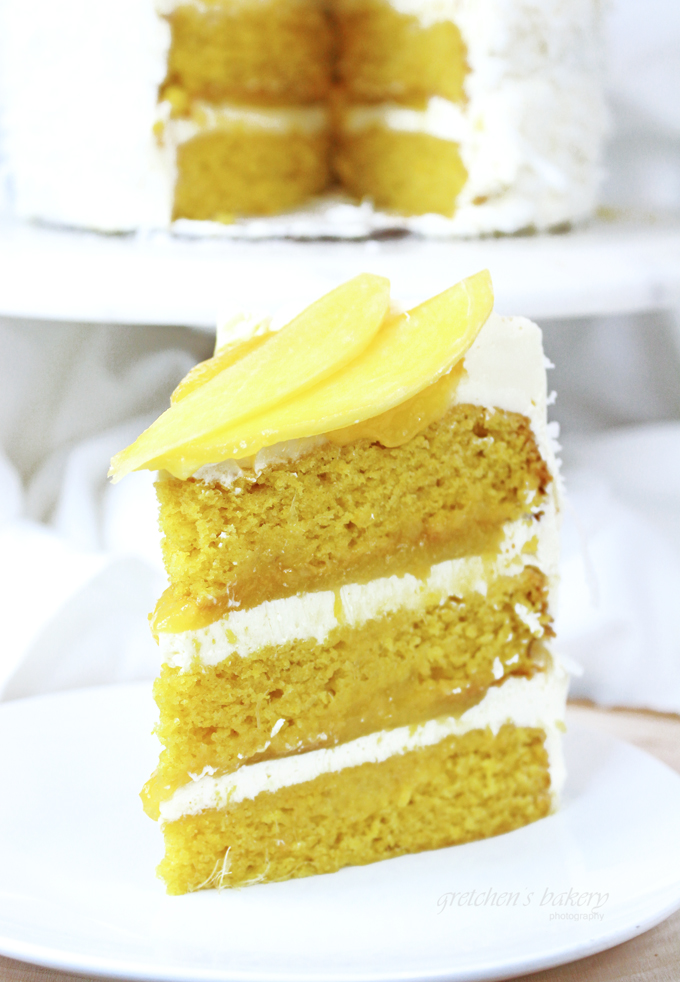 Buttercream filling and icing with coconut all over the outside!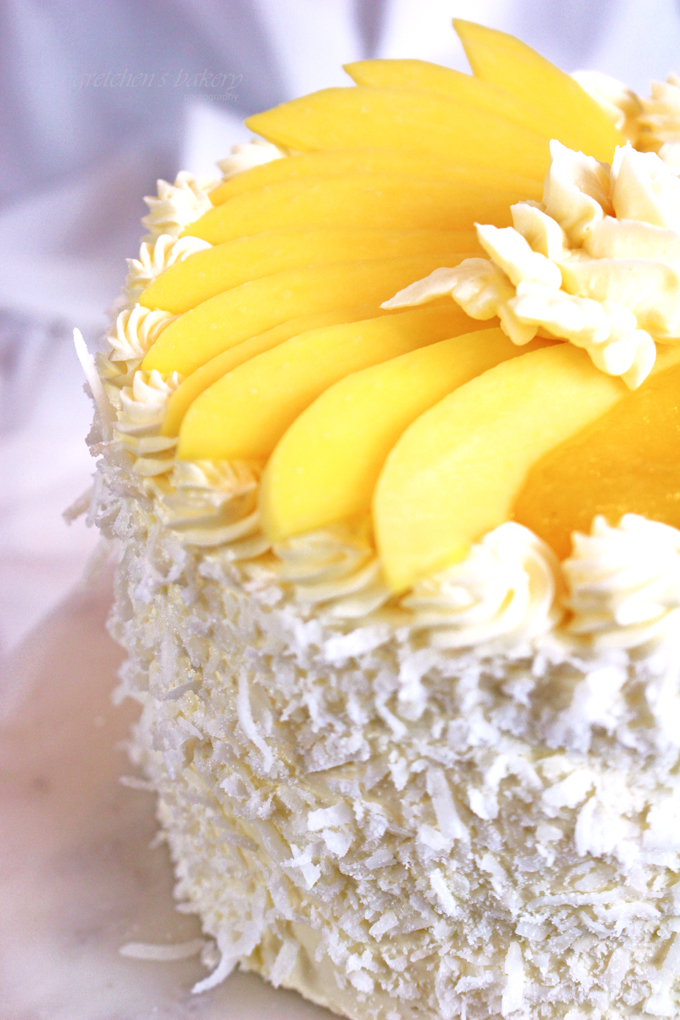 Hopefully you are able to get your hands on some freeze dried fruit
So you can see how amazing it is when you add it to cake batters!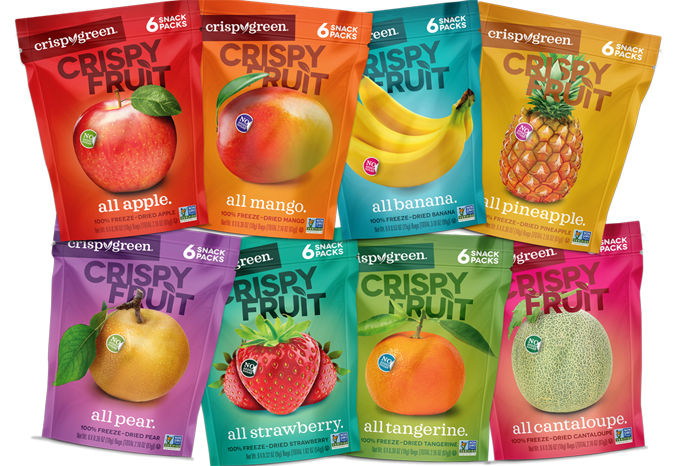 A fast whiz in your spice grinder and you have instant fruit powder!
I love adding fruit powder to cake batters and buttercream alike
It's the most concentrated form of fruit flavor you will ever try!
Instead of adding liquids from fresh fruit purees which will definitely change the texture of your cake batter
Freeze dried fruit powder is the best way to go!
Notes for Success:
I know people will ask what they can use instead of the mango powder
However I have worked this cake recipe out specifically to work with the fruit powder
I have tried making cake batter with fruit purees, but it always changes the texture of the cake to slightly too dense and rubbery
As I just mentioned above.
If the fruit powder is an absolute impossibility for you
I would recommend to make my banana cake recipe but substitute the banana puree with mango instead
The applesauce addition is to replace some of hte oil in the recipe.
Some people cannot get it or do not want to buy another ingredient
In which case you can replace the total amount below with 5 Tablespoons of additional oil
My preference in this recipe is to use a combination of all purpose flour and cake flour combined
This is a very liquid batter so the all purpose flour will absorb more of the liquids resulting in cake that will not crumble to pieces when you slice into it
If you do hot have cake flour (or don't know what it is) CLICK HERE!
You can use ALL ~ All Purpose flour instead with a total weight of 370g
For the mango compote you can use fresh or frozen fruit and adjust the sugar amount to your liking
Depending on how sweet the mango is, I sometimes leave the sugar out altogether
You can use any buttercream recipe you like the best
Below I have listed the recipe for my "no shortening" buttercream icing
There is no video tutorial for how to make this particular cake
However I do have a video showing you how I made this exact cake with strawberry fruit powder!
CLICK HERE FOR THE VIDEO TUTORIAL FOR STRAWBERRY CAKE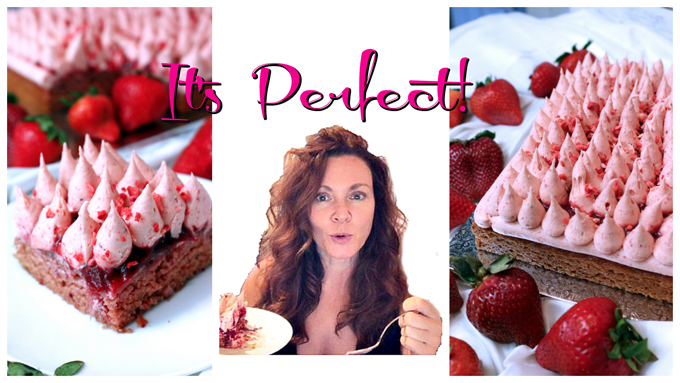 For more summer and fruit cake recipes click the links below!
Mango Cake
This cake recipe will make 3-7" layers or 2-8" layers or 1 9" x 13" sheet pan
Ingredients
For the Cake Batter:
All Purpose Flour 2 cup (250g)
Cake Flour 1 cup (120g) *see notes above
Mango Powder (from freeze dried mango fruit 10 Tablespoons (32g)
(this is from 4 of the small snack packages of freeze dried fruit)
Baking Powder 4 teaspoons
Salt 1 teaspoon
Egg Replacer 2 teaspoon *I used Bob's Red Mill
Granulated Sugar 1¾ cup (350g)
Vegetable Oil ½ cup (118ml)
Applesauce 8 Tablespoons (140g)
Soy Milk *Or any plant milk of your choice 2 cup (480ml)
Vinegar 2 teaspoons (10ml)
Vanilla Extract 2 teaspoons (10ml)
For the Buttercream:
Vegan Butter 2 cups (4 sticks) (454g)
Confectioners Sugar 4 cups (500g)
Vanilla Extract 2 teaspoons (10ml)
Butter Vanilla Extract 2 teaspoons (10ml) *optional
Salt ¼ teaspoon
For the Mango Compote *optional
2 Large ripe mango peeled & rough chopped *fresh or frozen approx 2 cups of fruit
2 Tbs water
2 Tbs sugar *optional
Flaked Coconut for garnish *optional 1½ cups
Instructions
First prepare the mango compote by placing the mango chunks with the sugar & water in a medium sauce pot and cook over low heat stirring occasionally to avoid scorching the bottom.
Sugar is optional depending on how sweet your mango is, and how sweet you like your compote.
Cook until the mango is almost completely broken down, then cool slightly and transfer to a blender to puree smooth
Cool in the refrigerator while you prepare the rest of the recipes
Next prepare the cake batter
Preheat the oven to 350°F
Grease and parchment paper your cake pan(s)
In a spice grinder add the freeze dried mango and whiz to a powder
Combine the soy milk with the vinegar and whisk, let stand for 5 minutes to thicken
In a large mixing bowl combine the sugar, oil, applesauce, vanilla extract and thickened plant milk together and whisk smooth to dissolve the sugar
Sift together the flour(s) and the mango fruit powder, salt, baking powder and egg replacer
Add the sifted dry ingredients to the wet ingredients in the large mixing bowl and whisk smooth
Pour into the prepared pans and bake in the preheated 350°F oven for 25 minutes or until a toothpick inserted in the center comes out clean.
Cool in the cake pans, then flip onto a serving platter.
Prepare the buttercream recipe by creaming the vegan butter smooth with an electric mixer so it is even and no lumps
Add the salt and whip on high speed to smooth
Scrape the sides and bottom of the bowl to make sure it is evenly mixed
Add the sifted confectioners sugar all at once.
Mix on low speed until incorporated , scrape the bottom and sides of the bowl and then mix on high speed for 3 minutes.
Add the extract then scrape the bowl again and increase speed to high and whip for another 2 minutes
The air will make your buttercream whiter as it whips
Build the cake with a layer of buttercream & mango compote between each cake layer (leaving about ½ cup of mango compote for the topping *optional)
Ice with the remaining buttercream and garnish with the coconut flakes
Optional mango compote & fresh mango slices on top
Notes
Mango cake can be kept at room temperature for up to 2 days

For longer storage refrigerate for up to 1 week, bring to room temperature before serving