Let me start off by saying THIS IS NOT YOUR ORDINARY PEANUT BUTTER CUP CAKE!
You know the ones that are just chocolate cake with peanut butter buttercream and some peanut butter cups thrown on top for garnish.
NO! This cake is filled with the authentic copy cat recipe for Reese's Peanut Butter Cups stuffed into each layer with another layer of chocolate ganache, peanut butter buttercream icing and a thick slathering of ganache icing on top!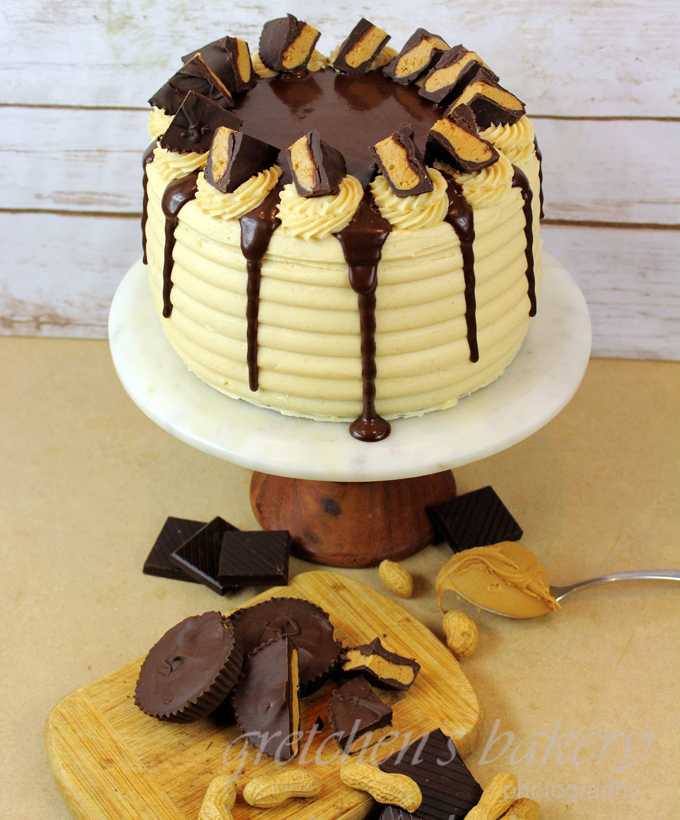 Let's not forget the homemade peanut butter cups too that would put Reese's and their non-vegan butts right outta business!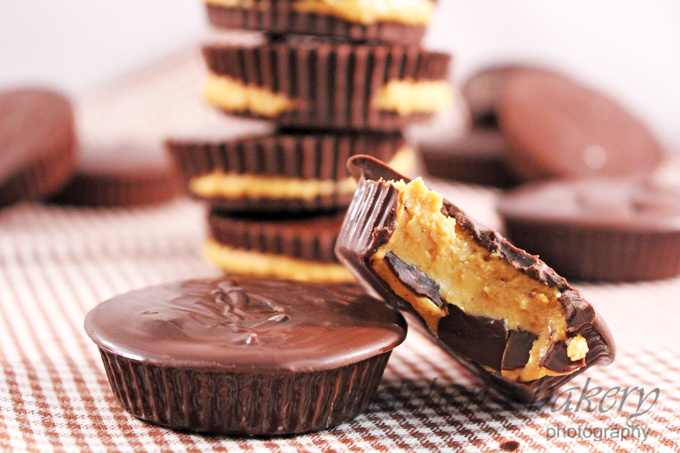 This is one rich & decadent cake that is everything but ordinary!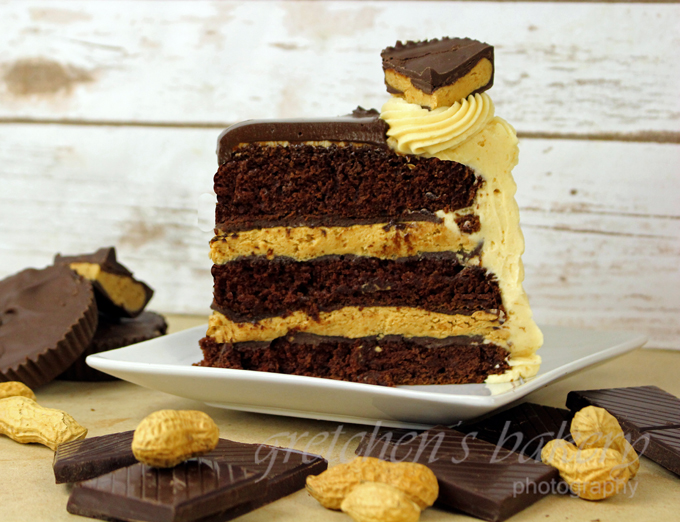 Peanut Butter Cup Cake
I bake my cake layers into 3-7" pans because I love that size and I prefer a 3 layer cake over a 2 layer cake; but if you only have 8" pans you can do 2 thick layers or even cut those 2 thick layers into a 4 layer cake!
The recipe for
chocolate cake
bakes fine in any size pan, just fill half way with batter and bake
UNTIL THEY ARE DONE
Ingredients
1 Recipe Chocolate Cake
1 Recipe Peanut Butter Buttercream
1 Recipe Vegan Ganache Icing
1 Recipe Homemade Peanut Butter Cups
For the Copy Cat Peanut Butter Cup Cake Filling: *You can simply DOUBLE the recipe listed above for hte peanut butter cups, but if you are NOT making them, you will need to mix this recipe for the cake filling
2 cups creamy peanut butter
1 cup confectioners sugar
½ cup crushed graham cracker crumbs
½ teaspoon salt
Instructions
I recommend to prepare all of your base recipe ahead of time, then assemble the cake on the day you want to serve it.
All recipes can be prepared up to 4 days in advance and then assembled into the whole cake in less than 1 hour.
Check out each recipe on their respective blog posts for the ingredients and full video tutorials
The watch the video above for how to assemble the finished cake!
Notes
Peanut Butter Cup Cake can be left at room temperature as it will not go bad or spoil since all the recipes are room temperature stable, however this is a heat sensitive cake meaning that if the room gets too warm it could have a tendency to droop and fall over.

I recommend to refrigerate the cake at all times and it will have a storage life of over 1 week.