Peanut Butter Mousse Tart has become my new obsession!
Creamy peanut butter mousse in a pretzel crust is such a  simple concept, however the taste combination of this slightly salty, super creamy, crunchy and sweet all at the same time tart, will have your taste buds doing back flips!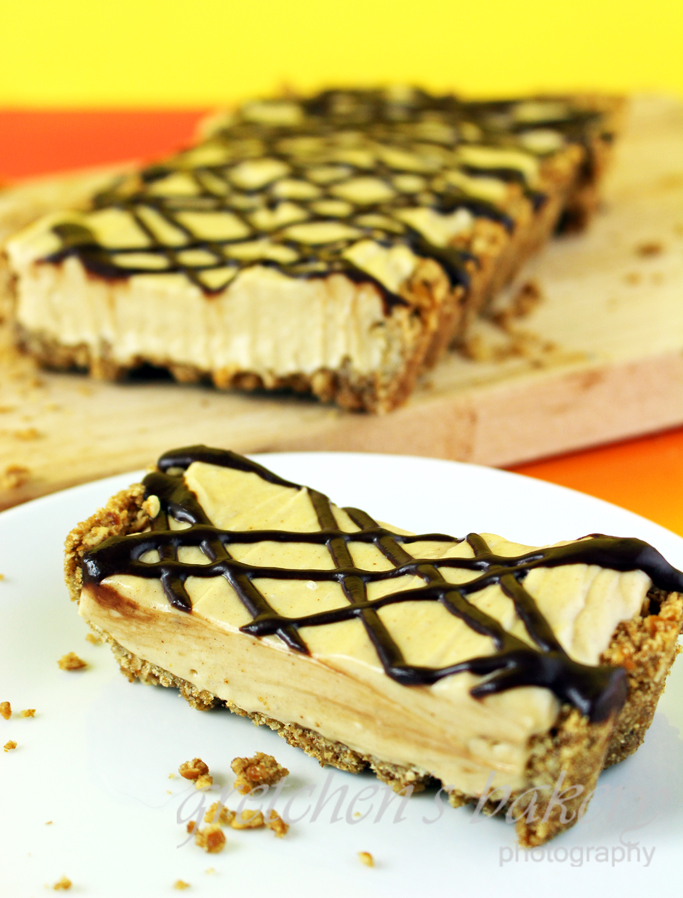 Of course the drizzle of chocolate ganache is a no-brainer but hey you know me an my chocolate addiction!
Besides chocolate and peanut butter have always been besties and now add some pretzels to the mix and we are going to have a blast!
This recipe is all vegan too, so finally our egg, dairy and milk allergy friends can join the party with us!
It is a really simple recipe to prepare and you will be eating Peanut Butter Mousse Tart in less than 2 hours. I promise!

Peanut Butter Mousse Tart
Ingredients
For the Crust:
Pretzels 2 cups (for 1 cup crushed)
Vegan Butter 6 Tablespoons (84g)
Light Brown Sugar ¼ cup (50g)
Salt optional pinch- I did not use it since my pretzels were salted
For the Mousse:
Vegan Cream Cheese 1 package 8ounces (226g)
Confectioner's Sugar 1½ cup (180g)
Vanilla Extract 1 teaspoon
Creamy Peanut Butter 1 cup (240g)
Milk Alternative ½ cup (120ml)
Coconut Fat Whipped Cream from 1 -15ounce can coconut milk
Instructions
First prepare the crust by crushing the pretzels in the food processor.
Add brown sugar and melted vegan butter
Press the mixture into a lightly greased tart pan with a removable bottom
Bake for 20 minutes in a preheated 350°F oven then cool completely
Meanwhile prepare the mousse by creaming the vegan cream cheese and the peanut butter smooth
Add the sifted confectioners sugar and vanilla extract and cream smooth
Slowly drizzle in the milk and then fold in the coconut whipped cream.
To make coconut whipped cream, you will place the can of coconut milk in the refrigerator for half a day or overnight.
This will separate the fat from the liquid
Discard the liquid and then whip the remaining fat to medium firm peaks
Notes
Peanut Butter Mousse Tart must be kept refrigerated and will stay fresh for up to 1 week

For longer storage freeze wrapped well for up to 2 months