This Vegan Oreo Cheesecake was my very first attempt at making a baked vegan cheesecake way back in 2017.
I knew I was on to something when I brought it to a family gathering and everyone insisted there was no way this could be vegan!
There was another cheesecake there (not vegan) and everyone agreed that mine was better.
In a room full of non vegans you will surely get some attention with this one!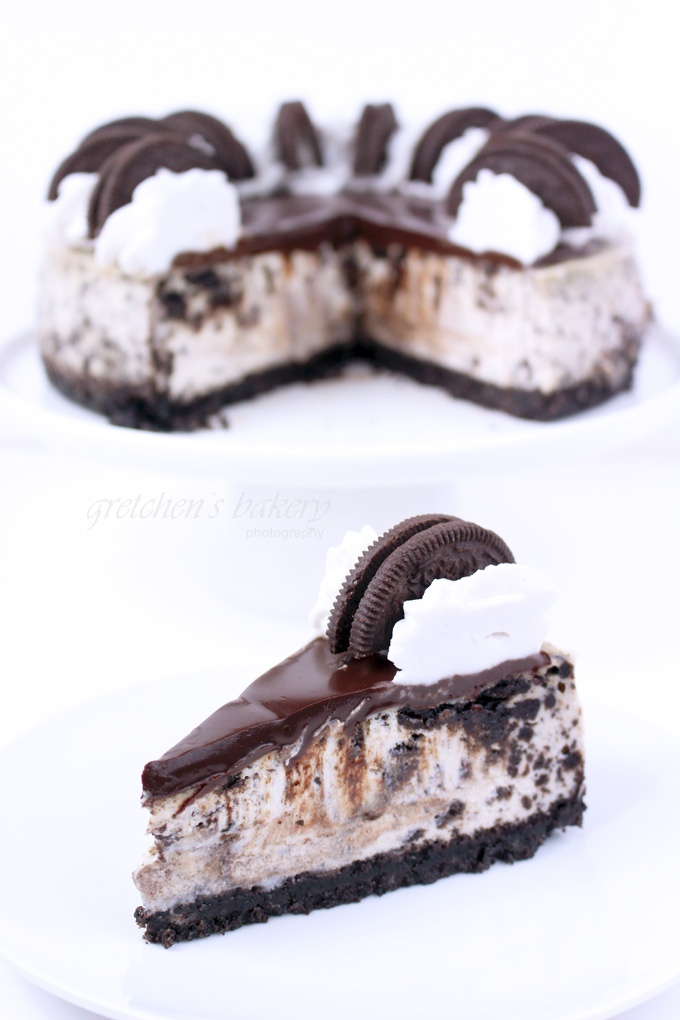 Look no further, your quest for the perfect Vegan Cheesecake ends here.
This is quite possibly the best thing I have eaten in my entire life.
Of course since it's origin in 2017, I have created dozens cheesecake flavors and combinations and it is really hard to decide which one truly is the best.
From Double Chocolate Cheesecake to Apple Crumble Cheesecake and even a stunning Maple Walnut Baklava Cheesecake too
You will amazed at what you can create from this simple base recipe for authentic New York Style Cheesecake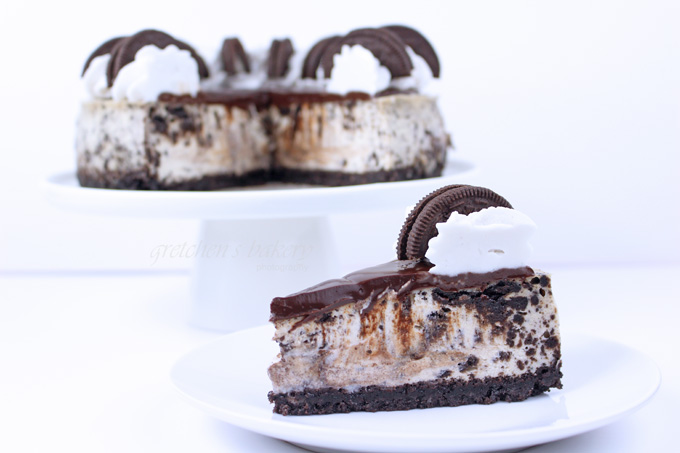 The thing about getting vegan cheesecakes to taste like real cheesecake is getting that characteristic tang that we know and love in real deal cow cream cheese
But since we don't want to use real cream cheese the addition of a little bit of vegan lactic acid or apple cider vinegar will do the trick!
My first introductions to vegan baking had been with recipes using tofu as the base of everything!
I'd never been a fan of using tofu in baking but for this cheesecake it has surely found it's place in my baking ingredients list!
You will notice I use a small portion of tofu in addition to the vegan cream cheese; which byu the way I will only use Tofutti brand for baking as I have had major fails using the other more expensive brands.
*not sponsored
If you peruse my other cheesecake recipes though, you will notice that I go back and forth with using all vegan cream cheese and substituting some of it for tofu.
It really depends on what other ingredients I am adding to the cheesecake and whether I want the dense and firm New York Style which would be all vegan cream cheese.
Or if I am going for a slightly lighter, creamier variety by adding the tofu.
Either way you are going to get the best vegan cheesecake you have ever tried!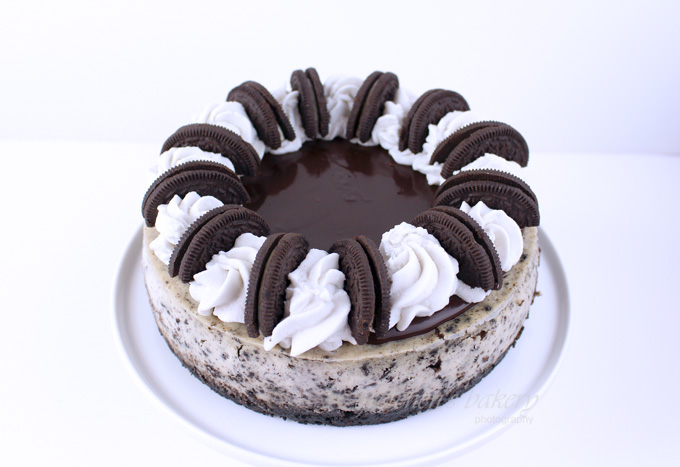 Packed with Oreos from the crust to the filling and then more for the topping!
There is much debate & decision making as to whether you want to accept Oreos as being vegan, since here in the USA the sugar that Nabisco uses to make these cookies is indeed processed through animal bone char.
If you want to be sure you are 100% ethically vegan here, you can make your own Oreo Cookies using my recipe for Copy Cat Vegan Oreos!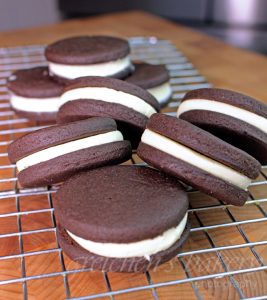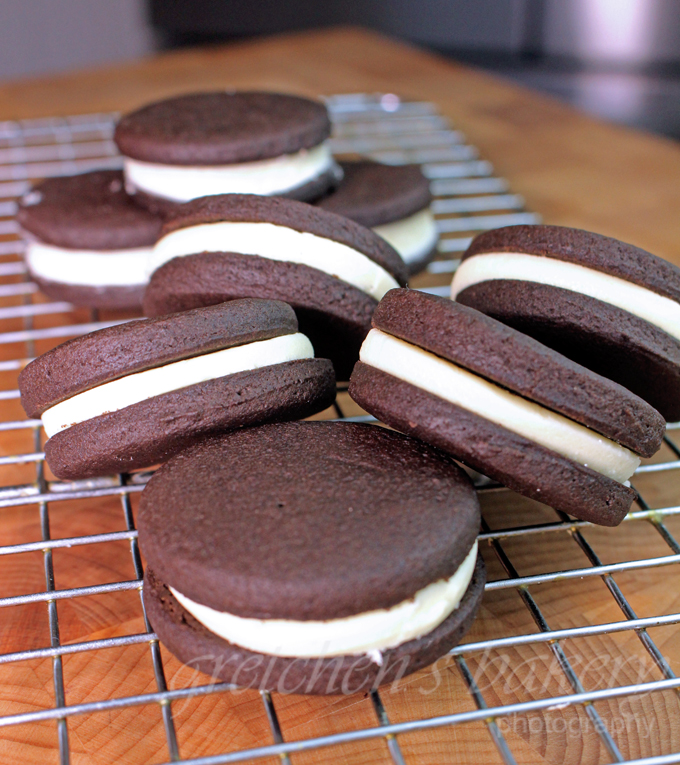 You may want to double the recipe below though, and make a 10″ cheesecake since this little 7″ cake is fast becoming a single serving!
At least in my house it is!
CLICK HERE FOR THE FULL YOUTUBE VIDEO TUTORIAL FOR HOW TO MAKE THIS CAKE!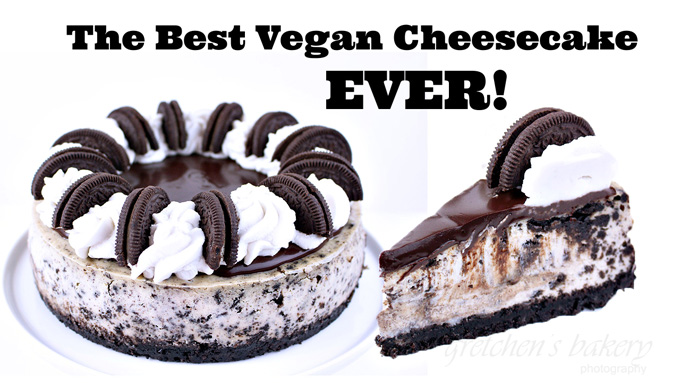 For more of my amazing cheesecake recipes click the links below!
Vegan Snickerdoodle Cheesecake
Biscoff Cookie Butter Cheesecake
NOTE:
I have since eliminated using the vegan sour cream from the recipe and replaced that with more vegan cream cheese.
I just didn't want to buy yet another ingredient for this recipe since it comes out great without it!
Just replace the vegan sour cream portion listed below with more vegan cream cheese!

Vegan Oreo Cheesecake
Ingredients
For the Cheesecake Batter:
Vegan Cream Cheese 1 package (8oz) (226g)
Vegan Sour Cream ¼ cup (56g)
Firm Tofu half package (7ounces) (196g)
Vegan Granulated Sugar ½ cup (100g)
Cornstarch 2 Tablespoons
All Purpose Flour 2 Tablespoons
Salt ¼ teaspoon
Vanilla Extract 2 teaspoons (10ml)
Apple Cider Vinegar 2 teaspoons (10ml)
Earth Balance 2 Tablespoons (28g)
Milk Alternative scant1 cup (7 fl oz)
Oreo Cookies 12 crushed
For the Crust:
Oreo Cookies 16 crushed
Earth Balance 2 Tablespoons melted
Instructions
Prepare the crust by crushing approx 16 oreos in a food processor and then add the melted earth balance vegan butter
Press it into the prepared 7" cake pan and freeze while you prepare the cheesecake batter
Place all cheesecake ingredients (except the oreos) into a food processor and process until smooth
Add the crushed Oreos and mix well
Pour batter into prepared pan with Oreo Crust and bake in a water bath in a preheated 350°F oven for 1 hour, then turn the oven off and leave the cheesecake inside for another hour.
Remove from the oven and refrigerate overnight before unmolding
For a closer look at how to unmold a cheesecake in a regular cake pan, click here
(Skip to 1:19 in the video for a visual tutorial)
Garnish as you wish, I used more Oreo Cookies, vegan ganache (which is just 4ounces chocolate melted wtih 2 ounces of any milk alternative) and coconut whipped cream
Notes
Oreo Cheesecake should be kept refrigerated until serving.

Store for up to 1 week in the refrigerator

You can freeze it wrapped well for up to 1 month