Look no further, your quest for the perfect Vegan Oreo Cheesecake ends here.
This is quite possibly the best thing I have eaten in my entire life.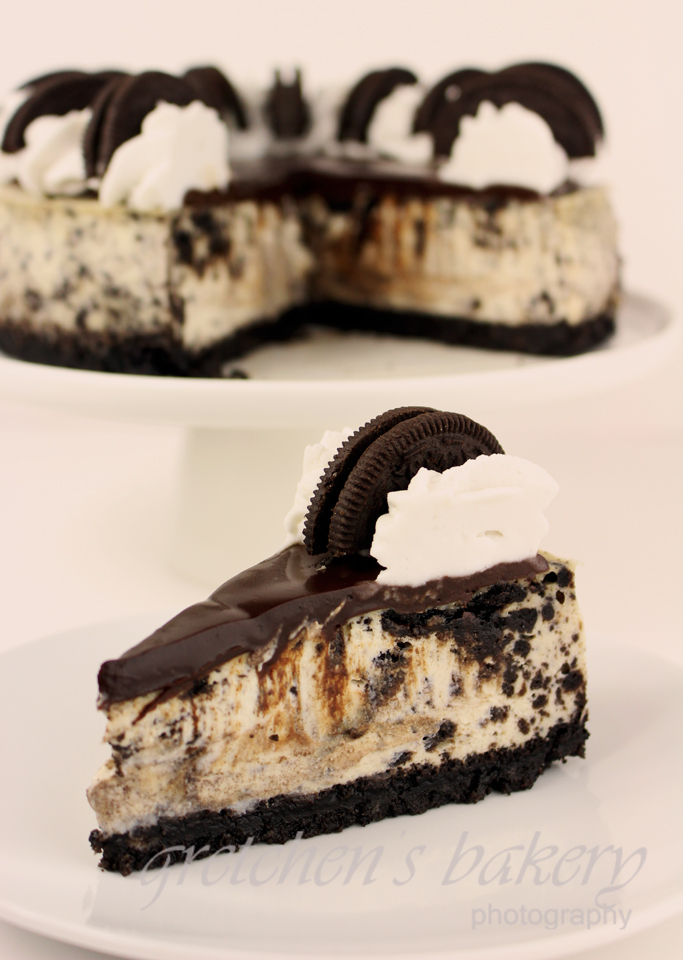 I have made this cheesecake 10 times already and finally decided I better get to filming the video tutorial and share it with you guys Pronto!
The thing about getting vegan cheesecakes to taste like cheesecake is getting that characteristic tang that comes from using real cream cheese.
But since we don't want to use real cream cheese of course; the addition of a little apple cider vinegar will do the trick!
I've never been a fan of using tofu in baking, but for this cheesecake it has surely found it's place in my baking ingredients list!
This cheesecake is so creamy and just packed with Oreos from the crust to the filling to the topping!
You may want to double the recipe and make a 10″ cake since this little 7″ cake is fast becoming a single serving!
At least in my house it is!
Vegan Oreo Cheesecake
Ingredients
For the Cheesecake Batter:
Vegan Cream Cheese 1 package (8oz) (226g)
Vegan Sour Cream ¼ cup (56g)
Firm Tofu half package (7ounces) (196g)
Vegan Granulated Sugar ½ cup (100g)
Cornstarch 2 Tablespoons
All Purpose Flour 2 Tablespoons
Salt ¼ teaspoon
Vanilla Extract 2 teaspoons (10ml)
Apple Cider Vinegar 2 teaspoons (10ml)
Earth Balance 2 Tablespoons (28g)
Milk Alternative scant1 cup (7 fl oz)
Oreo Cookies 12 crushed
For the Crust:
Oreo Cookies 16 crushed
Earth Balance 2 Tablespoons melted
Instructions
Prepare the crust by crushing approx 16 oreos in a food processor and then add the melted earth balance vegan butter
Press it into the prepared 7" cake pan and freeze while you prepare the cheesecake batter
Place all cheesecake ingredients (except the oreos) into a food processor and process until smooth
Add the crushed Oreos and mix well
Pour batter into prepared pan with Oreo Crust and bake in a water bath in a preheated 350°F oven for 1 hour, then turn the oven off and leave the cheesecake inside for another hour.
Remove from the oven and refrigerate overnight before unmolding
For a closer look at how to unmold a cheesecake in a regular cake pan, click here
(Skip to 1:19 in the video for a visual tutorial)
Garnish as you wish, I used more Oreo Cookies, vegan ganache (which is just 4ounces chocolate melted wtih 2 ounces of any milk alternative) and coconut whipped cream
Notes
Oreo Cheesecake should be kept refrigerated until serving.

Store for up to 1 week in the refrigerator

You can freeze it wrapped well for up to 1 month