This Tuxedo Strawberry Cake is another revival from my past life (before I went vegan!) and it was a popular one believe me!
I felt it deserved another go around and this time it's better than ever because of course it's vegan!
My moist vanilla layer cake filled with creamy custard, fresh strawberries and rich chocolate ganache.
Strawberries and white chocolate all dressed up in their tuxedos adorn this cake.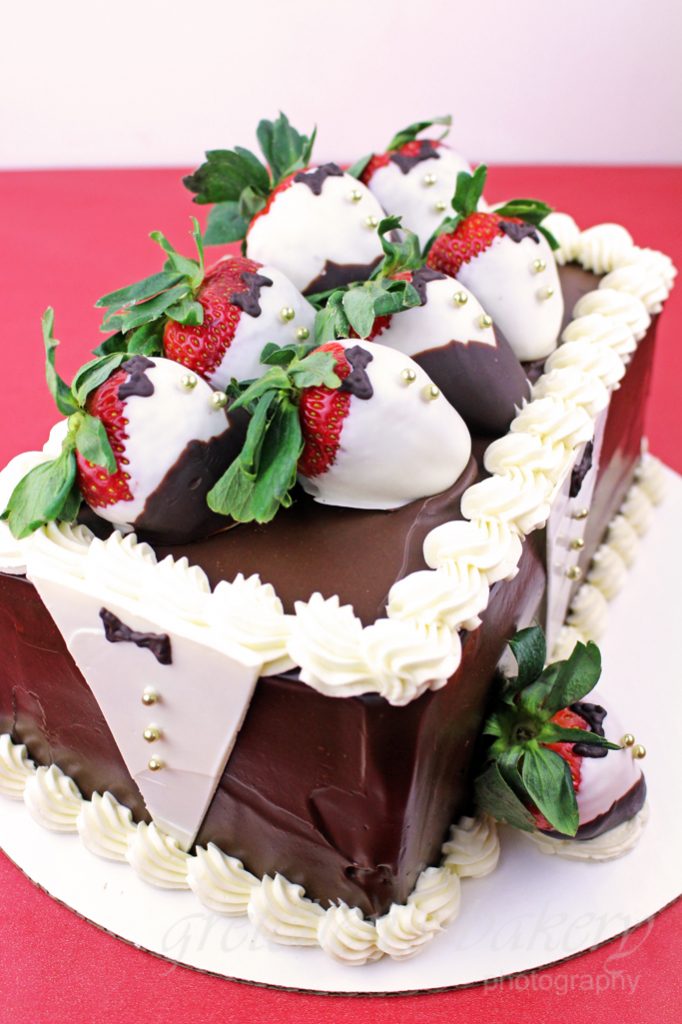 It is a lot easier than it may look if you follow me step by step as I show you in the video tutorial below.
The best way to making successful cakes like this one (and avoid getting stressed out along the way) is to simply organize yourself.
This is a prefect example of a Building On Recipes project where it takes several recipes to complete the final cake and by tackling each one as a separate task rather than all at once is the way to go!
The white chocolate decorations with gold or silver dragees can be made even a week ahead of time! Just be sure to store them in a spot where the cats or kids won't get to them!
You can prepare the vanilla cake days ahead of time and just have them ready to go in the freezer the day you want to build your cake.
I do this all the time, in fact it would have been impossible to do it any other way when I owned my bakery with the amount of cakes we pushed out daily!
So check out this video for how to freeze your cake layers.
Make the buttercream ahead of time too and check out this video for how to bring it back to a workable consistency just like it was the day you made it!
Then when you are ready to build your cake, you can prepare the other 2 recipes and you are almost done!
See? Easy!
**Note all the links highlighted here are clickable and will bring you to the recipe with a full video tutorial for a better understanding of how to make the buttercream and the ganache recipe since I did not go into full detail in the video for making the finished cake.
This is a larger cake as you can see, it will serve close to 15 people.
I like baking my layers in 1/8 sheet pans and you can grab them here.
Otherwise bake all the batter in 1- 12″ X 18″ cake pan and simply cut your layers from that.
You will see in the video I only used 3 of the 4 layers because I didn't want my cake to be so towering tall.
But I will use that extra layer for something believe me! I felt it was best to just do it this way rather than try to do some weird math equation to get the perfect amount.
You can also bake the batter into 2- 8″ cake pans for a round cake instead.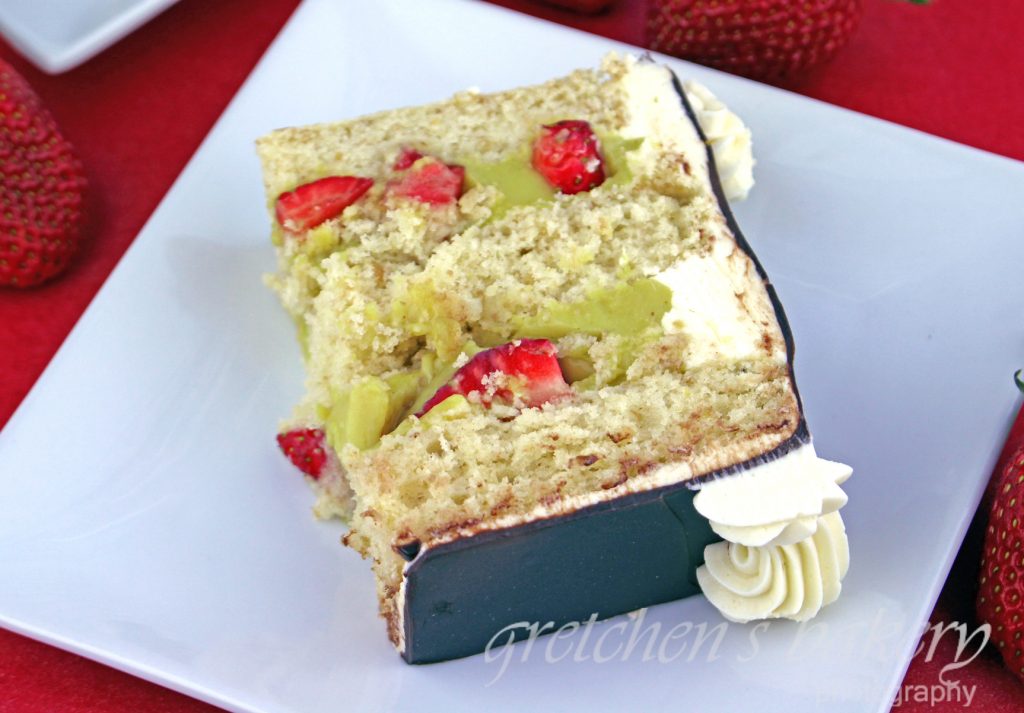 Tuxedo Strawberry Cake
Ingredients
For the Cake:
Ground Flax Seeds 4 tablespoons (32g)
Hot Water 10 tablespoons (150ml)
Soy Milk 1 cup (237ml)
Vanilla Extract 2 teaspoon (10ml)
All Purpose Flour 2½ cup (325g)
Granulated Sugar 1½ cup (300g)
Baking Powder 4 teaspoons (20g)
Salt 1 teaspoon (6g)
Vegan Butter 12 Tablespoons (175g)
For the Custard:
Soy Milk 3 cups (709ml)
Granulated Sugar ½ cup + 2 Tbs (125g)
Cornstarch 6 Tablespoons (60g)
Vanilla Extract 2 teaspoons (10ml)
Tumeric *for color ⅛ - ¼ teaspoon *I used ¼ and thought it was a bit intense
Vegan Butter 1 tablespoon (14g)
For the Ganache:
12 ounces vegan chocolate semi sweet
12 ounces soy milk
For the Buttercream:
Vegan Butter 1½ Cups (3 sticks) (336g)
Solid Vegetable Shortening 1½ Cups (336g)
Confectioners Sugar 6 cups (720g)
Vanilla Extract 2 teaspoons
Salt ¼ teaspoon *optional- I use Earth Balance butter so it is already salted and I leave it out to avoid an overly salty buttercream
Vegan White Chocolate 12 ounces
Fresh Strawberries 2 lbs
Instructions
For the cake:
Combine the flax meal with the hot water and let stand for about 5 minutes to thicken
Add the vanilla extract to the soy milk
Sift the flour with the baking powder and salt
Cream the vegan butter with the sugar until light and fluffy and this may take about 3-5 minutes on medium to high speed
Add the thickened flax paste while mixing on medium speed, scrape the bottom and sides of the bowl to incorporate evenly, add the vanilla extract
Add about ⅓ of the flour to the creamed mixture then add half of the milk
Add another ⅓ of the flour and then the remaining milk
Add the last amount of flour and mix just to combine evenly.
Divide batter into your greased and parchment lined cake pans and bake in a preheated 375°F oven for 15 minutes then turn the oven down to 350°F for the remaining time, approximately 10 minutes more or until springy to the touch when you gently press the centers
For the Buttercream:
Combine the vegan butter and shortening in the Kitchen Aid (or stand mixer) bowl with the paddle attachment
Whip on medium to high speed for about 3 minutes.
Scrape the sides and bottom of the bowl to make sure it is evenly mixed and add the salt if using and extract
Stop mixer and add the sifted confectioners sugar all at once.
Mix on low speed until incorporated , scrape the bottom and sides of the bowl and then mix on high speed for 3 minutes
For the custard:
Combine all the ingredients except for the vanilla extract and butter in a medium sauce pot over medium to high heat and bring to a boil stirring occasionally .
Once it starts to bubble be sure to stir constantly to avoid burning on the bottom, and let it boil on low heat for about 30 seconds.
Add the vanilla extract and the vegan butter and stir to melt the butter
Pour into a shallow dish and cover with plastic wrap to avoid forming a skin, the refrigerate until cold
For the ganache:
Chop the chocolate into fine pieces that are all the same size and place in a large mixing bowl
Bring the soy milk to a boil and immediately pour over the chocolate in the bowl and whisk smooth, cool to a pourable consistency (not hot) before using on the cake
Assemble the cake as shown in the video below