Sometimes I get into watching those baking competition shows like the Great British Bake off and more recently Zumbo's Just Desserts on Netflix.
Those shows spark my creative side and I start dreaming up different combinations of pastry magic to come together and form a new masterpiece.
My most recent creation is this Raspberry Linzer Mousse Cake.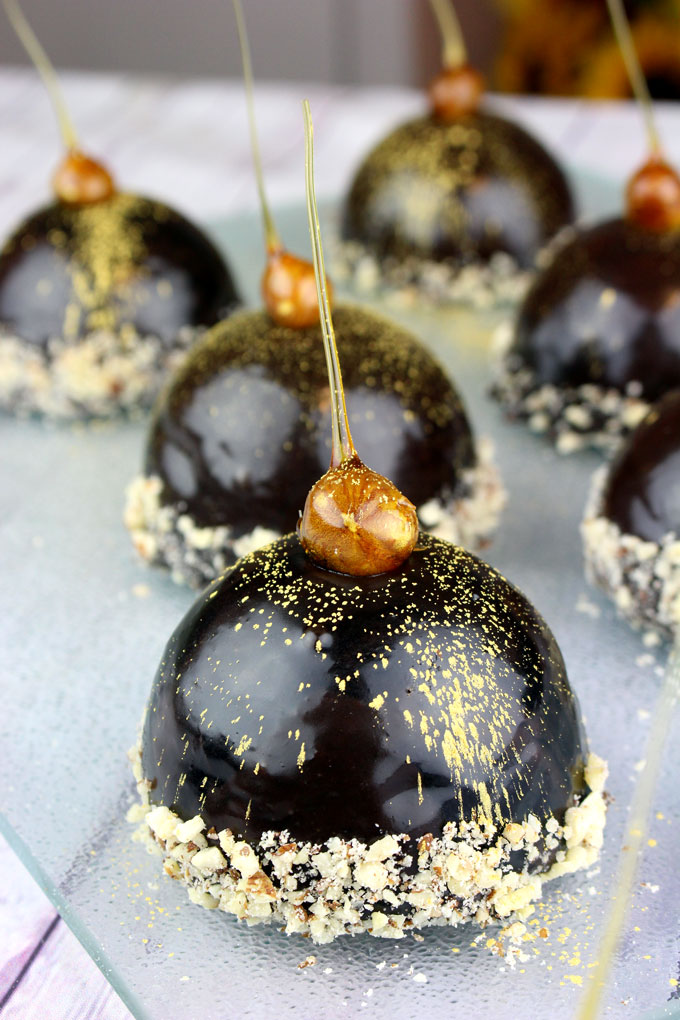 I've been wanting to share my recipe for classic Linzer Cookie dough for some time now and thought, what better way to showcase that cookie than as a base for my hazelnut mousse.
A thin layer of raspberry jam (as any linzer cookie should have) and a light hazelnut mousse dome encasing fresh raspberry compote.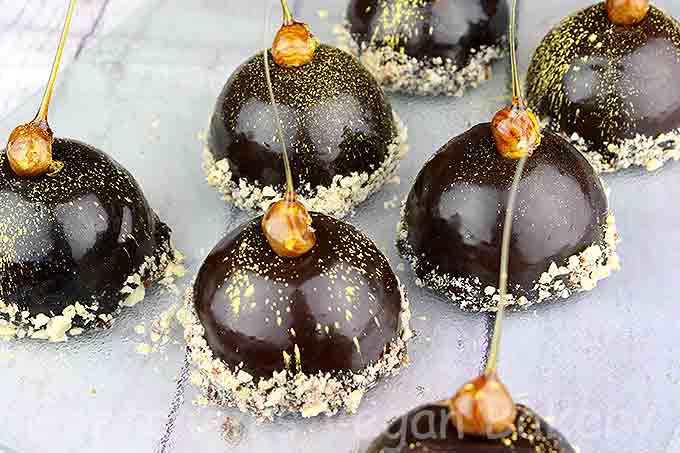 My vegan version for mirror glaze brings it all together with shards of caramelized hazelnuts, this dessert is a showstopper for sure.
This is a building on recipes project so you will have quite a few recipes to prepare to get to the final presentation, but just follow along in the video tutorial as I take you step by step and make it easy to grasp.
With a little planning ahead and organization you too can achieve this winning dessert!
I recommend to make the cookie dough 1 day ahead since it needs some time in the refrigerator to chill before rolling and baking.
The recipe is also for a lot more than you need, so just use the excess to make linzer cookies!  A little bonus addition to this recipe.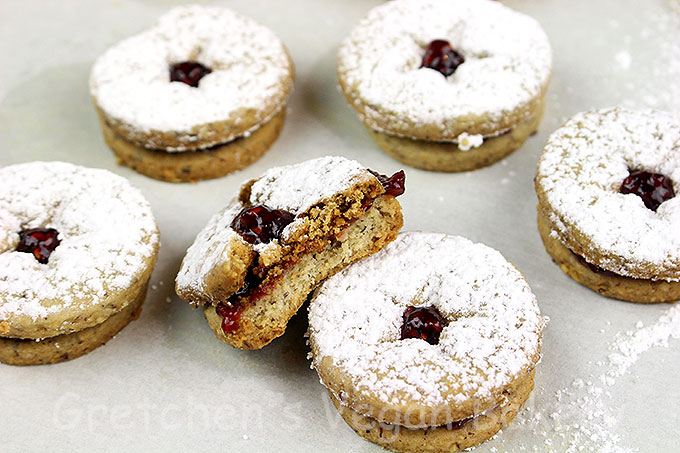 I'm also using my silicon sphere mold to make these desserts individual style, and mine was super expansive because I have the real deal one from DeMarle, but there are cheaper ones that are fine too click here for another option.
Alternatively you can make this entire dessert into a larger family style cake simply by using an 8 cup capacity mixing bowl lined with plastic wrap and of course making the linzer cookie bottom large enough to accommodate that change.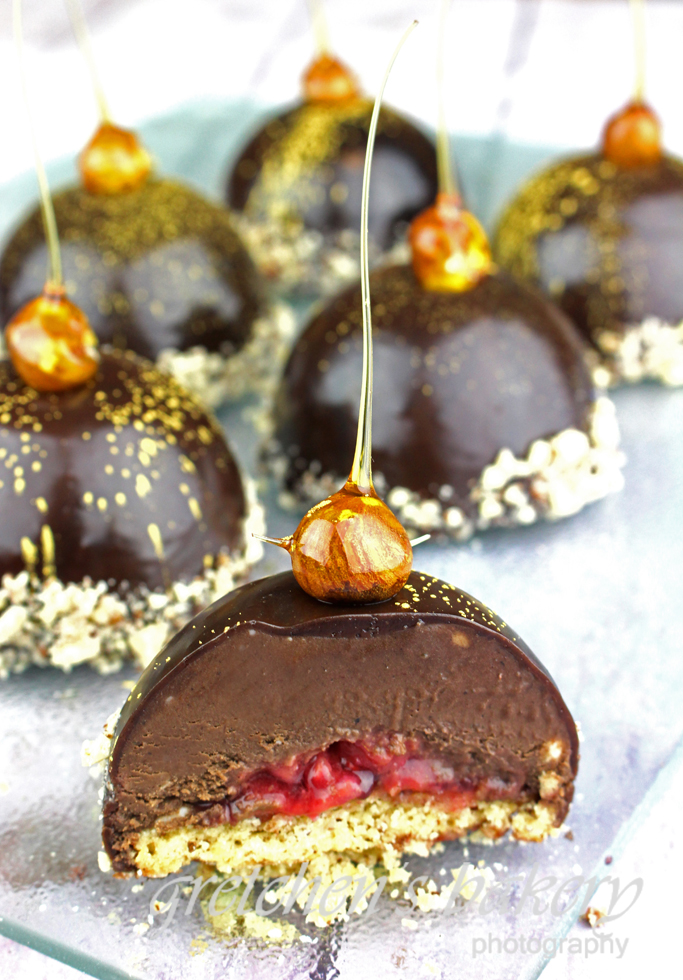 Raspberry Linzer Mousse Cake
If you cannot find vegan milk chocolate you can use all semi sweet here instead
If you would like to color your mirror glaze simply use white chocolate instead and any gel paste color of your choice
Before preparing the mousse recipe be sure to refrigerate your cans of coconut milk overnight
If you are using all semi sweet chocolate rather than the rice milk chocolate as shown, omit the cocoa powder
Serves:
9 Individual Cakes
Ingredients
For the Linzer Dough:
Vegan Butter 12 Tablespoons (170g)
Granulated Sugar ½ cup + 2 Tablespoons (125g)
Vanilla Extract 1 teaspoon (5ml)
Flax Meal 1 Tablespoon (8g)
Warm Water 2 Tablespoons (30ml)
All Purpose Flour 1⅓ cup (165g)
Hazelnut Flour 1 cup (112g)
Cinnamon ½ teaspoon
Salt ¼ teaspoon
Baking Powder ¼ teaspoon
For the Hazelnut Mousse:
½ cup Hazelnut Butter (recipe follows) or store bought
Vegan Milk Chocolate 5 ounces (140g)
Vegan Semi Sweet Chocolate 4 ounces (113g)
Almond Milk ½ cup (120ml)
2 Tablespoons Cocoa Powder (24g)
2 cans full fat coconut milk refrigerated overnight
For the Vegan Mirror Glaze:
Semi Sweet Vegan Chocolate 4 ounces (112g)
Coconut Sweetened Condensed Milk ¼ cup (70g)
Granulated Sugar ½ cup (100g)
Corn Syrup ⅓ cup (122g)
COLD Water 4 tablespoons (60ml)
HOT Water ½ cup (60ml)
Powdered Agar 1¼ teaspoons
For the Caramel Sugar:
Whole Hazelnuts 9
Granulated Sugar 1½ cup (300g)
Water ⅓ cup (80ml)
For the Raspberry Compote filling:
1 pint fresh or frozen raspberries
1 Tablespoons sugar
1 teaspoon raspberry extract *optional
Raspberry Jam as needed *approximately ¼ cup
Instructions
For the linzer dough combine the flax meal and warm water and whisk smooth, let stand for 5 minutes to thicken.
Cream the vegan butter & sugar until light and fluffy approximately 3 minutes.
Add the flax paste and vanilla extract and mix smooth
Add the sifted dry ingredients quickly while mixing on low speed and mix just until combined
Turn the dough out and wrap in plastic wrap and refrigerate for at least 3 hours or overnight.
Knead the chilled dough on a lightly floured surface and roll to ⅛ inch thick. Cut out circles to the same size as your molds for the mousse desserts and then bake the cookies in a preheated 350°f oven for 18-20 minutes or until they are golden brown.
Cool while you prepare the raspberry compote.
In a small saucepot combine the berries with the sugar and cook over low heat just until they start to break down and release their juices, don't cook to mush.
Add the optional extract and set aside to cool.
Prepare the mousse by melting both chocolates together over a double boiler or in the microwave.
Add the cocoa powder and the almond milk and whisk smooth
Add the hazelnut butter to the chocolate mixture then whisk smooth
Open the cold cans of coconut milk and skim the fat from the tops (discard the coconut water that remains or reserve it for another recipe)
Whip the coconut fat to stiff peaks then fold it into the chocolate mixture
Portion the mousse into the silicone molds then drop a tablespoon of raspberry compote into the center of each one
Place a cooled cookie with a dollop of raspberry jam on each one over the compote sealing the mousse, press down so the cookie gets encased in the mousse
Freeze while you prepare the mirror glaze
Combine the agar with the hot water in a medium saucepot, whisk smooth and cook over medium heat to boil, boilit whisking constantly for 1 minute
Add the the corn syrup, the other measure of COLD water and the sugar and bring back up to a boil.
Allow it to boil rapidly for 1 minute, then remove from the heat and add the condensed milk and whisk smooth
Pour the entire hot mixture over the chocolate and whisk smooth
Cool slightly to at least 105°F and then pour over frozen mousse desserts and then garnish as you wish or with optional caramel hazelnuts as follows:
To make the caramel for dipping, cook the sugar and water in a heavy bottom sauce pot and stir to dissolve until it boils.
Once it boils, STOP STIRRING and allow the sugar to caramelize
Once it turn light amber remove it from the heat, shock the pot in ice water to stop the cooking and then let it stand for 5 minutes.
Insert a skewer into each hazelnut then dip in the caramel allowing the excess to drip off making a long delicate shard of caramel.
I also garnished my desserts with crushed hazelnuts and a sprinkling of gold luster dust
Notes
Mousse desserts should be kept refrigerated but will stay at room temperature with no problems for up to 4 hours

Freeze (un-glazed) for up to 1 month wrapped well
For Homemade Hazelnut Butter (
Click here for a more visual tutorial for the hazelnut butter
)
Hazelnut Butter
Ingredients
Hazelnuts 1 cup (6ounces)
*Optional Sugar 2 tablespoons
*Optional oil 1-2 tablespoons
Instructions
Toast the hazelnuts for 15 minutes at 350°F for 15 minutes
Immediately transfer the hot hazelnuts to a kitchen towel and then encasing them in the towel rub them to get the skins off. (Don't worry if you can't get them all off)
Transfer the nuts to a food processor and process to butter.
This will take 5-7 minutes, stopping to scrape the sides a couple times to make an even paste.
At this point you can add the optional sugar and if the paste seems too dry you can add the oil for a creamier spread