Finally! Tiramisu that does not require a fork or a plate!
Vegan Tiramisu Cupcakes ~ a great way to get your tiramisu fix on the go!
As many of you know Tiramisu is a decadent Italian dessert that resembles a trifle in that is layered cream, coffee, sponge cake and more cream.
Here I have taken those amazing flavors and packed it all into a cupcake!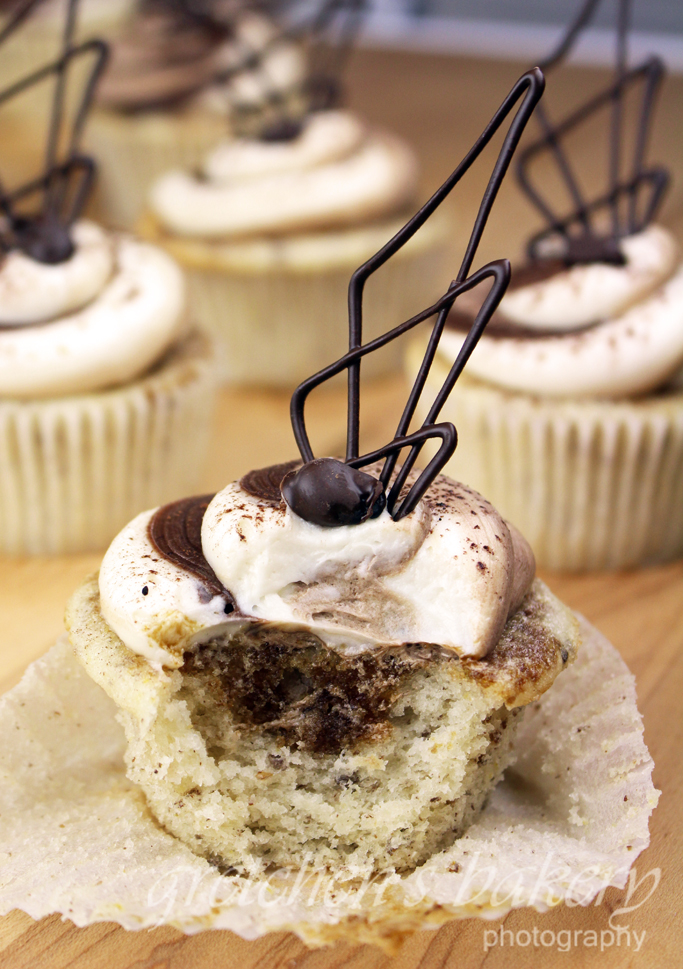 A new recipe for the most moist, fluffy and light as air Vanilla Sponge Cake you will ever try, soaked with coffee infused simple syrup and topped with 3 different icings.
Tiramisu is made with Mascarpone Cheese, but  I wanted to keep this all vegan and the closest match is going to be Cream Cheese.
Needless to say this cupcake was a perfect hit with my Vegan Cream Cheese Icing Recipe, Mocha Buttercream, and of course I had to get my chocolate fix in there with a tiny splash of fudge swirl!
You can of course use just one or all three icings as you wish.
This is a Building On Recipes project so you will have to prepare the icings ahead of time.
In the video tutorial below I am just showing the making of the cupcake recipe and coffee syrup.
So just click the links below to grab whichever icing recipe you plan to use and you can easily make that up while the cupcakes are baking.
For the Vegan Cream Cheese Icing
For the Vegan Mocha Buttercream ~ you will add 3 Tablespoons of instant coffee powder dissolved in 2 Tablespoons hot water and then add 4 ounces melted chocolate to the last stage of mixing the buttercream, be sure all additions are cooled
For the Vegan Fudge Icing ~ and of course you will substitute earth balance for the butter and corn syrup for the honey in this recipe
Tiramisu Cupcakes
This is a building on recipes project so be sure to get your icing(s) prepared ahead of time
Ingredients
For the Cake:
Ground Flax Seeds 2 tablespoons (16g)
Hot Water 5 tablespoons (75ml)
White Vinegar 1 Tablespoon (15ml)
Soy Milk ½ cup (120ml)
Vanilla Extract 1 teaspoon (5ml)
Cake Flour 1¼ cup (150g)
Granulated Sugar ¾ cup (150g)
Baking Powder 2 teaspoons (10g)
Salt ½ teaspoon (3g)
Earth Balance Buttery Sticks 6 Tablespoons (84g)
For the Syrup:
Water ⅓ cup (80ml)
Granulated Sugar ⅓ cup (67g)
Instant Coffee Granules 1½ Tablespoons
Coffee Extract *optional 1 teaspoon (5ml)
Instructions
For the Cake:
Combine the flax meal with the hot water and let stand for about 5 minutes to thicken
Add the vinegar to the soy milk to sour
Sift the flour with the baking powder and salt
Cream the earth balance with the sugar until light and fluffy and this may take about 3-5 minutes on medium to high speed
Add the thickened flax paste while mixing on medium speed, scrape the bottom and sides of the bowl to incorporate evenly, add the vanilla extract
Add about ⅓ of the flour to the creamed mixture then add half of the soured milk
Add another ⅓ of the flour and then the remaining sour milk
Add the last amount of flour and mix just to combine evenly.
Scoop batter into lined cupcake molds and bake in a preheated 375°F oven for 15 minutes then turn the oven down to 350°F for the remaining time, approximately 10 minutes more or until springy to the touch when you gently press the centers
Meanwhile prepare the coffee simple syrup bu bringing the water and sugar to a boil and let it boil for about 2 minutes.
Remove from heat and add the instant coffee and optional coffee extract, cool in the refrigerator
Once the cupcakes have cooled brush each one with coffee simple syrup then ice with your cream cheese icing, mocha buttercream and fudge swirl as shown in the video
Sprinkle with cocoa powder and garnish with optional chocolate decor and chocolate covered coffee bean