I just had to do it!
As we all know the fall weather brings about all things pumpkin; including all the jokes about Pumpkin Spice Everything!
So why not turn everyone's favorite coffee drink into a dessert?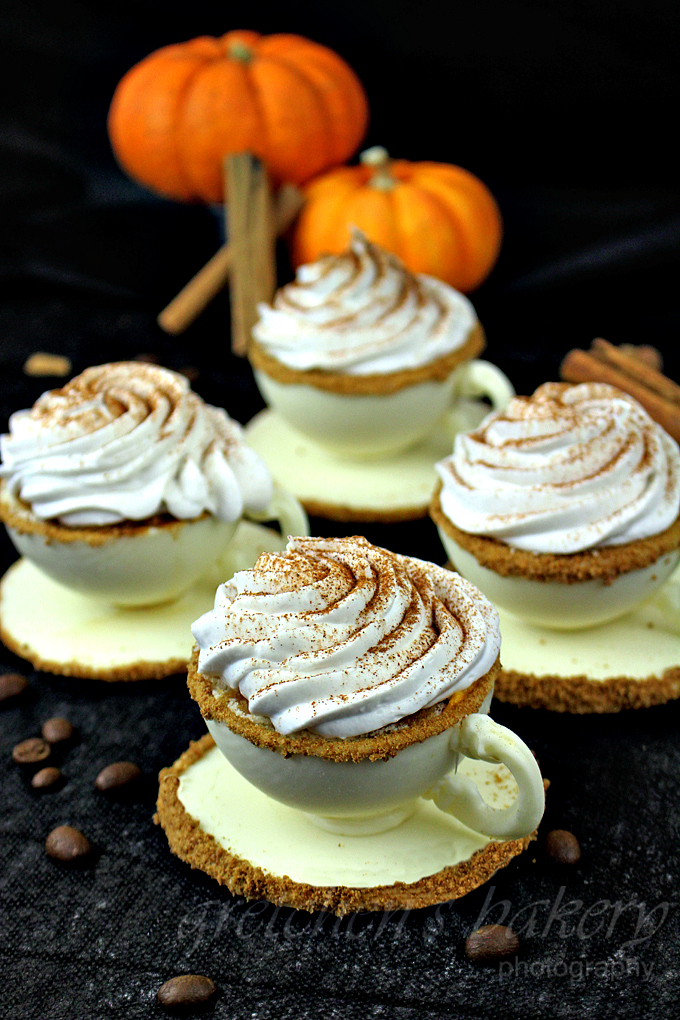 With a combination of just two of my recipes you can pull off this stunning dessert with ease!
The Pumpkin Mousse recipe was a big hit complete with edible white chocolate coffee cups!
I decided to add a layer of my White Chocolate Cake soaked with coffee syrup for the perfect taste of latte!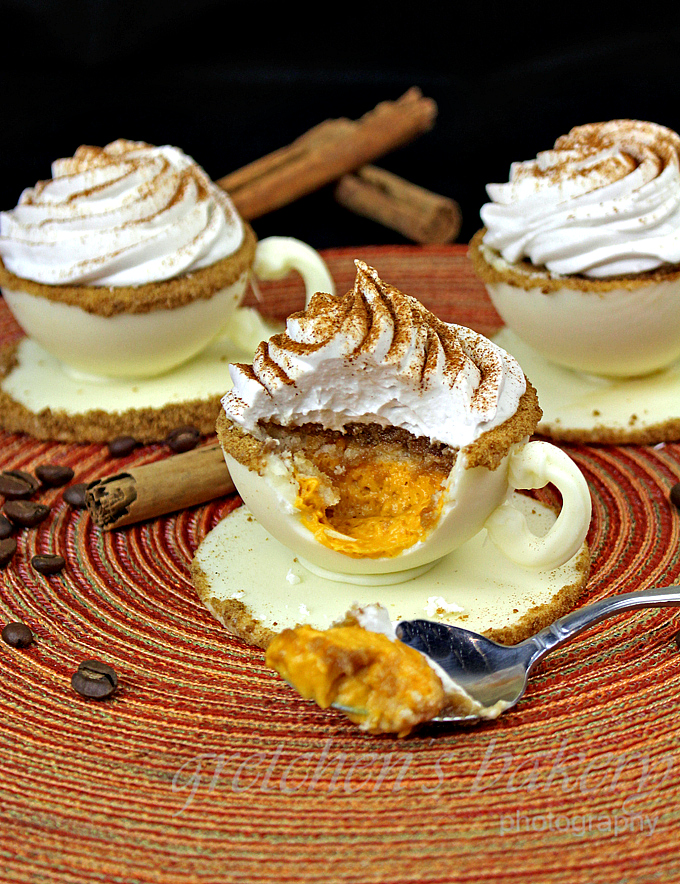 For the edible cups you will need some special tools and of course vegan white chocolate.
I use Kind David Brand White Chocolate as it is the only one I can find easily (on Amazon) and I like the taste of it too.
AND you don't have to temper it!
I am using my Sphere FlexiMold to make the cups and it is quite pricey for the Flex Mold Brand, but you can find a comparable one here at a cheaper cost.
Watch the video tutorial for how to assemble this dessert and believe me, it is way easier than it looks!
A great idea for Thanksgiving this year so give it a go, and you can prove to everyone that Vegan Desserts are amazing!!
*The recipe below is listed for 8 individual coffee cups filled with mousse, but the recipe is actually going to give you slightly more mousse since the cups can only really take about 1/4 cup per each.
So do what you like with the excess mousse, either make more cups (probably about 12-14 would use it all up) or just do what I did, and make a really small (5″) mousse cake like I did here in my original recipe for Pumpkin Mousse Cake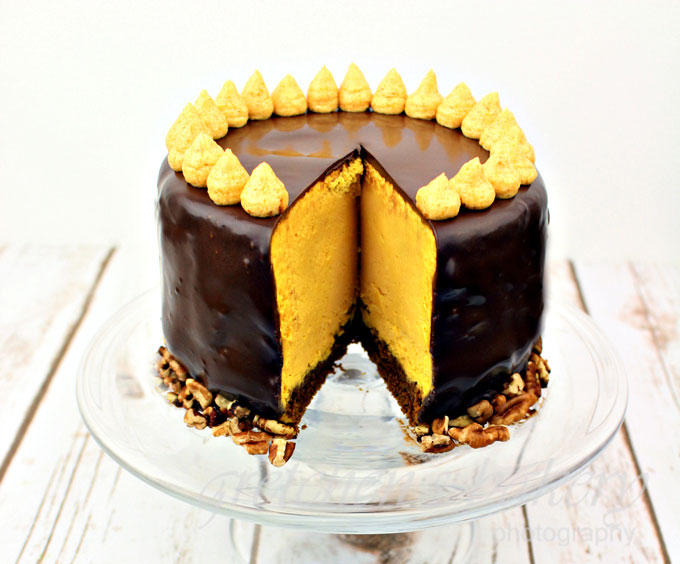 One more thing before I let you get to this recipe!
Aquafaba Meringue LIFE HACK! Must Read! It will change your AF life! I promise!

White Chocolate Pumpkin Mousse Latte
Be sure to check out my
Aquafaba LIFE Hack post
with video demonstration. I created it because it has been difficult to whip just ¼ cup of Aquafaba for these recipes, this hack will change your life! Believe me! - - Grease and parchment line a
¼ sheet pan
and preheat the oven to 350°F
The
ginger cookie recipe
that I rolled the saucers and dipped the rims of the cups into can be found here, this is completely optional
Ingredients
For the Pumpkin Mousse
Raw Cashews Soaked 1 cup (150g) * I soak my nuts first, then measure to 1 cup
Canned Pumpkin 1 cup (226g) *Fresh pumpkin has a higher liquid content so canned is best, or you will have to strain and then reduce your puree to a thicker consistency and then measure the 1 cup weight
Cocoa Butter or Coconut Manna ¼ cup (56g) ** Cocoa Butter taste more like white chocoalte, the Manna will give it a more *coco-nutty taste*
Coconut Milk ½ cup (117ml)
Confectioner's Sugar 1 cup (120g)
Aquafaba liquid from a can of chick peas ¼ cup (60ml)
Agar ¼ teaspoon
For the White Chocolate Cake layer:
Cake Flour 1½ cups (180g)
Granulated Sugar ¾cup (150g)
Baking Powder 1½ teaspoons
EnerG Egg Replacer 1½ teaspoons
Salt ¼ teaspoon
Vegan Butter 4½ Tablespoons (63g)
Soy Milk ½ cup (117ml)
Vanilla Extract 1 teaspoons
Vegan White Chocolate 3 ounces (approx ½ cup chopped) (85g)
For the Coffee Syrup:
¼ cup water
¼ cup granulated sugar
3 teaspoons instant coffee granules
For the coconut whipped cream:
2 cans of full fat coconut milk refrigerated overnight
¼ cup confectioners sugar
1 teaspoon vanilla extract
For the Cups:
1 lb Vegan White Chocolate
Instructions
For the Edible Coffee Cups: watch the video tutorial for how to make these. They can be made up to a week ahead of time, stored carefully in a cool dry place.
For the white chocolate cake: Melt the white chocolate and set aside
Combine the flour, sugar, baking powder, EnerG egg replacer, and salt in a mixer bowl and sift it together or mix on low to combine.
Add the softened vegan butter and mix for about 1 minute until it resembles coarse meal and is evenly incorporated
Combine the vanilla extract with the soy milk and then slowly pour into the flour/butter mixture while mixing on low to medium speed until it is all incorporated then increase the speed to medium-high for 45 seconds to develop the batter
Add the melted white chocolate and mix to combine
Spread the batter into the greased and parchment lined cake pan
Bake in a preheated 350°F oven for 18-20 minutes or until springy to the touch when you gently press the center.
Cool the cake layer while you prepare the Pumpkin Mousse
For the Pumpkin Mousse Recipe: First prepare the stabilized aquafaba by heating it over low heat with the agar powder and bring it to a boil. Boil just for about 30 seconds to activate the agar, then cool to tepid (not cold or the agar will thicken the liquid before we can whip it) then you can prepare the rest of the recipe
Combine the soaked cashews, pumpkin, confectioner's sugar and coconut milk in a high speed blender of food processor and blend smooth on high for about 45 seconds
Slowly pour the melted cocoa butter (or coconut manna) through the feed tube and continue processing for another 15 seconds
Transfer to a large mixing bowl
Whip the cooled (or room temperature aquafaba) with a balloon whip attachment to stiff glossy peaks and then fold into the pumpkin mixture
Fold the aquafaba meringue into the pumpkin mousse base then spoon the mousse into the chocolate cups.
Cut the cooled white chocolate cake layer into discs the same diameter of the coffee cups and place a trimmed ⅛" thick slice on top of the mousse in each cup
Soak the cake with the cooled coffee syrup and then top with coconut whipped cream and a sprinkle of cinnamon.
Coconut whipped cream is easily made by refrigerating cans of coconut milk overnight.
Open the cans and scoop the fat from the tops and reserve the water for other recipes.
Whip the coconut fat with the confectioners sugar and vanilla to soft peaks
Notes
Pumpkin Mousse lattes should be stored in the refrigerator at all times.

They will stay fresh for up to 6 days.
Here is the Pumpkin Mousse Video if you want to see a step by step on how to make it

Also the Aquafaba Life Hack Video here!