I am not sure if I said this before, but I love winter time baking.
The flavors are so rich and just layers upon layers of spice are to be found in so many sweet delights.
Perhaps my love of Gingerbread Cake has a lot to do with my love for winter, but I do love the cold weather too, so for me it's a double win.
Imagine this luscious moist winter wonderland gingerbread cake loaded up with cream cheese icing and a hot cup of vegan hot chocolate on a cold snowy winter night!?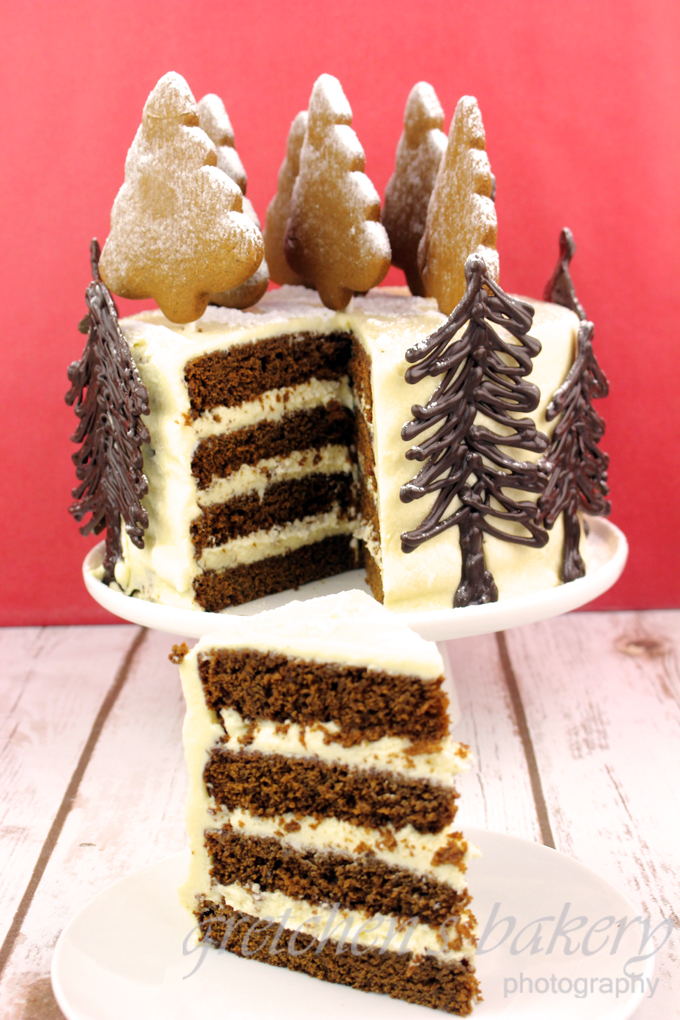 With a crisp gingerbread man cookie to dunk along the way!
I can almost taste it!
So actually, stop imagining it! MAKE IT!
Of course the gingerbread men and tree cookies and  I used for decor are completely optional but how else do you get a winter wonderland scene without that little cutie standing in a forest of gingerbread and chocolate trees?
I had so much fun with this one and I know you will too!
PS- this is another sneak peak recipe from my new book: Modern Vegan Baking now available on amazon!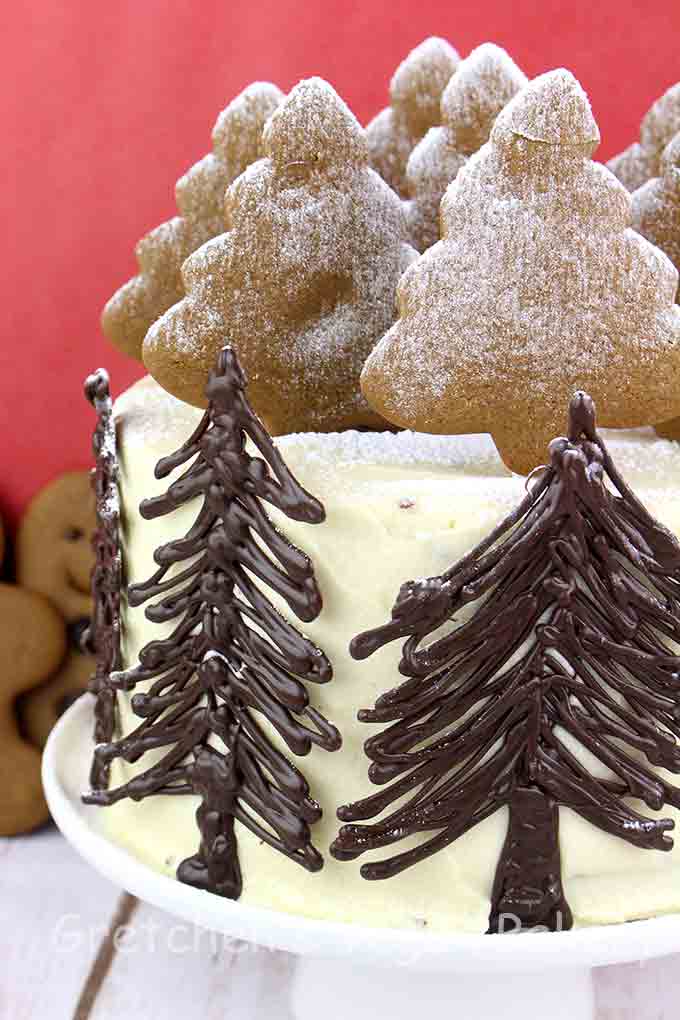 Winter Wonderland Gingerbread Cake
Ingredients
For the Gingerbread Cookie Dough
All Purpose Flour 3 cups (390g)
Baking Soda 1 teaspoon (5g)
Ground Cinnamon 1 teaspoon (2g)
Ground Ginger 1 teaspoon (2g)
Pumpkin Pie Spice ½ teaspoon (2g)
Salt ½ teaspoon (3g)
Black Pepper ¼ teaspoon
Vegan Butter ½ cup (113g)
Light Brown Sugar ½ cup packed (105g)
Molasses ⅔ cup (226g) (158ml)
Ground Flax Seeds 1 Tablespoon (8g)
Hot Water 2 Tablespoons
Vanilla Extract 1 teaspoon (5ml)
For the Gingerbread Cake:
Vegan Butter 1 stick (113g)
Light Brown sugar 1 cup (210g)
Ground Flax Seeds 1 Tablespoon (8g)
Warm Water 3 Tablespoons (45ml)
Hot water 1 cup (237ml) *approximately 140° F
Molasses 1¼ cup (425g) (300ml)
Baking Soda 1 teaspoon (5g)
Baking Powder 1 teaspoon (5g)
Salt ½ teaspoon (3g)
Ground Ginger 2 teaspoons (3.5g)
Ground Cloves ¼ teaspoon (.5g)
Ground Cinnamon 1½ teaspoon (3g)
All Purpose Flour 2 ½ cups (325g)
Natural Unsweetened Cocoa Powder 2 Tablespoons (12g)
For the Vegan Cream Cheese Icing:
Vegan Cream Cheese 2 Tubs (2cups) (454g)
Vegan Butter 1 stick (½ cup) (112g)
Confectioner's Sugar 2 cups (240g)
Vanilla Extract 1 teaspoon
Vegan Buttercream 1 cup *optional
Instructions
For the gingerbread cookie dough:
Combine ground flax seed with hot water and whisk smooth
Let stand for at least 5 minutes to thicken to a paste
Sift the flour with the baking soda and all of the spices and the salt and pepper, set aside.
Cream the vegan butter with the brown sugar until light and fluffy about 4-5 minutes,
Add the molasses to the creamed butter mixture and mix well, scrape the sides of the bowl and then add the flax paste and vanilla extract.
Add the sifted flour mixture while blending on low speed, mix until it is all incorporated evenly.
Turn out the entire dough onto a large piece of plastic wrap.
Wrap the dough tightly and press into a disc.
Refrigerate for at least 3 hours, preferably overnight before rolling.
Once out of the fridge you must re-roll this dough.
Mash it all together and knead it back together, then RE-roll on a floured work surface until it is pliable.
Cut your shapes, and place on a parchment lined sheet pan.
Preheat the oven to 350° F, you will bake for approximately 12-18 minutes or until light golden brown. It is difficult to say how long exactly – as I do not know what shapes you are cutting or to what thickness you desire
For the Cake Batter:
Combine ground flax seed with hot water and whisk smooth
Let stand for at least 5 minutes to thicken to a paste
In the meantime, cream the softened vegan butter with the light brown sugar on medium -high speed until very light and fluffy, about 3-5 minutes.
Scrape bowl periodically to ensure even mixing
Sift together all the dry ingredients from the baking powder to the cocoa powder and reserve.
Add the molasses to the hot water and then add the baking soda to that. It will bubble up as the baking soda begins to activate. Stir to combine
Add the flax paste to the creaming vegan butter and sugar mixture, and mix well.
Add ⅓ of the dry ingredients, blend well
Then add ½ of the molasses/water mixture slowly while mixing on low speed
Stop and scrape the bottom and sides of the bowl often
Repeat the process with another ⅓ of the dry, the remaining liquids and then the last addition of dry ingredients
Pour the batter into 2- 7" greased and parchment lined pans and bake immediately in preheated 350° F oven approximately 30 minutes or when they are springy to the touch when you gently press the centers.
Cool the cake layers in the pan then turn out onto a cooling rack to cool the rest of the way while you prepare the cream cheese icing.
For the Cream Cheese Icing:
Smooth cream cheese and butter with a paddle attachment
Add sifted confectioners sugar, blend on low just to combine
Add extract then add optional vegan buttercream icing
Mix smooth