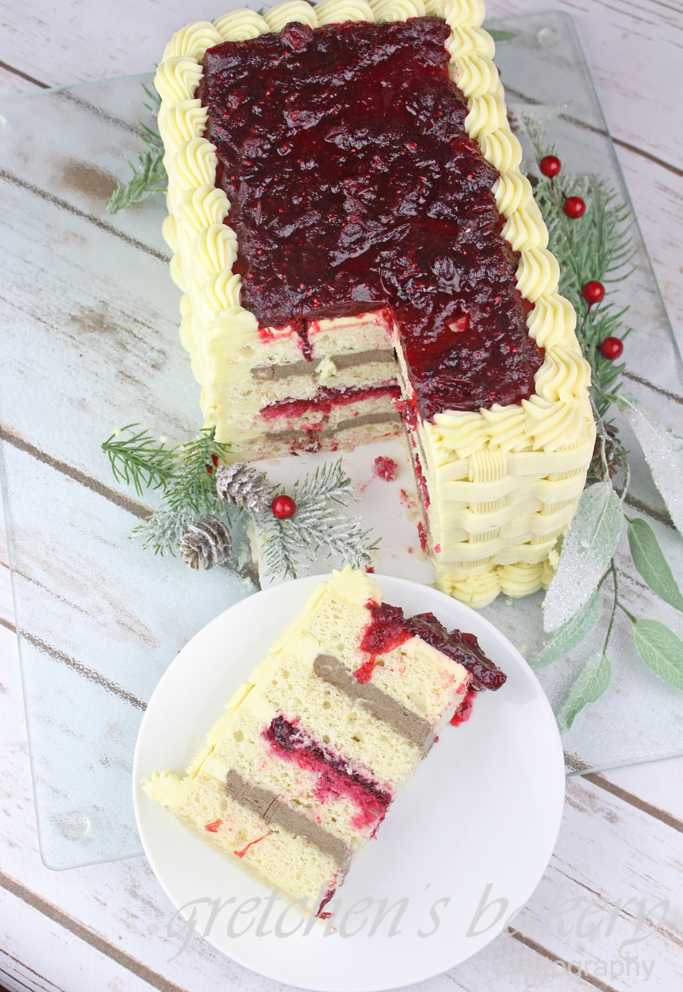 White Chocolate Cranberry Cake!
I came up with this idea several years ago as I boarded a plane from Mexico in the dead of January heading back to freezing cold New Jersey.
Starbucks was featuring their new white chocolate mocha latte and my wheels started turning.
I thought, "How can I turn those awesome flavors into a cake?"
So here is my veganized version, upgraded with this super moist white chocolate cake, homemade cranberry filling and mocha and buttercream icing!
The perfect addition to your holiday table this winter!
The white chocolate cake and tart cranberry compote are a perfect pair with a subtle back note of mocha that just screams sophistication.
I love my cranberry sauce recipe so much I cannot let it go once Thanksgiving has passed.
So why not give it one more go around and use it as the filling for this cake!
This is quite a large cake with four prominent cake layers and three layers of filling.
The ultimate 7 Layer cake right here!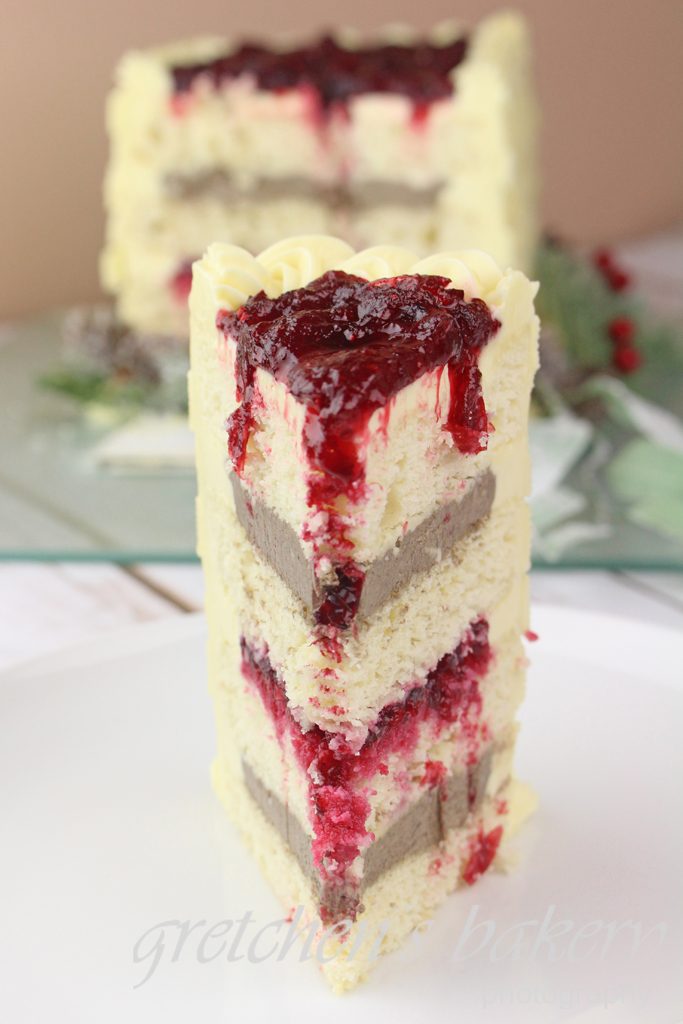 You can of course cut down all the recipes to half batches and make a smaller version of this cake in any shape cake pans you like.
The rule of thumb with pretty much all cake batter recipes is as long as you fill the cake pans no more than half full you will be good to go!
So for example this recipe here which I am baking into sheet pans obviously to get the rectangle shape for this finished cake; this same amount of batter will give you 3- beautiful 7″ cake layers instead.
As well as two thicker 8″ cake layers if you only have 8″ cake pans.
One note about the buttercream I used in this cake today: It is a variation from my Aquafaba Swiss Meringue Buttercream only made with Flax Gel instead of Bean Water.
For those who are sensitive to chickpeas and have to stay away from using the Aquafaba bean water for buttercream you may prefer the Aquaflaxa Buttercream version instead.
But honestly you can use any buttercream recipe you like the best for this cake.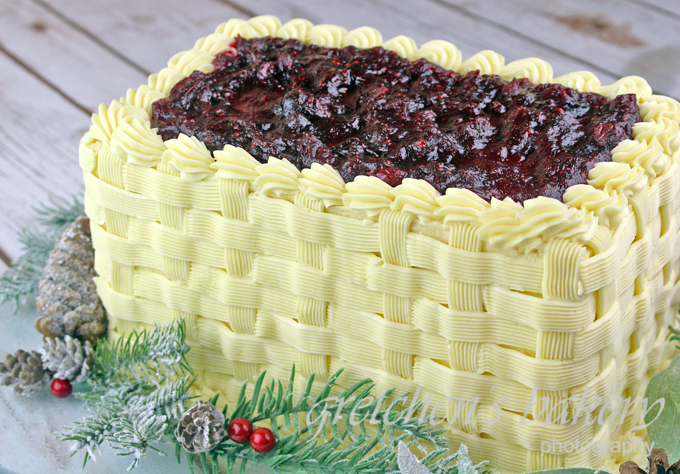 The only thing about the flax buttercream is that it stays a sort of off white color, compared to the other two which get more white (the American style being the whitest).
But for me that just gives us a beautiful ivory cake for the holidays, bursting with all the flavors of the season!
The taste of this cake altogether with the cranberry, mocha and white chocolate is truly out of this world!
FOR THE FULL YOUTUBE VIDEO TUTORIAL ON HOW TO MAKE THIS CAKE CLICK  HERE!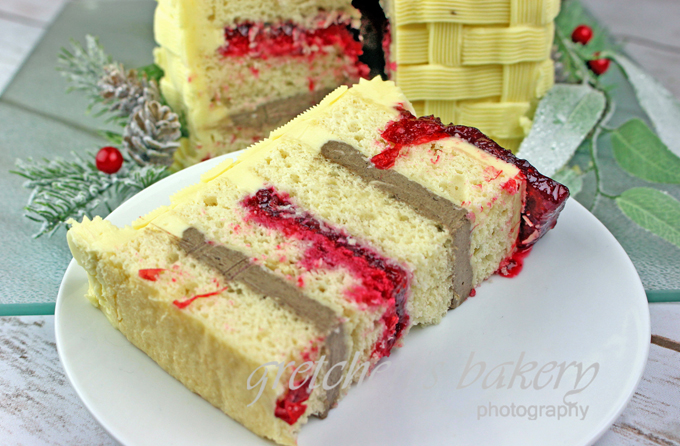 White Chocolate Cranberry Cake
I've baked my cake layers into
1/8 sheet pans
for the perfect layers, if you do not have these or do not want to buy them you can pour all the batter into a 12" x 18" sheet pan and then cut the 4 separate layers
I am using cranberry moscato wine for the cranberry recipe, but you can use all cranberry or cherry juice or even water instead
Ingredients
For the Cake Layers
Grease and parchment line 4- ⅛ sheet pans and preheat the oven to 350°F
For the Cake:
Cake Flour 3 cups (360g)
Granulated Sugar 1½ cup (300g)
Baking Powder 3 teaspoons (15g)
EnerG Egg Replacer 3 teaspoons (10g)
Salt ¼ teaspoon
Vegan Butter 9 Tablespoons (126g)
Soy Milk 1 cup (237ml)
Vanilla Extract 2 teaspoons (10ml)
Vegan White Chocolate 6ounces (approx 1 cup chopped) (168g)
For the Cranberry Compote:
1 16ounce bag Cranberries
Granulated Sugar 1¼ cup (250g)
Cranberry Juice or Cranberry Moscato Wine 1 cup (237ml)
Vanilla Extract 2 teaspoons
Star Anise Pods 4
Cinnamon 1 teaspoon
Orange Zest and Juice from 1 large orange
For the Buttercream:
1 Recipe Flax Meringue Buttercream or Aquafaba Buttercream Or American Buttercream
Instant Coffee granules 2 teaspoons
Cocoa Powder 1 Tablespoon (12g)
Hot Water 2 Tablespoons (45ml)
Instructions
For the cake batter:
Melt the white chocolate and set aside
Combine the flour, sugar, baking powder, EnerG egg replacer, and salt in a mixer bowl and sift it together or mix on low to combine.
Add the softened vegan butter and mix for about 1 minute until it resembles coarse meal and is evenly incorporated
Add the vanilla extract and then slowly pour in the soy milk while mixing on low to medium speed until it is all incorporated then increase the speed to medium-high for 1 minute to develop the batter
Add the melted white chocolate and mix to combine
Divide the batter into greased and parchment lined cake pans
Bake in a preheated 350°F oven for 20 minutes or until they springy to the touch when you gently press the centers.
Cool the cakes while you prepare the cranberry compote
For the Cranberry Compote:
In a heavy bottom sauce pot, combine all the liquids with the sugar and spices and bring to a boil over high heat.
Squeeze in the juice of that orange and the zest
Add the cranberries and then return to a boil.
Lower the temperature to a simmer for 15 -20 minutes, the sauce will begin to thicken and the berries will begin to pop.
Discard the anise pods and add the vanilla extract
Cool in refrigerator while you prepare the buttercream
For the buttercream:
Prepare as per the instructions on the recipe you chose, then divide the buttercream into 2 bowls (1/3 for the mocha filling and ⅔ for the icing) and add the mocha paste to the smaller portion by combining the hot water with the coffee and cocoa powder and whisk smooth
Assemble cake as shown in the video
FOR MORE RECIPES USING MY AWESOME HOMEMADE CRANBERRY COMPOTE CLICK THE LINKS BELOW!
CRANBERRY MOCHA FUDGE BROWNIES