A Black and White Cookie Cake as iconic as the cookie of the same name!
Since one good turn deserves another why not make make both black and white cookies and a cake!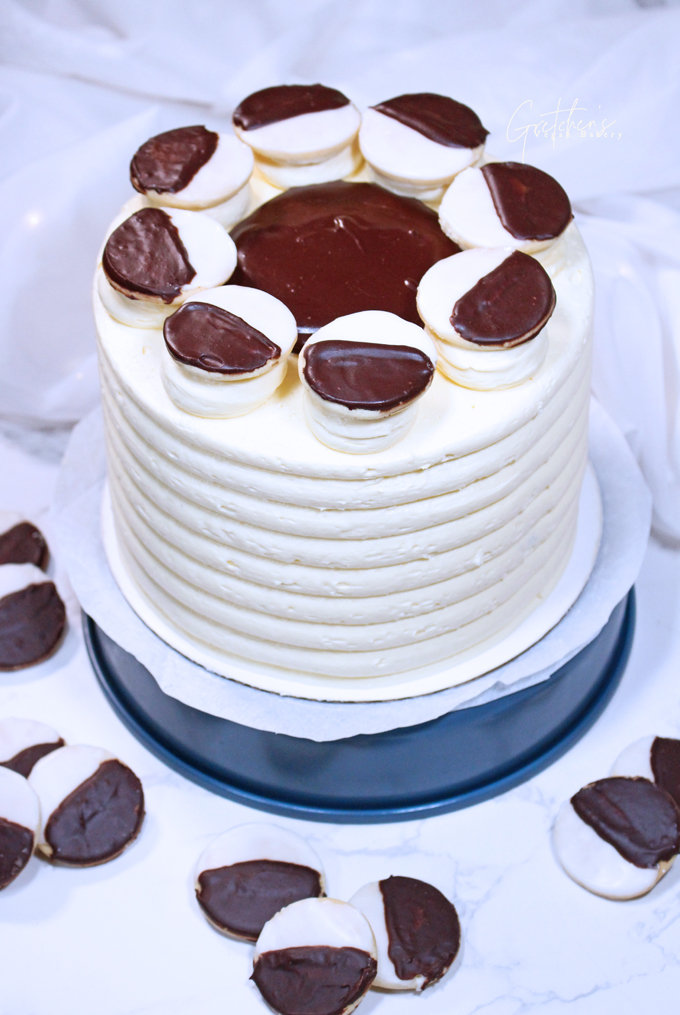 My famous bakery treats are happening right here and now you can make them at home!
The idea for this Black and White Cookie Cake was born out of my attempt at trying to like Black and White Cookies!
Yes it's true I admit I was never a fan of the Black and White Cookie!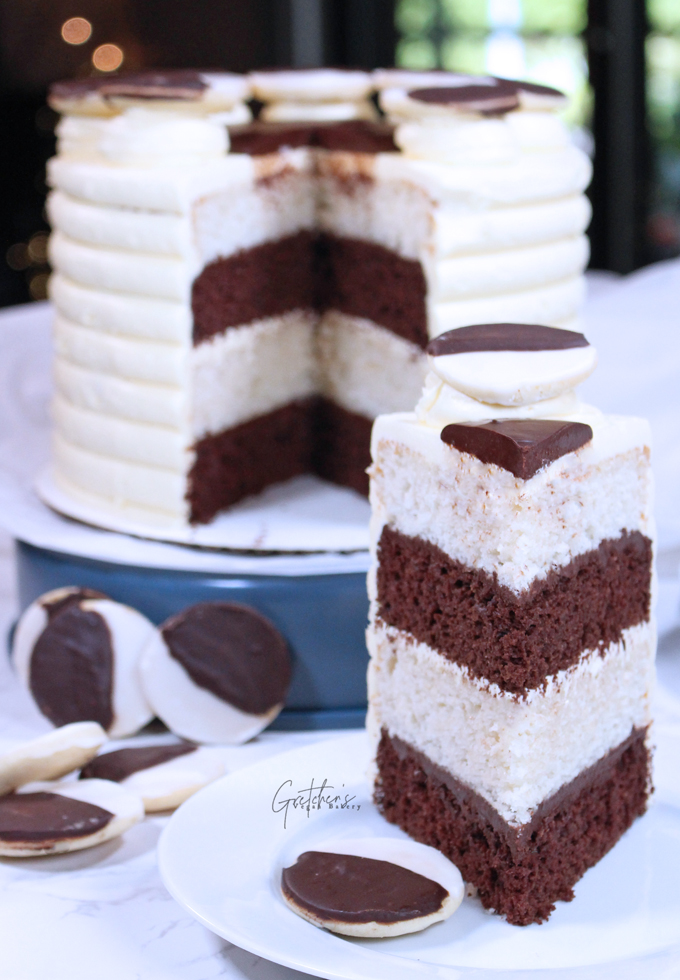 But I've been reformed!
Ever since I veganized my bakery original recipe for black and white cookies; it's my latest obsession!
Moist cake-like cookie iced with the signature black and white icing!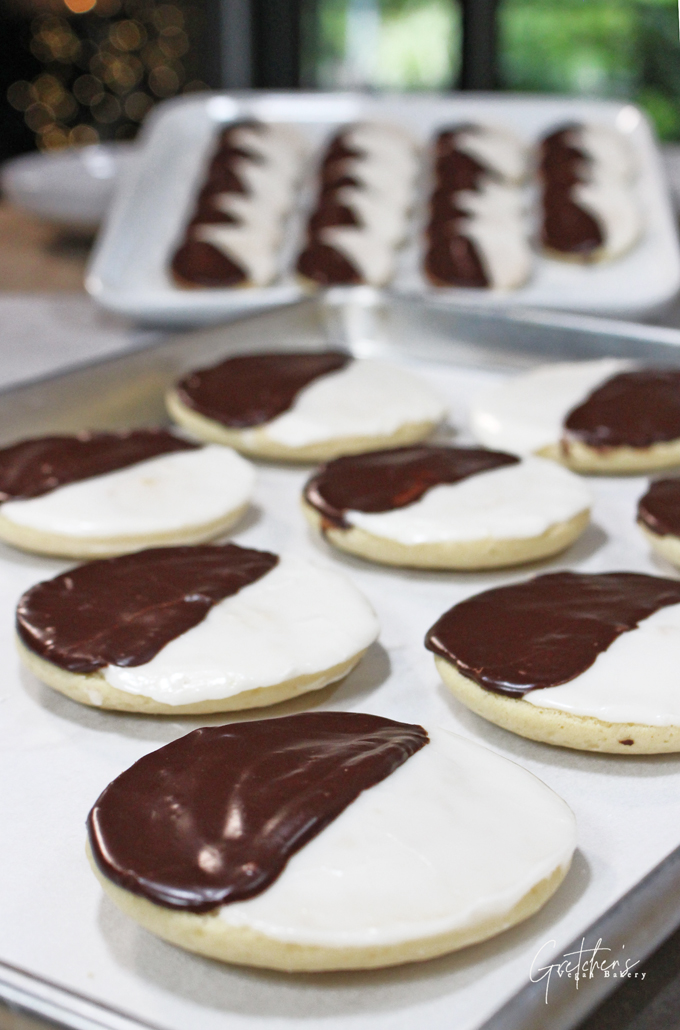 This cake takes a page right out of that book with fluffy, moist white and chocolate layers
With a thin layer of ganache and buttercream between each and miniature black and white cookies for each slice
This new cake is already famous!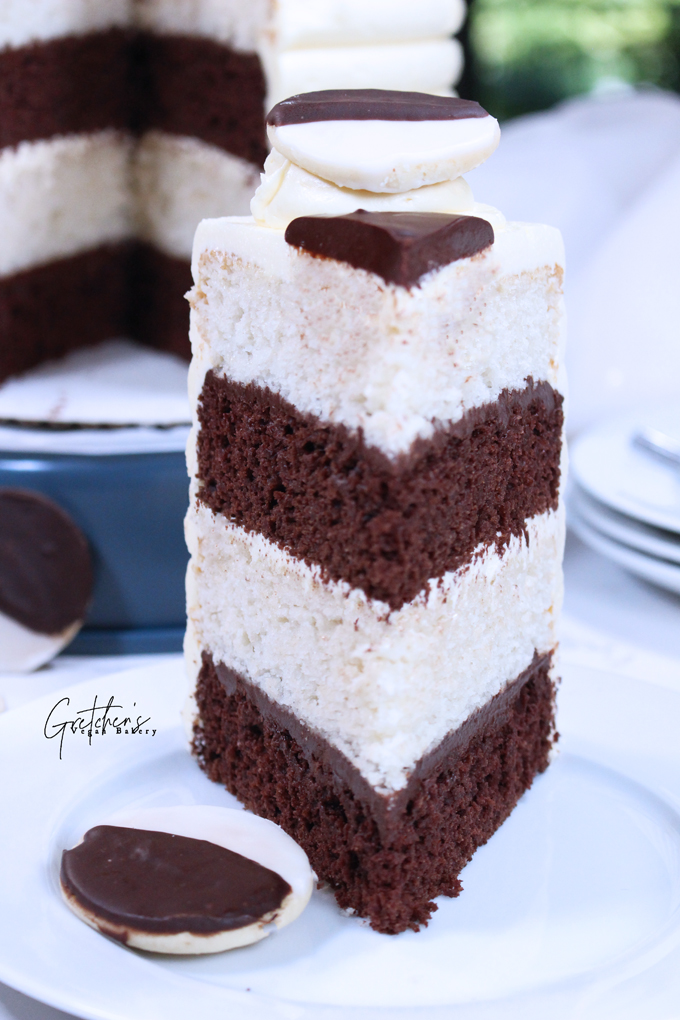 Notes for Success:
This is a major building on recipes project so all the recipes listed below are links to full recipes and each recipe includes a step by step video tutorial
Two separate recipes for cake must be prepared for this project so be sure to bake everything a day ahead of time to make the build day much easier!
I keep my cake layers wrapped in the refrigerator whenever I plan to build the cake the following day, for longer storage keep them frozen for up to 1 month
Today I am using 7″ cake pans for 2 thick layers of each flavor but 8″ cake pans can easily be used with no changes to the recipe!
Additionally you can make this cake project ever easier by using my Box Cake Hack for both recipes!
You'll notice in the recipe for black and white cookies and the buttercream I use butter flavor extract
This ingredient is optional but I do love it in both recipes!
Olivenation is my Go-To for all things extracts and flavorings and they extend a 20% discount for my viewers!
Click here for OliveNation Butter Flavor
Enter code: GVB20 at checkout!

WATCH THE YOUTUBE VIDEO FOR HOW TO MAKE THIS CAKE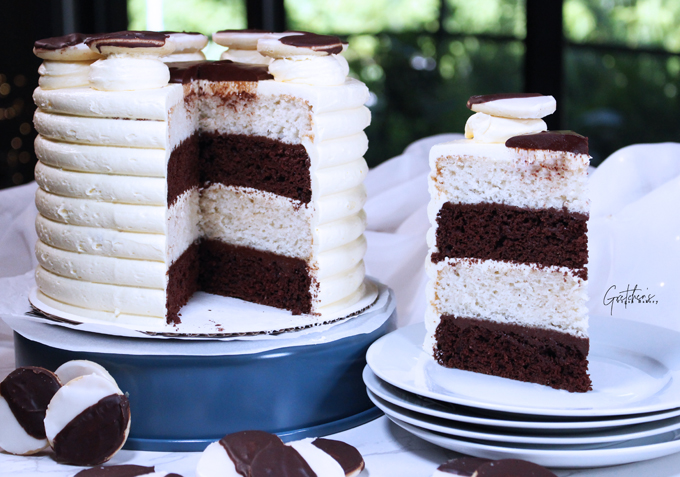 For more classic bakery style cakes like this one click the links below!
Bakery Style Chocolate Mousse Cake
Yield: serves 10ppl
Black and White Cookie Cake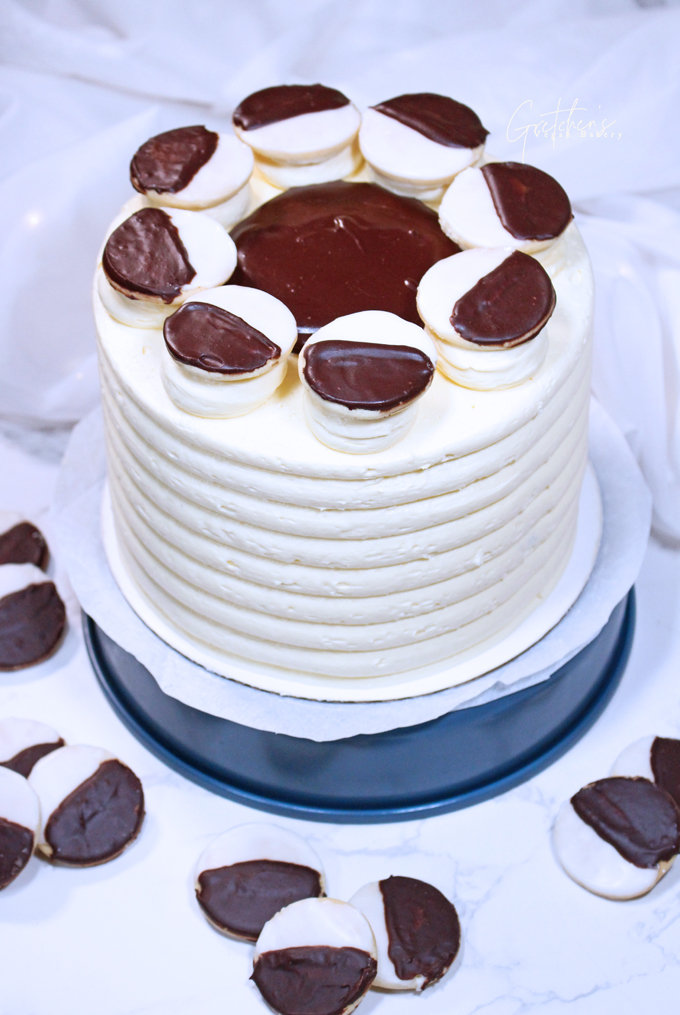 Total Time
3 hours
30 minutes
Ingredients
Instructions
Prepare all of the recipes according to the instructions on the linked recipe pages above
The cake layers can be prepared well in advance as can the American Style Buttercream
I like to prepare the ganache the morning of my cake build so it has time to firm up to at room temperature to a spreadable consistency without having to refrigerate it
The mini black and white cookies can also be made several days in advance
So the entire build day for your cake is a total breeze!
This cake can be put together in less than 1 hour!
Notes
Black and white cookie cake can be kept at room temperature for up to 3 days in a cool dry environment
For longer storage refrigerate for up to 1 week be careful the cookie icing doesn't start to melt from refrigerator condensation