Way back in my past life when I would frequent Starbucks it was the Caramel Macchiato Latte drink for me
After gaining tons of weight from drinking dessert in a cup, I had to stop giving them my money to make me fat with the illusion that I was just drinking a coffee!
I'd much rather eat my calories rather than drink them and this Caramel Macchiato Cream Pie is the best way to do that!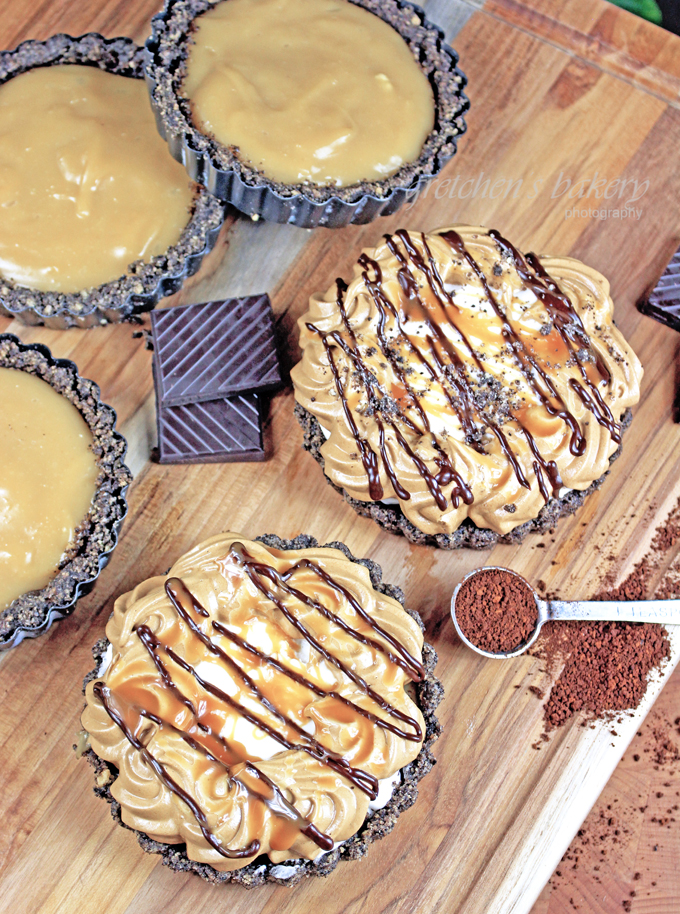 I no longer patronize Starbucks but the Caramel Macchiato is now something I can enjoy in straight up dessert fashion!
I recently completed a new recipes series for The Four Best Cream Pie Recipes ever, and here is the last one to be added to this series.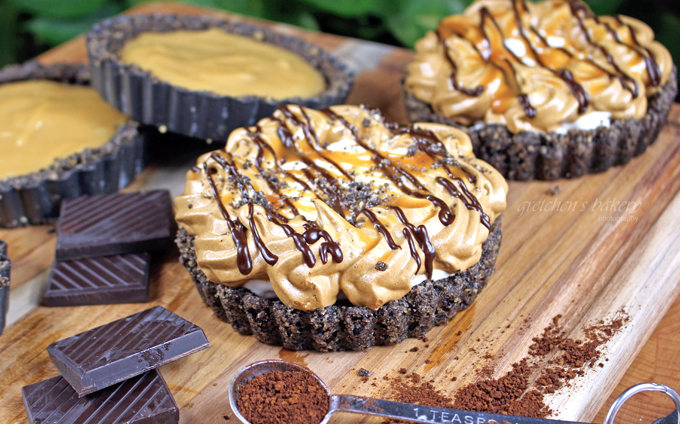 In all of it's creamy, caramel custard glory with a chocolate cookie crust and Dalgona Coffee Whipped Topping.
Caramel and fudge drizzles with a dollop of coconut whipped cream too.
I have a feeling you are going to love this Caramel Macchiato Cream Pie!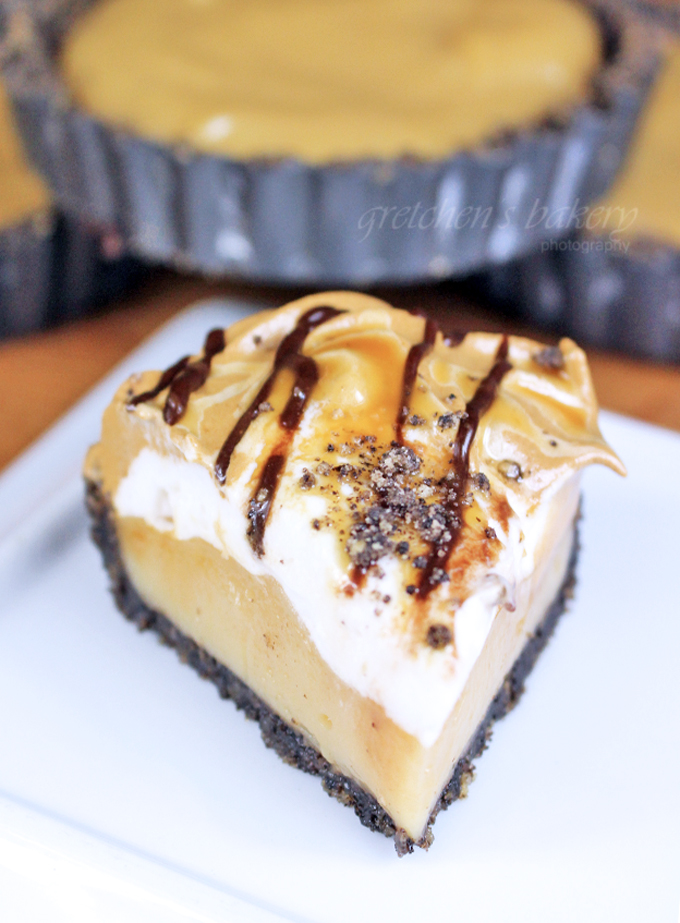 Notes for Success:
I am using 4″ Individual tart molds to make this dessert as single servings, but if you want to make 1- 8″ Pie there are no changes needed for the recipe
For the Caramel Sauce I used the recipe from my Bananas Foster Cake CLICK HERE and the chocolate drizzle is simply vegan ganache!
Cornstarch is a very difficult ingredient to measure consistently with a volume/spoons measure
So while I list both measures below I cannot stress enough how the grams measure with a scale is going to give you the best results.
Many times people have complained that their custard is like rubber and they don't know why!
This is from a heavy measure of cornstarch when using volume measuring spoon vs the 100% accurate scale measure in grams.
Vegan Whipped Cream ~ there are several options nowadays so please be sure to click here to see which one suits you best!
Or just use a store bought whipped topping like CocoWhip by SoDelicous since this recipe does not require super stabilization I have used the tubs in a pinch with good results!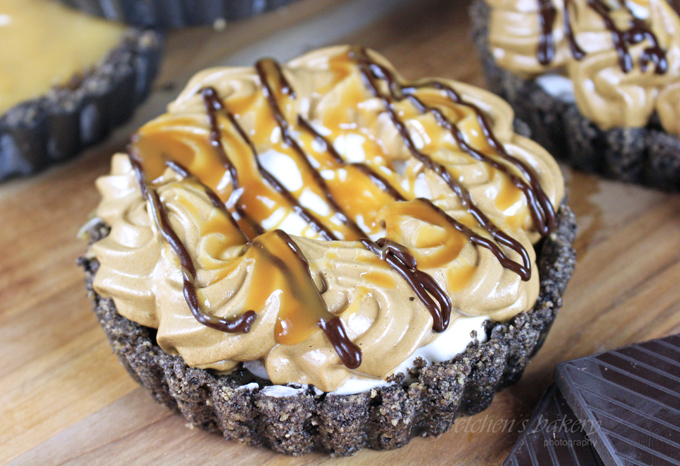 For more cream pie recipes click the links below!
WHITE CHOCOLATE BERRY CREAM PIE
CLICK HERE FOR THE FULL YOUTUBE VIDEO TUTORIAL FOR HOW TO MAKE THIS CREAM PIE!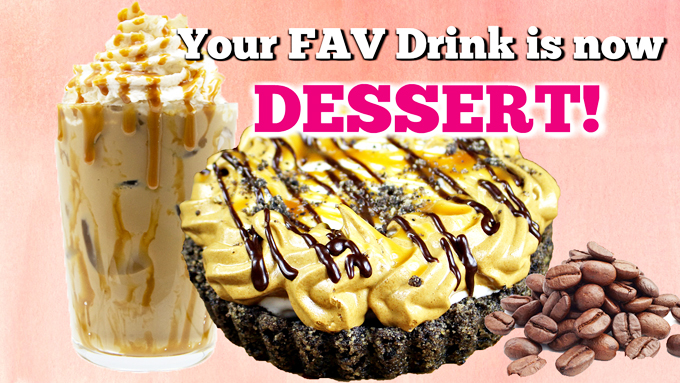 Yield: 6 individual or 1-8" Pie
Carmel Macchiato Cream Pie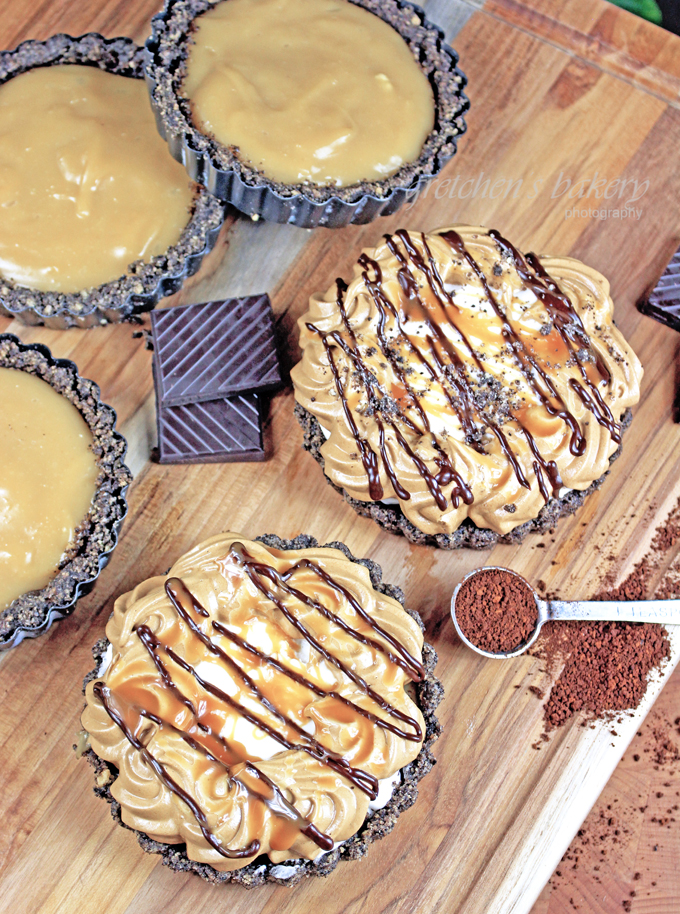 Ingredients
For the Crust
Sandwich Cookies 36 each *I used a combo of chocolate & golden cookies
Vegan Butter 8 Tablespoons (113g)
For the Custard
Granulated Sugar 3/4 cup (150g)
Lemon Juice 2 teaspoons (10ml)
Vegan Butter 2 Tablespoons (28g)
Plant Milk *I use soy milk 2 Cups (473ml)
Cornstarch 5 Tablespoons (40g)
Granulated Sugar 4 Tablespoons (56g)
Vanilla Extract 2 teaspoons (10ml)
For the Dalgona Coffee Whip
Instant Coffee Granules 2 Tablespoons
Granulated Sugar 4 Tablespoons (56g)
Boiling Water 2 Tablespoons (30ml)
1 Recipe Vegan Whipped Cream *links are above in notes for success
OR 1 Tub CocoWhip by SoDelcious
1 Recipe Caramel Sauce *links above
Instructions
If you are making my recipe for vegan whipped cream, I recommend to prepare the base liquid mix the day before so it has time to get super cold for whipping.
Also please read the entire blog post CLICK HERE FOR VEGAN WHIPPED CREAM to make sure you understand the recipe and the troubleshooting that goes along with this delicate recipe.
Prepare the crust by combining the cookies (WITH the cream centers) in a food processor and grind to fine crumbs.
Add the melted vegan butter and blend to the consistency of wet sand.
Press the mixture equally into the bottoms of your un-greased tart molds (or 8" pie plate).
Refrigerate or freeze until needed.
For the custard place the first measure of sugar and the lemon juice in a heavy bottom 2 quart saucepot - you will need a larger pot for this since cooking caramel can be dangerous and may bubble up when adding the liquids, so BE CAREFUL!
Cook the sugar stirring gently to distribute the lemon juice throughout and then stop stirring once it starts to boil, place a lid over top just to create steam and help any sugar crystals dissolve.
Once the caramel starts to turn amber, watch it closely as it can go from light amber to burnt in an instant!
Add the vegan butter and the room temperature plant milk and stir gently with a wooden spoon to dissolve the caramel.
Add the cornstarch with the second measure of sugar and whisk smooth as it comes to a boil
Once the custard boils, remove from the heat and add the vanilla extract
Immediately pour the caramel custard into the prepared crusts and refrigerate to set.
Prepare the Coffee Whip by combining the sugar and instant coffee with the boiled water in a mixer bowl.
With an electric mixer and the balloon whip attachment, whip until it is firm peaks.
If you are making my vegan whipped cream recipe, start whipping your super cold liquid base now.
Top the custard tarts with the coffee whip, the whipped cream and then a drizzle of vegan caramel and vegan ganache is optional but awesome!!
Notes
Caramel Macchiato Cream Pies must be kept refrigerated but can withstand room temperatures of up to 80°F for about 1 hour