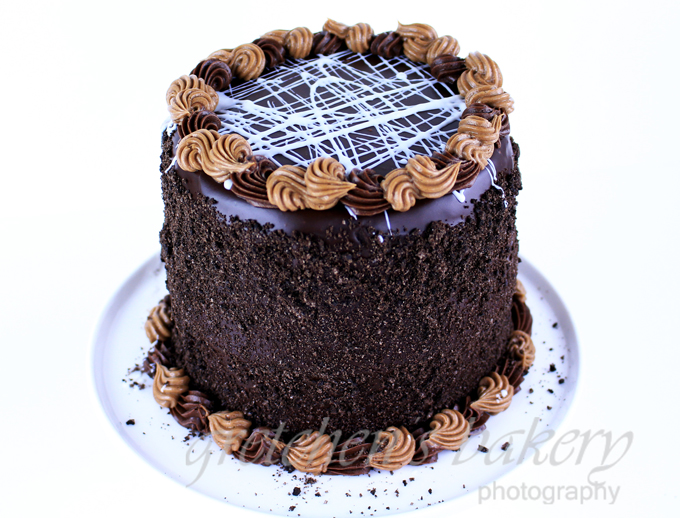 The idea for this cake came about when I was on one of my many diet phases.
Yes, I too have to pull back the reigns on my cake, cookie and cupcake intake as it gets way out of control sometimes.
It seems whenever I am sugar and fat deprived, my brain kicks in to ultra creative gear and I dream up amazing concoctions that I am just dying to sink my poor deprived teeth into.
Hence the name~ Death to Diets Cake.
This was a diet buster for sure and worth every last calorie! I can attest to that!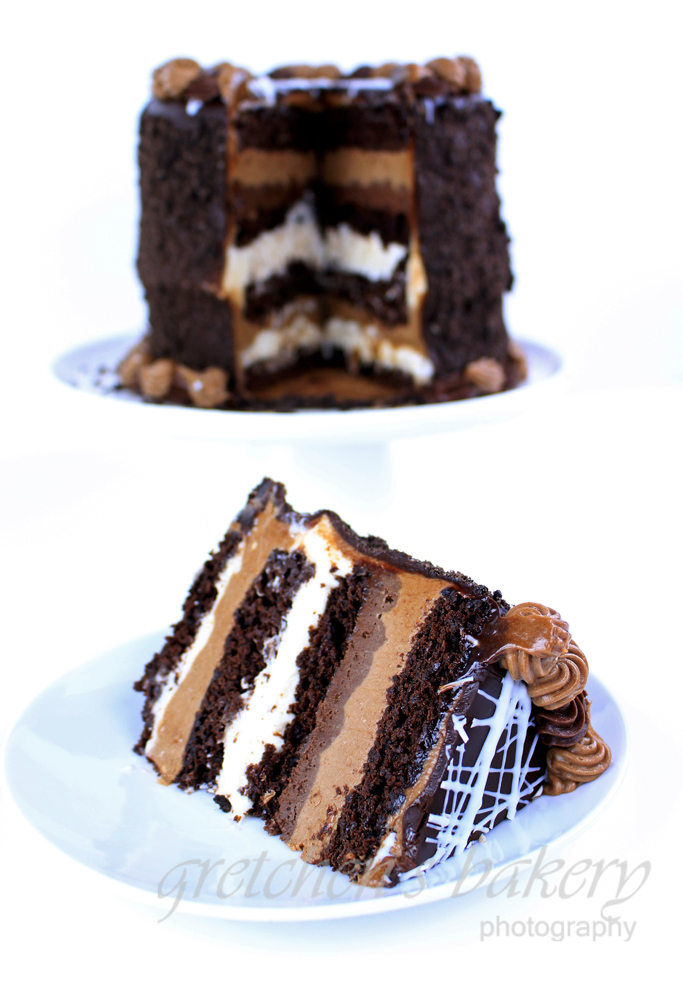 You can be sure at Gretchen's Vegan Bakery  the only thing we are killing is diets!
The new and improved version has been vegan-ized, coffee-ized, Oreo-ized and smaller sized! LOL
Single servings is where it's at!
Ok, this is technically NOT a single serving, but I won't tell if you don't!
The best way to a guilt free dessert is simple: Don't tell anyone you are making it so when you finish it all by yourself, you have no guilt because no one knew it existed in the first place!
In the video you will notice I used 2- 5″ Ring Molds to build the cake.
It is not necessary to build the cake in ring molds, but it does help.
You can of course build this cake traditional style (meaning just build it and ice it as you would any layer cake) however since this is such a tall cake, the ring mold will help to keep it all together, prevent leaning and flopping and well…. it's kinda professional~ like.
Death to Diets Cake
I usually start the baking of the brownie and mix the buttercream recipe, fudge icing, cream cheese icing and ganache on one day; then assemble the cake the next day.
It is so much easier to divide up your time that way so you are not spending what seems like a lifetime in the kitchen making this cake from start to finish.
Having the recipes prepared in advance is a lifesaver.
Ingredients
For the Brownie Batter:
Granulated Sugar 1½cup (300g)
Coconut Oil or any vegetable oil you prefer 8 tablespoons (120ml)
Natural or Dutch Process Cocoa Powder ⅔ cup (60g)
Hot Water ⅔ cup (160ml)
Ground Flax Seeds 6 Tablespoons (48g)
Hot Water 8 Tablespoons (120ml)
Vanilla Extract 2 teaspoon (10ml)
All Purpose Flour 1 cup + 6 Tablespoons (175g)
Salt ¼ teaspoon
Baking Powder 1¼ teaspoons
Additional Recipes:
Ganache Icing: 8 ounces vegan chocolate + 6 fl. ounces of soy milk
Cream Cheese Icing Recipe BELOW
* we will be making some the buttercream mocha (optional) so you will also need instant coffee granules
Chocolate sandwich cookies for garnish *optional
Instructions
For the brownie batter:
Combine the ground flax and 8 Tbs hot water and let stand for 5 minutes to thicken.
Combine the cocoa powder with the other measure of hot water (the ⅔ cup) and whisk smooth
Add the melted coconut oil
In a large mixing bowl combine the sugar, flax mixture, cocoa paste mixture and vanilla extract and whisk smooth
Sift the flour with the salt and baking powder and add to the chocolate mixture, whisk smooth
Pour batter into greased cake pans or the ring mold as shown in the video
Bake in a preheated 350°F oven for about 25 minutes or until they are springy to the touch when you gently press the centers
Cool completely before assembling the cake as shown in the video
To make the Mocha Icing dissolve 1 Tablespoon instant coffee granules with 2 tablespoons warm water, add to half of the buttercream recipe at the last stage of mixing, mix smooth
For the Vegan ganache: Warm the chocolate and milk alternative together in a sauce pot stirring constantly until melted and smooth
Notes
Death to Diets cake must be kept refrigerated, store air tight for up to 10 days
FOR THE CREAM CHEESE ICING:
I like to add a small amount of vegan buttercream to my cream cheese icing, but this is completely optional!
If you have some on hand, try it!
If not, it's perfectly prefect just as is!

Cream Cheese Icing
Ingredients
Vegan Cream Cheese 1 Tubs (1 cups) (237g)
Vegan Butter 4Tablespoons(56g)
Confectioner's Sugar 1 cups (120g)
Vanilla Extract ½ teaspoon
Vegan Buttercream 1 cup *optional
Instructions
Smooth cream cheese and the softened vegan butter BY HAND with a wooden spoon or spatula
Add sifted confectioners sugar, mix evenly
Add extract then add optional vegan buttercream icing
Mix smooth