*Trigger warning, The video tutorial is from my NON Vegan days, but all the same rules apply here just by inserting my NEW AMAZINGLY BETTER VEGAN RECIPES!!
This is probably my 3rd time showing you all how to build a wedding cake in my 8+ year on youtube!
Practice makes perfect don't you know!
I am happy to do it though, since each time I do I feel that I am providing more valuable information based on the questions I get regularly on this topic.
And of course you do not have to stick to the vanilla & chocolate layers as I show here, but feel free to use any of my awesome cake recipes instead; as well as the pan sizes if you need a bigger or smaller cake.
The exact cake I show you in the video (and the recipes below) will serve 60 -70 people, not including the top tier which is typically the anniversary tier for the bride & groom to take home.
You will just have to re calculate your math to accommodate the pan sizes you are using.
The hardest part is figuring out the math to determine the batter you will need, and since I never make my recipes in cups or weights (sorry!) the rule of thumb for baking ALL cake layers is to  fill the pan just slightly more than half full.
You may want to check out the original Gretchen's Bakery How to Make a 3- Tiered Cake post & video from before my vegan days,  since too much information is never a bad thing! Especially when you are approaching the task of building a wedding cake for the first time!
I also have some information on a separate blog post for How to Cover Cakes in Fondant since that is a whole other topic that I did not address here, however many people are using fondant for tiered cakes so that post is a wealth of information as well!
For today we are going to make a simple yet elegant and classically decorated wedding cake just to cover the basics of building the cake so it is sturdy and will hold up for hours during your reception event!
Once you have a sturdy base foundation~ you are free to decorate to your wildest imagination if you think my design here is too conservative for you!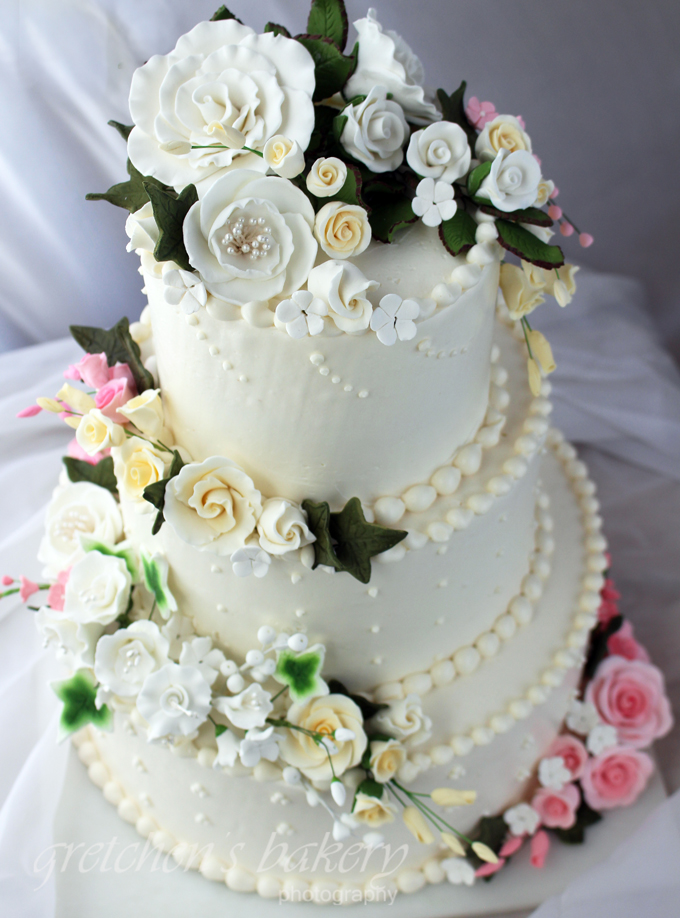 All the rules are the same no matter what cake recipe you use and whether you decorate with fondant or buttercream!
If you are using fondant, the only thing that is different is: instead of the final icing of buttercream, you cover the crumb coated cakes directly with fondant.
That's it. You will proceed exactly the same way as shown in the video, with the doweling technique and even the buttercream glue between the layers!
Only with a fondant iced cake, you will only need 2 times the recipe of buttercream for just the icing. (3X if you are filling the cake layers with buttercream!)
A Cake Turn Stand is helpful and if you get the Ateco brand that I use, it will last you a lifetime! I have had mine since I was in high school! (and believe me that was a lifetime ago!)
You will need wooden dowels, cardboard circles to the same diameter of your cake pans and an offset spatula and/*optional bench scraper for icing your cake.
I got the fondant flowers from Fondant Flowers.Com at the time of making this tutorial, and again this was BEFORE My Vegan Days, so just be careful where you are buying the decor, since these would not be vegan.
You can of course make stunning buttercream flowers as an alternative and I have a step by step tutorial for how to make those CLICK HERE
Of course you have to plan out your cake recipes and icing and fillings as I explained in the video, but for the same exact cake as I made you will need recipes as follows.
Be sure to watch the video below for the How to Cut  Wedding Cake tutorial!
The recipes below will make a wedding cake that has 2 layers of chocolate cake and 2 layers of vanilla cake in each tier.
In the video you can see I only made a 3 layer cake for each tier.
It is entirely up to you if you want to do 3 or 4 layers per cake, or torte them and trim them to your liking.
It's always better to have slightly more cake than less when taking on such a  task as building a wedding cake.

Best Vegan Vanilla Cake
The following recipe is calculated to yield 2-7" + 2-5" layers
For the 2-10" layers mix the recipe 1½ more times. Be careful of your math on a recipe for 1½X - this is usually where the recipes fails,
POOR MATH or measuring skills
!
No matter what pan size you are using though, fill pans half full!
Since the development of
The Plant Based Egg egg replacer by Freely Vegan
I do prefer to use that now. Not only you do not see the flax specks in the final cake and the binding properties is has compared to other egg replacers is by far my NEW FAV! **You will add the Plant Based egg replacer to the dry ingredients, no need to reconstitute, and add the water to the recipe as shown in the video
Ingredients
White Vinegar 1 Tablespoon (15ml)
Soy Milk 1 cup (237ml) *or any milk alternative of your choice
Vanilla Extract 2 teaspoon (10ml)
Cake Flour 2½ cup (300g) *all purpose is ok if you cannot get cake flour CLICKHERE
Golden Flax meal 4 Tablespoons (36g) *Or 2 Teaspoons egg replacer, see note above
Warm Water (*approx 100°F)10 Tablespoons (150ml)
Granulated Sugar 1½ cup (300g)
Baking Powder 4 teaspoons (20g)
Salt 1 teaspoon (6g)
Vegan Butter 12 Tablespoons (170g)
Instructions
Combine the flax meal with the hot water and let stand to thicken, OR if using the Plant Based Egg, add that to the dry and the water goes in separate as shown in the video
Add the vinegar to the soy milk to sour then add the vanilla extract
Sift the flour with the baking powder and salt
Cream the vegan butter with the sugar until light and fluffy and this may take about 3-5 minutes on medium to high speed
Add the flax paste (Or just the water if using the plans based egg) to the creaming mixture while mixing on medium speed, scrape the bottom and sides of the bowl to incorporate evenly, whip on high for 30 seconds
Add about ⅓ of the flour to the creamed mixture while mixing on low speed just until combined, then add half of the remaining soured milk
Add another ⅓ of the flour and then the remaining sour milk
Add the last amount of flour and mix just to combine evenly.
Portion the batter between your greased and parchment lined cake pans and bake immediately in a preheated 350°F oven for approximately 25-30 minutes or until they are springy to the touch when you gently press the centers, or the good ol' toothpick test comes out clean!
Cool cakes in the pan until you can touch them with your hands and then flip them out onto a cooling rack.
Vegan Chocolate Cake
This recipe below will make 2-7" cake layers + 2-5" cake layers. You will then mix the recipe 1½ times again to make the 2- 10" layers.
Be careful of your math on a recipe for 1½X - this is usually where the recipes fails,
POOR MATH or measuring skills
!
No matter what pan size you are using though, fill pans half full!
Ingredients
All Purpose Flour 2 cups (250g)
Cake Flour 1 cup (120g)
Natural Cocoa Powder 8 Tablespoons (40g)
Granulated Sugar 2 cups (400g)
Salt 1 teaspoon (6g)
Baking Soda 2 teaspoons
Apple Cider Vinegar 2 teaspoons
Vanilla Extract 2 teaspoons
Vegetable Oil ¾ cup (177ml)
Strong Brewed Coffee 2 cups *Or add 3 teaspoons instant coffee to the water (approx 18g)
Instructions
Sift both flours, baking soda, salt, and sugar together in a large mixing bowl.
Combine the natural cocoa powder with the hot coffee and then add the vinegar, oil and the vanilla extract.
Pour the wet ingredients into the sifted dry ingredients and whisk vigorously with a hand whisk until smooth (about 15 strokes)
Pour batter into greased and parchment lined 8" x 2" cake pans
Bake immediately in a preheated 350°f oven for approximately 30 minutes or until a toothpick inserted into the center comes out with moist crumbs
Cool the cakes in the pan until they are safe to touch, then flip out onto a cooling rack
Build the cake as per the video tutorial
The buttercream for your cake is up to you, which ever one you like best,
I have 4 to choose from here
I will recommend the American Style Buttercream, as it is the easiest to make, the most consistent time after time and you will have to make it 5 times to cover and fill (if you are using buttercream filling that is- otherwise 3X recipe will be fine for just the icing) the entire cake.