I should have been more clear when I named these Peanut Butter Fudge Stuffed Cupcakes, since they are actually Fudge Stuffed Cupcakes with Peanut Butter Cheesecake Icing!
It is very important to understand the subtle nuances that are playing together here!
Deep chocolate cupcakes, filled with luscious  fudge icing and then wrapped with a mountain of peanut butter cheesecake icing!
This is the kind of cupcake you eat with a fork!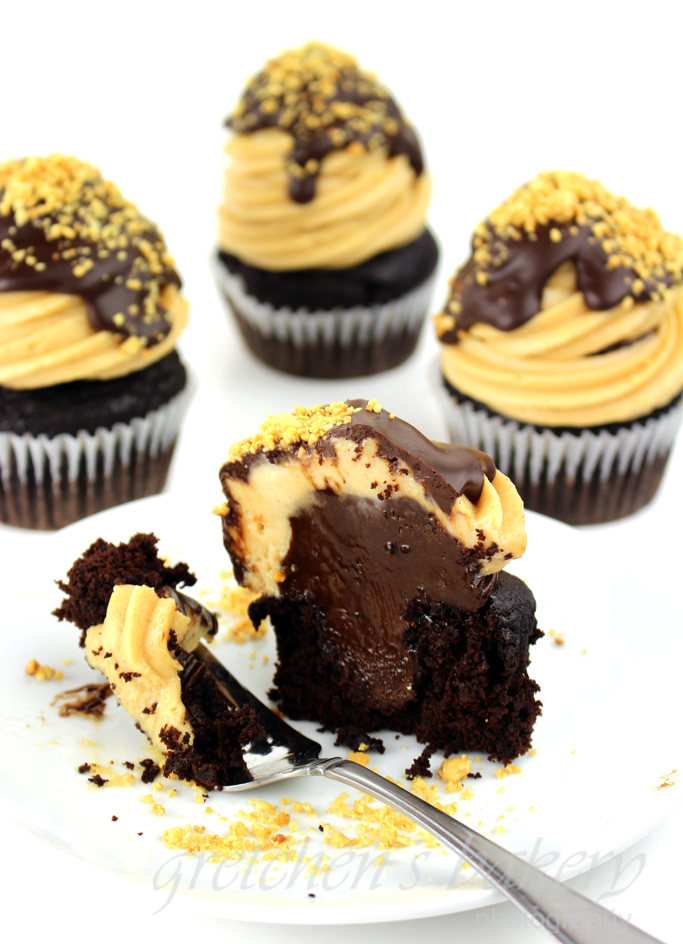 Totally decadent and just wait until you see how totally easy they are too!
It's a small building on recipes project meaning that we have to prepare 3 recipes to get to the final outcome, but as always building on recipes projects are so worth the extra effort!!
Oh wait, it's 4 recipes if you count the ganache drizzle on top, but that part is so easy just chop up 4ounces of semi sweet chocolate and melt it with ¼ cup of your favorite milk alternative!
I always like to have a batch of fudge icing on hand so it's a good idea to make the entire recipe as listed here on my famous Fudge Cupcakes post and just keep it stored in the refrigerator like I do for up to a month! (Trust me, it won't last that long!)
The peanut butter cheesecake icing is so simple to mix it literally takes about 3 minutes, but enough of me talking about it all!
Just watch the video tutorial below and grab the printable recipe while your here!
Peanut Butter Fudge Stuffed Cupcakes
This is a
Building On Recipes Project
so be sure to gather all your recipes listed below and prepare them ahead of time, then assemble the cupcakes as shown in the video above
Ingredients
1 Recipe Black Chocolate Cake baked into 14 cupcakes
1 Recipe Fudge Icing (Or half recipe if you do not want extra)
For the Peanut Butter Cream Cheesecake Icing:
Vegan Cream Cheese 1½ packages (12ounces)
Peanut Butter 1 cup
Confectioners Sugar 1½ cup (180g)
Vanilla Extract 1 teaspoon
For the ganache drizzle:
4 ounces semi sweet chocolate
¼ cup milk alternative of your choice (60ml)
Instructions
For the Peanut Butter Cheesecake Icing:
Combine the vegan cream cheese and the peanut butter on a mixer with a paddle attachment and mix on low speed to smooth out
Add the sifted confectioners sugar and the vanilla extract and mix on low speed just until combined.
Refrigerate until needed.
For the ganache:
Combine the chopped chocolate and milk in a small sauce pot over low heat stirring constantly until melted and smooth
Assemble cupcakes as shown in the video tutorial