You are going to flip over this new peanut butter mousse cake! It is so creamy and light with a layer of chocolate mouse too!
Globs of edible peanut butter cookie dough and ganache rosettes swirled high!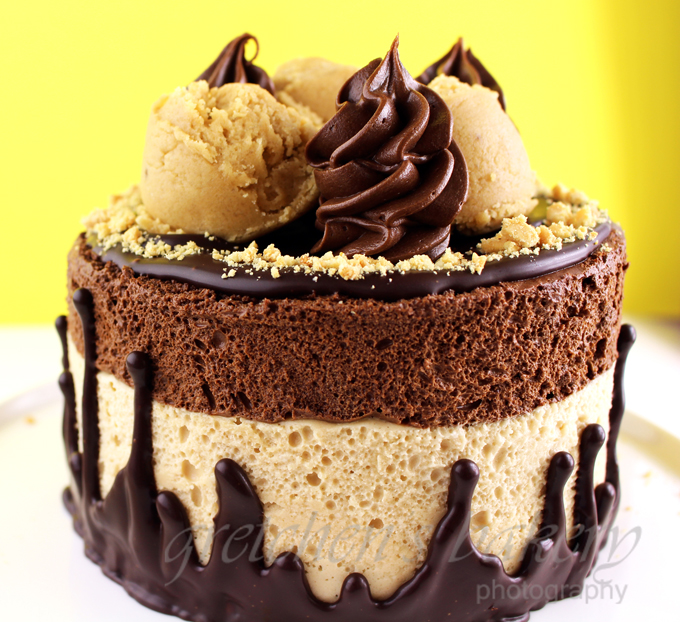 Notes for Success
As usual we are Building On Recipes which is not a surprise when it comes to cakes like this one. Which simply means we have to prepare several recipes ahead of time before we get to the final cake
But trust me it is worth the effort!
For the base I made my favorite brownie recipe so you will want to get that prepared ahead of time. Baked into a 5″ cake pan because this entire dessert today is only a 5″ cake!
You can even bake the brownie days ahead and just keep it wrapped well in the refrigerator until you are ready to build the peanut butter mousse cake.
Decide ahead of time which vegan whipped cream you are using and I have an in depth article with video explaining all about the vegan whipped cream with a homemade recipe too
In the video I used coconut milk fat from cans of refrigerated coconut milk so you will want to be sure to get your cans of coconut milk to the refrigerator to solidify the night before you start.
But this recipe can accommodate any whipped cream you prefer
Aquafaba is a replacement for the original meringue from egg whites that is used in traditional non vegan mousse recipes
It is the water from a can of chickpeas that when whipped, will transform into the most beautiful glossy thick meringue you have ever seen!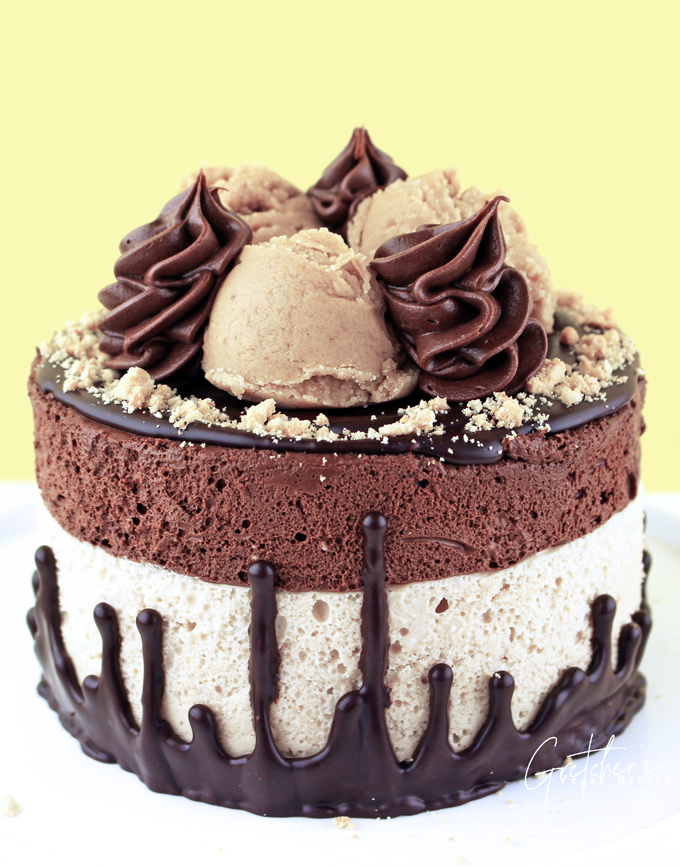 Safety around Raw Dough!
Raw cookie dough garnish is completely optional but I think it really ties the whole look together!
Besides who doesn't love to eat raw cookie dough!? Just be sure to toast your flour for the recipe first so make it safe to eat raw!
There is an advisory to eating raw cookie dough though. Since there has been some trouble with raw flour and salmonella and EColi associated with eating raw flour, it is recommended to toast the flour sufficiently first before using it for raw dough recipes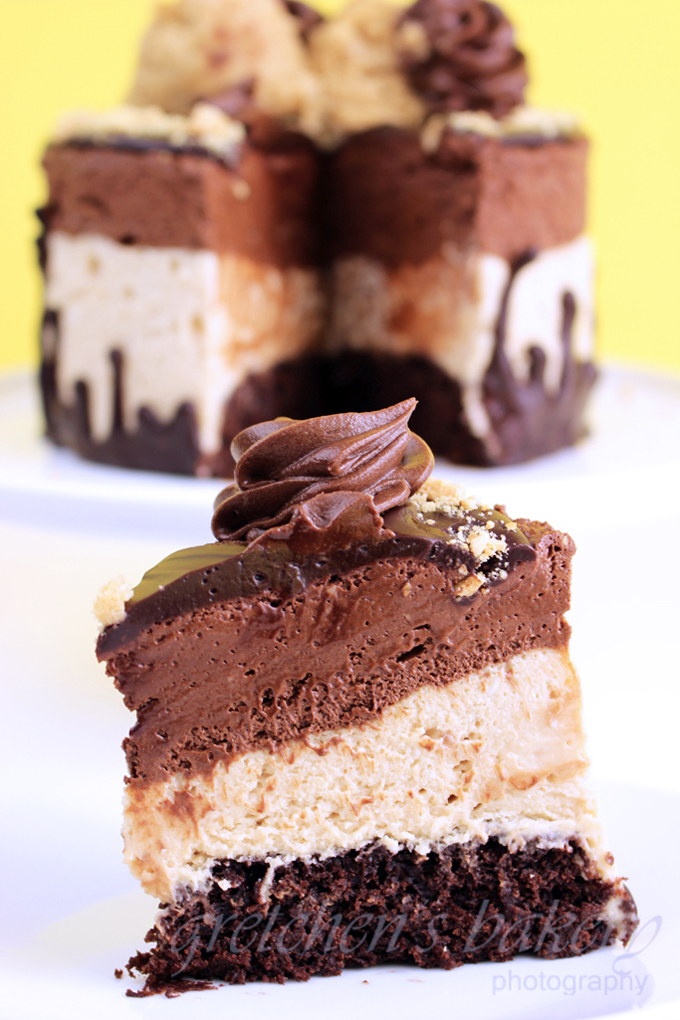 CHECK OUT THE FULL YOUTUBE VIDEO TUTORIAL FOR HOW TO MAKE THIS AWESOME CAKE!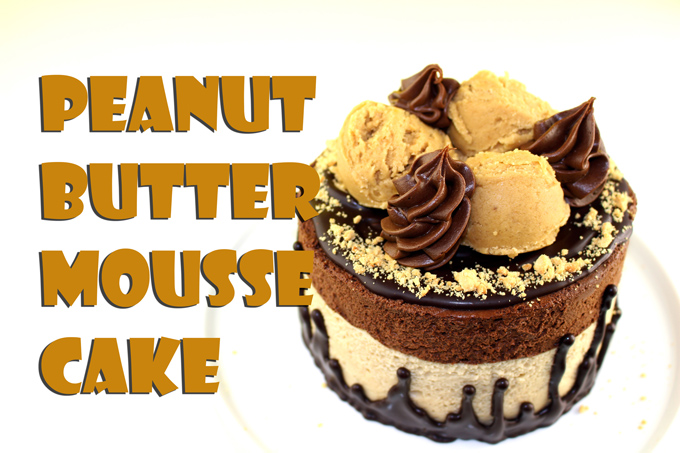 For more recipes with peanut butter click the links below!
Death by Peanut Butter Fudge Brownie Cheesecake
Peanut Butter Fudge Stuffed Cupcakes
Yield: Serves 6 people
Peanut Butter Mousse Cake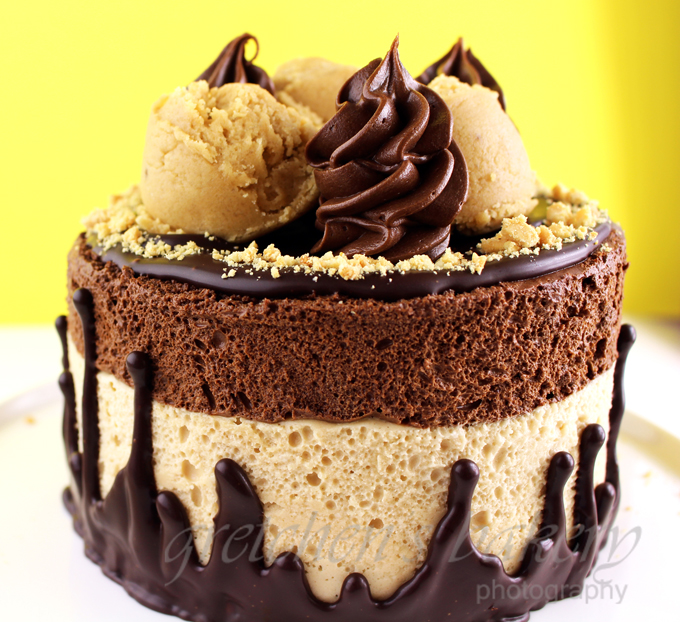 Ingredients
For the Peanut Butter Mousse
Creamy Peanut Butter ¾ cup (195g)
Plant Milk 2 tablespoons (30ml)
Vanilla Extract 1 teaspoon (5ml)
Aquafaba ¼ cup (60ml)
Granulated Sugar 2 tablespoons (28g)
Cream of Tartar ¼ teaspoon
For the Chocolate Mousse:
Semi Sweet Vegan Chocolate 1 scant cup (113g)
Brewed Coffee 2 Tablespoons (28g)
Vanilla Extract 1 teaspoon (5ml)
Aquafaba ¼ cup (60ml)
Granulated Sugar 2 tablespoons (28g)
Cream of Tartar ¼ teaspoon
Instructions
Prepare the brownie recipe as per the instructions on that recipe post and bake it into the same size pan as you will be building your final mousse cake, I have used a 5" ring mold for mine, so I baked the brownie in a 5" cake pan
Prepare the peanut butter mousse by slightly melting the peanut butter in the microwave or a small sauce pot just to make is easier to mix, then add the plant milk and vanilla extract, whisk smooth
Whip the aquafaba with the cream of tartar on high speed and gradually add the sugar 1 tablespoon at a time~ Whip to stiff peaks.
Whip the vegan whipped cream to soft peaks (you will need 1½cups total volume of whipped cream) then fold into the peanut butter base.
Fold in the aquafaba last and then pour into the ring mold fitted with the brownie base.
Freeze while you prepare the chocolate mousse.
Melt the chocolate and then add the brewed coffee and vanilla extract. Whisk smooth
Whip the aquafaba with the cream of tartar on high speed and gradually add the sugar 1 tablespoon at a time~ Whip to stiff peaks.
Whip the vegan whipped cream to soft peaks (you will need 1½cups total volume of whipped cream) then fold into the chocolate mousse base.
Pour over the peanut butter mousse layer and then freeze for at least 4 hours or until it is set and firm and then refrigerate it until serving time (up to 1 week refrigerated)
While the mousse cake is setting prepare the cookie dough recipe as per the instructions on that page just be sure to toast the flour on a sheet pan at 350°F for 10 minutes to kill any bacteria that could be present since you are not going to be baking the dough into cookies.
Also, you will see that the cookie recipe I am using listed fudge filling, but you will only prepare the dough part, not the fudge filling part. Scoop the cookie dough into balls for the garnish for the top of the cake as shown in the picture. Any remaining cookie dough can be frozen or baked into cookies
For the drip, prepare the ganache by warming the chocolate with the plant milk together in a small sauce pot over low heat stirring constantly until smooth.
Pour the ganache over the top of the frozen mousse cake, then refrigerate until serving.
The remaining ganache will set to a pipeable consistency for the rosette decor
*Optional garnishes as shown in the video
Notes
Mousse cake must be kept refrigerated at all times.

Will stay fresh refrigerated for up to 1 week.

Freeze for longer storage, wrapped well for up to 1 month