Creamy pumpkin cheesecake on gingerbread cookie crust with candied pecans.
There's really not much more to say here except these Pumpkin Pie Cheesecake Bars are out of this world!!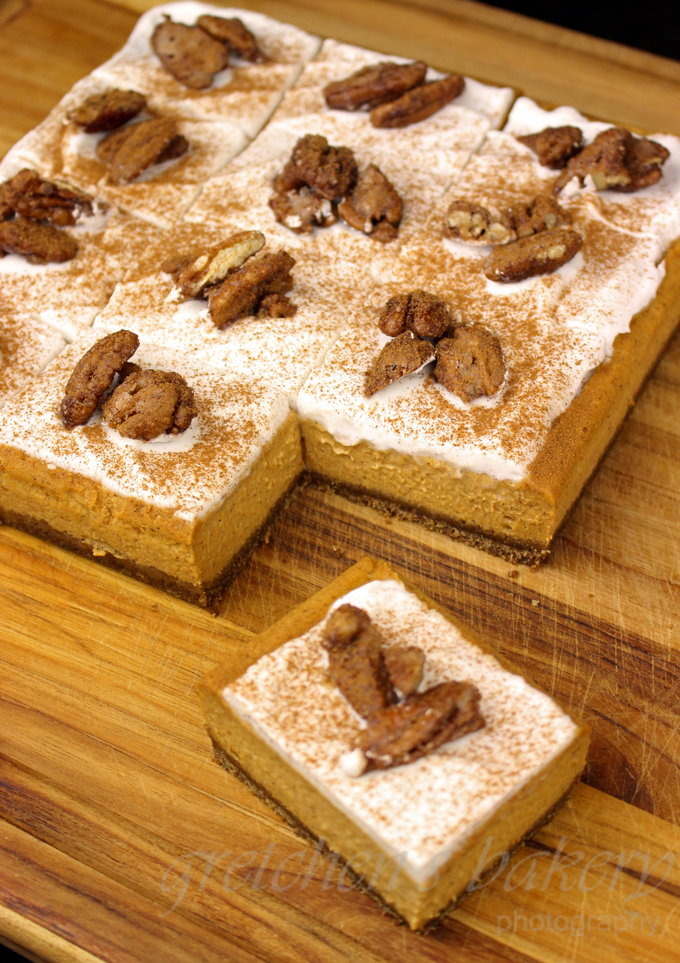 I love pumpkin season for all things food, so for me this is just one more spin on everything amazing!
Gingersnap cookie base is just perfect to bake this creamy New York style pumpkin cheesecake recipe.
The candied pecans are outright dangerous so I would recommend to make a double batch of those, since half will be gone by the time you are ready to sprinkle them on the top!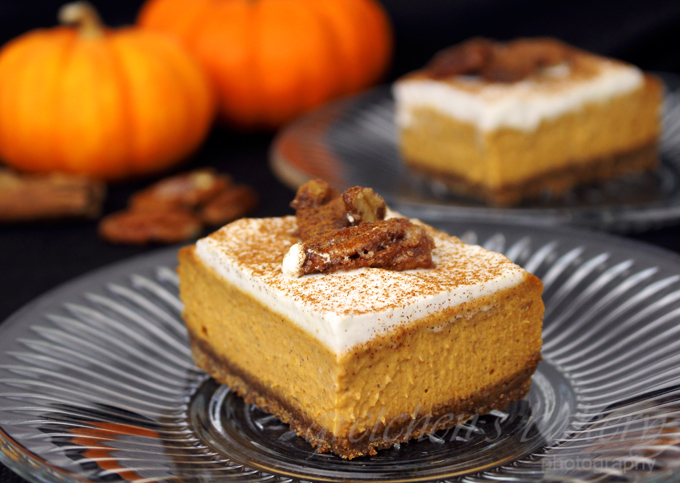 I do understand not everyone can get vegan cream cheese, so if that is you, by all means just make the pumpkin pie recipe instead for an equally amazing dessert!
OR If you don't want to bake this recipe as bars, go ahead and bake it all in an 8″ round cake pan just like I did here for my original pumpkin cheesecake recipe!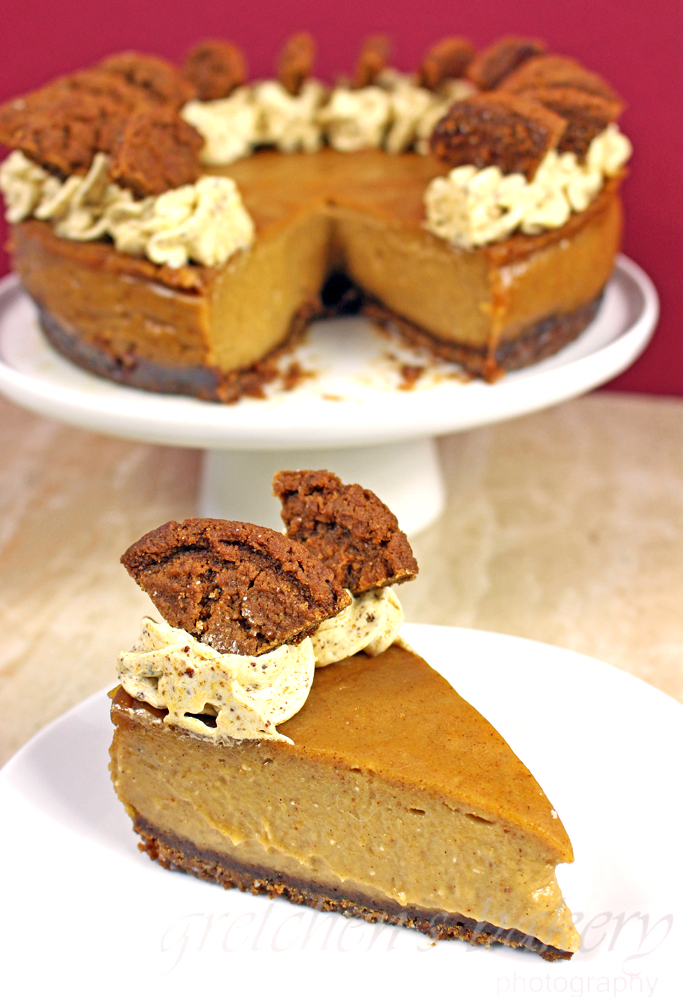 Pumpkin Cheesecake Bars
You will notice I am also using the Plant Based Egg egg replacement in this recipe, and while it is not imperative, I do think it adds to the final texture, body and creaminess of the cheesecake. If you do not have it or do not want to buy it, you can leave it out and add 2 Tbs more cornstarch.
I will only use Tofutti brand cream cheese for baking, I have not had good results with any of the other brands.
Ingredients
For the candied pecans
Aquafaba 1½ Tablespoons
Vanilla Extract 1 teaspoon
Pecans 4 ounces (approx 1 cup)
Granulated Sugar ¼ cup (50g)
Cinnamon ½ teaspoon
Ground Ginger ¼ teaspoon
Ground Nutmeg ⅛ teaspoon
Cloves ⅛ teaspoon
Salt pinch
For the crust
Ginger Cookies ½ recipe (approximately 15 -18 cookies)
Vegan Butter melted 3 Tablespoons
For the pumpkin cheesecake
Vegan Cream Cheese 1½ packages (12oz) (336g) * I only use Tofutti Brand for baking
Canned Pumpkin 1 cup (226g)
Silken Tofu ¼ package (3½ounces) (98g)
Light Brown Sugar ¾ cup
Cornstarch 4 Tablespoons (32g)
The Plant Based Egg 1 teaspoon (2.4g) *see note above
All Purpose Flour 2 Tablespoons (15g)
Molasses 2 teaspoon
Salt pinch
Cinnamon 1 teaspoon
Ground Ginger 1¼ teaspoon
Cloves ¼ teaspoon
Nutmeg ¼ teaspoon
Vanilla Extract 2 teaspoons (10ml)
Lactic Acid ½ teaspoon OR Apple Cider Vinegar 1 teaspoon *optional
Vegan Butter 2 Tablespoons (28g)
Plant Milk 3 Tablespoons (90ml)
For the coconut cream layer
1 can full fat coconut milk refrigerated overnight
2 Tablespoons confectioners sugar
1 teaspoon vanilla extract
Instructions
First make the candied pecans by whipping the aquafaba until foamy. Add the vanilla extract and whip it to incorporate
Add the pecans and toss to coat well
Combine the sugar, salt & spices and add to the pecans in the bowl.
Toss well to evenly coat
Spread onto a silicone mat or a lightly oiled sheet pan
Bake in a preheated 300°F oven for 20 minutes, stir them up after you take them out of the oven and redistribute and cool
Prepare the crust by combining the gingersnaps and the melted vegan butter together in a food processor and process until it resembles wet sand.
Press into the bottom of the parchment lined cake pan, refrigerate while you prepare the pumpkin cheesecake
For the Pumpkin Cheesecake: combine all the ingredients in a food processor and process smooth.
Pour the cheesecake over the prepared crust and bake in a water bath in a preheated 350°F oven for 50 minutes.
Cool out of the oven and then refrigerate for at least 4 hours or overnight.
Prepare the coconut cream by scooping the fat from the cans of cold coconut milk (reserve the liquid for another recipe) whip to soft peaks with the confectioners sugar and vanilla.
Spread over the cold cheesecake while still in the pan, sprinkle with the candied pecans
**The coconut cream layer is optional, but I kinda like the layered look of this pumpkin cheesecake bar. If you opt out of the coconut cream layer, simply sprinkle the candied pecans directly on the cheesecake once it comes out of the oven and is still hot.
Notes
I serve these bars right out of the pan, but the parchment paper overhang helps to lift the entire bar out of the pan if you prefer to present it on a serving platter.

Cheesecake bars must be kept refrigerated but will be fine at room temperature for up to 2 hours.

Store for up to 1 week in an airtight container in the refigerator