The Coconut Almond Candy known as the Ferrero Rocher Raffaello just got turned into a cake!
The Raffaello cake is complete with knock off copy cat recipe for Raffaello candy to decorate the top of every slice!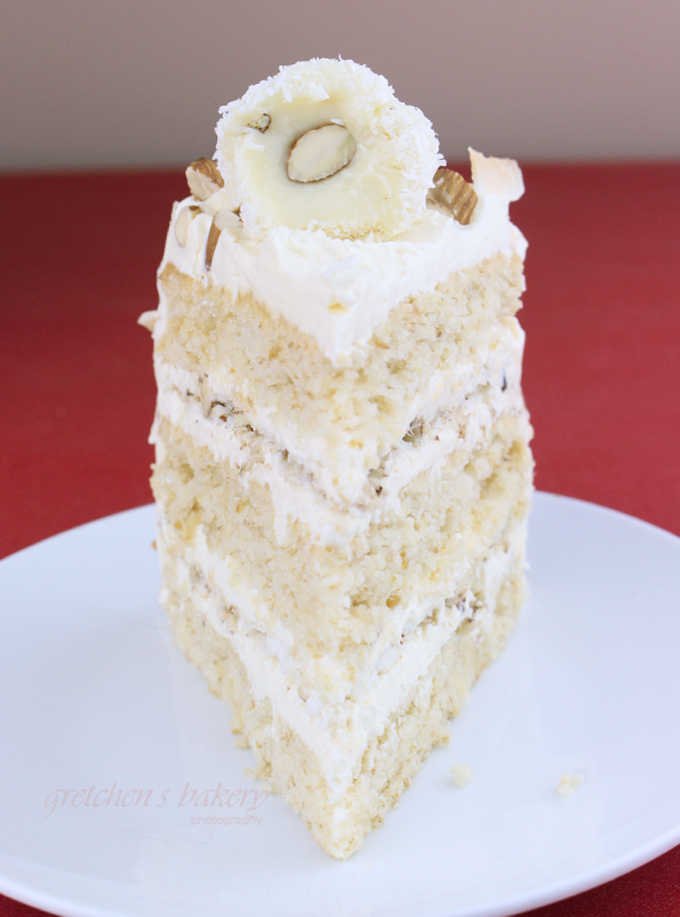 Raffaello's are coconut almond truffles stuffed with a roasted almond and then coated in coconut.
For those not familiar with the Raffaello, it is the not so distant cousin of the famous Ferrero Rocher chocolate confection!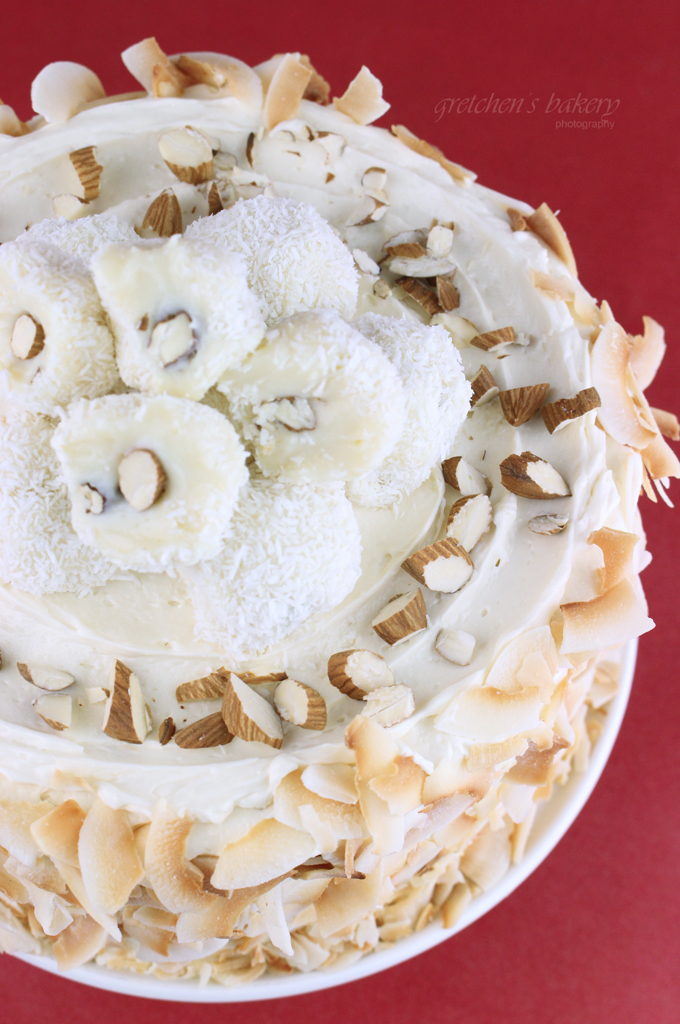 I'm not going to lie, this is one hefty cake project
Since not only do we have to make coconut cake layers but we also have to make layers of almond dacquoise too!
But if you want to make your life easier though you can definitely leave the daquiose part out although this to me is what makes this whole cake so fantastic!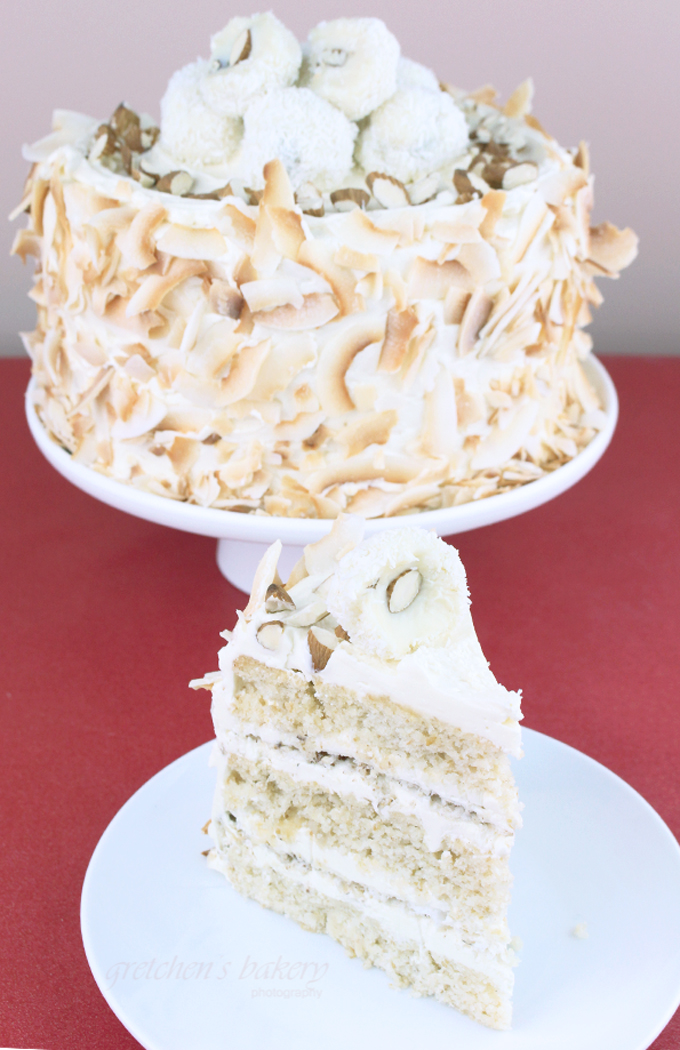 Notes for Success:
If you are making the Rafaello truffles for this cake be sure to start the preparation the day before
I am using 3-7″ cake pans for the cake layers but you can use 2-8″ pans if that is all you have.
Coconut cake can also be made ahead of time and just wrap the layers well and freeze them until you are ready to assemble to cake.
If you don't have cake flour you can use all ~ all purpose flour instead
Truffles can be made days or even a week in advance but the dacquiose is one recipe I would save for the morning on the day you are making the final cake
If you leave a meringue out exposed to the elements it will attract moisture and lose its characteristic crispness.
If this is not possible, then just be sure to wrap it really well so it is not exposed to the air; I did this and it was fine
Making the dacquoise, or any meringues for that matter can be tricky and I prefer to use a dehydrator for the dacquoise but it can be done in the lowest setting of you oven.
My oven does not go below 170°F and my dehydrator obviously has much lower settings.
Aqauafaba does not like high temperatures and while 170°F technically is not a high temperature, I still like to control it by staying at 155°F and lower.
Either way it will take 2 – 3 hours to dry them out.
The cream of tartar is a helpful ingredient that aids in the stability of meringue, but if you don't have it, it's ok to leave it out.
Addtionally, when using canned aquafaba always try to find NO SALT or at least low sat chickpeas
ALSO: The recipe below for almond dacquoise is definitely more than you will need for the 2 meringue discs for the cake!
You can half the recipe or just make meringue kisses like I did!
In my opinion, after all the trouble to dry out the meringues it is nice to have more to show for all that time!
Afterall who doesn't like a couple dozen almond meringue kisses!?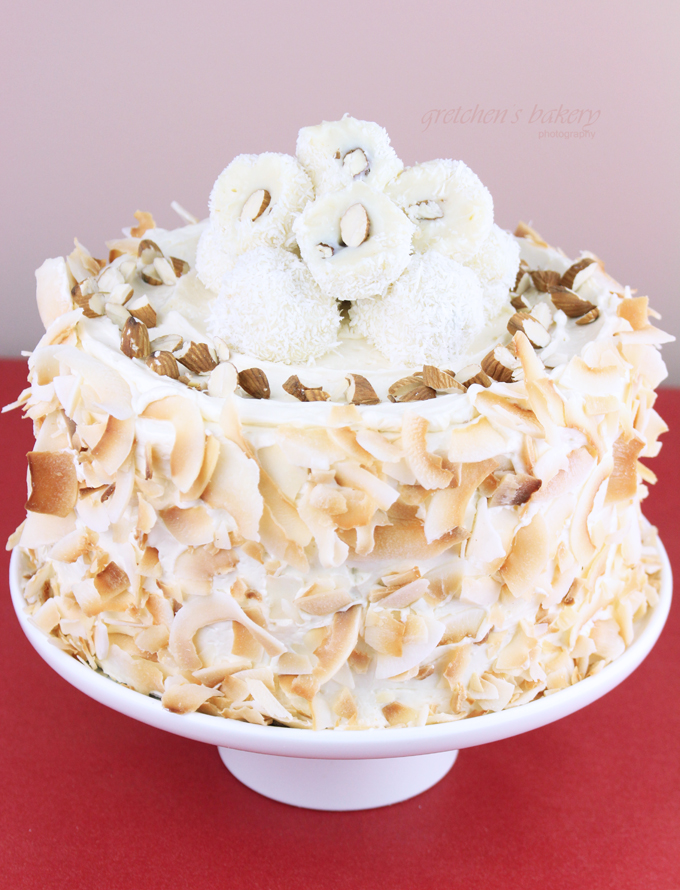 CLICK HERE FOR THE YOUTUBE VIDEO TUTORIAL FOR HOW TO MAKE THIS CAKE!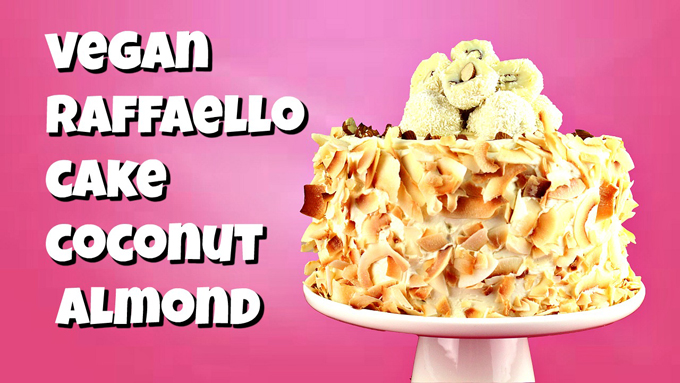 Click the links below for more great cakes like this one!
Vegan Ferrero Rocher Mousse Cake
Yield: serves 12 people
Raffaello Cake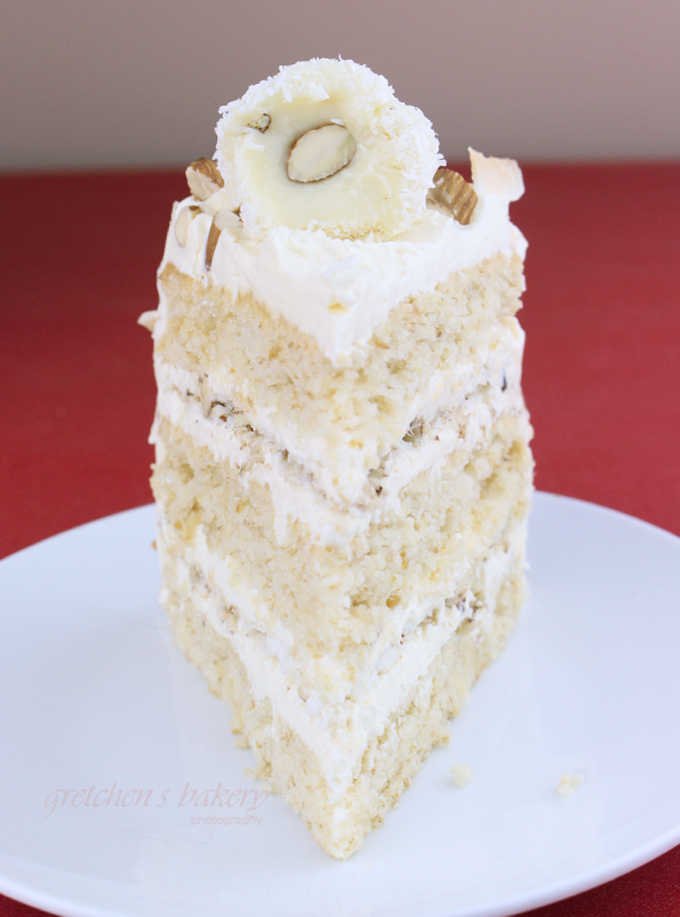 Total Time
4 hours
35 minutes
Ingredients
For the Homemade Raffaello Truffles
Vegan White Chocolate 6 ounces (1 scant cup)
Canned Coconut Milk 5 Tablespoons (75ml)
Roasted Whole Almonds 12
Unsweetened Shredded Coconut ½ cup
For the Almond Dacquoise
Aquafaba Liquid ¾ cup (177ml)
Cream of tartar ¼ teaspoon *see notes
Granulated Sugar ¼ cup + 2 Tbs (75g)
Vanilla Extract 1 teaspoon
Roasted Almonds heaping ½ cup
For the Garnish on the cake:
2 cups coconut flakes and more almonds as needed
Instructions
Make the truffle ganache by melting the vegan white chocolate and then add the warmed coconut milk and whisk smooth
Refrigerate overnight until it is to a scoop-able consistency
Scoop the truffles with a #100 scoop and roll into perfect balls after inserting a roasted almond into the center of each one.
Roll in the shredded coconut and keep refrigerated until needed
First Make the Dacquoise by whipping the aquafaba on high speed with a balloon whip attachment on a stand mixer.
Combine the cream of tartar with about 1 Tbs of the sugar and add it slowly to the whipping meringue, then add the remaining sugar 1 Tbs at a time until you reach stiff glossy peaks.
Add the vanilla extract and then fold in the finely ground almonds and pipe into a 7" disc on a parchment or silicone lined sheet pan and then either dehydrate at 155°F or bake on your lowest oven setting (not more than 175°F) for 2- 3 hours or until crispy and thoroughly dried out
Prepare the coconut cake recipe of your choice (I love the new one bowl mix recipe!!) and then divide the batter amongst 3-7" cake pans bake in a preheated 350°f oven until they are springy to the touch when you gently press the centers.
Next Prepare the buttercream as per the instructions on that blog post then add the coconut flavor last.
Assemble the cake as shown in the video
Notes
Raffaello Cake can be stored at room temperature for up to 2 days in very cool temperatures, but if it is too warm the cake will start to droop.
For longer storage keep refrigerated wrapped to prevent drying for up to 1 week.
Cake can be frozen for up to 1 month wrap well