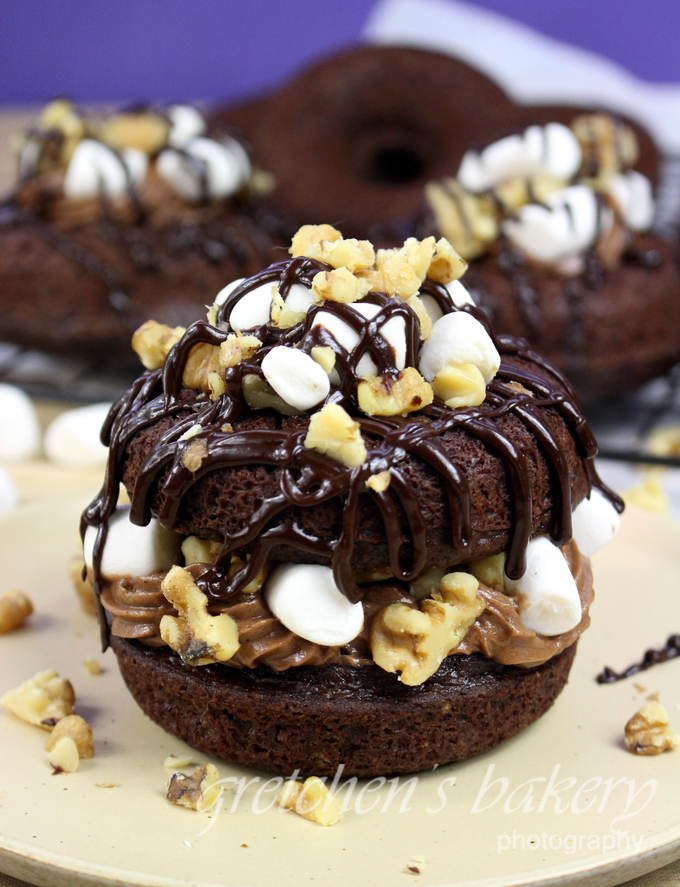 Rocky Road Donuts on this fine Sunday!
Double decker chocolate cake donut stacked with chocolate buttercream, walnuts and marshmallows!
Oh and don't forget that chocolate drizzle!
Every time I write a new recipe I have to categorize it appropriately.
Naturally Donuts are for breakfast right?
I'm not so sure about this one though; by the looks of it I think it needs a category of it's own!
This is definitely one donut that is more like dessert since you also need a fork to eat it due to it's double decker stature.
Of course you could do single decker like I thought I was going to in the beginning.
But once I got going with these, it was full on Fat Pants Sunday mode and I was piling it up as high as I could get it!
Rocky Road was one of my favorite ice cream flavors.
Chocolate, marshmallows and walnuts stuffed into a sugar cone on a summer day was the ultimate treat!
You can substitute any nut you prefer if you can't do walnuts like so many people cannot.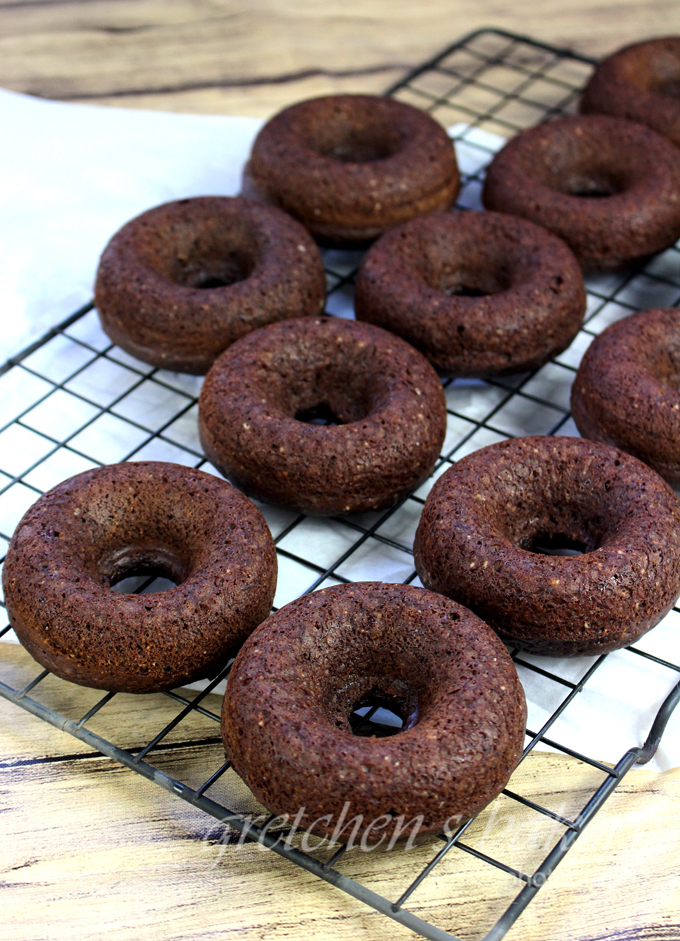 The recipe for cake donuts is so easy all you need is a mixing bowl, a couple of donut pans and about 30 minutes total.
Seriously these will be baked and cooled and ready for stacking in no time so get your marshmallows ~ courtesy of Dandies Marshmallows ready.
Toast your nuts and get a small recipe of chocolate ganache on the stove for the perfect chocolate drizzle in a pinch!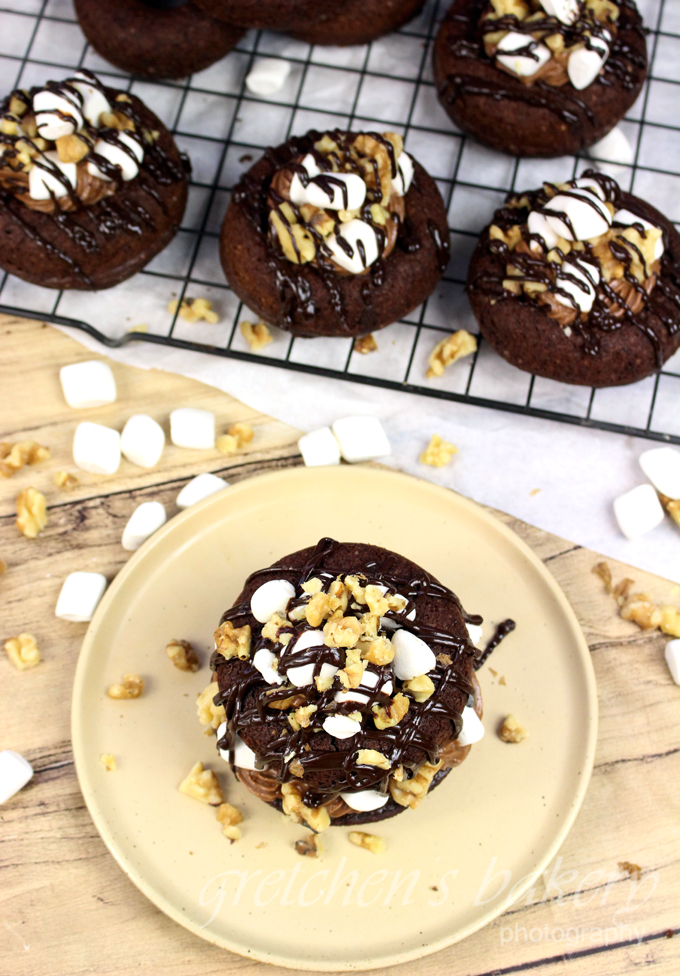 It's so easy to create hundreds of different flavor combos when you have a really great base recipe like these chocolate cake donuts.
If you recall a couple years ago I made Chocolate Caramel Turtle Donuts with this same idea!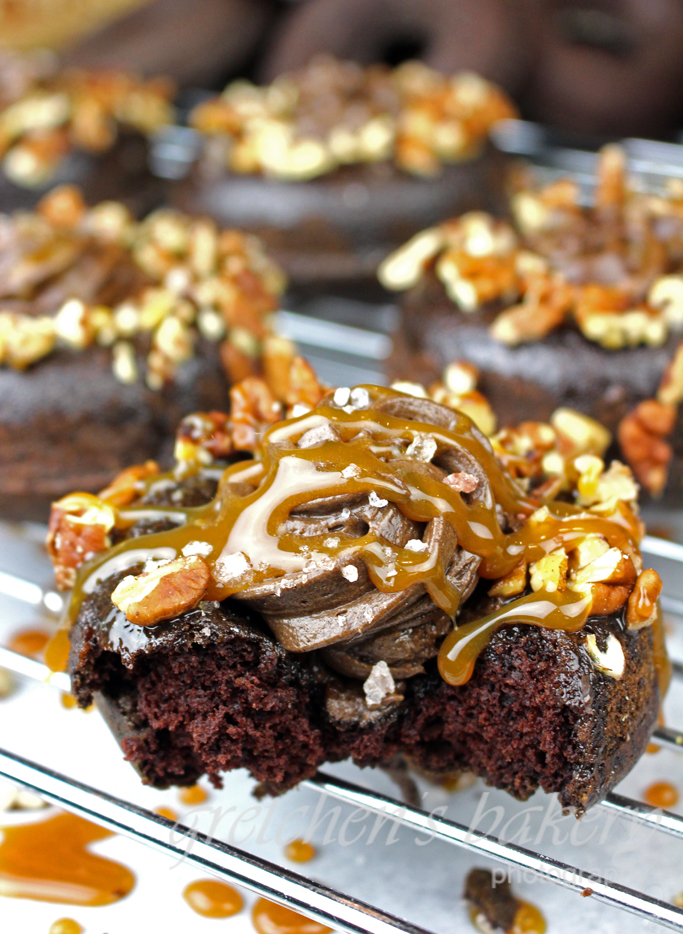 CHECK OUT THE FULL VIDEO ON YOUTUBE FOR HOW TO MAKE THESE ROCKY ROAD DONUTS!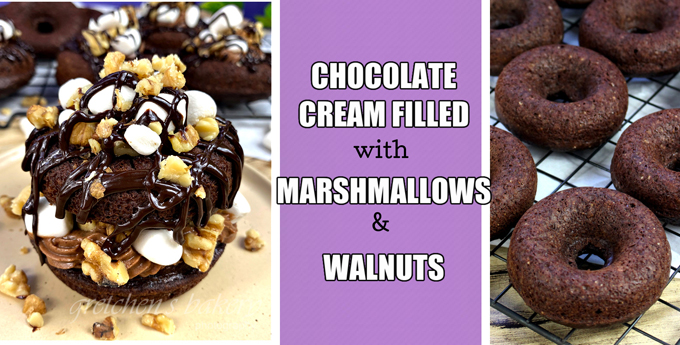 Rocky Road Donuts Vegan
Ingredients
For the Donut Batter:
All Purpose Flour 1 cup (125g)
Natural Cocoa Powder Unsweetened¼ cup (20g)
Light Brown Sugar ½ cup (105g)
Baking Soda 1 teaspoon
Salt ¼ teaspoon
Plant Milk ½ cup (120ml)
Ground Flax Seed 1 Tablespoon (8g)
Hot Water 3 Tablespoons (45ml)
Coconut Oil Melted 4 teaspoons *Or vegetable oil is fine
Vanilla Extract 1 teaspoon (5ml)
½ Recipe Vegan Buttercream *You will still have extra buttercream even if you make just half, but the buttercream can freeze for up to 3 months! So it's worth it!
Cocoa Powder ¼ cup
½ Recipe of Ganache *You will also have a small amount of ganache leftover too, but I like to leave the excess in the refrigerator, you just never know when you will want to drizzle chocolate sauce on something!
Walnuts lightly toasted in a 275°F oven for 8-10 minutes ½ cup - 1 cup to your liking
Dandies Marshmallows ½ cup - 1 cup to your liking
Instructions
For the donut batter:
Preheat the oven to 350°F and lightly spray the donut pans with pan spray
Combine the ground flax seed with the hot water and whisk smooth
Let stand for at least 5 minutes to thicken to a paste
In a large mixing bowl combine the plant milk, melted coconut oil, vanilla extract, brown sugar and flax paste and whisk smooth
Add the sifted flour, cocoa powder, salt & baking soda and whisk smooth.
Transfer batter to a pastry bag and pipe almost to the top into each of the lightly greased cavities.
Bake in a preheated 350°F oven for approximately 10-12 minutes for the larger donuts (8 minutes for the mini sized donuts pan). or when they spring back when gently pressed they are done.
Next prepare the buttercream recipe as per the instructions on that page and at the last stage of mixing add the cocoa powder, mix smooth
Once the donuts have cooled you can fill the centers with chocolate buttercream, add the toasted walnuts & marshmallows & drizzle with optional ganache sauce.
Of course if you DOUBLE this recipe you can make the Double Deckers like I did in the video!
Notes
Donuts will stay fresh for up to 3 days at room temperature in a covered container, or for longer storage refrigerate for up to 1 week in an airtight container.

Donuts can be frozen (without the added creams & nuts & marshmallows is best) wrapped well to prevent drying for up to 2 months