I'm a bit thrown off track since technically it's not really apple season as I sit here in Florida in 80°f weather!
But with a cake like this who cares!
Apples are delicious all year round and they never really go out of season!
This Vegan Apple Custard Cake is proof of that!
It is 90% a no bake dessert and if you forgo the vanilla cake base and replace that with a cookie crust it can be 100% no bake!
With five distinct layers of creamy custard-y goodness and a beautiful apple gelee to top it off!
Fortified with a little bit of agar to help it stabilize so it can stand alone.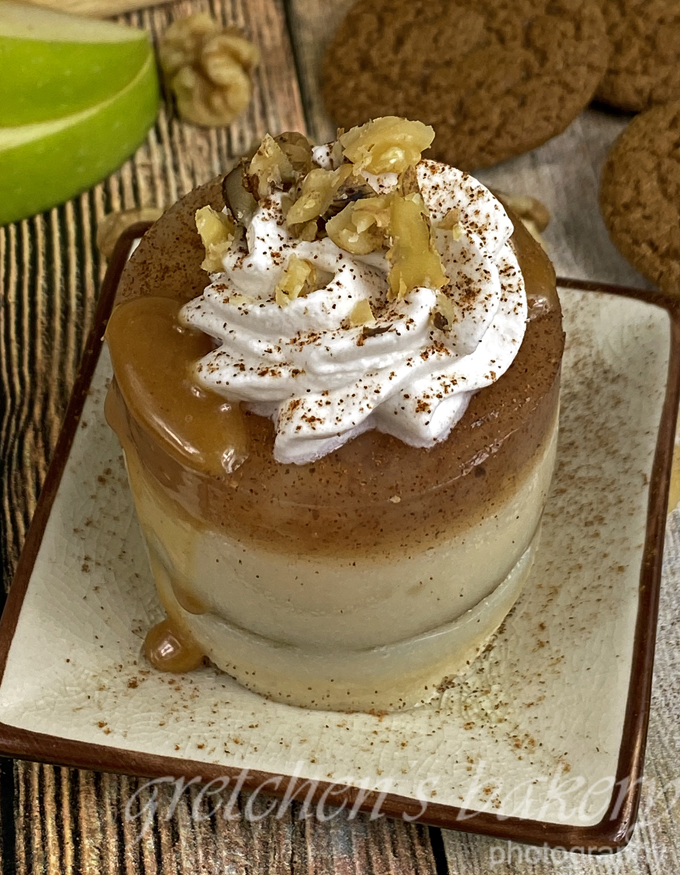 There is a fine balance that needs to be recognized when it comes to agar in desserts.
Too much and it has an off taste that prominently comes through and can ruin the whole thing.
Not to mention it will be more rubbery than a bouncing ball!
Too little and you will have floppy, soupy custards and fillings in your cakes.
Read more about agar as a gelatin replacement in vegan dessert making here!
Cold preparation desserts like this are so versatile and can be made in so many different ways.
As you can see I made individual desserts as well as a larger slice-able cake too!
So don't worry though if you think you will have to buy all sorts of special molds to make something like this.
You can easily make the individuals in muffin tins like I did in my recent Chocolate Covered Strawberry Mousse cakes, as well as the larger family style cake in a springform pan with the bottom removed!
Instant cake ring mold for a fraction of the cost!
The only thing I will stress though is that the acetate cake strips make life in the cold preparation dessert world so much easier!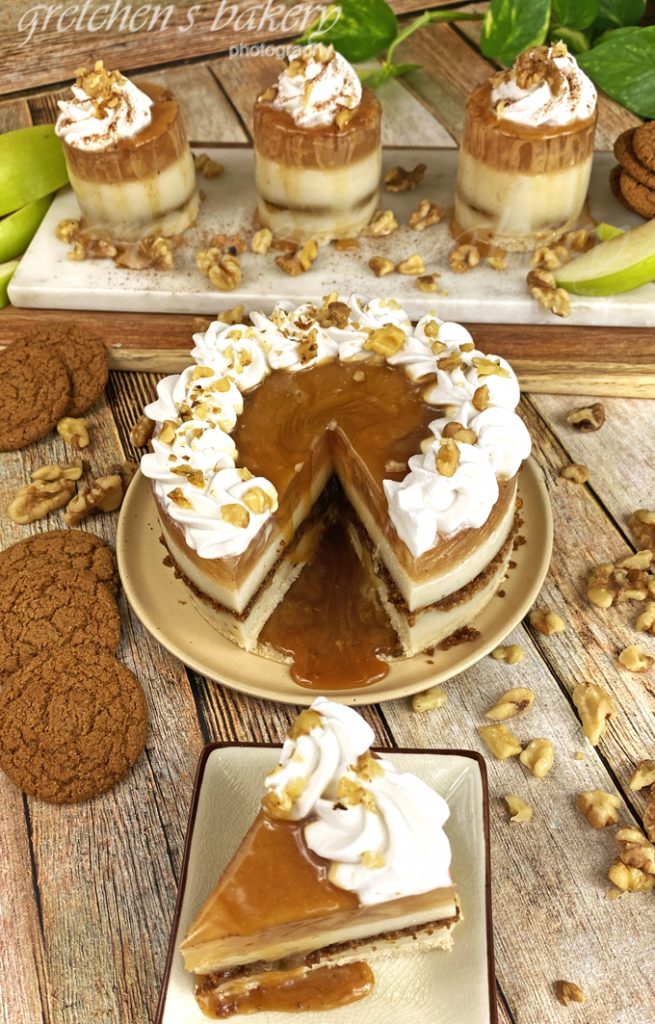 This is a building on recipes project so that simply means we have to get several recipes prepared in advance before building this cake.
While that may seem daunting and way too much work, on the other hand that is also the beauty and secret ease of a decadent dessert like this one!
By being able to prepare so much of it ahead of time, the actual assembly of this final cake is a breeze!
Just take it step by step as I show you in the full YouTube video tutorial and the written instructions below.
CLICK HERE FOR THE FULL YOUTUBE STEP BY STEP VIDEO TUTORIAL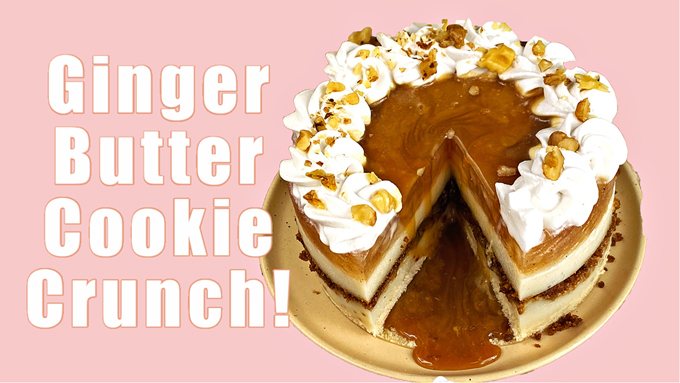 Vegan Apple Custard Cake
Vegan Apple Custard Cake Prep time: 3 hours Cook time: 25 mins Total time: 3 hours 25 mins Serves: serves 12 This recipe will make either 1-8" cake or 12 individual desserts
8" Ring Mold here
3" Individual Ring Molds here
OR use the muffin tin method as shown in my
Chocolate Covered Strawberry Mousse cake video
You may notice in the video that I used turmeric for color in the vanilla custard, but for this final presentation I left it out for a more white custard. Your option to use a pinch of turmeric in the custard or not, it will not change the taste of the custard
Ingredients
½ Recipe Vanilla Cake baked into either 1-8" cake pan or a ½ sheet pan for the individuals
½ Recipe Gingersnap Cookies for the ginger-butter-crumble layer *optional
Vegan Butter 3 Tablespoons (42g)
For the Apple Gelee Layer:
Apples 1-2 small for approximately 1¼ cup chopped apples
Apple Juice or Water 1 cup (237ml)
Granulated Sugar 2 Tablespoons (28g)
Cinnamon ½ teaspoon
Cornstarch 2 Tablespoons (16g)
Agar Powder ½ teaspoon
Granulated Sugar 2 tablespoons (28g)
For the Custard Layer:
Soy Milk 3 cup (711ml)
Granulated Sugar ¾ cup
Cornstarch 6 Tablespoons (48g)
Agar powder ½ teaspoon
Vegan Butter 2 Tablespoons (28g)
Vanilla Extract 1 teaspoon (5ml)
Vegan Whipped Cream *optional garnish homemade recipe or SILK Brand Whipping Cream
½ Recipe Caramel Sauce *optional garnish
Chopped Walnuts for garnish 4 Tablespoons
Instructions
First decide which size you will be making, 8" cake or individual portions?
Then you will bake your vanilla cake as per the recipe instructions and using either an 8" cake pan or ½ sheet pan for the cut outs on the individuals.
While the cake is baking and/or cooling prepare the molds with acetate cake strips and then proceed to make the apple gelee recipe.
Peel and dice the apples into smaller than ¼" chunks, just tiny bite sized pieces that are not too chunky
Combine the apple juice with the first measure of sugar and cinnamon in a large heavy bottom sauce pot and bring to a boil over high heat
Meanwhile combine the cornstarch and second measure of sugar with the agar and whisk smooth
Once the mixture in the pot comes to a boil add the cornstarch/sugar/agar mixture and bring back to a boil
As soon as it boils again add the apples and stir to combine and coat well.
Lower the heat to a very low simmer and cook for 15 minutes
Immediately pour into your prepared ring mold(s) as the agar will start to set the mixture as soon as it starts to cool.
Refrigerate to set
Prepare the ginger cookies as per the recipe instructions and when they are cooled.
Place 12 of them in a food processor with 3 tablespoons of melted vegan butter, process to the consistency of wet sand, reserve.
Next prepare the custard.
Combine all the ingredients except for the vanilla extract and the vegan butter in a medium sauce pot over medium to high heat and bring to a boil stirring constantly to avoid scorching the bottom .
Once it starts to bubble let it boil on low heat for about 20 seconds.
Remove from the heat and add the vegan butter and vanilla extract and stir until melted and smooth.
Allow to cool slightly but not so much that is starts to thicken and set.
Then pour half of the custard into the molds over the apple gelee.
Add the layer of cookie-butter-crumble and then the remaining custard over top of that.
Cut out the cake rounds to the exact size as your molds (8" cake or small 3" rings) and place a cake disc directly onto the custard.
Refrigerate to set for at least 3 hours or overnight.
Unmold and garnish with vegan whipped cream, chopped toasted walnuts and caramel sauce.
Notes
Apple custard cakes must be kept refrigerated.

Store wrapped loosely or in an airtight container for up to 1 week
3.5.3251
3.5.3251
3.5.3251
3.5.3251