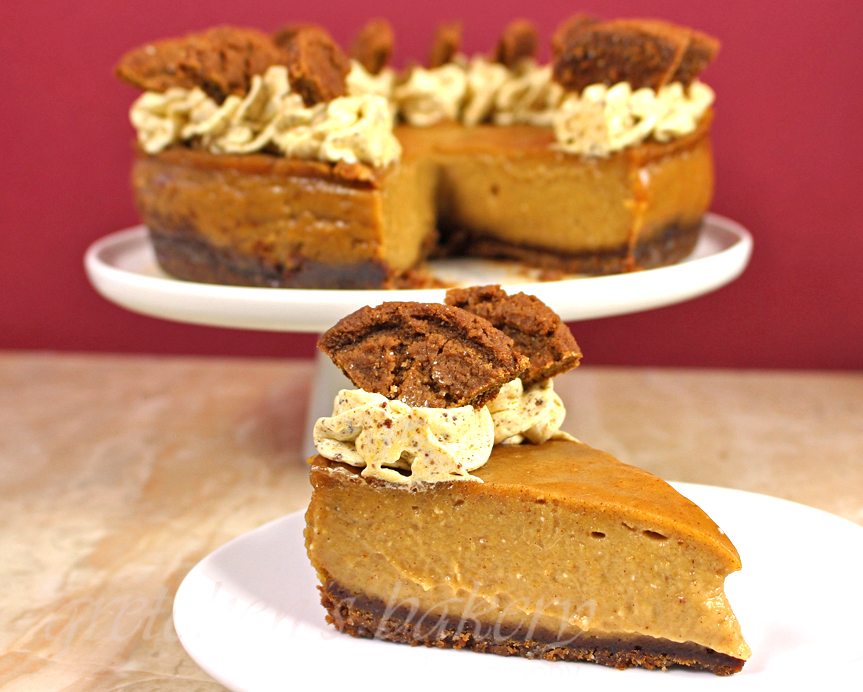 If a pumpkin pie and a pumpkin cheesecake got married and had a baby it would be this Vegan Pumpkin Pie Cheesecake with gingersnap crust
And we would name him Gary.
Gary Gary Gary.
It does not get any more amazing than this recipe, I could probably just stop right here and say, "my work is done."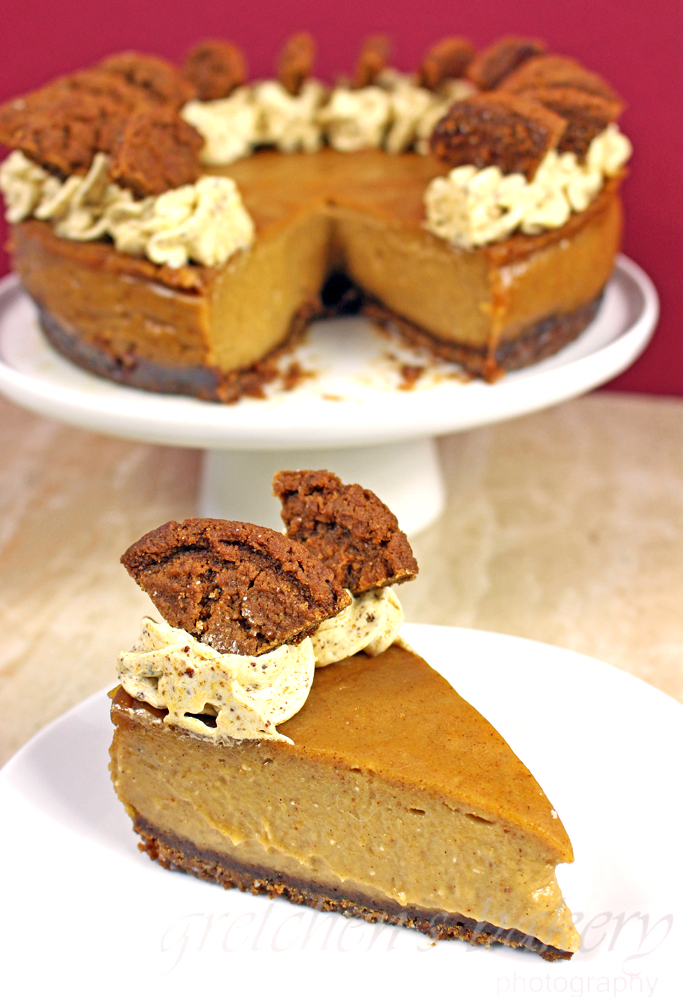 But to heck with that! I have so much more up my sleeve you are going to flip!
But first things first, let's get this new fall season rolling with a building on recipes that will go down in history.
First you will prepare my Gingersnap Cookie recipe and I do recommend to make the entire batch even though it makes more than you will need for this cake (you will thank me later).
If you are anything like me you will eat about ¼ of them before you even start this cheesecake recipe!
Oh and by the way, if you are not sure what I mean by the "gary" reference click here for the full story and a laugh!
Vegan Pumpkin Cheesecake
Prepare a
7" cake pan
with pan grease and parchment lining
Preheat oven to 350°F
I did not use a water bath in the video, but I do think it is helpful and a better idea
Serves:
1- 7" cake serves 10
Ingredients
Vegan Cream Cheese 2- 8ounce packages (454g)
Pumpkin Puree 1 cup (250g)
Light Brown Sugar 1½ cup (315g)
Pumpkin Pie Spice 3 teaspoons (8g)
Vanilla Extract 2 teaspoons (10ml)
EnerG Egg Replacer 5 teaspoons (20g)
Warm Water 6 tablespoons (90ml)
FOR THE CRUST:
Gingersnap Cookies enough to make 1½ cups of crumbs
Coconut Oil or Vegan Butter melted 2 Tablespoons (30ml)
FOR THE GINGERSNAP PUMPKIN BUTTERCREAM:
½ Recipe Buttercream
1 cup crushed gingersnaps finely ground
½ cup canned pumpkin or homemade puree
Instructions
Prepare the crust by crushing the cookies fine in a food processor and add the coconut oil or melted vegan butter, freeze.
Combine the egg replacer with the warm water, whisk smooth
Combine the brown sugar with the pumpkin pie spice and work it through
Prepare the crust with the cookies and melted coconut oil, press into the bottom of the greased and parchment lined cake pan
Cream the vegan cream cheese smooth, add the brown sugar and spices
Add the pumpkin and vanilla extract and then the egg replacer mixture last, mix smooth
Pour into crust and bake in a preheated 350°F oven in a water bath for approx 60minutes.
It will look bubbly and suspicious! Don't be alarmed!
Cool in the oven for about 30 minutes with the oven off and door slightly cracked.
Then cool overnight in the refrigerator to set to firm.
Unmold then garnish with gingersnap pumpkin buttercream and more gingersnap cookies