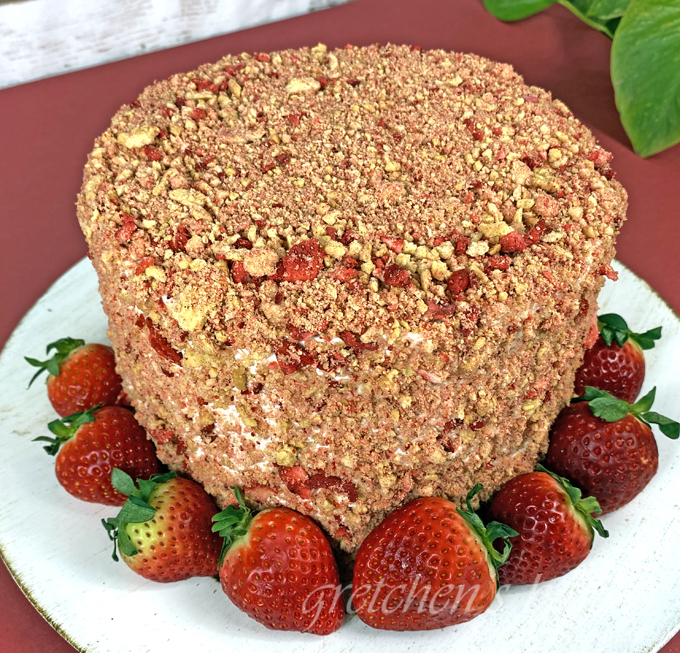 I'm bringing back the nostalgia with this strawberry shortcake crunch cake reminiscent of my favorite ice cream from days gone by!
For me it was always a hard decision to make between the Strawberry Shortcake or the Chocolate Eclair Popsicle as I chased the ice cream man down the street.
But today I decided on Strawberry Shortcake Crunch Cake for the win!
With four layers of fluffy cake, fresh strawberry compote and white chocolate mousse this cake is going to knock your socks of from the first bite to the last!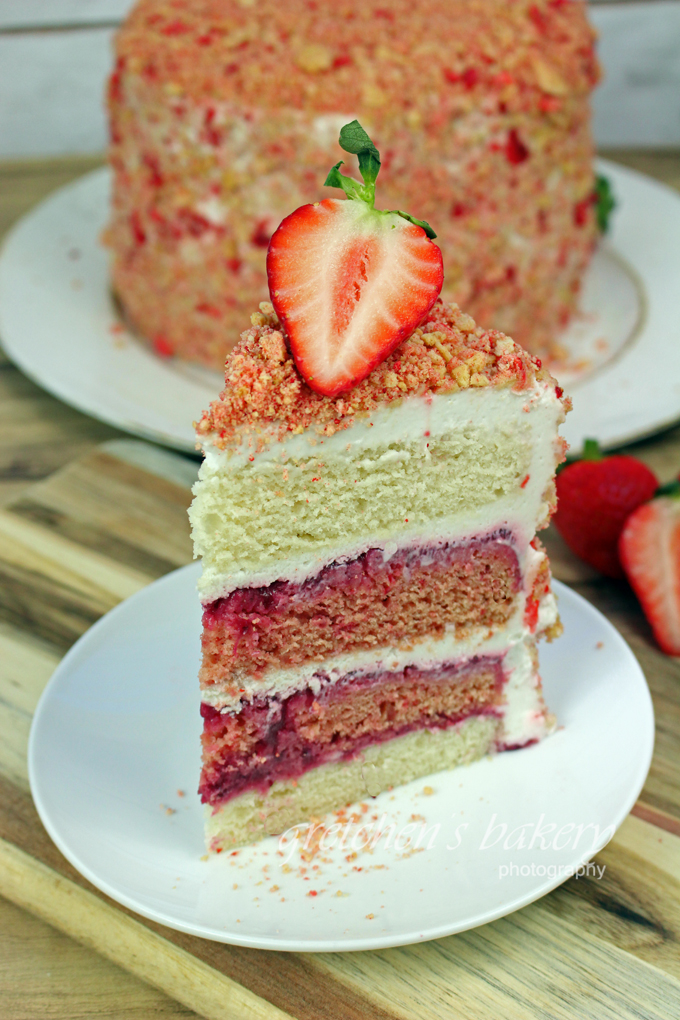 All the recipes and ingredients are very accessible with simple mix methods so don't even think for a moment you won't be able to make this!
Trust me just follow along step by step with the video tutorial and the written instructions are also below in the recipe box!
CLICK HERE FOR THE FULL VIDEO TUTORIAL ON YOUTUBE FOR HOW TO MAKE THIS CAKE!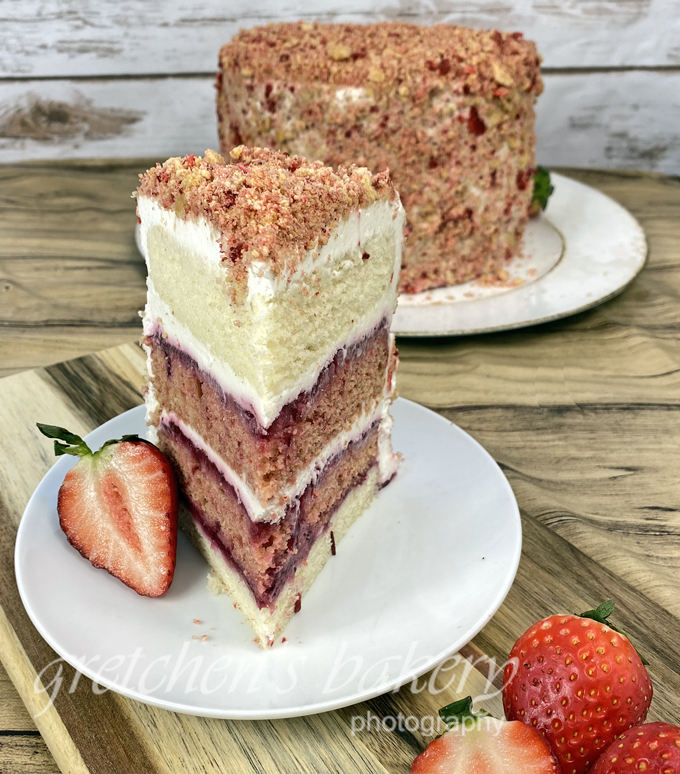 I've also dubbed this cake recipe The Tower of Love Cake because I have always wanted to make a completely opposite cake from the Death to Diets Cake I made a couple years ago!
This style of cake is just so decadent and impressive in their stature with layers upon layers of pure deliciousness!
But again don't be intimidated since the process is quite easy once you get the hang of my Building on Recipes technique!
Since we need quite a few recipes to get to the final result, you can prepare much of this ahead of time.
Once you've gathered your base recipes it literally takes under an hour to build the final cake!
Trust me I will walk you through this!
Check out all the recipes you will need and then watch the full YouTube video to see how easy it is to assemble!
1-2-3 Tower of Love is yours for the taking and we all sure could use a bit more LOVE in our lives!
With two layers of white cake and two layers of strawberry cake; white chocolate mousse, fresh strawberry compote and whipped cream piled high!
This is one epic cake that is quite possibly the best cake I have ever eaten!
And that is coming from a full blown chocoholic!
The idea for this cake came out of my original Tower of Death Cake a.k.a Death to Diets Cake from a few years ago.
I'd always wanted to make the arch nemesis cake to that amazing deep dark sinful treat!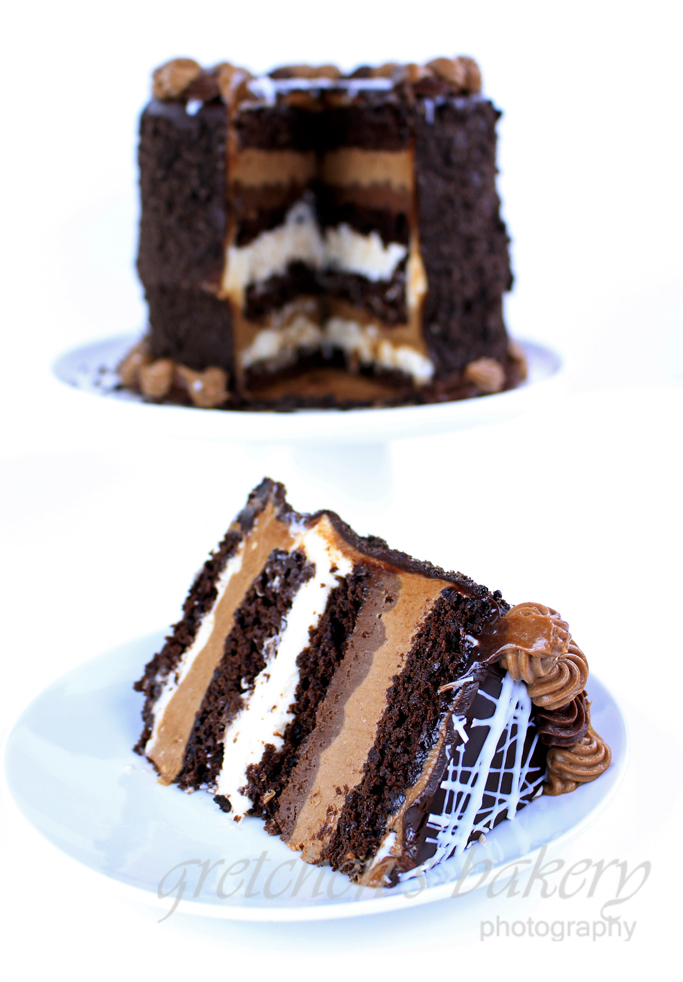 And here it is in all of it's loving glory!
Read all the recipes you will need before you begin and be sure to organize yourself into a two day process so it doesn't get overwhelming!
Don't worry!
You got this!
There are a few things I want to highlight here before you begin, you will notice I am using two special tools this time for this cake.
Whenever I make cakes like this one that have multiple layers especially ones with soft fillings that need to be molded and set, the cake ring is essential.
It would be such a total mess to try to build this cake the traditional way with all that soft white chocolate mousse, strawberry compote and whipped cream!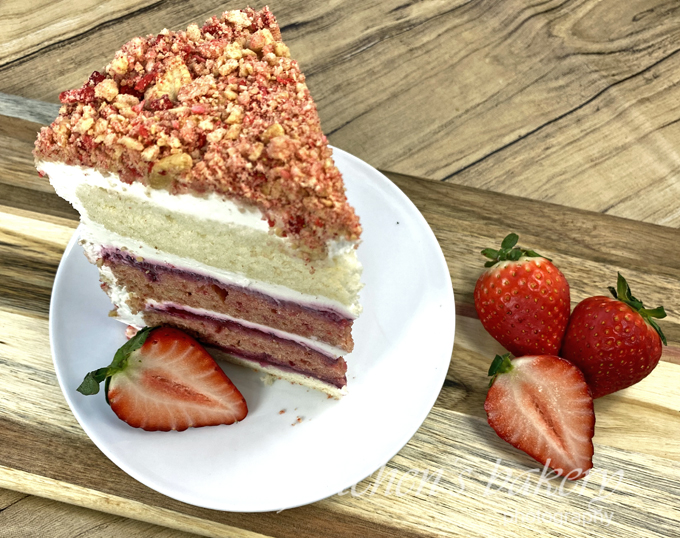 One last thing before we dive into this tower of love cake project is the whipped cream debacle!
Hopefully you can get your hands on the SILK brand whipping cream I am using in the video *not sponsored!
But if not I have several options for homemade and store bought variations here!
CLICK HERE FOR EVERYTHING ABOUT VEGAN WHIPPED CREAM!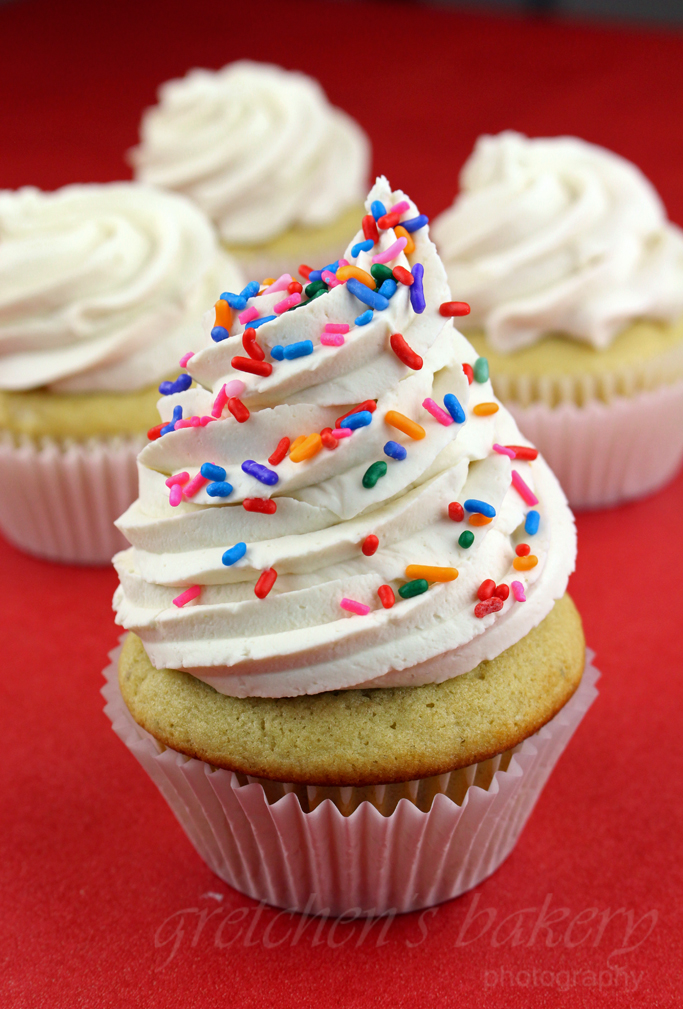 CLICK HERE FOR THE FULL YOUTUBE VIDEO STEP BY STEP TUTORIAL FOR HOW TO MAKE THIS CAKE!
Strawberry Shortcake Crunch Cake
Serves:
1- 7" cake serves 8 ppl
Ingredients
For the White Cake: **see note above!
1 Box Duncan Hines White Cake with only the following ingredients added NOT the box instructions!
Vegetable Oil ⅓ cup
Water 1 cup
All Purpose Flour 1 cup
Plant Milk *I use soy milk ⅔ cup
Dry Blend Egg Replacer 2 Tablespoons * I prefer The Plant Based Egg by Freely Vegan
Baking Powder ½ teaspoon
Applesauce 2 Tablespoons
Sugar ½ cup
For the Strawberry Cake:
Half of the batter from the above white cake mix
Dehydrated strawberries ground to a powder 1 cup before grinding (18g) *approx ½ cup ground to a powder
For the White Chocolate Mousse:
Vegan White Chocolate 8ounces (approx 1½ cups chopped chocolate)
Plant Milk 6 Tablespoons
Agar ½ teaspoon
Vegan Whipped Cream 2 cups whipped (*1¼-1½ cups of liquid) *see note above
For the Strawberry Compote Filling:
Fresh or Frozen strawberries 3 cups
Cranberries fresh or frozen 1 cup
Sugar *optional ½ cup
**If using fresh berries you may need about ¼ cup of water to help them cook down
For the Garnish/Decor/Crunch
15 Golden Sandwich Cookies with the fillings
Dehydrated Strawberries 1 cup (18g)
Instructions
take this cake project in steps spanning a couple of days to make your life easier!
The cake layers can be made in advance and wrapped airtight & store in the refrigerator or freezer until ready to assemble the cake.
The strawberry compote can be made up to 1 week in advance stored in the refrigerator.
The white chocolate mousse and whipped cream are made Ala minute at the time of assembly.
First prepare the 4- 7" cake pans with professional bakery pan grease and parchment liners.
Preheat the oven to 350°F
Then prepare the cake batter (if you prefer to make scratch vanilla cake & strawberry cake recipes follow the instructions on those recipes and meet me back when you're done!)
In a large mixing bowl empty the contents of one Duncan Hines White Cake box.
Add the sugar, flour, baking powder and egg replacer.
Sift together or using a hand whisk to evenly distribute the contents.
Add the oil, plant milk, water and applesauce and whisk smooth, using about 50 vigorous strokes
Divide the batter in half and reserve one half for the strawberry batter then divide the remaining white batter into 2-7" prepared pans
For the strawberry batter grind the dehydrated strawberries in a food processor or spice grinder to a fine powder, add to the white batter and whisk well until there are no streaks.
Divide the batter between the remaining 2-7" cake pans then bake all the cake layers together in the preheated 350°F oven for approximately 22 minutes or when they are springy to the touch when you gently press the centers, or with the toothpick test, insert a toothpick and if it comes out clear it is done!
Cool the cakes in the pans until you can safely touch then without burning yourself then flip them out onto a cooling rack to cool completely.
Prepare the strawberry compote: in a medium heavy bottom sauce pot combine the chopped strawberries and cranberries together with the sugar and water *if needed.
Cook over medium heat until the cranberries start to pop and the berries are breaking down. Stir often.
Turn the heat to low and let it simmer and continue to cook down, the sauce will naturally thicken especially as it cools to cold.
You can leave it chunky or blend to a puree it is your option *I like it chunky.
Prepare the garnish for the cake by grinding the golden sandwich cookies in a food processor to medium crumbs, add the dehydrated strawberries and pulse until it is all the size you desire for garnish.
When you are ready to build the cake prepare your vegan whipping cream- if you are using SILK Brand as I show here in this video simply whip it to soft peaks at this time.
Reserve 2 cups for the mousse and leave the rest in the refrigerator for the icing of the cake later.
Prepare the white chocolate mousse by melting the vegan white chocolate
Combine the warm plant milk with the agar powder and then bring to a rolling boil to activate the agar.
Add this to the melted white chocolate and whisk as fast as possible to prevent setting!
Next quickly fold in the whipped cream and whisk smooth.
The mousse will set very fast due to the agar, so be sure to have your other ingredients ready to go since you will have to build the cake fairly quickly to make sure the mousse doesn't set.
Follow the video tutorial for how to build & ice the cake!
Notes
Cake must be kept refrigerated at all times.

You can freeze the UN-iced cake well wrapped for up to 1 month, ice with whipped cream after thawing in the refrigerator overnight.
3.5.3251