They debate is on as to which cheesecake is the best!
Since I have made so many lately (yes I am in love with this new base recipe for vegan cheesecake, you can pretty much make anything from it!); a topic for discussion has arisen as to which one is now the best!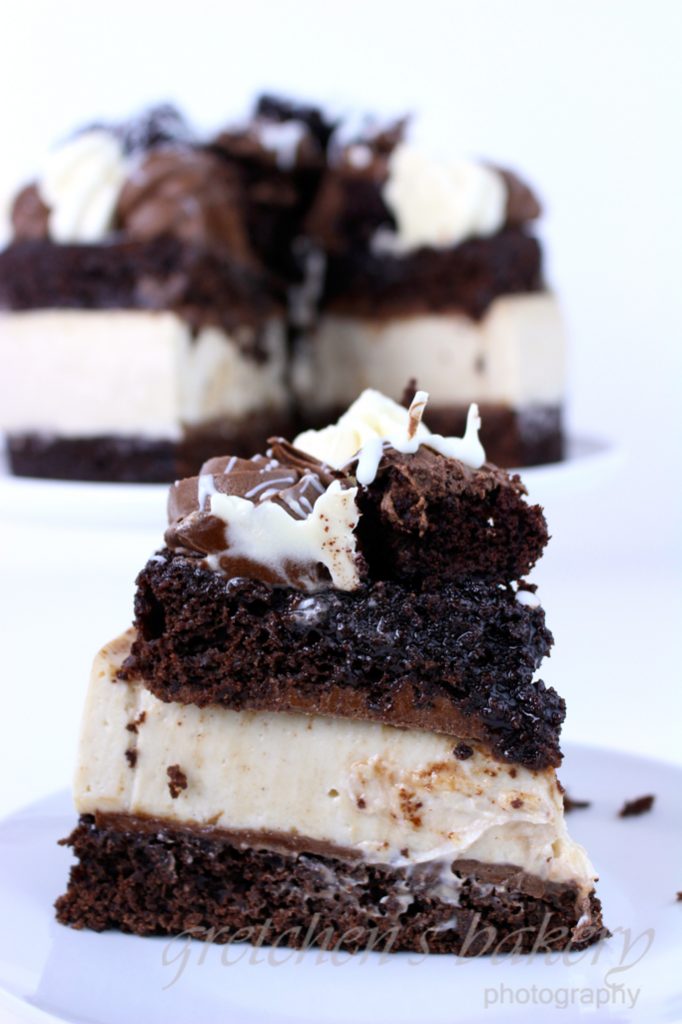 This new Brownie version is giving the Oreo Cheesecake a run for it's money, but then again what about White Chocolate Blueberry? and Mango Cheesecake?
Ok so this discussion is now closed because there is no way to decide a best when they are ALL THE BEST!
But just to be sure, you are going to have to make this new Vegan Brownie Cheesecake in case there are any questions!
So easy to make, no mixer required, all you need is a food processor or a blender!
With a few additional (*and optional recipes) of fudge icing and buttercream icing you can make this cheesecake extra decadent as if it came from the best bakery in town!
I am making this entire recipe into a 7″ cake but if you do not have the 7″ cake pans or don't want to buy them, you can make it in 8″ pans you will just have slightly thinner layers.
Vegan Brownie Cheesecake
Prepare your
7" cake pan
with grease and a parchment paper circle
Ingredients
For the Cheesecake Batter:
Vegan Cream Cheese 1 package (8oz) (226g)
Tofu half package (7ounces) (196g)
Vegan Granulated Sugar ¾ cup (150g)
Cinnamon *optional ½ teaspoon
Cornstarch 2 Tablespoons
All Purpose Flour 2 Tablespoons
Salt ¼ teaspoon
Vanilla Extract 2 teaspoons (10ml)
Lactic Acid 1 teaspoon OR Apple Cider Vinegar 2 teaspoons
Vegan Butter 2 Tablespoons (28g)
Milk Alternative scant 1 cup (7 fl oz)
For the Brownie Batter:
Granulated Sugar 1½ cup (300g)
Coconut Oil 8 tablespoons (120ml)
Natural or Dutch Process Cocoa Powder ⅔ cup (60g)
Hot Water ⅔ cup (160ml)
Ground Flax Seeds 6 Tablespoons (48g)
Hot Water 10 Tablespoons (150ml)
Vanilla Extract 2 teaspoon (10ml)
All Purpose Flour 1cup + 6 Tablespoons (175g)
Salt ½ teaspoon (3g)
Baking Powder 1 teaspoon (6g)
*Optional Recipes for garnish:
¼ Recipe Fudge Icing
¼ Recipe Buttercream Icing
Chocolate Sauce: ½ cup vegan chocolate & ¼ cup milk alternative melted together over low heat stirring constantly
Instructions
For the cheesecake batter:
Combine the vegan lactic acid or the apple cider vinegar with the milk alternative & then add the vanilla extract. Let stand to thicken 5 minutes.
Place all cheesecake ingredients into a food processor and process until smooth
Pour batter into prepared pan and bake in a water bath in a preheated 335°F oven for 1 hour
Remove from the oven and refrigerate overnight before unmolding
Prepare the Brownie Batter
Combine the ground flax and 10 Tbs hot water and let stand for 5 minutes to thicken.
Combine the cocoa powder with the other measure of hot water (the ⅔ cup) and whisk smooth
Add the melted coconut oil
In a large mixing bowl combine the sugar, flax mixture, cocoa paste mixture and vanilla extract and whisk smooth
Sift the flour with the salt and baking powder and add to the chocolate mixture, whisk smooth
Pour into prepared cake pans and bake in a preheated 350°F oven for approximately 20 minutes or until springy to the touch when you gently press the centers