They say the best inventions are born out of necessity!
And Stabilized Vegan Whipped Cream is so necessary!
But wait! I thought vegan whipped cream was more stable than cow cream from our past lives!??
While that is true of some vegan whipped creams but more recently I learned not all whipped creams!
Since I can only find Country Crock Vegan Whipping Cream near me where I live I have had to come up with a workaround so it is usable in all of my recipes!
That workaround is this new recipe for Agar Stabilizer for Vegan Whipping Creams!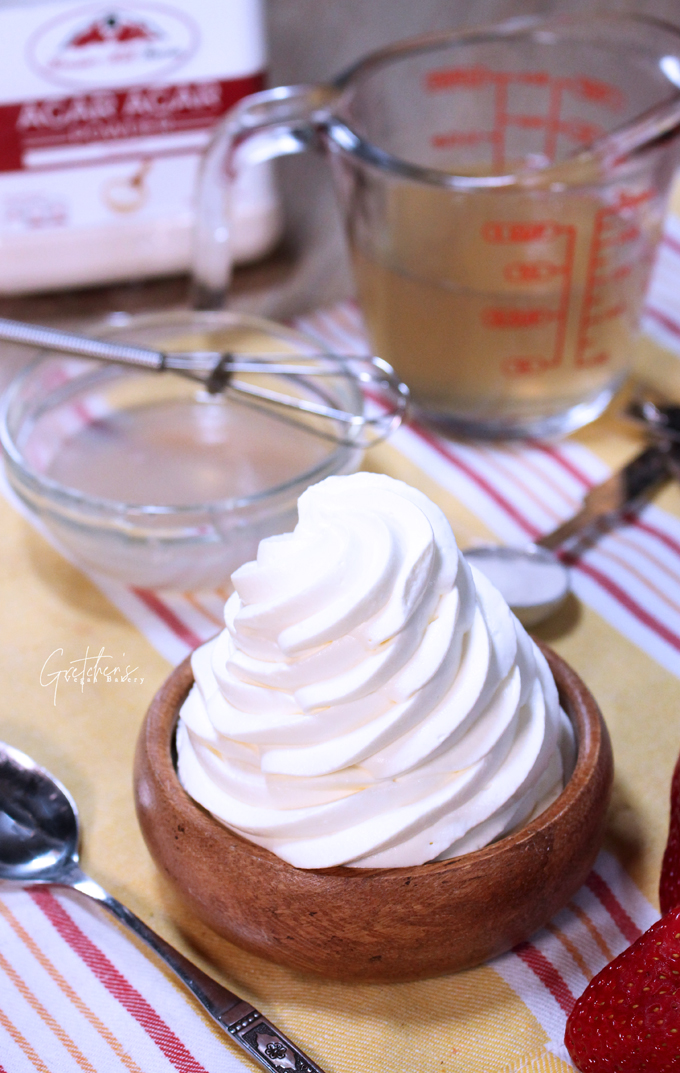 New vegan products have been hitting the market for many years now but over the last year there seems to be an explosion and a serious race to get new products out!
This is great news for veganism, but also bad because what I have learned in my recent experience with testing all the vegan whipped creams, that this race doesn't always mean great quality products!
For example my Chocolate Cream Pie Cake where I used Country Crock Whipping Cream for the first time.
Taste was great, whipped up like a charm but the stability as a filling inside my multi layered cake was a total fail!
And don't even get me started about Califia Farms! I'll never buy that brand again!
CLICK HERE TO SEE MORE ABOUT COMPARING ALL THE VEGAN WHIPPED CREAMS!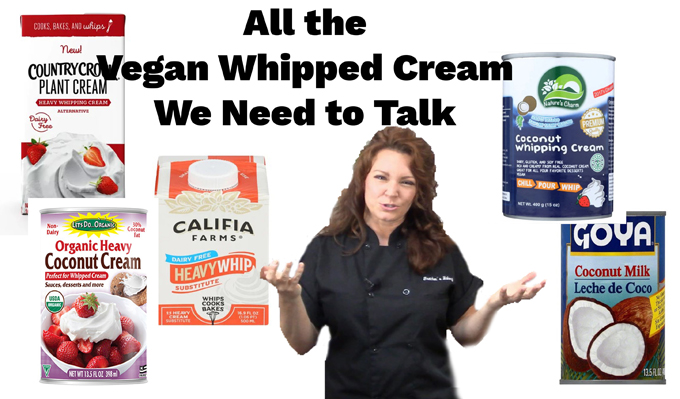 *not sponsored by any brands mentioned in this article!
Notes for Success:
The one main thing I have to point out especially if you did not watch my video for Comparing all the Vegan Whipped Creams is that not all vegan whipping creams need stabilizer!
I had always been a fan of SILK brand but can no longer get that where I live, and SILK does not need stabilizer!
My homemade recipe for Vegan Whipped Cream also does not need stabilizer!
Cans of coconut milk used for making vegan whipped cream do not need stabilizer!
So be sure your favorite brand or recipe for whipped cream actually needs this agar addition before proceeding and the only way to do that is to test your whipped cream ahead of time!
Pay attention to the strength of agar you are using in comparison to the one that author of the recipe is using, I typically use 900 strength in my recipes SPECIFICALLY THIS BRAND BY Landor Trading Co *not sponsored
The recipe below makes a BULK portion that you can store in your refrigerator for months until you need to use it
Each portion will be the perfect amount to remelt and use to stabilize 2 cups of liquid whipping cream
For a single recipe to whip 2 cups of liquid whipping cream simply divide the finished bulk stabilizer rubbery disc by 4 OR make a single batch of ¾ teaspoon agar : 3 Tablespoons water

In the video I mention that a high speed mixer with a whip attachment is crucial to the success of this stabilizer mixing in properly. What I mean by that is something that has the power similar to my Kitchen Aid stand mixer *not sponsored
WATCH THE YOUTUBE VIDEO WHERE I SHOW YOU HOW TO MAKE THIS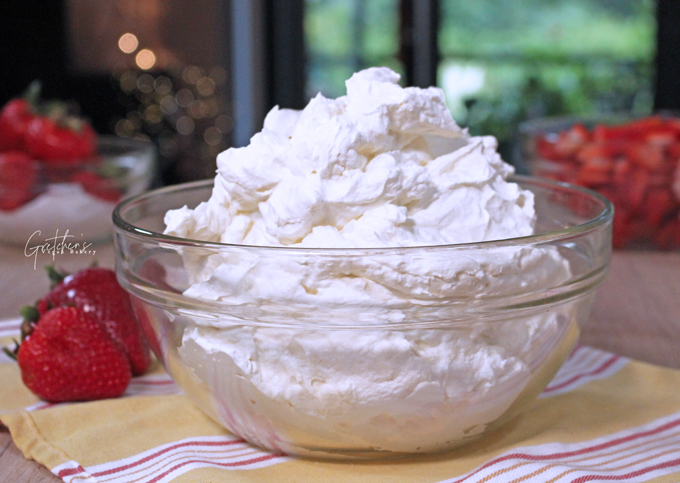 Yield: 4 uses
Bulk Stabilizer for Vegan Whipped Cream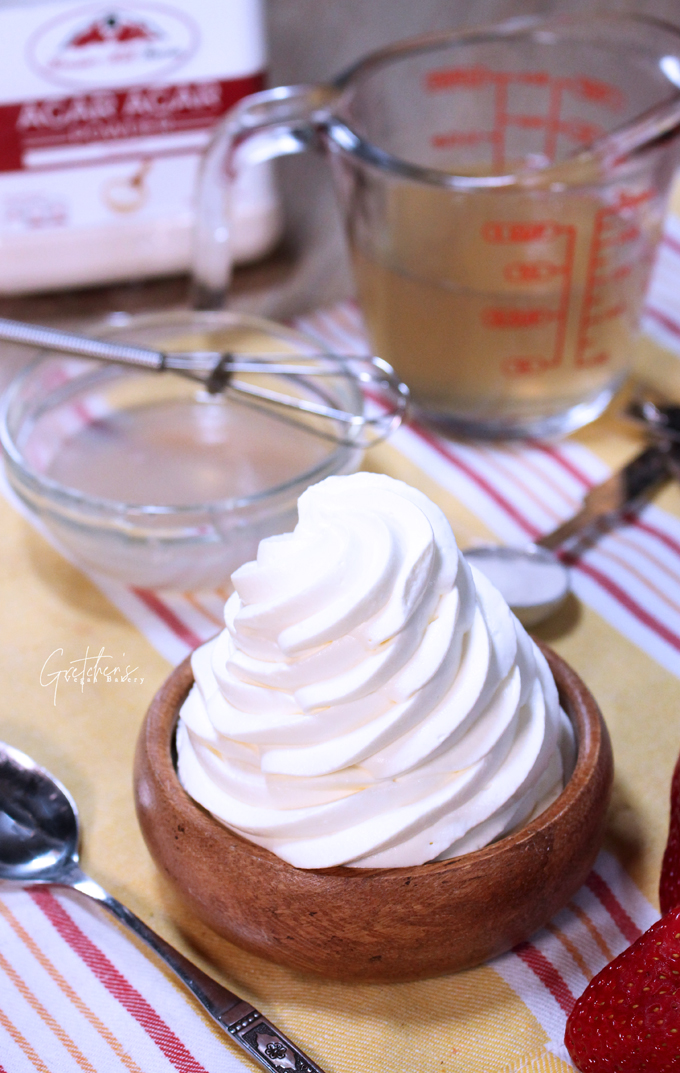 Ingredients
Powdered Agar 3 teaspoons
Water 12 Tablespoons
Instructions
In a small sauce pot combine the powdered agar and warm water and whisk to dissolve the agar
Over high heat stirring often bring the solution up to a rolling boil and allow to boil for 20 seconds while whisking constantly
Pour this solution into a heat proof glass or bowl and allow to set to cold and firm
It will feel like a very firm rubbery disc once it is set
Unmold it from the vessel you have used and then cut it into 4 equal portions
Store in a ziploc bag or clean container in the refrigerator until needed
Once you need to stabilize 2 cups of liquid cream, you will melt 1 portion of the agar stabilizer (which is equal to ¾ teaspoon of powder agar and 3 Tablespoons of water) using a small saucepot or the microwave to melt it and then add it HOT to the high speed whipping cream just after it comes to the peaks you desire. I usually whip to medium firm peaks and then add the agar stabilizer to it and whip for another 30 seconds
*Be sure you are using a high speed whip attachment for this or you may get chunks of agar in your cream since agar will set immediately upon touching cold ingredients
Notes
Bulk stabilizer will stay fresh for up to 3 months in the refrigerator. I place mine in a ziploc bag and store in the back of the refrigerator for when I need it in a moments notice